Posted in: Podcasts, Uncategorized by Gino Sassani on December 22nd, 2016
We already told you about Mission: Jimmy Stewart And The Fight For Europe. I couldn't put it down. It was an extra treat for me because I knew I was going to be talking to author Robert Matzen. I finally reached the end and had my conversation with the writer. I found him just as engaging in person as he was in the book. We could have talked for hours. Unfortunately we didn't have that kind of time. Now you can hear what all the excitement was about. Bang it here to listen in on my chat with Robert Matzen.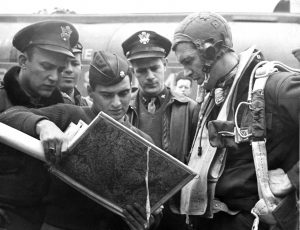 We have supplied the usual Amazon link but the book is flying off the virtual shelves as fast as they can stock it. Here's a direct link to the publisher. It's too late to get anything in time for Christmas. That's okay. When you have your traditional viewing of It's A Wonderful Life you're going to want to know the connection between that classic and Stewart's days as a WWII bomber pilot. Grab a glass of eggnog and give us a listen. Then buy the book.