Posted in Podcasts by Gino Sassani on February 7th, 2020
Michael Starr is the director, writer and producer for the new drama feature film Cicada Song. The film stars Lindsey Lantz as Karen, a small town woman who asks the wrong questions and finds herself struggling to survive. It's a powerful film with a limited budget but not a limited imagination. It's an ambitious film, to be sure. The man behind it all is Michael Starr, a fellow musician who just might have hit it out of the park with his first feature film. I had a wonderful time with Michael talking about the film. He provided some nice insights into Cicada Song and the filmmaking process itself. You can listen in on our conversation. Just bang it here to hear my interview with Michael Starr.
After the interview make sure you check out the film.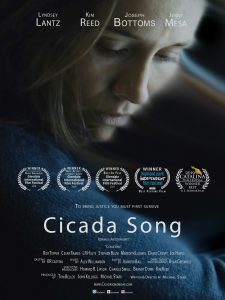 Check out the film's Official Website