Aperion 4-Series: Part One
Aperion Audio 4 Series: 422 Harmony HD, inlcuding:
6x 422-LR satellites
1x S10 10 inch powered subwoofer, 100 Watts
1x 422-C Center Channel
First off, let me preface this review with the declaration that I am woefully new to speaker reviews, and know little of the art or science of speaker design. On one hand, that makes me under-qualified to do an in-depth speaker review, as I won't be commenting on impedence levels, p…wer consumption, or raw decibels; on the other hand, I makes me perfectly qualified to write this review, as I'll truly be writing from the perspective of a layperson. And, this is a good review for such a perspective: the 4 Series Aperion speakers are firmly targeted at value-concious, first-time "HTIB" buyers looking for an attractive, compact, performance speaker package at an attractive price-point.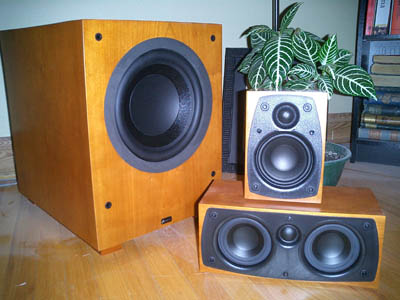 click to enlarge
The other thing I'd like to get out of the way early is bathrooms. Take a close look at the picture above, or click it to enlarge. Like that dust all over the floor? Ever rennovated a bathroom? How about two? How about two bathrooms in a house from fifties with tile and crazy plaster construction? Anyway – bathroom renos are why this review has taken months to put together, why the pictures look like they were taken in a desert, and why this review is in parts: I'm still painting and cleaning. Part One (this is it) will introduce you to the speakers and the company behind them; part two will tackle construction and sound.
Aperion Backgrounder
Aperion is a relatively small operation, claiming 17 employees on their «meet the team» page. Aperion is located in Portland, Oregon. Engineering/Design work takes place there, while construction takes place in China in a facility that Aperion is quick to point out is ISO9001 certified, and "compliant with WTO and UN trade practices." I'm sure that's what Apple thought too, before the iPod city story broke. But, such is life in the global economy, and Props to Aperion for being proactive in disclosure.
EDIT: I'd also like to share a comment received from Aperion on manufacturing in China:
This is something that we don't take lightly and unlike other huge CE [consumer electronics] corporations, our CEO and other Aperion representatives make numerous trips to our manufacturing partners in Asia to monitor the manufacturing conditions. Our Ops Manager visits our facilities at least 4 times/year and both our President and CEO visit at least twice a year too. [John Wanderscheid, VP Sales & Marketing]
Aperion operates completely on a direct sales model, selling only through their website and Portland showroom. The Aperion Advantage is no retailer markup – the size of which disgusted founder Winthrop Jeanfreau to such a degree that he launched his own speaker company in 1998 in response. Aperion offers numerous support options: 1-800 support, Live Chat via the website, customer forums, and email. The forums are well-mannered and respectful, with a knowledgeable, vibrant community of Aperion enthusiasts quickly answering common questions, providing comparative assessments, or directing people with problems to the formal customer service channels.
All told, Aperion seems to be a young, small, and high-quality company, with a good reputation. While they push the down-home-hokiness a little hard, and I find it hard to believe that Winthrop has really heard the sound of a BMW cycle at 7000 rpm's in 6th gear (how fast would that be? [EDIT: Apparently 140, which is 225 km/hr, which is pretty righteous]), the site makes a great impression which is well supported by the forum community.
Packaging
I wish I had taken unboxing pictures, but I didn't. The speakers arrived packaged solidly in sealed cardboard boxes, supported internally with foam packing and further cardboard bits and peices. There is no possibility of shifting in transit, and any mishap that could damage a speaker through the packaging would have to be of shocking violence. Each speaker is wrapped in purple velvet bag, reminiscent of Crown Royal, but in the case of the sub, absolutely enormous. What I will ever do with this collection of bags, I don't know, but they added an air of drama to the unboxing experience that put the process a step above the traditional consumer electronics rip & tear routine. Each speaker also came with an instruction manual/warranty blurb, which are now at home in my "filing system."
First Impressions
The first impression of each speaker is solidity and heft, or in case of the sub, "yaaaarrrghhhh" (it weighs in at 56 lbs). The 422-LR satellites weigh 6 lbs each, and the center, 7. Each speaker feels like it is carved from stone, or in the case of the sub, made from it. The reason is thickness – even the very compact satellites are built from 3/4 inch thick fiberboard (which I verified with a tape measure). The sub ups this to a full inch. The upshot is that construction of each is extremely solid, and holding them imparts the tangible feel of quality.
Aperion also wanted to note:
This [3/4 inch] is accurate for the 422's but it is actually HDF (high density fiberboard) and our the rest of our entire line uses 1″ HDF so that would be worth mentioning.
Visually, the speakers impress as well. Aperion describes the real cherry-wood layer as "furniture-grade," and I would agree. Beautiful grain, deep rich color, and perfect joins and corners all contribute to an attractive yet understated presentation. These speakers will be as at home in a dedicated high-end theatre room as they will be in a single guy's movie cave, and in either case will complement decor without dominating. If you desire a more imposting presence, each speaker is also available in high-gloss black.
Each speaker is also replete with features. Bracket mounting points abound on the tops and bottoms where applicable (plugged with soft, black plastic caps), and the black mesh grills are solidly constructed with rigid frames and stable push-in mounting points. The satellites and center have nubby, clear plastic stick on feet which have stayed stuck on so far, though I'm not expecting much in the long run [EDIT: That comment is based on my own experience with damn rubber feet; Aperion assures me that the regulary get complaints to the effect that the feet cannot be removed]. The sub has four brass screw in feet which make for extremely solid placement, though I fear for the hardwood floors and will likely leave them out. [EDIT: I missed a set of rubber feet designed to prevent such wanton destruction of hardwood]