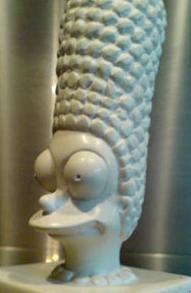 Found via Boing Boing, the BBC reports:
Although most of them in the remote village of Tabaka in Kisii have never watched the animated TV show, Homer, Marge, Bart, Lisa and Maggie have changed their lives and the new film should see demand for their work soar they hope. [from the BBC]
Talk about strange marketing gimicks. Is it callous exploitation (third world people producing trinkets for our amusement and their survival?) or philanthropy (helping a community lift itself up with their traditional strengths)?