Crash for Cancer, 360 Internals examined & Quake: DS Time- Welcome to the column that is often alarming like that heart attack you received when you caught your parents in the act known as Dare to Play the Game.
Welcome to another edition of Dare to Play the Game. Life is strange. But in the same breath, it is awesome. I am happy to report that "the girl" said yes to the baseball game on friday, and I will be going to see the Astros and Brewers with her. I am a fan of neither team (I'm a Phillies fan actually) but I could care less about baseball for once, I am going for the ummm..atmosphere. The atmosphere is about 5'4 with blond hair and blue eyes. That's all that needs to be said. Today this article is brought to you by Jackyl (the band I'm listening to currently) and I just wonder where the heck is my copy of Chainsaw Hero? Whew I need help. That poor, poor girl. Speaking of girls who suffer from the Kedrix touch, we move right into:

Ode To Morgan Webb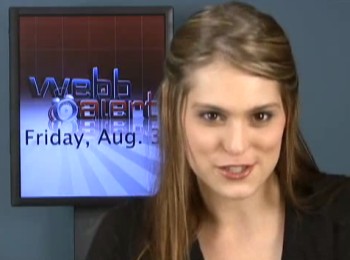 As reported on this very site (Rod scooped me; I'm so hurt and disheveled), Morgan now does a Webb blog (Ha, get it?..okay nevermind). Among just ranting for about 5-10 minutes and making many cute and suggestive facial representations, she also names random articles from smaller websites and discusses them. Did anybody else just get a lightbulb? That's right, let's get this column on her daily Webb blog. I don't care what it takes; bribes, cons, or sexual favors for Adam Sessler (to move ahead in this world, sometimes you have to ease your morals). I want either me or the site mentioned on her blog. That way I can die a happy man. Come on, what are you waiting for…go, go, go!
News of All Types
Xbox 360, PS2, Wii, DS, PSP, GBA


The Leukemia & Lymphoma Society and Vivendi Games today announced that Crash Bandicoot, the valiant, action hero of the highly popular video game series, is the new national champion for the Society's School & Youth programs.
The partnership comes as Sierra Entertainment, a division of Vivendi Games prepares for the launch of the latest incarnation of the top-selling Crash Bandicoot game franchise, "Crash of the Titans", available this October on the Xbox(TM) 360, PlayStation(R)2, Wii(TM), NintendoDS(TM), PSP(R), Game Boy(R) Advance and mobile phone platforms.


Throughout his video game adventures, Crash must battle the evil Dr. Neo Cortex and his no good ways. In joining forces with the Society, Crash now helps in the fight against leukemia, lymphoma and myeloma. Crash, the fun-loving, adventure seeking marsupial is always ready for a good fight and is a natural fit for the School & Youth programs, which are geared towards teaching kids about community service and helping kids with leukemia and other blood cancers. In the 2006-2007 school year, more than 21,000 schools participated in the program, raising more than $18 million for blood cancer research and patient services.


The Society and Vivendi Games anticipate that Crash's involvement will help attract more students to the Society's various youth programs due to his popularity with kids of all ages. More than 35 million Crash Bandicoot games have been sold worldwide since 1996, making Crash one of the most recognizable gaming and entertainment characters in the world.


"We are extremely honored to be partnering with the Society and in joining the battle against Leukemia, Lymphoma and Myeloma," said Mark Halacy, executive vice president of Human Resources for Vivendi Games. "Crash is a bandicoot with a big heart; he's brave, he's loyal and he's always ready for a good fight and a great cause. We feel this is a winning combination for a tremendous cause."


Crash Bandicoot will appear on the School & Youth recruitment posters and other printed materials as well as on the School & Youth Web site, newsletters, apparel and other items. Free downloads of Crash wallpaper and icons are available at http://www.schoolandyouth.org.

Hey kids, lets use a video game mascot that's cheap and will work for crates with ?'s on the side. Furthermore, he hasn't been popular in years. But he has a new game and sadly I was a Crash junkie like most people; in the PS1 days. Seriously though, I did pick up Wrath of the Cortex for XBOX for about 5 bucks a couple of months ago. Still sealed. At least they had the sense to promote him as a mascot against cancer. Cause if they decided to promote him against drugs, like a say no campaign; I would have had to call a spade a spade. Crash is on something, something strong. Look at the eyes and his choice of apparel. He is one hit short of a fried Bandicoot.

DS

At John Carmack's keynote speech tonight at this year's QuakeCon, the millionaire programmer made mention that there may be a version of Quake Arena in the works for the Nintendo DS.


During the keynote he mentioned that, conceptually, he'd like it to be a game that's more restrictive, limited movement via D-pad like Doom and not "touch controlled" like Metroid Prime Hunters. No other details have been revealed, but we'll keep on this announcement.


Quake 3 Arena is a multiplayer-focused version of the Quake series, originally developed on the PC back in 1999. In the past, Quake has unofficially been ported to the Nintendo DS by the underground programming scene, but not as a full retail product.

Quake 3 Arena was a game I kinda mulled around in like most. I mean I played Quake and Quake 2 to death; but Arena was one of those games where you fiddled with it briefly and then went to go play something else. Supposedly, Quake 3 Arena is also making a trip to XBOX Live Arcade. That version I would think would be more popular since multiplayer is a lot easier to enjoy on Live than a tiny DS. But maybe I'm being selfish or too retro but where is the original Quake for XBLA? I know I get Quake 2 (if you buy Quake 4), but there was something behind the simplicity of the first one that made the pineapple more than just a fruit.

Xbox 360

Microsoft Corp. has logged a huge 1.06 billion USD (130 billion yen) charge due to warranty claims for its "Xbox 360" game console. This is a frightening amount of money for engineers engaged in product design. Amid current circumstances, where consumer electronics manufacturers often recall their products, this is no longer someone else's affair. We would definitely like to know what caused Microsoft to log such a large cost.
…


We measured the temperature of exhaust from the operating Xbox 360. The Xbox 360's power was about 170 W when the DVD equipment was running. The temperature of emitted air was about 45°C. A temperature gap with the room temperature (23°C) was 22°C.


"When designing consumer products, it is common to seek a temperature gap of around 10°C between exhaust and room temperatures," the thermal design expert said. "The 22°C is quite a large gap, in the first place."


The cooler fan's maximum wind speed was 1.1 m/s, only 1/2 to 1/3 compared with general desktop PCs. It may be partly because the fan rotation was reduced to lower noise.
…

The rest of the article is available at the link in the beginning. Most weeks I come in here and slam the Wii or the PS3 and leave the 360 essentially unscathed. Everybody needs to be slammed once in a while, keeps them healthy. The article can be truncated to the fact that this team found that the Box was running extremely hot and this was due to the fact that the heat sink and fans on the device were not powerful enough to cool correctly. But this was because they wanted to converse space. *looks at 360* Okay, so if they didn't conserve space, it would be the size of a mansion, not just the size of a small house? Seriously, I look at my 360 and wonder if I have to get housing permits for that sucker or supports under it so my foundation doesn't crack. Thankfully, I bought a really nice fan with its own power supply that cools my 360 quite well. Interestingly enough, I have to also put my 360 vertical to enjoy it. Which isn't advisable either supposedly. *knock on wood and sighs*
Releases for the Week of August 8th, 2007
XBOX Live Arcade – Track and Field (400 MS Points)
















Interesting title this week, Konami's early olympic sport and thumb taxing classic hits the scene and at a tidy price. This is one of those crazy games that didn't require you to have some great ghost eating ambition or the ability to dodge missiles from opposing craft. Just learn to hit your buttons as fast as possible. Growing up, this was a favorite competition between me and my dad. My dad played some games and since he was in track in his youth, this made for an easy diversion. The best event, the long jump. The worst, the high jump. I can't tell you how long it took us to get through a couple of those high jumps, the speed and precision were very taxing. Of course turbo controllers once it got ported to NES made it way too easy (but kinda fun too), it will be interesting to see with the 360 controller design how fast one can go. It will support 1-4 players local or Live, so this can become quite the party game inbetween sessions of Halo or what not.
Wii Virtual Console – Wave Race 64 (N64 – 1000 Wii Points), Adventures of Lolo (Nintendo – 500 Wii Points), & Galaga 90 (TG-16 – 600 Wii Points)
One of the bastions of why I hate the Nintendo 64, Wave Race 64. I actually had to look it up on Wikipedia because I was thinking that no way they release that effing game to the VC. They did. You ride on Jetskis, around and around which apparently I sucked at. For the VC version they did have to remove any logo that was Kawasaki based since the sponsorship expired. This has been replaced with DS and Wii logos. They could have replaced it with DOA girls and there would still be no way I would come within ten feet of it.
Adventures of Lolo is a fun little puzzle/platform game where you played an adorable blue fur ball as you tried to solve each level before moving on to the other forty nine. It was actually quite difficult but interesting and different enough to keep you playing. The levels were actually a compilation of some previous japanese games and then they threw in some original ones. So believe it or not, the first Lolo game was a greatest hits package. Ahead of its time I tell ya!

Galaga 90 is actually Galaga 88, just due to years and various ports, we get it labeled as 90 (got that those at home?). Anyway, its a sequel to of course Galaga. I remember first playing this in a Pizza Hut before the sucker went to console. The sucker plays hard. Me, you and your dog might be awesome at the original but this sucker is insane. Especially once you start the 4th stage. The game introduced having three ships at once (Super Ship) along with dimensional travel to please the pallet. I would love for this game to eventually come to XBLA but for now the VC will have to suffice. So skip Wave Race this week (please!), but Lolo or Galaga 90 will both do you some good.
Console Releases

PS2
Call of Duty 3 Enhanced GH
Marvel Ultimate Alliance Enhanced GH

PSP
Crazy Taxi: Fare Wars
Tomb Raider Anniversary

Wii
Boogie

DS
Chameleon: To Dye For
Glory Days 2
Pet Alien
High School Musical: Makin' the Cut
Mega Man Star Force Dragon
Mega Man Star Force Leo
Mega Man Star Force Pegasus

I thought about skipping this week, honestly. I would assume the PS2 releases add in some content like the Gold editions did on the 360. New characters, new missions, that sort of thing. I really can't find myself getting excited about Boogie, since that is technically the only nex-gen title coming out this week. The Mega Man Star series on DS looks more like a case of the runs with three titles coming out this week. Nothing good can come of that. So what does this mean, save your money and wait for Madden next week.
Final Thoughts & Mutterings
Gaming, well I was going to play Lost Planet for 360 and then I got diverted. I capitalized on the Circuit City deal that had buy 2 1600 points cards (or other live accessories) and get $20 off. So basically, buy 1 1600 point card, get one free. Awesome deal, I had to price match at Best Buy though. Which invoked a long time and a couple of phone calls. ("So am I reading this right, they buy two live cards and get $20 off, yeah yeah..are you sure?"). Finally they let me through. So I had two 1600 point cards, a 1600 point card at home and 1300 points on my console. 6100 points for those who can't add. So what do I do, spent a lousy 400 on Spyglass Board Games. You can laugh, but I got Chess now! Okay, really…stop laughing. I'll figure out something else to do with the 5700 points, until next week kiddoes wish me luck at the baseball game. I'm looking forward to it.
As Always,
Kedrix of Aldrianian
(*The Forgotten One*)