The Last Nail on the HD-DVD coffin, Bad people in MMO's and Banks that won't pay the WoW cash cow – Welcome to the column that is like an automatic payment for those pills you have to take because of that trip to Haiti known as Dare to Play the Game.
Welcome to another edition of Dare to Play the Game. As luck would have it, three more levels and I'm up to level 26 with my Rogue in World of Warcraft. I have discovered poisons this past week since I finished the appropriate quest. I had been lazy in finishing this quest since it involves quite a decent arch. First, I had to go to this guy and salute him, then I had to go pick pocket a key from a goblin who was only a few yards away. Then after killing three separate mobs of everything from patrolmen to mutated drones I get to the top of this tower and face off with a 23rd level elite. I kill him fairly easily. However, he gives me a curse, the Touch of Zanzil. The curse lasts seven days, and keeps me from stealthing and reduces my agility. So I have to go clear across the map to get somebody who will get rid of my curse. While I'm over there, I finish the next rogue quest which takes me to Ravenholdt where I have to go through a cave and escape from a level 33 elite by using my vanish skill. Current plan? I'm taking a break from the exciting life of a rogue and working on some Undercity rep so I can get a skeletal horse even though I'm a Troll. I need the break.
Ode To Morgan Webb
















It's party time at X-Play. Or we just caught Adam and Morgan in a seizure moment (he just heard there was another Naruto game coming). *watches briefly to make sure* Yep definitely a seizure. He's going down, he's going down. Wait, he stopped breathing, he might need mouth to mouth. Morgan, highly trained in first aid, saves him quickly. He's back up and ready to go. He seems to do that often, sometimes a couple of times an episode. I think I might be having a seizure moment in a minute here too. Stay tuned.
News of All Types
MMO's


And you thought gold farming was bad. Steve at PlayNoEvil has an interesting analysis up of the next wave of things MMO operators and players will have to worry about: gold frauders. The number of stolen credit cards being used to pay for WoW accounts has led to the UK bank Halifax to block payments to Blizzard, among a few other industry moves to try and deal with the ever-increasing problem of stolen credit cards, illicit RMT transactions, and other money-related issues. What is the problem – and why?


Now we have a problem. And it is not gold farmers.
Banks don't like chargebacks. High risk/ high fraud markets (the adult industry and gambling) pay a substantial premium for payment processing. If fraud gets too bad, payment processors will simply refuse to service companies. The also will impose additional procedures to combat fraud – all of which cost money.
The first consequence for the entire game industry will be a broad increase in payment processing fees. New game providers will face difficulty entering the market as most payment processors will refuse to work with them.
Subscription gaming is in trouble. While the free-to-play business model has been pitched by many as a good strategy, it is going to become necessary in a higher payment processing world.


Eep. Will there be more fallout à la the Halifax bank incident? Time will tell.

Rule #1 for people out there, if you can help it; never do the automatic payment thing. It's bad news anyway for your average consumer. Why? Because paying late is better than a chargeback. In the odd event that you can't pay X bill for a couple of days, you can always pay it late. It's still bad practice but you won't face criminal action for it. But Kedrix, you play WoW, so does your g/f. You're right, I am fully in support of the player cards they sell in stores. I do the same thing with Xbox Live. I buy it when I want to use it and don't have to worry about harassment or people fiddling with my bank account. I really can't blame banks for just saying no when they are getting frauded by the rotten apples in the bunch. But the bad part of this is if a Blizzard turns around those increased payment processing fees on us. I've already expressed my discern for the $15 a month. More and they are in danger of losing players, no matter how badly they are addicted.
D-E-A-D Doorstop coming through

Let there be no more speculation about Microsoft's stance on HD-DVD. The company issued a statement today that it would no longer manufacture the Xbox 360 add-on following Toshiba's decision to bail out on the high definition disc format. It reiterated that the death of the HD-DVD format would not "have any material impact on the Xbox 360 platform" but it surely scuttles any talk that the Redmond giant has plans for a 360 with a built-in HD-DVD drive. We expect fantastic deals on the accessory and discs to flood Cheap Ass Gamer within hours.


The full statement from Microsoft is just after this, full of digital distribution good wishes and stiff upper lips. Rest in peace, Xbox 360 HD-DVD player.


As a result of recent decisions made by Toshiba, Hollywood studios, and retailers, Microsoft plans to withdraw from HD DVD. Xbox will no longer manufacture new HD DVD players for the Xbox 360, but we will continue to provide standard product and warranty support for all Xbox 360 HD DVD Players in the market. As we stated earlier, we do not believe this decision will have any material impact on the Xbox 360 platform or our position in the marketplace. HD DVD is one of the several ways we offer a high definition experience to consumers and we will continue to give consumers the choice to enjoy digital distribution of high definition movies and TV shows directly to their living room, along with playback of the DVD movies they already own.

Some people think that Toshiba was the final nail in the coffin of HD-DVD. Personally, I think this is it. Xbox 360 helped to sell HD-DVD, even if it was a crappy add-on peripheral. I can't tell you how many times I thought of plunking down $179 or $129 or even now when they are clearancing out these players at $50. However, the big clunky doorstop is worth about as much as a BetaMax player from the 80's. On the flip side, you should be able to procure the player and quite an assortment of discs for a very cheap price. It's still HD technology, it still looks better than your current dvds. Of course then again, it can't be any worse than having those laserdiscs and still claiming that those are the wave of the future while loading the eighth disc out of twelve.

Pst buddy, trade you a WMD for 30 gold

There are bad people on the internet. Really bad. Good thing the government is gonna get them! According to the US Director of National Intelligence, the country's top snoopers are developing software that will help trackdown violent extremists congregating in online worlds. The proposed project falls under the post 9/11 "Data Mining Reporting Act." ("Data mining" is defined as "a program involving pattern-based queries, searches or other analyses of 1 or more electronic databases" in order to "discover or locate a predictive pattern or anomaly indicative of terrorist or criminal activity…") Called "The Reynard Project," this new software will first study the way gamers behave online, and then apply this data while searching for violent extremists. Still in its preliminary stages, the ultimate goal is to "automatically detecting suspicious behavior and actions in the virtual world." Thus, the program could detect "normal" MMO gaming behavior and pinpoint those who are deviating from that norm. Hello Big Brother!

They are sooooo going after Horde Rogues or Warlocks first. I'm so screwed. I can see it now, a military investigation in my home just because I took my Rogue into the heart of alliance territory one night cause I was trying to find a Horde flightpath. Or if my handle happens to include the word Bomb or have words that they would label me as a terrorist. (Hrmmm, Lantanador…it does have the word tanad in the middle which is like jihad, oh great, just great). But one would have to speculate, what would a conversation between a government fed and a MMO player play out like? Not just any MMO Player, but the 12 year old who thinks he's the most super elite player ever.
DemocratsFTW: So where do we go now?
Leeeet69Bombz: Dude, we need to track west from the XR into Stone Talon and kill the Harpiezzzzz. Or we could head to Undercity and then get around IronForge so we can get to the Gnomeregan instance. It would be super elite because we be right in Alliance territory dude. That be aweeeesome.
DemocratsFTW: We would be invading the alliance? Are you planning to take over?
Leeeet69BombZ: Dude we could so do that, you want to set up a 40 man raid and storm into IronForge? OMG that be uber elite. Think of all the leetness we would aquire for just coming up with the idea. We got to dooooo this and show our mad skillz!!!!!!!!!
DemocratsFTW: Couldn't we just play it safe?
Leeeet69BombZ: Play it safe is for F'ing noobs dude. You are such a noob. You think your Pally is just so sweet because he can heal and fight. Look at me, I'm all lawful and get honor points. I'm a rogue bitch, I play by my rules and Ambush any other nooobie alliance scum that gets in my way. I want to die in battle so that 27 troll virgins can visit me at the spirit healer. HORDE FOR YOUR MAMA!
Meanwhile, DemocratsFTW is busy calling the FBI and locating Leeeet69BombZ's house. Maybe that's not such a bad thing after all.
Releases for the Week of February 27th, 2008
Xbox Live Arcade – Triggerheart Exelica (MS 800 Points)
This game originally showed up on the Dreamcast and in the Arcades as a 2d shooter. I reckon somebody thought it was a good idea to port another 2d shooter over to Xbox Live. It is being upgraded with HD graphics and reminds very much of Castle Shikigami, another 2d shooter that was found on PS1 and PS2. (Americans might be used to seeing the name Mobile Light Force). Incidentally, Castle Shikigami 3 will be making its way to XBLA later this year. I love 2d shooters, seriously. But I don't need 40 of them. Especially at the 800 point price tag. One interesting note, this game works off the VBAS system which if you accumulate a very high score throughout the level, the boss will be much tougher. Carry a lower score and the boss will be a little easier to defeat. Meh, I'm interested in CS 3 since I reviewed the previous one but I'm not too interested here.
Wii Virtual Console – Kirby 64: The Crystal Shards (N64 – 1000 Wii Points) & Psychosis (TG16 – 600 Wii Points)














Basically you know Kirby, he has a plethora of games and cartoons; this was his first entry into the 3-d world (I miss 2d Kirby). Of course since, N64 had to add 64 after every video game, we see Kirby as nobody has ever seen him before. (And care to ever again) There was copy abilities and mini-games in an attempt to be the alternative to the great Mario. Kirby isn't a bad game but at 1,000 points; it's pretty hard to justify especially with those migraine inducing screen shots I've found.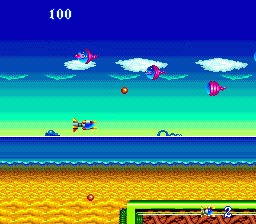 One of those obscure Turbo Graphix games. This was a 2d horizontal shooter from the minds of Alien's Crush and Devil's Crush, Naxat Soft. The story is at least a little original in the sense that your mind has been taking over by an evil power. In order to fight back, you have created a vehicle that will travel through your conscious and subconscious to win back your mind. Kinda like what happens after watching Epic Movie. Honestly, you better off spending your points on either Alien's Crush or Devil's Crush this week. They are great pinball games and a wonderful addition to your VC library.
Console Releases
PSP
Blokus Portable: Steambot Championship
Patapon
PS3
Turning Point: Fall of Liberty
Lost Planet: Extreme Condition
Lost: Via Domus
Xbox 360
Turning Point: Fall of Liberty
Frontlines: Fuel of War
Lost: Via Domus
Wii
Agatha Christie: And Then There Were None
Destroy All Humans: Big Willy Unleashed
Bass Fishing
DS
Bratz: Super Babyz
Brain Assist
Bubble Bobble Double Shot
Disney Friends
Naruto: Ninja Destiny
Petz: Wild Animals Tigerz
Spitfire Heroes: Tales Royal Air Force

I would not classify this as a great week, but I would not classify it as a bad week either. Turning Point: Fall of Liberty probably has the most interesting storyline for a game this week. It's based on an alternate history of World War II events. If Winston Churchill died in 1931, the theory is that England would have been taken over by Nazi Germany in 1940. Then the rest of the world would fall soon afterwards. In 1953, knock knock on the US doorstep they would come. Somehow I don't think Hitler is giving any beads for the land he wants to take. But it actually gets better. You aren't playing a solider. You are actually playing as Dan Carson, an average construction worker who just has to survive. (And assumingly create the turning point) Originality, I like it. I'll probably pick it up in the bargain bin. Lost Planet comes out for PS3, my collector's edition of the Xbox 360 version still sits unplayed. Perhaps (big if), I will pick it up and see if it's worth any salt. Other quick news, the Wii provides an Agatha Christie game based on the book of the same name. I hope for a good mystery game that plays like 7th guest and not something that plays like Night Trap. The next Destroy All Humans game is only on the Wii (blah!). But it should be a fun time as they roll into the early 70's and start a fast food restaurant. But the burgers will contain human meat. MUHAHAHAHA. Did they borrow this from Sweeny Todd? Oh well, should be fun anyway.
Final Thoughts & Mutterings
I stopped playing All Pro Football 2k8 for the Xbox 360. I might pick it up again, but as mentioned last week; I think I got bored with it. But it far surpassed the $15 I spent. I played some Bejeweled 2 this week and finished the puzzle mode which opened up Cognito mode which I've done okay with. That game is such a time waster. Seriously. I'm really trying to find a game to start, something light to medium range but not a puzzler or sports game. I want a story I guess. Maybe a Scarface, maybe a Yakuza, maybe a Lost Planet. Maybe I'll just start Oblivion. Okay, I'm not that crazy, yet. Poker Smash probably will be purchased this week. I hope it is as fun when I get out of the demo mode. Hopefully it doesn't lock up a lot either. I'm kinda in a rut. I enjoy WoW as we all know but it's a game you just play in spots (at least for me). To keep me going in the long haul, I need that and I need a good console game or I'm liable to get bored with everything and start pondering if I should buy another console. Last time, that led to the Xbox 360. And a 42 inch plasma. We don't need that to happen anytime soon. So have fun kiddoes and always remember to keep the mountain dew cold and the wireless controller hot.

As Always,
Kedrix of Aldrianian
(*The Forgotten One*)