Sex, Nudity and more things that we wish involved Morgan Webb but doesn't – Welcome to the column that polled five hundred people about their bedroom gaming habits and realized that A)They have to change their sheets often and B)They have to install a bicycle pump by the bed known as Dare to Play the Game.
Welcome to another edition of Dare to Play the Game. World of Warcraft, I am up to 30 with my Troll Rogue. As mentioned, I also started a Dwarf Priest named Talloween on the Shadow Council server. He is currently level 10 and is a tough but fun character to play. I'm not used to the spell caster types and I have to adjust my playing style to compensate. I am exploring his professions of enchanting and tailoring which are quite the experience. I even took up fishing just to make it a totally different character for me. Of course on the 2nd fish pull, I got a mana potion. I'm surprised it wasn't a boot or an old tire. My girlfriend is helping me a lot with this character which is good. I've done all the leveling myself but she's helped by sending me low level items to disenchant and linen cloth to help my tailoring skills. Plus it is something we can do together which is why I took up WoW in the first place. I like playing with her and sharing the time together. Sometimes it's simply just asking how much to put something in the auction house for. Sometimes it's a difficult quest. But we work well off each other and it's very fortunate and nice to have.
Ode To Morgan Webb





















Sometimes you have to appear casual. Here is Morgan in a cool green number accented with some jeans. Girls should pay attention, you can always do good by just not dressing up. Glitz, glamour, that perfect $400 dress are all well & good. But an old pair of jeans and a t-shirt or simple blouse does wonders. Also cleavage is good. In fact, you know what's better, a tiny plaid skirt and a button down white shirt. *tap tap* Perhaps I'm getting ahead of myself here.
News of All Types
Polls of Little Interest


We already knew Brits like buying video games more than music. Now it seems like playing video games more than doing each other. A survey from "bedroom specialist Sharps" polled 2,000 people in the UK about the most common activities in bed. What did the bedroom retailer find? Number one was sleeping, number two was talking. Three? That was watching TV. To see where gaming fell, hit the jump. It's surprising!


1. Sleeping
2. Talking
3. TV
4. Net surfing
5. Reading
6. Listening to music
7. Using the phone
8. Working
9. Computer games
10. Sex

*snore* *snore*, What? Sorry I didn't catch that. Leave it to those crazy brits to admit they play more games than have sex in the ole bloody bed. Mebee, my bed is rare but only 1,2,5, & 10 are really ever done in my bed and some are more than others if you know what I mean (like a lot of reading). But I guess if I took my laptop under the sheets then I could add something else to the list (or at least more reading). However, due to my wonderful sources I have obtained the rest of the list and add a few more notables about what British people do in bed.
13.Dreaming about what it is like to delay Tea Time by one hour.
15.Soccer, one word….GOAAAAAAALLLLLLLL.
24.Making up rumors about the Royal Family
30.Fantasizing about Paul McCartney.
40.Fantasizing about John Lennon.
349. Fantasizing about Julian Lennon.
999. Brushing their teeth
1,000. Wondering how Dare to Play the Game comes up with those witty comments. (well at least we made the list)
Bad Soundtracks

GameCareerGuide has an interesting interview up with Steve Schnur, worldwide executive of music and marketing for Electronic Arts, on the interplay between games and pop music. Schnur contends that being part of a game soundtrack isn't just one more stop on an upward career trajectory, but can (and has) launched careers:
Epic Records credits Madden 2003 as being instrumental in the breaking of Good Charlotte. Avril Lavigne was first introduced to European audiences through FIFA 2003. Fabolous was first introduced in America via NBA Live, and went on to sell over 2 million albums here. JET got their American iPod commercial based on exposure in Madden 2004. Avenged Sevenfold were an unsigned act when we featured them in Madden 2004. In the weeks following the game's release, their independent album sold tens of thousands of copies without radio airplay, and they were signed to a major label soon after …


He goes on to list a ton of other examples. It would seem that it's less about being on a video game soundtrack and more about being on a Madden soundtrack, but be that as it may – Schnur has an interesting perspective on one part of putting together great (and not-so-great) games.

Well at least we know who to blame for Good Charlotte and Avril Lavigne. Is Hannah Montana anywhere in there too? This article is also heavily slanted towards EA. Plenty of games have done this and are great starting grounds for artists looking to make a break in the biz. Of course they also run the risk of being over played and annoying the heck out of me. Point in fact; Rush's Tom Sawyer. Once upon a time, I actually liked that song. For all of 3 to 6 months. Then the classic rock station decided it was the only Rush song they knew, my college friends played it all the beeping time, then they had to make it the intro music in All Pro Football 2k8. I can't even play it in Rockband without wincing now. But for little known artists, it is a win win situation and hopefully more decent acts get involved in the process.

Xbox 360 Nudity

Grab your oxygen tanks, it's time for some breathless news.
Lansing, Michigan television station WLNS reports on how online games, in particular the Xbox Live, have become a magnet for sexual predators.
Thursday night a woman identified only as Jennifer said that her two children (whose ages were also not listed) were playing a game on "X-Box Live" when they were "exposed to nude pictures sent from someone on the other end."
Jennifer immediately turned off the system and then "called Xbox Live", the faceless online service apparently told Jennifer there was "nothing they could do about it."
Oh X-Box Live, you lie! We all know that you can block individual gamertags, report them for abuse and even set up parental controls to limit access online for children. Why would you lie to Jennifer X-Box Live? Why?

How much you want to bet they were up playing Uno rather late into the evening? Seriously, after I got my 200 achievement points, I stopped playing for this very reason. Every other game would be about pot smoking or some 12 year old mooning the other three folks because he lost. Always remember one thing about nudity via cam like Xbox Live Vision, it's never the people you actually want to see naked. But seriously, it's not Microsoft's fault. They provide a service, they can't hover over and see to that some person doesn't drop their pants at a moment's notice. Only because the 360 provided the image that the Mom has a reason to try and blame them.
What if this had happened on their pc, would they have called Earthlink or Road Runner? Or better yet, just call the Internet. Al Gore might have to take a break for five minutes since he can't think of any global warming scams at the moment and help you out with your little problem. The parental controls are there for a reason and Microsoft does the best they can without seriously hindering the system. I'll say it once, and I'll say it again. Stop being a victim and stop complaining. You saw nudity, get over it. Chances are so did your husband or else you wouldn't have those two kids in front of you. Not to mention, in one breath they are complaining about nudity and the other they are pushing their copy of Gears of War or another "M" rated violent game under the couch. But that's another rant.
Releases for the Week of March 12th, 2008
Xbox Live Arcade – Brain Challenge (MS 800 Points) & Bliss Island (400 Ms Points)
















Kinda cool, but shouldn't this title been released about two years ago to keep up with current trends. Scheduled for next summer, it's the Cooking Mama game. Anyway, I digress (and quickly too I might add). Similar to Brain Age and Big Brain Academy, this game will test your mental facilities with brain exercise puzzles. In other words, it is guaranteed to make you feel like a moron in the time it takes to tie your shoes. If you actually do such a thing. The XBLA version adds many more modes than its cell phone equivalent such as a personal coach mode, stat charting and a more relaxing mode for those of us who don't need to become a quivering mass of stupidity.
















A cheapy puzzle game is our second title. Originally developed on the pc a couple of years ago. It includes 25 challenges across nine levels. Kooky characters and a very simple interface. Translation: shovelware. Look for a Wii version to follow *sarcasm*. Where the heck are the decent XBLA games? Games that aren't a horizontal shooter or an obscure port from a couple of years ago or a puzzle game that nobody cares about. Remember when XBLA released titles like Castlevania: Symphony of the Night or Pac-Man Championship Edition? It's hard writing about games that you never heard of and with concepts that look like less worthy than a $10 shareware effort. To be honest, I would just love for a port of Mappy on my Live right now more than 95% of the releases in the past few months (Poker Smash is the only one I can think of offhand). And where the heck is Duke Nukem 3d? *sigh*, perhaps I need to be medicated.
Wii Virtual Console – Doremi Fantasy: Milon's DokiDoki Adventures (SNES – 900 Wii Points) & Puyo Puyo 2: Tsuu (Genesis – 900 Wii Points)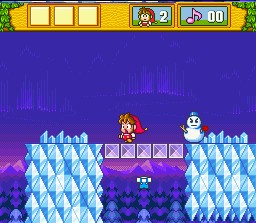 It's import week at the ole VC barn. The first one was a sequel to the old Milon's Secret Castle game on the NES. However instead of being based in a dark castle with many rooms, it was placed in seven themed worlds complete with world map. A few levels that to be completed in order with a good old fashioned boss at the end of each world. He can also finally jump on enemies but it only stuns them whereas they have to use a bubble if they want to capture them similar to the first game. Please note that this game will not be translated but should be down to earth enough for most people to get through provided they liked the original in the first place.
The original Puyo Puyo was actually translated into several North American Games like Dr. Robotnik's Mean Bean Machine & Kirby's Avalanche. The sequel was only released in Japan under the original title. It still involved Puyos falling from the top of the screen in pairs which can be moved left and right and rotated at will. However, new modes were added, mainly in the form of garbage handling. Garbage relating to what the opponent was doing to the player in order to keep them from winning. You could counter it and throw garbage of your own among other activities. An interesting week for sure, but not for everybody.
Console Releases
PS2
Buzz Jr. Robo Jam
Buzz! The Hollywood Quiz
Pro Evolution Soccer 2008
Ratchet & Clank: Size Matters
World Heroes Anthology
PSP
Pro Evolution Soccer 2008
Wild Arms XF
World Championship Cards
PS3
Pro Evolution Soccer
Xbox 360
Condemned 2: Bloodshot
Pro Evolution Soccer
Wii
Super Smash Brothers Brawl
House of the Dead 2 & 3 Returns
DS
Final Fantasy Crystal Chronicles: Rings of Fates
Insecticide
Nanostray 2

Who would have thunk that a soccer game was the widest release this week? However, there are a handful of games to ponder for this week. Of course Super Smash Bros Brawl tops the list and will give the Wii another great exclusive to wave in the face of everybody else. We all know that Snake will beat the living crap out of every character anyway. Condemned 2 is probably the best other release of the week but probably made a mistake by releasing itself at full price. The reason I say that is that the first one only received cult status after it started to appear in every bargain bin known to man. I picked up my copy when it hit $20 and still need to play it more. So many won't even pick this up until that scenario happens again. Not to mention, it will probably get swallowed up by the shooter known as Rainbow Six Vegas 2 next week. Which is a shame, for Condemned is one of the most original fps games I have seen in a while. Other than that, I would like a copy of World Heroes Anthology so I can get my fix of one Rasputin, the Mad Monk. If 15 people would just donate a dollar, I'm sure we can get this boat in motion.
Final Thoughts & Mutterings
Welp, I got a few things for 360 this past week. First a couple of download cards of Worms & Ultimate Mortal Kombat 3 for Xbox Live Arcade. They were part of the buy 1, get 1 free deal at Target. Worms & UMK3 for $5 each? I'm in! I can't wait to download these and try them out. In other news, I also got Rockband, game only. The girlfriend and I have already been treading the midnight oil playing this one. It's a blast and is even more fun to play together than Guitar Hero three was. Furthermore, you can sing with your headset (but I do have a microphone on the way). So, needless to say we both tried out this feature. Well Sarah did the singing thing when I was cutting the lawn or off at work. But it's great fun, seriously. I also already downloaded the Nine Inch Nails pack and several singles. Depending on the microphone, I actually might buy a mic stand since when I go to karaoke I tend to use one. It also just feels cooler. The funny thing is that we probably have spent more time customizing our individual characters than playing set lists. Another area where Rock Band just leapfrogs over Guitar Hero. But this one will stay in our queue a long time. It's just kinda cool when you five star a song like In Bloom or Black Hole Sun. (or my sweetie 5 starring a Garbage song). Maybe we aren't so tone deaf after all. Have fun kiddoes.

As Always,
Kedrix of Aldrianian
(*The Forgotten One*)