Plagiarism in Video Games, Penny Arcade, & The Never Ending EA Offer – Welcome to the column that copies itself weekly with jokes that were relevant twenty years ago known as Dare to Play the Game.
Welcome to another edition of Dare to Play the Game. 43&22. Well, as some of you might remember, I had a goal for World Of Warcraft and my level 43 Troll Rogue last week. Actually two of them, one was with lockpicking and one involved cooking. My lockpicking skill was in the 160's and needed to be raised to 175 to compensate for the level 40 junkboxes I was starting to get. Once I understood my options, (which wasn't many) I traveled to Desolace and spent a lot of time underwater trying to find footlockers. After about an hour exploring and fighting a lot of nagas I was ready to give up. Then I found one, and found another and before I knew it, I hit the magical 175. I promptly got the heck out of the water and went to my second goal: cooking.
For those who don't know, cooking is practically a requirement for rogues since we have no other good way to get buffs on our own that don't involve another character. The cooking quest to get to Artisan involves gathering Zesty Clam Meat, Alterac Swiss, and Giant Eggs. The first two are fairly easy or cheap depending on your methods. Giant Eggs on the other end either require you to grind around Gadgetzan forever, spend a lot of money in the AH or go to The Hinterlands or Winterspring. The Hinterlands or Winterspring areas suggest that you be in the high 40's to low 50's to survive in that area. Which option do you think I chose? Why option 3 of course. But I went with my close personal friend who had a mid 50's hunter and penchant for getting in trouble. Within an hour, we had all 12 eggs and I was a better chef to boot. So to him, I extend a very hearty thank you for he helped me far more than he ever knew.
Ode To Morgan Webb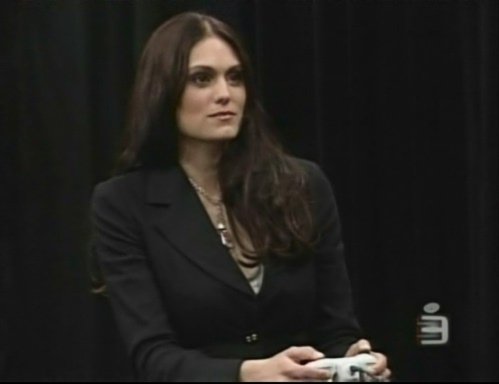 If you never thought somebody could look completely stylish while holding an Xbox 360 controller, well you've never met Morgan. She looks natural here while surely playing her favorite FPS. Though upon looking at her a second time, I see a certain smile fall on her face. I wonder why that is so. Perhaps that smile is coming from the fact that I just logged on (since you know I'm on her friends list). Or perhaps she got the crotch achievement in Stranglehold, one can never be too certain.
News of All Types
EA=666


Electronic Arts announced this morning that it has extended its bid to buy Take-Two. The prior bid expired on Friday, May 16th, and this latest extension, the third since EA announced its bid, gives the publisher until June 16th to negotiate a deal.
According to the latest SEC filing, EA has not raised its bid, as some analysts had speculated it would. The offer remains at $25.74 per share, and as of the time the filing was made, the company reported that only 6,210,261 shares had been tendered to EA – to acquire a majority stake, EA needs more than five times that many.
"Extending our offer will allow the FTC review process to continue," said EA VP of corporate development Owen Mahoney. "EA's offer price remains unchanged at $25.74 per share and our offer is still subject to conditions that include regulatory approval. As stated earlier, we retain the right to terminate the offer if the conditions are not satisfied."


Following EA's extension announcement, Take-Two executives also issued statements:
"This is the same highly conditional proposal that EA offered Take-Two stockholders on March 13, 2008, which our Board of Directors thoroughly reviewed and unanimously determined to be inadequate and contrary to the best interests of Take-Two's stockholders," said Take-Two Board chairman Strauss Zelnick, stating again that he recommends stockholders not tender shares to EA.
"We said we were willing to begin formal discussions with interested parties on April 30, following the launch of Grand Theft Auto IV, and we have in fact begun that process," Zelnick said.
Take-Two CEO Ben Feder said that GTA IV's record-breaking launch, along with recently-announced plans to develop a BioShock feature film , [demonstrate] how Take-Two is delivering value from our powerful and wholly-owned intellectual property. The small number of shares tendered into EA's offer to date demonstrates that our stockholders agree with what our Board has maintained from the beginning: EA's proposal undervalues our Company."

Is EA the borg? I've heard of resistance is futile but come on. Furthermore, they have not changed their bid of $25.74. Let's go check the NASDAQ shall we? The markets currently have Take-Two trading at $27 at the time of this article. That price is perhaps a tad inflated but what investor in their right mind would take EA's price and hand over their shares? That is unless they thought Take-Two was going to plunge and they wanted to hedge what they currently held on the stock. Hrmmm, GTA IV has done huge business and will continue to do so for the rest of the year. I'd lean towards the fact that it will take EA much more work to get Take-Two shareholders and Take-Two themselves to cave in. But knowing EA, they have a hammer and a few billion nails to pound into them until they decide to do so. Man, I wish I would have invested about 10g's into Take-Two in mid August of last year. A rich man, I tell you, a rich man.
The Death of the Console has been greatly exaggerated

Wild Tangent's CEO, Alex St. John, made some 'brazen' claims at the ION keynote — one of the boldest being that console gaming is dead and the PC is looking towards a renaissance. It should be noted that St. John has blabbered about this before, so he's just retreading previous ground:
Beginning one of several brazen claims in his keynote, St. John spoke of the death of video game consoles: "Nobody needs a console when a game's value and DRM is defined by community or an input device. Consoles just serve to keep you from playing a game you didn't pay for."
He asked, "What's Sony and Microsoft's motivation to make another console? It's been so rocky, and it's not about the pretty graphics anymore." According to St. John, spectacular graphics have become a commodity, and not the platform for games to differentiate themselves. "The Wii is the exception that proves the rule — it's not about the graphics, it's about the input device.
He went on to talk about advertising models and targeting the right audience — but his statements on the console vs. PC pack the most punch.

HAHAHAAHAHAHA. Wait, excuse me a second. HAHAHAHAHAHA. *catch breath*, wow…Alex, I thought you were actually serious there. "I am serious and be sure to say my name with a french beret on would you?" *blink blink* There are lots of cool PC games, but the upkeep from game to game is flat out ridiculous. PC Gaming for the most part requires you to keep your machine up to obscene levels and compete with six million configurations of your operating system to boot. I play one game on my PC that doesn't have the word solitaire attached to it: World of Warcraft. The requirements for that game haven't changed in years. That is the only reason I can play it, even such it still gives me problems every so often. Console games give me nothing but joy. I can insert a game and it plays the first time, every time without having to consult my graphics card configuration or whether or not I have enough ram. Furthermore, have you seen an Xbox 360 or PS3 game, they have brilliant graphics from the get go. There are gorgeous PC games out there like Crysis, however console games don't require studying performance tests and processor speed ratings before you make a purchase.
Plagiarism

Plagiarism is one of those serious issues that has laid low a number of people who 'should know better'; over at Only a Game, the question of plagiarism in games is raised — what constitutes plagiarism? How do we define it? Is it even really an issue? Looking at some of the "match 3" games (Puzzle Quest and the earlier Bejeweled), as well as some other common threads, Chris Bateman has this to say:
The fact of the matter is, game genres by their very nature become established because games borrow mechanics, structural elements, and conventions from earlier games. To have a videogame genre is to recognize a recurrent pattern of plagiarism that draws upon the successes of earlier games as its bedrock. This is a good thing for players: few but the most grizzled gamer hobbyists can face learning entirely original game rules every time they play, most prefer to play something that (in broad strokes, at least) strongly resembles an earlier game they have enjoyed. It means they have less to learn, and it increases the chance that they will enjoy the later game.
As he later points out, "what would be considered plagiarism in other media is the backbone and lifeblood of the videogame industry" — clearly that's not such a bad thing, but it does make for some wild accusations at times.

Plagiarism in video games requires some national act of congress to prove. Look at how many Tetris clones are out there. Puzzle games are probably the worst offender as Tetris, BeJeweled, or Puyo Puyo have been copied for years. I still remember the case from years back that suggested Fighter's History copied Street Fighter II The company was in hot water with Capcom who actually sued Data East but ended up losing. But it is all over, currently the sandbox concept that GTA put forth is being copied by every pimp of a video game manufacturer. The best example is actually Rockband which copied Guitar Hero, but actually Guitar Hero copied Guitar Freaks. Of course you know, everything copies Pong. Anyhow, like live movies in Hollywood, there really is no new concepts, just tired and old ideas with a spiffy coat of spit and varnish.
Releases for the Week of May 21st, 2008
Xbox Live Arcade – Penny Arcade Adventures: On the Rain-Slick Precipice of Darkness (1600 MS Points)
















A true test for the downloadable XBLA format. The test, is anybody willing to pay $20 for a game that you don't physically own a copy of? Not to mention, this is the first episode in a series of games. Is it a good game? It could possibly border on awesome. The game combines a lot of old school ideas about RPG's, Point and Click Games, and mixes it with beautiful cell shaded graphics. It is inspired by HP Lovecraft and is set in the 1920's. I love turn based rpgs and to be honest, this looks like a great game. The $20 of MS Points though? Hard to swallow, especially with the episodic format. Take a look at Puzzle Quest or Lumines (well before Lumines had a price decrease). They were great games, but one had to think that they suffered some from their price structure. I think I'll wait and see, but I wish somebody would offer some MS Points soon at half price or a B1G1 free scenario. Rockband is killing me.
Wii WiiWare & Virtual Console – Critter Round-Up (WiiWare – 1,000 Wii Points), Star Solider R (WiiWare – 800 Wii Points) & Sky Kid (NES – 500 Points)














Leave it to Nintendo to force me to change up my format for reporting their downloadable content. However, I guess since Virtual Console has released everything including the kitchen sink, titles will be dwindling and less content will be made available from here on out. So that means WiiWare will become more important. Critter Round-Up is an action puzzle game where you control a farmer who builds fences to contain animals. Animals like cows, pigs, but also like penguins and dingos. There are 50 levels across 5 different environments and even some mini-games like Snowball Soccer and Predator Rampage. Look, I've never milked a cow or even been on a farm (I have however been to some petting zoos and places where they sell hay). I sure don't want to play a game about it. Then again, I did play the part in Gun where they wanted you to corral the livestock with your horse back into the pen. And I actually enjoyed it.











Star Soldier R is a recreation of the classic title with snazzy Wii graphics. The catch in this one is kinda Pac Man Championship-esque though. Your mission? Score the most points you can in a 2 or 5 minute time-limit. While PMCE was one of the best XBLA games I've ever played, I'll reserve judgment on this one. The premise is simple enough, but I have a feeling it is one of those scenarios where they simply didn't have enough game, so they slapped a time limit on it. It might come off more like a demo than a full game, we'll see. The last title this week is Sky Kid which was released in 85 on the old NES system. A fairly simplistic horizontal shooter saw you manning a World War 1 fighter plane and trying to take out specific targets by bombing them. Shooting targets sometimes even revealed a secret Namco character like Pac-Man, Inky or Pooka from Dig-Dug. It's really hard to give a recommendation on the Wii channel this week.
Console Releases
PS2
UEFA Euro 2008
Garfield Lasagna Tour

PSP
UEFA Euro 2008

PS3
UEFA Euro 2008
Top Spin 3
Haze
Singstar

Xbox 360
UEFA Euro 2008
Top Spin 3

Wii
Wii Fit
Top Spin 3

DS
Top Spin 3


An okay list of titles for this week. I'm still not feeling it I guess. Wii-Fit finally gives the Wii owner an official title to lose weight with. Since we wouldn't want to suggest walking or running outside with fresh air. The sad thing is that it will sell a few million copies easily. In the sports arena, Top Spin and Euro 2k8 try to make a couple of predominantly foreign sports into something us Americans can enjoy. Tennis, perhaps but good luck on the soccer. Haze should be an interesting FPS on the PS3, if nothing more than just for the idea of how the heck do you fight when you sport half of a helmet on your head? But perhaps the most interesting title of the week? A title so interesting, that isn't even listed here? Why that would be the PC MMO, Age of Conan: Hyborian Adventures. Why is it interesting you ask? Well that would be cause you can create near half-naked female slaves and fight other half-naked creatures at the same time. I mean this is Conan after all. If you can't kill other barbarians and score with naked female slaves, then Robert E. Howard might just be turning in his grave as we speak.
Final Thoughts & Mutterings
At the time of this article, I have received SNK Arcade Classics Volume 1, World Heroes Anthology, and Persona 3: FES and just started to dive into them. I expect a review of the first two before I leave for my business trip in the first week of June. My business trip is actually taking me to Las Vegas. This is the second time I've been, but despite the business tag attached to it should be a happier time for me. Not to dive too much into specifics, I just hope I do get to do some things that I actually want to do this time around. Alright, enough of that, but I hope I can bring a special Las Vegas edition of Dare to Play the Game to you folks complete with gambling, bright lights and a lot of hookers & blow. Okay, maybe not the last two, or the first two but maybe I can just have a cool banner. No banner? Geezus, what production budget do we have on this column? $.99? Hrmmm, I wonder what you can get for 99 cents. *thinks*, is Britney Spears available? Anyway, turn in next week and perhaps somebody would have donated an old tire or two cans and a string. And no, I don't mean Madonna or Rosie O' Donnell on her period either. And a euwwwwww goes over the crowd. Have fun kiddoes.

As Always,
Kedrix of Aldrianian
(*The Forgotten One*)