PS2 Edutainment, Disney goes Rockband without the Band and the Beginning of the End? – Welcome to the column that knows the end is near when it's mentioned in the mainstream press as informative & witty known as Dare to Play the Game.
Welcome to another edition of Dare to Play the Game. I don't feel like crap anymore. Unfortunately, now my girlfriend feels like crap. So that means I'm feeling like crap by proxy I suppose. WoW update: 48/22/18 and I will be sick of Blacksmithing quests very soon. A man should not have to mine this many mithril bars in one sitting . One hundred and twenty bars of mithril (not to mention 40 bars of iron, 5 bars of truesilver & 4 citrine) to get 3 lousy blacksmithing recipes. Well they aren't lousy, but I'm not sure they are worth the effort either. My question is what the heck are they doing with the mithril bars? The quests are given in Stranglethorn Vale which is one of the worst places to mine (I've done most of my mining in a combination of Hinterlands & Thousand Needles). If this was a regular person and not a NPC, I would think I'm bankrolling his blacksmithing skill. I mean if all I had to do was handout three recipes and get in return hundreds of bars and entry trinkets, I would be one rich mofo.
Ode To Morgan Webb
















Here is Morgan, sitting back and look casual. I watched her last night on X-Play as I try to do 1-2 times a week. I love her to death, but honestly she looked like she just woke up. I know, I know you are waiting for the snappy comment about I kept her up last night. Sorry, I already used that joke in front of the girlfriend and it fell flat. No, I did not sleep on the couch. Just cause my back hurts and I am covered in cat hair doesn't mean a thing. Not a thing, *sigh*.
News of All Types
Disney


Ultimate Band is Disney Interactive's answer to those people who want to have the music band game experience without the need for all of those expensive, room-filling peripherals that are required for titles like Rock Band and Guitar Hero World Tour.
This band game light is both peripheral and original music free, using only cover bands so the developers would be allowed to tweak the music to better fit the game. Those tweaks include the ability to have the lead singer be either a man or a woman, no matter who originally sang it.
The Disney folks told me that they did a number of focus tests during their development of the game. In them they asked potential gamers which of nine versions of the game they would want to play. The options ranged from a peripheral-heavy version of the game with original music, to the game they ended up producing. All of the tests showed, they told me, that gamers wanted a game that didn't require peripherals.
To play Ultimate Band gamers use the remote and nunchuk to strum, drum and flick their way through songs on a bass or lead guitar or drums.
To play lead guitar a player strums with the remote to the beat, matching the on screen timing, while holding different buttons or no buttons on the nunchuk. Depending on difficulty settings, you can guitar with just rhythm strumming or with as many as four virtual frets. The frets are triggered by holding the C, the Z, the C and the Z buttons or no buttons.
Bass is played by flicking the nunchuk and strumming while drums are played by drumming straight down with both controllers for standard drums, to the side for cymbals and then twirling the controllers in the air to mimic grandstanding.
A fourth option for playing, called frontman, consisted of dancing with the controllers. Because the game is peripheral free there is no way to sing in the game.

So, Disney did this focus testing looking to see what kind of game people would want, a game without peripherals or a game with them (and seven other choices) in an attempt to come with a Rock Band esque game. Except without instruments, except without a microphone, except without real music & except really without any real fun. Who exactly did they focus test this against? Soccer mom, The Gecko Lizard & the Monopoly Man? I will give them that this is pretty imaginative, but if you felt utterly stupid holding a plastic guitar, how will you feel when you are doing your version of air guitar? Well if you are this guy, then maybe not too bad. The best part would be the frontman who just dances with the controllers but doesn't sing. I think we finally found the solution for Eddie Van Halen and his lead singer choice. He can stick anybody he wants up there and give them two controllers to prance around with. Genius.
PS University

We mentioned the new Sony Playstation-edu initiative when it was announced; now, Senior Manager of Developer Support at SCEA Mark Danks explains a bit more about the program and it's goals (and the cost). If colleges and universities enter into this sort of relationship with Sony, they will have lovely legal language to follow, but can get access to PS2 and PSP dev kits for $2,000 and $1,500 a pop, respectively:
Danks introduced the concept for PlayStation-edu — "It's mostly about getting schools hardware, to learn how the actual platform works. Not for research and development, for computer science and engineering, and not for art. The goal is to reach the people who care about the metal — engine level coders who like to write in assembly."
"Consoles and multi-core are here to stay," continued Danks. "Beyond that all things change and you need to learn the basics at the low level. So Assembly is here to stay!"
"A lot of schools are treating game education like trade school," argued Danks. "Too many students can't explain a pointer, can't explain memory caches, can't explain bus contention, can't explain how a complier works, cant explain a software rasterizer, can't explain a race condition…"
He goes on to talk about the legal agreements that will be required and the three tier structure of the program. Sounds like a promising idea, but academia is very hard to change — and slow to come around in many cases. We'll see how long it takes this idea to take root.

When I was in college, I tried my hand at computer science/programming. When they got to assembly, I pretty much sat at the screen and blinked a lot. That would explain why I'm here doing a column and not coding games. But much to my credit, those people who liked assembly a lot, I was fixing their computers and schooling them in Doom. Anyhow, this is a great idea and some really cool stuff could come out of it if schools are willing to adopt. But then again, schools are slow to change. When I went to school, they still wanted to teach Pascal. Pascal, not VB or C++. To this day, I still have 5 1/4″ floppies with the name Turbo Pascal 7.0 on them. I think I will go burn them for fun. Good luck to Sony with this.

Grand Theft Auto

Over at GigaOM, Wagner James Au argues that the mammoth launch success of Grand Theft Auto IV is "the beginning of the end" for the next-gen. If a launch that universally successful can't budge hardware sales – and GTA IV really didn't – then "drastic changes" may be to come, says Au:
Expect to see games made for lower budgets, targeted at wider audiences (ones that aren't fixated on high-end 3D graphics) and delivered over broadband with a micropayment program in place. Don't expect a follow-up to the 360 or PS3 anytime soon, either. In other words, the days when so-called "next-gen" gaming reigned supreme are coming to end — instead, the industry's future will be shaped by games like Rock Band.
Au cites VGChartz data, which can be problematic for several reasons recently highlighted in an excellent Simon Carless column at GameSetWatch, but aside from that minor note, I think the future Au foresees is definitely a likely one – to an extent.
GTA IV, of course, netted $500 million in its first week. Hardware manufacturers may need to become more agile, but I highly doubt that the giants of game development will be so easily shifted to lower-budget, microtransactions-driven titles when there's money like that to be made from a hit.
Web entrepreneurs have also been forecasting, with strange virulence, the death of the "core" game industry as we know it for some years now, and they predict its recession in favor of viral, social, casual browser-based stuff. This sector is currently the darling of the venture capitalists, and many of their products have garnered the attention of millions of mainstream users, but such products have yet to prove they can hang in beyond the bubble, and remain primarily of major interest to those who invest in and cover the space. Meanwhile, the console-cycle industry model has persisted for decades.
Most likely, the crystal ball will feature a blend of both business models – a continuation of the traditional one, plus some more risk-resistant, smaller-scale products.
What do you think? Will we see a day when the console megatitle is a thing of the past?

Hahahahaha. Yeap, because you know what? 500 million in the first week just sucks. Why would any software publisher on the earth want that kinda money? *end of sarcasm for the simple minded folk in the room* Yes, GTA did not move mountains or rather PS3 & Xbox 360 consoles. Want to know the reason? Because the 360 and the PS3 have been out for a long enough time that most people who wanted to buy a console have. Were we excited about GTA? Heck ya! But I already have a 360. I mean, am I going to buy a second console just because a new game came out? No, I'm going to buy the game. Systems move when they get introduced and within the first year. Anything outside of that is mostly driven by season like christmas time or a price drop. A game could come out that spins straw into gold, if it happens 3 or 4 years into the cycle, it really doesn't matter.
Another thing that bothers me is this whole lets push towards casual gaming & micro transactions. While they both have their place, it is just that. Their place. I download the occasional XBLA game, I buy Rockband, Karaoke Revolution tracks and the like. But have I ever paid for Rainbow Six maps? No. Have I ever bought a theme on purpose, no. (I did accidentally click on a Viva Pinata theme once) Will I ever buy a full game like GTA or Fable online and download it? Unless it is free, no freaking way. Maybe cause I'm a dinosaur. I have a bedroom dedicated to my game collection and I like it that way. I go in there at least a couple of times a week and enjoy what I see before me. I don't just want to look at my hard drive and go oooooo, you have games. I'm a tangible kinda guy.
Releases for the Week of June 18th, 2008
Xbox Live Arcade – Happy Tree Friends: False Alarm (800 MS Points) & Ticket to Ride (800 MS Points)
















Happy Tree Friends? Oh good lord. It's officially true. Any license can be made into a game. Even something as ridiculous and unfunny as Happy Tree Friends. Yes, I've watched 2 or 3 episodes. Yes, I've wanted to rip my hair out and cave my head in with a meat mallet after watching it. It makes Itchy and Scratchy look wholesome. Anyhow, it's a 3-d game where you control Lumpy and he's got to save his Happy Tree Friends including Cuddles, Toothy and Flaky from life-threatening disasters. Of course these little rodents are going to cause as much mayhem as possible so expect much gore and "hilarity". It is single player only, but there is a lot here for fans of the series. If you like the series, you'll probably go ape for this. Of course, you probably should be put in a home with gates & deadbolt locks as well, but this will suffice for the time being.
















Another board game for the XBLA. Hey, Carcassonne and Catan were awesome, so there is always hope for another good one. In Ticket to Ride, you travel from coast to coast, planning routes and connecting your cities across the country. The goal is to build the biggest route possible and complete your tickets so you can score big and win the game. Multiplayer is included naturally, with 1-4 locally and 2-5 over Xbox Live. Xbox Vision is supported and we could just have another winner on our hands. But this game reminds me of another classic that needs to come to XBLA. Oregon Trail. Cause I soooo need to die of dysentery sometime soon.
Wii WiiWare & Virtual Console – Gyrostarr (WiiWare – 700 Wii Points), Alex Kidd in Miracle World (SMS – 500 Points) & Burning Fight (NeoGeo – 900 Points)














The WiiWare title for this week involves some 3d sci-fi shooting. It uses High Voltage's Quantum 3d engine and has an amazing 50 levels of space "space" to boot. The goal here is to collect enough energy and strike thru the alien portal. Then you can warp to the next level. If you don't collect enough energy, then your spaceship goes boom. It supports a variety of controller options and has a high range of multiplayer options from co-op to competitive. Fairly simple, but looks pretty good.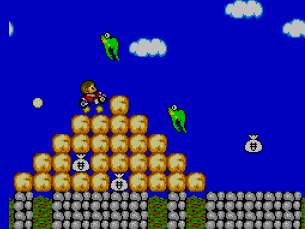 The pack in. Alex Kidd in Miracle World was the game that was actually built into a lot of Sega Master Consoles. A cute little platform game had Alex looking for his lost brother. He was captured by the evil Janken the Great. So, off goes Alex to fight thru 16 levels and save his brother. This game was set apart with how you conducted the boss battles. Many of the boss battles were fought using Rock, Paper or Scissors (2 out of 3). Genius. Little touches like this made it one of the most recognized games in SMS history. Easy recommendation.
The other game is Burning Fight for the NeoGeo. This was the answer to Final Fight and Streets of Rage for the SNK folks. The game played a lot like Final Fight from balanced character selection to weapons found on the ground to knocking over phone booths to find gems and other items. The story wasn't much but Duke & Billy , two NYC detectives were trying to stop the dangerous Japanese crime syndicate. They join with Ryu, a Japanese police officer and martial arts guy and kick some crime syndicate butt. If you aren't sure about this one, it is also part of SNK Arcade Classics Vol 1 on the PS2 for the cheap minded.
Console Releases
PS2
Alone in the Dark
Wall-E
Jeep Thrills
Code Lyoko: Quest for Infinity

PSP
Wall-E
Hellboy: Science of Evil
Naruto: Ultimate Ninja Heroes 2: The Phantom Fortress

PS3
Wall-E
Battlefield: Bad Company
Top Spin 3
Hail to the Chimp
Hellboy: Science of Evil
Overlord: Rising Hell

Xbox 360
Wall-E
Battlefield: Bad Company
Top Spin 3
Hail to the Chimp
Hellboy: Science of Evil
Supreme Commander
Command & Conquer 3: Kane's Wrath
Operation Darkness

Wii
Top Spin 3
Alone in the Dark
Myth Makers: Trixie in Toyland
Big Beach Sports
Wall-E

DS
Top Spin 3
Final Fantasy Tactics A2: Grimoire of the Rift
Mega Man Star Force 2: Zerker x Ninja
Mega Man Star Force 2: Zerker x Saurian
Wall-E
Shining Stars: Super Starcade
American Girl Kit Mystery Challenge
Cake Mania 2
Gourmet Chef
My Weight Loss Coach


Now that my friends is what a release list should look like. The big title this week would most likely go to Bad Company, if nothing else they have provided some pretty entertaining commercials. "You and what army? Why did you say that? I always wanted to say that." Hopefully this translates well in game. The commercial would also lead you to believe it is only coming out on PS3, but thankfully 360 is included. PS3 does finally get Overlord with all of the bonus features from the DLC on 360. I really hope the Xbox gets a compilation disc as well. On other titles, we get an expansion pack for Command & Conquer 3 & a new Top Spin tennis game (the latter, which according to X-Play on Tuesday, isn't entertaining at all). I guess I'll continue to search for a decent tennis game some other time. Hellboy was a decent game all the way back on the PS1, hopefully the new movie game is half as awesome as the movie probably will be. Hail to the Chimp is the last title I mention, only because I honestly thought that this was going to be on the XBLA, not full retail. But I guess if monkeys and politics are your thing, you'll probably appreciate the extra effort.
Final Thoughts & Mutterings
This past Saturday, I had the opportunity to do something I had really wanted to do. Saw Iron Man, which I had held off on and then The Incredible Hulk, but back to back. 7:00 we saw Iron Man, then for 30 minutes we walked around Hastings (bought the special edition dvds of Transformers, Rush Hour 3 and Constantine since they had a buy 2 used get 1 for 1c deal), and then at 10:15 we saw the Incredible Hulk. Honestly, it was one of the best movie going experiences I've ever had. Iron Man is awesome, flat out A and best movie I've seen all year. (Be sure to stay until the end of the credits) Surprisingly, Incredible Hulk was pretty darn awesome as well, getting a solid B+/A-. The first Hulk movie was okay, C+/B- range, but this had a much better story & really led you to feel the depression of what it is like to be the Hulk (along with awesome action sequences). We will probably see Hulk again I would guess in the Avengers movie along with Iron Man. The other cast of characters could probably be guessed, but I'll go ahead and wait for something official on that. If I had seen Iron Man when it first came out, it would not have been as memorable since we saw these two together. They do kinda flow into each other and feel like it is part of a bigger series. Unfortunately, last weekend was probably the last week you could have done that. Iron Man screens are going down as the $300 million juggernaut comes to a close. But for the few that haven't seen either pic, I recommend that as the way to go and may you find a theater that accommodates this scenario. Take care kiddoes and have a great week.

As Always,
Kedrix of Aldrianian
(*The Forgotten One*)