Ubisoft Hacks themselves, Warcraft Achievements & Sonic's got a Sword? – Welcome to the column that slices off their nose to spite their face known as Dare to Play the Game.
Welcome to another edition of Dare to Play the Game. 50/26/22. I finally did my last pvping for my rogue. I worked my way back up to 20 marks and got my blooming blue ring. The rest of the time was spent in dungeons mostly amassing money & items for my hunter to disenchant. I also finished a bunch of quests for dungeons like RFK or ZF that I just didn't turn in because I thought it would put me over the 49 barrier. In addition, I went back to work on my blacksmithing and I'm 75% done with the initial Weaponsmithing quest. The blood elf hunter on the other hand amassed a couple of levels just killing peasants in Hillsbrad. His skinning is nearly maxed again (over 200) and his enchanting is still on par with his level (135). I have a feeling when he gets to 29, he is going to be a beast on the battlefield (well against the non-twinks anyway). I'm not super gung-ho for getting to 30 and the mount because as far as I'm concerned the mount limit is still 40 metaphorically speaking. I'm sitting back and having fun, trying not to care too much about my characters. Way too many people take the game so seriously and have to have something done as fast as possible. But then what do you do after that? They never really have an answer for that.
Ode To Morgan Webb



















Morgan Webb does brown this week and sports a rather sultry style about her. What does Brown do for me? I would go into that but there are people out there watching. And writing notes. And scribbling information down inside a manilla folder with my photo attached to it. Those people scare me and want to put me away in a place with no Morgan Webb. They want to subject me to the Lifetime Channel & episodes of the View. Hell indeed my friends.
News of All Types
Rainbow Six Pirates


So Rainbow Six Vegas 2 was patched earlier this month with a slew of upgrades and gameplay changes, all of it free. Unfortunately, it also inserted a disc check — big problem for those who got the game via digital download.
The fix? I mean the official frickin' fix? The Register says an Ubisoft employee uploaded a fix to the company's support site that was actually a hack written by software pirates to defeat the disc-check. Yeah, Ruh-roh, Rubi. And presumably that guy has stepped in Ubi-doo, as the company removed the executable and is "thoroughly investigating the matter."
Users on Ubisoft's official forum — where discussion of these cracks is forbidden and punished — alerted the company to the fact that R6Vegas2_fix.zip was actually a cracked version of the executable modified by piratcy group Reloaded. That begat some ironic, if not amusing, responses.
We're looking into this further as this was not the UK Support team that posted this, however if it is an executable that does not need the disc I doubt it has come from an external source. There'd be very little point doing so when we already own the original unprotected executable. As soon as we find out more about this we'll let you know.
[Jeopardy music]
Then, later Friday:
The file was removed from the site over a week ago now and the matter is being thoroughly investigated by senior tech support managers here at Ubisoft.
Needless to say we do not support or condone copy protection circumvention methods like this and this particular incident is in direct conflict with Ubisoft's policies.
How about that! They used a freaking file that was, technically, someone else's IP. So they pirated from pirates to defeat their own copy protection. There's a hall of mirrors of irony here and, to say the least, it's some major stank on Ubisoft. It would be for any game company.

Haha. When a company writes copy protection that they can't crack themselves, they rely on software pirates to do the job for them. Or at least that is what this article would have you believe. I can't stand copy protection to begin with, especially when your own developers write themselves into corners and then have to get bailed out by frigging pirates. Remember the old dos games where you had to have the original manuals and look for a secret password by going to the 25th word on the 3rd page? Those used to piss me off so bad. Even if I bought the original game, I ended up trying to find the crack on the web (or bbs) just so I didn't have to deal with the chicanery. Anyhow, you would think if a developer actually used a set crack; he could just alter the crack to not display the pirates' organization name. It's fairly easy for somebody with a comp sci degree to take out a few text phrases in some code. But there was sloppiness all over this and I would imagine a developer or two got fired or slapped around a bit for this one. Not to mention that anybody who pirates the game has the ultimate defense. "So why did you pirate Rainbow Six Vegas 2?" "Because Ubisoft provided me with the crack." "Case dismissed!"
Sonic got's a gun errr sword.

Yes, Nintendo Power spilled the beans on Sonic and the Black Knight for the Wii, but they aren't official beans until Sega says so, and…Sega has said so. The whole sword thing seems ridiculous until you realize that Sonic and the Black Knight is the next game in what they are calling the storybook series, which started with Sonic and the Secret Rings. Storybook land can explain away many a silly concept.
"After the success of Sonic and the Secret Rings we're delighted to announce a second title in the Storybook Series," said Gary Knight, European Marketing Director, SEGA Europe, "Following Sonic on his way to knighthood will excite players of all ages."
The game is due out in Spring of 2009, giving the writers of the "Seven Rings In Hand" theme song plenty of time to swap out the lyric "Seven rings in hand, speed through nights with feet in sand" to "Seven rings in hand, speed through knights with sword in hand." We will NEVER escape this song.
SEGA ANNOUNCES SONIC AND THE BLACK KNIGHT
A new addition to the Storybook Series of Sonic Titles
SAN FRANCISCO & LONDON (July 21, 2008) –SEGA of Europe Ltd. and SEGA® of America, Inc. today announced Sonic™ and the Black Knight, an all-new Wii-exclusive adventure. Part of the storybook series of games that began with Sonic and the Secret Rings, this new title brings Sonic into the world of Arthurian legend and offers the worlds most infamous blue hedgehog the chance to become a knight. Using the unique Wii control system, this exciting game will take advantage of both the Wii Remote and the Nunchuk to offer an interactive experience that any Sonic fans will love.
Created by Sonic Team in Japan, this innovative game takes Sonic into a medieval world and arms him with a sword to aid in his effort to save the day. Sonic and the Black Knight will provide Sonic fans with an irresistible cast of characters and teach them all what it takes to be a true hero and the ultimate knight. With a series of missions taking place in stunning Arthurian-inspired locations, Sonic and the Black Knight promises to offer a fast-paced adventure that gamers of all ages will enjoy.
"After the success of Sonic and the Secret Rings we're delighted to announce a second title in the Storybook Series," said Gary Knight, European Marketing Director, SEGA Europe, "Following Sonic on his way to knighthood will excite players of all ages."
Sonic and the Black Knight, exclusively for the Wii, will be out in Spring 2009.

Did they learn nothing from Shadow the Hedgehog? Sonic does not belong with a gun, tennis racket, dildo (his hand moves fast enough), or a sword. Sonic and his feet are enough to carry any title. It just doesn't work any other way. Sonic and the Secret Rings was okay at best and this storybook concept is basically reinventing the wheel all over again. This is why I urge people to get the Sonic Mega Collection. That's the way I see Sonic, in 2-d, running like a mad man and tripped out on speed. His pal Tails? Yeah, I see him on a dinner plate as a main entrée at the local French restaurant. Sad but true.

WoW

Blizzard has raised the curtains on what appears to be another major update to World of Warcraft once the Wrath of Lich King expansion releases. The games division presents WotLK's new and upcoming achievement system.
The preview offered at Blizzard's official World of Warcraft site iterated that there will be more than 500 achievements to seek out, and they can be claimed from casual aspects such as exploring the lands of Azeroth and Outland to more active aspects such as PvP and PvE achievements.
Some of these achievements won't only add to your total achievement score, but they may even award you with in-game items such as tabards, vanity pets, and character titles.
And even after players have conquered a majority of the achievements, Blizzard claims that they will be able to add more with every content update. Achievement types are as follows:
• Player-vs.-Player
• Dungeons and Raids
• Professions
• Quests
• Events
• World Exploration
• Reputations
• General
When World of Warcraft: Wrath of the Lich King is installed, the player's user interface will come with a new button on the main action bar. That button will open up an Achievements Window. On top of that window will be the total number of points you've earned from all the achievements you grabbed so far.
Below that you'll see a list of all those achievements complete with the dates you nabbed them, their point values, what they're about and – if you're on your way to achieving another – how close you are to bagging it.
Some achievements are multi-tiered, so you might find some collapsible lists under them with another set of achievements that you'll need to net the overall achievements. With the system in place, players can right-click and select the designated option on other players to view their achievements and compare theirs with yours.
Also, all members of your guild will be notified that you've pulled out another achievement for your character, as will all people within your current vicinity. But all these achievements are cosmetic and are not required to enjoy the game.
You may also need to note that the Feats of Strength won't count as normal achievements, and it's this reason that will keep the Feats from being displayed on the achievements page.

WoW goes Achievement happy. Great just great. If you don't think the first day this comes out that people won't be throwing themselves over a bridge to get some silly jumping achievement, then you obviously are not familiar with how these work. I think these (worked correctly) could be a great way to enhance and further addict the average WoW player. They don't appear to be required in order to enjoy the game is a crucial first step. The rewards section is another nice feature for those who feel like wasting hours away gaining those crucial points to get a cute little furry animal to show off to your friends (no, not that furry animal!). But I thought I would help the people at Blizzard and give them 5 achievements to start off their day. They are after all including over 500 and could probably use a little help.
1. Missing in Action – 20 points: Flood the trade channel with at least 5 posts about Chuck Norris in less than 30 seconds and then go AFK.
2. Braveheart – 30 points: Enter a battleground with nothing but a kilt (and a weapon) and proceed to kill at least one other player of opposing faction (getting hit in the ass with an arrow is not necessary).
3. Noobinator – 20 points: Kill 5 people in any starting area on a pvp server.
4. Toon ADD – 45 points: Start three characters and get each of them to level 3 in less than an hour before deleting them. (Getting this achievement will grant you the ability to start a character with full bank space already purchased since you were going to use them for bank toons anyway.)
5. Leeeeeroy Jenkins – 50 points: Enter at least a level 60 instance with a full group and not wiping up until the final boss. Then suddenly when your group least expects it, run into the final room and take on the boss by yourself. When the group tries to help you, they kill themselves in the process. Prior to performing the act, you must also use Party Chat and at least 5 eeeee's in your battle cry.
Releases for the Week of July 23rd, 2008
Xbox Live Arcade – 1942: Joint Strike (800 MS Points) & Go! Go! Break Steady (800 MS Points)














Some of you might be familiar with the 1942 series. 1942, 1943, 1943X, the Nazis win the Pennant, etc. A horizontal shooter where you had a tiny biplane and a crapload of firepower. Loads of fun too. Naturally, the XBLA version will have the same gameplay but with updated 3d HD graphics. Your little plane will take on schools of enemy planes and even big bosses to save the day. The Joint Strike subtitle refers to the co-op feature where you and a friend can combine your powers to deliver a devastating finishing blow. I'm interested. Not sure, 800 points interested but certainly curious about the title.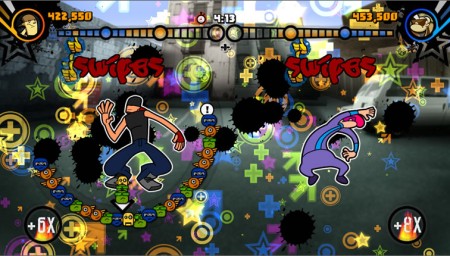 The second title is a puzzler of sorts. The idea is that takes two familiar concepts and makes it into one hopefully fun game. Mix rhythmic beat-matching with match-3 style puzzle game play. Then make a character, make them dance (Dance Puppet, Dance!) and solve puzzles along the way. Twenty different songs are included and multiplayer options are present. Plenty of people will find this interesting I'm sure, but I'm white. I have no rhythm. I'm lucky I can get through medium on Guitar Hero, what chance do I have against some beat box puzzler?
Wii WiiWare & Virtual Console – Pirates: The Key of Dreams (WiiWare – 1000 Wii Points), Gley Lancer (Sega Genesis – 900 Points) & Super Fantasy Zone (Sega Genesis – 900 Points)



















Here I thought we were done with Pirates games and overuse of the letter RRRRRRR. (Yes, I celebrate National Talk Like a Pirate day 9/19; leave me alone) Here you assume the role of a ship captain and ride your ship all around the Caribbean trying to wrestle away "The Key of Dreams" from Blackbeard. Your ship is directly seen from an overhead view and you can recruit members to perform various functions such as navigation and master gunners. In multiplayer, there will be an astonishing 35 maps not in single player to pilfer through as you try to thwart your enemy. It might be alright with the strategy and all but a good pirate game involves actually playing as Blackbeard and making them scallywags walk the plank. Anything less is just as bad as Pirates of the Caribbean online. Yeah I went there.














In Virtual Console this week, two imports from Sega Genesis that never made to our Jersey shore head up the list. The first is Gley Lancer, a horizontal scrolling shooter; a game that will remind many of R-Type and Gaiares. You are Lucia, a 16 year old female fighter pilot who must go save her father after he is captured by an unknown alien race. Wait if they are unknown, the father could just be very well captured by Frankie and Louie down the street because he didn't pay his bar tab. Leave those aliens alone! Anyhow, good shooter. If this is your type of game, then go ahead and put your points down.














The second VC game is Super Fantasy Zone. Those familiar with Fantasy Zone should be able to fit into this oh so cute game. Your name is Opa-Opa (of course it is) and you are avenging your father O-papa who was killed by Dark Menon. In this one, each level is completed by shooting enemy generators and then the Menon Guardian will appear. Gold can be collected and upgrades can be purchased for Weapons, Bombs, Speed, etc. If you liked the first one, suffice to say you'll like this game as well. A little too cute for me, but then I've played my share.
Console Releases
PS2
The Mummy: Tomb of the Dragon Emperor

Wii
Chess Crusade
Order Up!
SNK Arcade Classics Vol 1
The Mummy: Tomb of the Dragon Emperor

DS
Final Fantasy IV
Izuna 2: The Unemployed Ninja Returns
Chess Crusade
International Track and Field
The Mummy: Tomb of the Dragon Emperor
Suzuki Superbikes II: Riding Challenge


Remember those weeks when I told you that week was the worst release week ever? I lied. This is the worst release week ever. Unless you have a DS I suppose. Even then it's not that much in terms of quality. Final Fantasy IV is the standout title this work. If it is a faithful recreation of the old title (also found on Final Fantasy Chronicles I believe along with Chrono Trigger on PS1), then it is an easy pick up for those with portables. I also have to give a slight nod to Izuna 2 for having the coolest title this week along with a pretty nice cover. The Wii also gets one of the most pleasant surprises this year in SNK Arcade Classics Vol 1. Curious question here. A lot of these NeoGeo games inside are also available on Virtual Console. Isn't one of VC's major draws these titles? Seems a little early for this particular system to get this title. But Wii owners will be very happy they don't have to waste their Wii points any longer. I'm surprised why we don't see it on 360 with the already built in trophy system (which would be insanely easy to adapt to achievements). Outside of that, we get some shovels and a whole lot of goo in hopes that Soul Calibur IV next week solves this little drought.
Final Thoughts & Mutterings
I bought three Xbox 360 games over the past week or so. The first game via Ebay was Condemned 2. Super creepy, I can only hope it holds a candle to the first one. I expect many restless nights regardless of whether I can finish the game or not. Okay, maybe I won't be whimpering like a little girl and it won't affect me at all. $18/including shipping The second game was Conan. Sure Age of Conan is the current rage, but you have to pay every month for that. (I already give enough to the Blizzard Employee Retirement High Life Fund) So for $20+tax @ Fry's, I bought this one. I just hope there are plenty of wenche…errrr maiden saving and brutal action. If it is a bunch of puzzles, me Conan will be mad (and bash many things). The final game I secured yesterday and that was Stranglehold. I had held off on this for a long time, having played the demo when it was first released. I liked it, a lot. But something held me back, besides me being a cheap bastard. However, Best Buy was having a yellow/green dot sale. 50% and 25% off. The Stranglehold game had a yellow sticker or 50% off so I took it to somebody to scan. He thought it might be $59.99 and 50% off that which is the same price it currently retails for. However, it scanned $19.99 which meant the game was a whole $10 after discount. SOLD! So, another three games in my pocket for a cost less than one retail priced new game. Sounds like a winner to me. Feel free to always post your cheap bastard ways in my comments section and until next week kiddoes have fun.

As Always,
Kedrix of Aldrianian
(*The Forgotten One*)