Gaming in the Olympics, Disgaea goes cheap, and the true reason why Final Fantasy is on Xbox 360 – Welcome to the column that is an Olympic gold medalist in Speed Snoring & Sarcasm (and did it with a broken friggin neck!) known as Dare to Play the Game.
Welcome to another edition of Dare to Play the Game. 52/27/??/??. That's right. Two of my characters this week are currently doing the limbo dance. Talloween & Magkick. Magkick was the recipient of a doomed server from the start while Talloween has been on again / off again because it is very hard to solo a priest. These characters are going to be recreated. Magkick will go off the PVP server and be re-created on my usual Horde place over @ Killrogg. His professions will change from tailoring & skinning to tailoring & leatherworking. (My hunter will do the skinning for him) The priest will be recreated and on the same server. But on a different account with different professions (currently mining & jewelcrafting). This will enable him to play with my girlfriend's characters and get a reliable buddy to quest & get gear with. My girlfriend will also be creating one or two characters on the new account @ Killrogg so she can go quest with my three characters over there. I'm kinda trying this on a trial basis and we'll see how it plays out. I'm not deleting my mains (52 Troll Rogue / 27 Blood Elf Hunter) and neither is she (70 Draenei Hunter & a multitude of others). We are just trying out what would happen when we quest together. Let's hope it goes smoothly.
Ode To Morgan Webb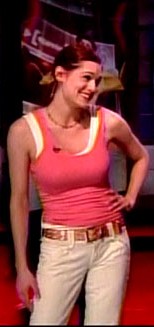 Morgan in the pinks for this week. Speaking of the pinks, I think we need to make a revival of Grease and have Morgan in the role of Sandy. Though some might think she would be better suited for Rizzo or perhaps Frenchy. That would be an interesting poll question come to think of it. Of course, the question is can you see Morgan as Sandy when she goes "Tell Me about it Stud" at the pivotal point of the picture? I'm not sure about that, but she can touch my "Grease Lightening" anytime.
News of All Types
Final Fantasy


The question that many gamers were asking after Microsoft's E3 press conference was "How did Final Fantasy XIII end up on the Xbox 360?" Way back in July, Microsoft Global Marketing Manager Albert Pennello explains:
I think the most obvious reason that they made the announcement is just looking at the success of our console…Square has done games for us in the past, and I think there's a point where Square just has to look at the Xbox 360, the install base and attach rates that we're seeing and actually has to make a decision on their own that it's the right thing to do for them…
I think it's easy to assume that something's going on behind the scenes, I think the more obvious answer is we're doing really well and the game creators want their games to be where the most people and the most consoles [are], and right now that's the Xbox 360.
For third party publishers, multi-platform makes sense. Still rather curious why it's not on the Xbox 360 in Japan, though…

Final Fantasy has been Nintendo for as long as I can remember until FF7 on the PS1. Then they went back and did some re-releases on the DS and PS1 and eventually made the jump to the PS2 as well. After the PS2 started to die down, the Final Fantasy series needed a place to go. PS3 wasn't doing well enough and let's face facts: no matter what people try to con you with, third party software just doesn't do well on the Wii. Hence why the only reasonable choice was to go to the Xbox 360. By the way, Square really doesn't go for the whole multi-platform thing if they can help it.
It's interesting, not that I planned it that way but I have always went the same way as the Final Fantasy games. NES, SNES (though I did have a lot of Genesis stuff), PS1, PS2, Xbox 360. Smart people stick together. My favorite Final Fantasy? It will surprise you. It's a tie between Final Fantasy I & Final Fantasy IX. Final Fantasy I cause it was the first (and had a ton of magic behind it and was miles beyond anything at that time outside of the Ultima Series). Final Fantasy IX because it went back to its roots, a rockin fantasy story with wonderful characters and it was the last turn based Final Fantasy. A true masterpiece though few saw it that way.
PS2

Two of Atlus' best publishing efforts from the PlayStation 2 era are getting the Greatest Hits treatment, with Odin Sphere and Disgaea: Hour of Darkness. The latter of those two took an impressive five years and change to receive the coveted $19.99 price drop and dreaded red bar. We're not complaining, as all PlayStation 2 owners should give these titles a whirl at these low, low prices. We're just sort of shocked that someone at SCEA remembered Disgaea existed.
Both titles will have their box arts slightly shrunk and their street value hit rock bottom this September in North America. Congrats to both.

It looks like I can finally pick up one of these two fine games if not both of them. Odin Sphere hadn't been around two long and I already had seen it in the $29.99 range, so that's not much of a shock. Disgaea though? Forever and a day, it has consistently fetched in the $40 range where it started. The game is quite impressive though and I can easily recommend it to those who were too cheap (like me) or simply forgot about it. I really wish they would have done this with more classic RPG's on the PS1. Suikoden 2, Valkyrie Profile, Vagrant Story, etc. Many of these never made it to Greatest Hits status. Therefore they sit at ridiculously high prices (Suikoden 2 routinely fetches way over $100) and the average collector who might just want to play the game can't. Kudos to Sony for recognizing two worthy titles that could have easily became ridiculous collector's items and opening these classics up to new customers.

Olympics

Here we go! Talk time. That's right, it's Friday. Time for another round of Tell Us Dammit. No, make that TELL US DAMMIT. And here's how it works: We ask a question, you answer it. Simple and no strings attached! This isn't some marketing survey or whatever. It's an emotional investment in you. Yes, we're interested in knowing you, Kotaku reader person. You probably know fucktons about us — more than you even want to, we're sure. But, hey, we'd like to know about you. That way you won't be some faceless blob — and we might feel a tinge of guilt when we ban your ass. Or not, because really we're incapable of human emotion. We think.
The Olympics have started! And we all oh so very excited!! So much so that Gawker Media is aggregating all the network's Olympic coverage in one place on sister sports blog Deadspin. That place is right here. ANWYAY, here's my question:
Do you think gaming should be an Olympic sport? And why?

The Olympics, the only time where I have no passion to watch sports period because somehow I know I'll get stuck watching badminton or men's gymnastics. So the question posed was whether or not we should have gaming as an Olympic sport. The short answer: Yes. Olympics have always been about competition. The art of competing with your fellow man or woman and seeing who comes out on top. Representing your country and showing the world that your Nation is a superpower in insert sports name here. Gaming brings a lot of people together and if the Olympics committee was willing to accept something different in the playscape, I think we could have for some really good events in the world of gaming. I don't think you would see any performance enhancements unless you count Mountain Dew & Red Bull. The games to be chosen would have to be simplistic in nature like Madden, Halo 3, World of Warcraft, etc. You probably could not get away with something like Grand Theft Auto IV. However, I would think you would also have to have appropriate announcers for the gig. I'm offering myself first and foremost and will need somebody like Morgan Webb to supplement me in the booth. Adam can be one of those sideline reporters or something. Heck, I'd do it for free. (*waits for phone to ring*)
Releases for the Week of August 13th, 2008
Xbox Live Arcade – Bionic Commando Rearmed & Fable II Pub Games (800 MS Points each)














If you like gaming history like I do, this one is a real treat. Bionic Commando: Rearmed is an updated version of the old NES title that was around in the 80's. The graphics have been re-done and has added features, levels and online leaderboards. No Nazi content but plenty of old school humor with over the top acting & voiceovers. The 800 points pricetag is the source of some history too. Back in February, they ran a poll in regards to pricing. The 800 points pricetag won a decisive victory over 1200 points. Sure it's a duh moment of sorts, but the fact that Capcom stuck to it is something that should be commended. It has already received very high acclaim and could very well be the XBLA game of the year. I have it downloaded on demo and will be eagerly trying it out this week (and a purchase might not be too far away since the original BC was a favorite of mine).















The second game this week is an odd one of sorts. Fable II Pub Games is the first XBLA game I can remember that was released purely for an upcoming release of a retail product (Fable II). It's three carnival or gambling games that are made for the sole purpose of accumulating gold which will translate into XP for the linked character on the upcoming Fable II. The three games are Keystone (a cross between Roulette & Crappes), Spinnerbox (slot machine) & Fortune's Tower (solitaire type game). The game by itself is 800 points. However, if you pre-ordered Fable II through many outlets such as EB Games, Gamestop, Amazon, etc you will get pub games for free via code. I have already pre-ordered Fable II (the limited edition) and I received my code this morning. I am super-stoked about it and hope to provide a review for this fairly soon.
Wii WiiWare & Virtual Console – Strong Bad Episode 1: Homestar Ruiner (WiiWare – 1000 Wii Points), Break In (TurboGrafx 16 – 700 Points) & Star Parodier (TurboGrafx 16 CD- 900 Points)
















Strong Bad Episode 1, hrmm, ummmm. Yeah…and stuff. Strong Bad is the main character on the Homestar Runner Web Cartoons (www.homestarruner.com). He answers emails while criticizing various things like names, hometowns, spelling & grammar. He also wears boxing gloves while doing this. He pranks, pummels people & makes others snort milk out of their noses. Sounds like a great guy huh? In the first of 5 monthly episodic games, Strong Bad's plans to beat the snot out of Homestar backfire and then he ends up with an unwanted houseguest. He must get his life back to normal by any means necessary. *laugh*, I dunno. The screenshots look mediocre at best and reek of flash graphics. The humor is probably very good, but a decent game? Hopefully you do some research on it before it becomes crapfully yours.













Two TG16 titles in the Virtual Console market this week. Add to that, they are both import titles. The first is Break In which is a Japanese only pool title that was originally on Hu Card for the machine back in 1989. It has six billiard games from 9 ball to Rotation and Carom. It has a lot for fans of pool who are looking to kill some time. Think Bankshot Billiards of XBLA or Side Pocket of NES fame. I happen to own a Turbo Duo (TG16 w/ Super CD Support) and took a minute to look this up on Ebay. It's an import (you'll need a Hu-Card converter) and you're looking around $20 with shipping for a copy. So the 700 points might be well worth it.













The second title this week is a much more rare CD-Rom title from Turbo's library. This shooter was released as a parody of the Star Soldier series. It has many of the same ideas, such as collecting powerups to upgrade weapons & plenty of mini & big bosses to shoot through on your way to beating the game. The most noticeable thing about the game besides the cute interface is the characters you could play with. There was the Paro Ceaser from Star Soldier, Bomberman (which is a huge caricature of the famed character) & a PC Engine (japanese version of the TG16) console that shoots Hu-Cards & CD-roms at its enemies. It's a cool game and very much forgotten by time. You can't even find this on Ebay and the last time I saw it, it was more than the cost of a retail 360 game. Good stuff from VC this week, but it begs the question; where the heck is Dracula X (Jap TG16 SCD Version)? Don't keep me waiting guys.
Console Releases
PS2
Madden NFL 09
Disney Hannah Montana: Spotlight World Tour

PS3
Madden NFL 09

PSP
N+

Xbox
Madden NFL 09

Xbox 360
Madden NFL 09

Wii
Madden NFL 09 All-Play

DS
Wordmaster
Madden NFL 09
Imagine Teacher
Bangai O Spirits

Hrmm, there is this game out there called Madden. It's about something involving football. Supposed to be pretty cool or something. This week is all about Madden, madden this, madden that, madden with a whiffle ball fatsooooooo. We got the Madden Game, the Madden strategy guide, the Madden controllers (available in all the NFL teams by Madcatz), & the Madden doll which has sounds voiced by Frank Caliendo when you pull the string and more. "Football is like life, you have your first downs which is like all of your achievements in your life and then BOOM, you have concussions which is when you get hit very hard and then POW you are sent into a hospital for a week." Awww, ain't it cute? Truth be told, I haven't bought a Madden game since 2004. I got upset with the whole EA exclusiveness thing. The last football game I played was All-Pro Football 2008 which is a fine & cheap game for those who liked the ESPN NFL 2k series. Outside of Madden this week, don't look for much unless you want a Hannah Montana game or something where you can imagine to be a teacher. Kids need to stop imagining to be a teacher and start becoming one. Teachers don't get enough respect or pay in my opinion.
Final Thoughts & Mutterings
Played more Stranglehold this week and realized I really suck at multiplayer. However, in my defense everybody spams the same technique. That technique is to find the paper cranes and then use either the barrage or the spin attack. Spam, kill, dead. There isn't even any skill in it. The problem is I haven't memorized paper crane locations and so no matter how accurate I am, they will always win. Badly. I've pulled out one win and most of my multiplayer contests have gone anywhere from 7 to 2 to 10 to 0. I'm not even kidding. I know I suck, but it's so obvious that they are abusing the crane strategy when everytime I happen onto them, they spam the technique and I'm down before I fire two shotgun shells. The funny part is that usually my skill points while less are usually really close to theirs which means I am shooting very accurately but usually futile in nature. I love the game, but mostly the single player. If you have Stranglehold and want to play, shoot me an invite (Kedrix) and I'll play, even if you just end up kicking my sweet patootie. I will trade achievements as necessary. So, that's it for this week. Have fun kiddoes and don't suck. Your boyfriend will hear about it and you'll be on your knees in no time.

As Always,
Kedrix of Aldrianian
(*The Forgotten One*)