Y's makes it to Virtual Console, Fable Pub Glitch to be patched, and Space Invaders recreating 9/11? – Welcome to the column that thinks bad ideas are fine as long as you take that rental chicken suit to the proper dry cleaners known as Dare to Play the Game.
Welcome to another edition of Dare to Play the Game. Last Friday, I went to go see the Dark Knight with my girlfriend & one of our mutual best friends. What did I think? It was very awesome, however not as uber-awesome as my girlfriend and the best friend would lead you to believe. First and foremost, Heath Ledger as Joker did steal the show. This is utter fact. That performance alone will get me to buy the SE of the DVD on the first day it is released. However, I think Iron Man was the better movie if I had to pick between the Superhero movies I have seen this summer (with Hulk & Hellboy somewhere beneath those two). That's because if you strip away Heath, you're left with a merely decent Batman film. I'm still having trouble wrapping my hands around Christian Bale as Batman. When he's Bruce Wayne, he seems lost and not really of the playboy image we have come to expect from the billionaire. When he's Batman, he seems more of a gargoyle (what is with that voice anyway?) than the caped crusader. Furthermore, I had issues with how little the Two-Face villain was used. The special effects on his "face" were fantastic, but in the short period of time we were given to enjoy the coin-flipping lunatic killer wasn't long enough. Perhaps I am too critical of Batman as I own all the movies (including the one from the 60's), all of the animated series cartoons (not that newer crap) & even the complete Batman Beyond series. I have in my mind a certain feel for the dark man in the cape and unfortunately for me, the Bale Batman isn't quite living up to that feat.
Ode To Morgan Webb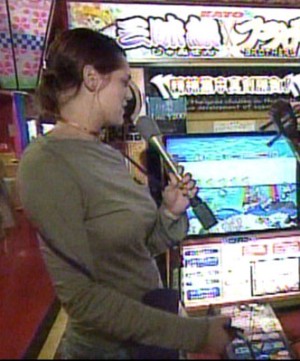 Here is Morgan annoucing the newest Japanese video game: Pokemon 6000: Die Pikachu Die! Watch as she shows off the greatest of features including a special attack button that fills the monster's head with the hypnotic sound of the Pokemon theme. And what does this big red button do that says do not touch? Why it turns…it turns Morgan into an anime toon. She now has big eyes and plump…facial expressions. She whips out a sword and is now coming towards me, bouncing..bouncing…(Editor's note: Morgan really isn't an anime toon. She's a normal human being. The writer however is a toon, a very perverted toon who spends many nights dreaming up these bizarre scenarios. He drools too. It's disgusting.)…bouncing in delight.
News of All Types
Fable II


Well, if you were hoping to fill your pockets and give your first Fable II character a healthy bank balance by exploiting the Fable II Pub Games bug you had better get in quick — Lionhead is hard at work on a patch that will put paid to your ill gotten gains.
It's not all bad news (or good news, assuming you would rather play a game without the possibility of cheating) as Lionhead's community blog has a page full of tips designed to maximize your Pub Games earning potential while staying within the rules. Their advice?
"If you are wondering about a 'much talked about' exploit, just ignore it (and know that a patch is on the way)."
But as Lionhead taketh with one hand, they giveth with the other – a rather natty set of Fable II wallpapers has turned up on the official Fable II site and an update to the Fable backstory Tales Of Albion entitled The fall of the Heroes" is now live (requires Microsoft Silverlight to play).

Ahhh, the Fortune's Tower glitch. I'm not going to break it down exactly, but it goes something like this. If you have unlocked the higher end Fortune's Tower tables and bet the minimum and then tap a certain button while playing to increase the bet you can win times your maximum and if you lose, only lose your minimum. Eventually you win a giant stockpile of gold with which you can either apply to Keystone or lose over at Spinnerbox. Personally, I have not used this. It's nothing moral but I'm just not super serious about getting my character massive amounts of experience before he even starts the adventure. I would like to get all of the achievements for Pub Games (only have ¼ right now), but that will require me to take a character and get him seriously deep into debt. That is the only way to get the achievements quickly. The other alternative to getting all of the achievements is playing it safe and spend the next year playing some game which is really just a promotional device. Plus, I'm curious how many body parts I will have broken if I merge my Fable II character with the Pub games version of a homeless guy addicted to gambling & cheap women. The cheap women part is more of an assumption but I'm pretty sure an accurate one.
Wii

Hillcrest Laboratories sued Nintendo today claiming the game maker is using their motion-control inventions in the Wii, Bloomberg reports.
Hillcrest is seeking to block imports of the Wii and Wii remotes, according to a complaint filed today with the U.S. International Trade Commission in Washington. Hillcrest also filed a civil suit in federal court in Greenbelt, Maryland.
"While Hillcrest Labs has a great deal of respect for Nintendo and the Wii, Hillcrest Labs believes that Nintendo is in clear violation of its patents and has taken this action to protect its intellectual property rights," the company said in a statement.
Three of the patents are for motion control tech and a fourth for the graphics user interface. Hillcrest are the people behind motion-control tech Freespace and a graphic interface tech called Home.
Bloomberg reports that the ITC case will likely go first and can take about 15 months to be investigated.

A Company makes a lot of money with a device or application that's not their own. (*caugh* Microsoft *caugh*) Like hell you say! Actually we don't know if Nintendo really did use Hillcrest equipment or technology but this was bound to happen. Motion Control is nothing new, it just so happens that Nintendo was the first to use it in a very profitable fashion in respect to gaming. So naturally anybody with a patent that's older than the Wii is going to come out and say hey!, you stole my idea; give me some monyah! These two cases will take over a year and Hillcrest's real mission (no matter what they tell you) is not to stop Wii or Wii remote sales. Quite the opposite. They want a piece of the pie via a break me off a piece of that Wii sales bar or a nice out of court settlement. Whether they have any real claim to the Wii's success is anybody's guess. But this could have some lasting effects to the Wii if somebody bad does surface.

Space Invaders

Let's file this one under "Too Soon." Seen at the "Invaders!" booth, tucked away in Hall Four of the Games Convention being held in Leipzig, Germany right now, was this non-interactive installation of the classic Taito space faring aliens laying waste to the Twin Towers. It was projected on a massive screen in the vicinity of lots of classic Space Invaders goods, as the game is celebrating its 30th anniversary this year. It was… it was weird.
This hits three year's after the first and last game to take on the World Trade Center hit Brooklyn.
Honestly, we're not quite sure what's going on here quite yet, as we didn't know the German translation for "What the fuck?" We do know, however, that the 8-bit tower jumpers and the negative score applied to each WTC tower to indicate damage aren't going to sit well with, we're thinking, everyone we know who doesn't hate freedom.

I've seen a lot of stories come out over the last week dealing with this subject. I might also piss off a lot of people by what I'm going to say. Why should anybody give a flaming flip why people in Leipzig, Germany want to make a Space Invader's exhibit and have the game emulate destroying the Twin Towers? Is it a terrible thing? Sure. Is it morally wrong? Probably. Am I suggesting that we ever forget? No, but I don't see anybody mentioning Pearl Harbor much anymore either.
Let's examine this, shall we? One, it's in a foreign country. If this had been in New York City, then we might have something newsworthy. Two, it's a beeping game. We've had games about Columbine, Serial Killers, and Hitler. Most of those were nothing special and after a little hub-bub, nobody cares. Three, it is aliens. Aliens have made a long history of killing various landmarks. You see it in movies all the time. Is it any different in Cloverfield when the Statue of Liberty was thrown down the f'ing street? It's not like there are people in sheik's clothing screaming "Death to America" and "Give me twenty seven virgins, ye ye ye" while they are shooting the towers. It's freaking aliens. Get over yourself.
The sooner you ignore this type of thing, the quicker it goes away. The only reason it makes news is because people want to single it out. Sure they made a bad decision, but bet you money that they did it for publicity. Even bad publicity is still good publicity. If you want to go out there and boycott all copies of Space Invaders, then so be it. It is your choice. But America is the land of free speech and in such stupid people will do stupid things. Be the stronger person and don't draw attention to it and it will simply fade to obscurity.
Releases for the Week of August 28th, 2008
Xbox Live Arcade – Castle Crashers (1200 MS Points)














I think this is the last release in the Summer of Games promotion. Hopefully everybody has at least downloaded the demo of each game and tried them out at least once. I have and been mostly underwhelmed. Sad but true. Castle Crashers is a sidescroller which allows up to 4 people to play. You can start out as one of the colored knights or an unlockable character (there are over 15 to choose from when fully unlocked) who all have different attacks to defeat the enemy. As the enemies are defeated, your character will level and new combos/abilities will be learned. In a rather unique twist, at the end of a boss battle; the 4 players will fight to determine who gets a kiss from the rescued princess. It has a very interesting premise but the use of cell-shading like Behemoth's first game Alien Hominid has me a little worried. The 1200 points price tag doesn't do me any favors either. But here is hoping that there is more substance than style and worth the above average pricetag. We'll download the demo and see.
Wii WiiWare & Virtual Console – Helix (WiiWare – 1000 Wii Points), Y's Book I & II (TurboGrafx 16 CD – 800 Points) & Samurai Showdown II (NeoGeo – 900 Points)

















Helix is a music rhythm game that involves using the Wii-Remote to do tons of exciting moves like punches, circles, back fists, hooks and more in beat to a robot's arm motions. There are 26 songs to play and three difficulty levels. Apparently, it's great for exercise as you try to unlock all of the songs. There are no buttons required, just a whole lot of action. The folks over at Ghostfire had to do some serious compression in order to get this under the 40mb limit. Hopefully it's a decent game and a successful venture for them.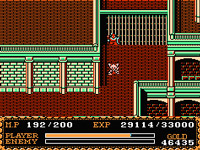 One of the best rpgs ever. Top 10, possibly top 5. It's that awesome. Join Adol, a red-haired swordsman as he goes on a quest to unlock the secrets of an ancient kingdom. This was one of the first action rpgs where you had to learn in real-time how to defeat the various enemies and traps that littered the island of Esteria. Both of these games were originally put on 1 cd-rom and filled it to the brim with amazing orchestrated music & surprisingly good voice acting. If you like role playing games at all, you owe it to yourself to put the points down and purchase this one. I have this on my Turbo Duo and spent many waking hours playing it. So don't wait, go get it. Now, dang it.













The original franchise of weapon fighting is back….with a vengeance. Okay, cheesy intros aside, Samurai Showdown 2 lets you take on the role of 15 different samurai as they fight to the top. The rage system that was so popular in the first version has been enhanced to greater detail. Attack power still increases when the gauge is full but there is also a disarm technique that can make the opponent's weapon break leaving them only their kung fu to keep them alive. The game's movement was also eased up to allow back-stepping, rushing forward and ducking. Decent fighter, especially if you already have the first one on your VC.
Console Releases
PS2
Mercenaries 2: World in Flames
Tiger Woods PGA Tour Golf 09
Falling Stars
Shining Dragon
Ferrari Challenge
DT Carnage

PSP
Tiger Woods PGA Tour Golf 09
N+

PS3
Disgaea 3: Absence of Justice
Tiger Woods PGA Tour 09
Mercenaries 2: World in Flames
Ferrari Challenge
Vampire Rain: Altered Species

Xbox 360
Tales of Vesperia
Mercenaries 2: World in Flames
Tiger Woods PGA Tour 09

Wii
Mario Super Sluggers
Tiger Woods PGA Tour 09 All-Play
Freddi Fish: Kelp Seed Mystery
Pajama Sam in Don't Fear the Dark
Spy Fox in Dry Cereal
Ferrari Challenge
Ford Racing Off Road

DS
Harvest Moon: Island of Happiness
My Chinese Coach
Digimon World Championship
N+
The Sims 2: Apartment Pets
MLB Power Pros 2008
From the Abyss
Picto Image
Ferrari Challenge


Woweeee. Suffice to say that if you own one of the machines listed, you probably will find something to your liking this week. A very strong release week with quite a few highlights. The big EA sports release this week would be Tiger Woods Golf. Since he is injured for the rest of the year, does this mean he's become part of the curse? Cause we all know that the Madden curse extends to other EA sports games too. Mercenaries 2 is another interesting title for this week. The first one I actually own and it sits on my Xbox rack unplayed. I think I own the strategy guide as well and still unplayed. But I heard it's great *sigh*. Tales of Vesperia has done wonders for Xbox in Japan and hopefully us Americans understand what a good rpg is and buy it up quickly to encourage other wonderful Japanese rpg releases to make the jump over here. I still get surprised by how many games that the PS2 still puts out from week to week. Six this week with exclusives (Falling Stars / Shining Dragon) and mass market titles (Tiger Woods / Mercenaries 2). I think it's about time they made this fanboy happy and release a 2nd Neo-Geo collection. Pwetty pleeeese.
Final Thoughts & Mutterings
WoW time. 53/27/14/10. Yes my troll rogue did finally level. Only 5 more until Outlands, 7 more until 60. My blacksmithing is up to 232 and I should have the Weaponsmithing & Mithril quests done by the end of the week. At least that is my goal. So I'm in Tanaris and trying to find every Mithril vein that isn't nailed down. This is also the first time I've ran into real competition as it seems everybody is trying to find the mithril, truesilver and spots of thorium that is littered across this particular region. A little frustrating, but I am getting there. On the alliance side or my dwarf priest side of the coin is the true test in frustration. Jewelcrafting. He's sitting at 50 after 10 levels. His mining was nearly maxed out before he turned 10. I've never seen a rougher profession in my life. The low-level recipes for Jewelcrafting are non-existent and you mostly spend your time making the same beeping ring over and over again. Most of the professions like Blacksmithing or Tailoring for example have plenty of low-level recipes even if the grind can be a bit tedious. Not so in JC. You will make the same +1 to Intellect ring over and over again. There is one positive to JC though, as long as you take up mining, the AH can be very kind to you when you get rid of the 20 to 30 rings that you can't use or send to your other toons. That's cause few people actually take up JC. I like being unique and it's something I strive for in each of my toons. For those who are curious, I've created a little table this week that gives you some info about each of my four toons. Enjoy and find your own uniqueness this week kiddoes.
Server: Killrogg
Lantanador 53 Troll Rogue (Combat) – Mining(272) / Blacksmithing (233) / Lockpicking (222)
Leifrick 27 Blood Elf Hunter (Marksmanship) – Enchanting (138) / Skinning (207)
Magkick 14 Blood Elf Mage (Frost) – Tailoring(121) / Leatherworking (63)
Server: Shadow Council
Talloween 10 Dwarf Priest (Discipline) – Mining(71) / Jewelcrafting(50)


As Always,
Kedrix of Aldrianian
(*The Forgotten One*)