Episodic Gaming, Circuit City closings, & Wii RPGs? – Welcome to the column that would get out and vote if only there was a candidate that supported more hot women in gaming known as Dare to Play the Game.
Yesterday was Election Day in the grand ole United States of America. While I could go on a nice rant about the person who got elected, this is not a politics column and I tend to steer far far away from such discussions. Did I vote? No, I can't support either of the candidates when each are about as phony as a $3 dollar bill. Sure, I might lean a certain way but until I feel strongly about somebody, I'm not going to spend my time to vote. Selfish, no; lazy, perhaps; but mostly a very cynical point of view. Another thing, I live in Texas, a large Republican state. My vote matters about as much as a penny in a bank vault of millions.
However, I will say this to our candidate of choice. He preaches hope and change. That is good, this country as the United States needs a lot of hope and change. This country needs to be positive again, about its future, about its jobs, about our own families. But instead of hope or just change, we need to deliver good change. Everybody can change, but whether it is good or bad is more important than the fact somebody can do it. We also need to deliver that change, all the hope in the world is great but if you don't do something about it, well then the hope just dwindles away. I hope the next four years show that America is strong, America is brave and that America stays free. Let's deliver the good change.
Ode To Morgan Webb Mila Kunis

















I went and saw Max Payne this weekend. I'll be honest with you, I liked it a lot. Sure it had a healthy helping of action & some nice shots of Mila, but there was one more important thing: it had a good dose of storytelling. The plot was there and it did a great job of getting you there. I give it a solid 7.5 or even 8 out of 10. After this week, I'm not sure what I'm doing with the Ode. Part of me wants to stick with Mila, part of me wants to go back to Morgan and part of me really would just like to make this a gamer girl thing and give no particular girl more than 2 or 3 weeks at any one time. I would love to hear your thoughts.
News of All Types
Episodic Gaming


Telltale Games has been churning out the episodes of their Sam & Max and Strong Bad series; GameSetWatch talked to Mike Stemmle, LucasArts veteran and current Telltale writer and designer, about the Telltale design process, the veteran-friendly atmosphere (unsurprisingly, the Telltale ranks are full of other LucasArts veterans), and the potentials for non-licensed IP. On the inner workings of Telltale, Stemmle has this to say:
I'm just flabbergasted by the level of smoothness of the production process at Telltale, while keeping the quality up. This isn't sort of "knock it out" game design production here. This is everybody coming together and making sure things get polished. It's not passing bucks around. It's just about everybody working on a project to do about three or four things. When they see something wrong, it's their responsibility to fix it or immediately get in front of somebody who can fix it.
It's great. It's full, hands-on programming and designing. I've been exercising my feeble programming chops, my choreography chops, my design chops, my writing chops night and day to get these things together and so does everybody else. Testers come in and do patches and even code on occasion. It is something can do, so we don't have to bother always. It's great.
The episodic model is an interesting one, but you get a real sense of how busy the Telltale group is with three series shipping. Though, as the interviewer notes, "Must be refreshing to go from these cancelled projects to a company where you're constantly shipping games all the time."

I'm so torn on episodic gaming. On one hand, it's a great concept. There is lots of material and they are turning them out frequently. You build a relationship with the characters you play and you look forward to the next situation. It's also cheap, most episodes run around $10 and it's a great way to put a little investment in and get a lot of game back.
It's also bad. Episodic gaming is really partial to the digital download concept. With the Strongbad or Sam&Max series you don't see a lot of retail material until the system has come and gone. Just now, we are finally seeing some compilation disks for Sam & Max crop up on Wii or the PC. (no 360 *sigh*) Furthermore, the amount of material in a single episode can sometimes be small and therefore despite the tiny price, it might not be worth your time. I still like tangible things and while I have spent a lot in point cards & the like, I still prefer and appreciate hard retail discs. However, I fully support Telltale Games and look forward to future releases. I just hope they provide the retail consumer some other avenues to explore their product.
Circuit City


Gizmodo had this jaw dropper yesterday: "Sony's merchandise that was being delivered to nationwide Circuit City distribution centers was stopped in transit and ordered to return to Sony 'among worries that Circuit City couldn't pay for the shipments.' " Giz attributes the tip to one of its reliable inside sources.
What's this mean for you? Until Circuit City convinces Sony its credit is good, no more Sony stock on the floor, certainly nothing new. Very interesting, if true. I went to a CC yesterday to get a wireless DualShock for the PS3. They had one left. Last! I got last!
Incidentally, that store is hiring.
Doesn't sound like a good career move, though. GamePolitics points out this could be the killing blow. Back in September, an analyst warned:
We believe a Circuit City bankruptcy has become a question of "when" rather than "if." We now expect bankruptcy in 2009, perhaps as early as the 1Q. The wild card in the equation remains vendors. If one major vendor were to cut off Circuit City, we would expect others to quickly follow suit…[emphasis added]

Okay, as it turns out; this story while true is faulty in all of the facts. The truck turned around because there was a sinkhole at the distribution center. It had nothing to do with Circuit City's ability to pay for shipments. The real truth about Circuit City is that they are having hard financial times. In fact they are closing 155 of their stores. One of the stores I go to rather frequently as it is about 5 minutes from my work and there is another one on the list I have been at least half a dozen times. I might buy a lot more stuff from Best Buy but I've bought a lot more games from Circuit City because they usually have better deals. So kinda sad to see those stores go. One point to make about this. Don't blame the economy. Circuit City has a long history of mismanagement and badly operated stores. The one I go to on Bellaire in Houston is one of the most vacant wastelands I have ever seen. Hardly anybody shops there and sales reps are hard to find. So it is little wonder that they are falling on hard times, it was just a matter of business catching up to them.
Wii RPG

Fresh off getting Sega to be the publisher for its Wii FPS, The Conduit, High Voltage apparently is looking to deliver titles with a more traditional appeal to gamers.
In an interview with WiiRInControl, High Voltage's Eric Nofsinger hints that the next title might be an RPG for the Wii. That really is another area [RPGs] that can use a shot in the arm I feel," he said. "Keep your eyes peeled because in the near future we'll be announcing some other titles that we've already got underway in development."
He then goes back to the Wii-needs-better-games-and-we're-the-answer line, which has been part of the High Voltage company story for some time.
We feel that there are a number of genres that are poorly represented on the Wii for core gamers. We want to do games that are high quality. You know, that's what we are. I think it's a shame for what is our personal favorite system to be so underrepresented when it comes to core gamers.

Well, he hit the nail right on the head. Wii does need some more rpgs. Actually the main thing they need is quality games. Okay, okay sure they have a few mega hits, but 90% of those games are made by Nintendo themselves. Third party still struggles frequently with making quality titles and tend to put more often than not the equivalent of shovelware. So High Voltage wants to put out a RPG game for the Wii. Let's take a look at their body of work shall we? Wow, they are responsible for Leisure Suit Larry: Magna Cum Laude. *sarcasm* Or perhaps Zathura, or perhaps Charlie & the Chocolate Factory. Wait, they did Ghost Recon 2. For the PSP. Not exactly the resume you would want for a successful stab at RPGs. They have made a few decent games such as Ben 10 & the ole Hunter: The Reckoning Series so perhaps High Voltage can be the answer for the Wii. And then again maybe not.
Releases for the Week of November 5th, 2008
Xbox Live Arcade: Vigilante 8 Arcade (800 MS Points)














Some of you may remember the original Vigilante 8 games that were released for the Sony Playstation. It was some great Vehicular Combat and had a lot of weapons and mayhem. Well the original game has been remade for Xbox Live Arcade. While it looks a lot like the first game, it has been upgraded with some options from the second outing. Put on that spiffy XBLA HD finish and it looks like quite the adventure. There are quite a few single player modes such as Quest, Quick battle, Custom Battle & Free Wheelin'. Then of course there are multiplayer options where you can reck havoc on friends and family over local or on Live. There will some additional DLC once this game gets going including more characters & arenas. So shoot a friend, they may just thank you with a rocket in the grill.
Wii WiiWare & Virtual Console : Alien Crush Returns (WiiWare – 800 Wii Points), Home Sweet Home (WiiWare – 1000 Wii Points), & Space Harrier (Master System – 500 Points)

















*drops trou* Alien Crush?! Did somebody say Alien Crush? The best console pinball game ever? I'm so tempted to go home right now and hook back up my Turbo Duo(TG-16 w/ SCD) and play this sucker. I've never been that big on pinball but Alien Crush got it right. It went beyond the conventional idea of pinball and took it a lot further by providing quests, boss battles and addictive gameplay. I've easily spent 2-3 hours playing a single game. Alien Crush Returns comes to WiiWare with 3d graphics and controls with the Wiimote and Nunchuk for realistic action. You can tilt the table using motion sensing. *thinks about in head for a moment*. Done correctly, this could rock. It also introduces Action Balls which are special balls that can be used during play. DLC will follow with more Action Balls and stages. I venture to say this is possibly the first WiiWare title that has peaked my interest. Can we get this on XBLA pretty please with sugar on it?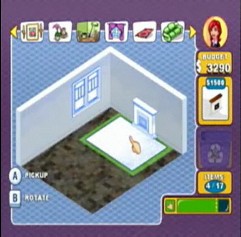 In this game, you get to be a home decorator and you need to rennovate the homes of a number of clients. You work within a budget and the client's tastes to make that dream become a home. I'll fall asleep two stages in. This has Sims written all over it from the isometric view to various design aspects. I'm sure this will appeal to some but I can't wrap my head around a game that wants me to design a house. Heck, I can't even design my own house that well, what makes me think I'll be any good at this?













Space Harrier is one of those interesting games that has a good concept but it was released when technology was not quite at the peak to support it. Your guy flew through stages in a faux 3d perspective shooting at various creatures like aliens, dragons and prehistoric animals. The bosses were immense and the action was non-stop speed. The master system might not be the best representation of the title but at 500 points, it might be worth the cheapness. For those without a Wii, you might want to check out the re-do of Space Harrier on the compilation Sega Classics collection for your PS2.
Console Releases
PS2
WWE Smackdown vs Raw 2009
NHL 09
Dragon Ball Z: Infinite World
James Bond 007: Quantum of Solace
Disney's High School Musical 3
Madagascar 2: Escape 2 Africa
Monster Lab
Secret Service: Ultimate Sacrifice
NPPL Championship Paintball 2009

PS3
Resistance 2
Valkyria Chronicles
Naruto Ultimate Ninja: Storm
Tom Clancy's End War
James Bond 007: Quantum of Solace
WWE Smackdown vs Raw 2009
Legendary
NPPL Championship Paintball 2009
Madagascar 2: Escape 2 Africa

PSP
WWE Smackdown vs Raw 2009
Tom Clancy's End War

Xbox 360
Gears of War 2
Tom Clancy's End War
WWE Smackdown vs Raw 2009
James Bond 007: Quantum of Solace
Legendary
Namco Museum Virtual Arcade
NPPL Championship Paintball 2009
Disney's High School Musical 3
Madagascar 2: Escape 2 Africa
History Channel Civil War: Secret Missions

Wii
James Bond 007: Quantum of Solace
Iron Chef America: Supreme Cuisine
WWE Smackdown vs Raw 2009
NPPL Championship Paintball 2009
Madagascar 2: Escape 2 Africa
Monster Lab
Petz Sports
Family Fun Fest Presents Movie Games
Kung Fu Panda Legendary Warriors
Rubik's World

DS
Korg DS-10 Synthesizer
Imagine Wedding Designer
Imagine Interior Designer
My Baby Girl
My Baby Boy
Madagascar 2: Escape 2 Africa
Dragonball: Origins
Winx Club: Mission Enchantix
Iron Chef America: Supreme Cuisine
WWE Smackdown vs Raw 2009
Rubik's World
Monster Lab
Exit
Tom Clancy's End War
James Bond 007: Quantum of Solace
Kung Fu Panda Legendary Warriors
Real Soccer 2009
ZooVet: Endangered Animals
Princess on Ice


Safe to say, gaming fans will appreciate this week. Quite the strong list & something for just about everybody. I figured I'd give the overall nod to Resistance 2 because it is rare that PS3 has a blockbuster hit they can call their own these days. Naturally, Gears of War 2 is also high on people's lists. For wrestling fans such as me, WWE Smackdown vs Raw 2009 will hopefully revive the series from the dismal picture that was the 2008 version. We get a new James Bond title and heck even Iron Chef gets a mainstream release. (Unless Alton provides announcing and we have the same chairman, I'm not interested) There is also a new Clancy title, though my Clancy interest starts and stops with Rainbow Six. However, I am extremely fascinated by one title this week and that is Namco Museum Virtual Arcade for 360. Thirty titles (many from Xbox Live Arcade) for $30. Some might say this is rehash and they would be partially correct. However, this will save hard drive space for those titles and include new ones with new achievements. The two most important? Mappy and Rolling Thunder. I have wanted Mappy forever and a day and Rolling Thunder is not too far behind. I am also curious to how many achievements will be provided. Suffice to say if it isn't at least 40-50 of them, somebody isn't doing their job correctly.
Final Thoughts & Mutterings
WoW time. 54/36/30/18. Hallow's End has come to a close and I never did quite get a Squashling for my priest. In an odd turn of events, I did one last trick or treat for two of my girlfriend's alts before I turned off my computer. The first one got her Hallowed Helm, one of the blues (I do have this one on two of my characters including my priest). The second got the Squashling. /facepalm. I'm luckier for my girlfriend than myself. However, I was able to finish half a dozen achievements for Hallow's End on my priest with my girlfriend's help including Trick or Treats of Eastern Kingdom which required the use of a warlock's summon to get to the Eastern Plaguelands. I shouldn't be in the Plaguelands until I'm in my 50's but lets just say I had a little help to snag the achievement. Talloween is level 36, nearly exalted with Darnassus (hopefully soon after with Exodar) and is a bad ass disc priest. Even if my girlfriend will have two 70's soon, at least I can take solstice in the fact that I will probably have a mid 50's & a near level 40 character when Lich King comes out. Small steps, small steps. Have a fun week kiddoes.

As Always,
Kedrix of Aldrianian
(*The Forgotten One*)