Dominating 360's, GTA IV making mistakes, and Escapist Gaming – Welcome to the column with copy protection that can only be decrypted with sharp wit or a giant pair of "hackers" known as Dare to Play the Game.
Last week was Thanksgiving. I ate lots of turkey, I ate lots of pie. The combination made me sleep until well today. No, okay okay not really. However, I had no desire to go out to Black Friday and found myself sitting at home for most of the weekend. Instead, I did what a lot of Americans did, I shopped some online. There were deals to be had and I didn't have to punch a grandma or trample over somebody at Wal-Mart either. So, I'm trying to wrap up my Christmas shopping as soon as possible and not fall into a trap of not being able to provide something to the people I have to shop for.
I did actually purchase something for myself this Christmas holiday which is a tradition I started a long time ago. One or two gifts for myself, and then I cut myself off for an entire month. This year's purchase: a 120gb hard drive for my 360. I nabbed one off Amazon's third-party page with the data transfer kit and I'm ready to go. Fable II, Fallout 3, a couple of Lego games, and probably Rock Band will be put on there with a quickness. I'm personally tired of playing Fable II and listening to the dvd-rom drive sound like it is going to spit the disc across the room. That can't be good for the unit, I don't care what they say. I wish they could get rid of the disk-check as well, but I know they won't. Let's just hope they include Xbox 1 BC games eventually as I still think that is very feasible. Message to Microsoft: Xbox Originals was a bad idea, start updating the compatibility list again!
Ode To Gamer Girls



















The more I watch Olivia, the more I like her. She's certainly not the norm and she has quite the sense of humor about herself. It's easy to see why she is one of the principle reasons that Attack of the Show is such an entertaining and engaging show. Heck, she is willing to do just about anything to make sure that the show gets top ratings. Such as eat a spoonful of butter. Okay, so maybe not everything she does is a good idea, but she certainly tries and looks hot doing it.
News of All Types
Xbox 360


The Xbox 360 experienced "record-breaking console sales" during the post-Thanksgiving weekend, Microsoft corporately gloated today. It estimated a 25% increase in sales from Black Friday 2007 and boasted that it outsold the PlayStation 3 three-to-one.
Don Mattrick, senior VP of the Interactive Entertainment Business at Microsoft, said that his company anticipated Black Friday sales with "cautious optimism," according to a statement, but has seemingly thrown caution to the wind with a bold press release. Mattrick says sales have "laid the groundwork for continued global sales momentum in 2009." Oh no, they're takin' all the momentum!
Microsoft also boasts European Xbox 360 sales are "up as much as 400 percent" since its September price drop. Man, they're taking Europe too? Greedy.
Xbox 360 Registers Biggest Black Friday in Its History
Xbox 360 consoles and games sell at record levels; outsells PlayStation 3 by three-to-one ratio.
REDMOND, Wash., Dec. 1 Microsoft Corp.'s Xbox 360 video game and entertainment system kicked off the holidays with record- breaking console sales on one of the biggest shopping weekends of the year in the U.S. Retailers reported Xbox 360 console sales over the Black Friday weekend were on pace to beat previous years, outselling the PlayStation 3 by a three-to-one ratio and estimating a 25 percent increase from Xbox 360 Black Friday sales figures from 2007.
Strong game sales rounded out a historic Black Friday for Xbox 360, with record-paced software sales continuing for key Microsoft titles, such as "Gears of War 2," "Fable II," and "Lips." Xbox 360 continues to have the highest game attach rate of any console at 8.1 games per console.
"We entered into the Black Friday sales period with cautious optimism, knowing that dollar for dollar, Xbox 360 offers more social entertainment value than any other console on the market," said Don Mattrick, senior vice president of the Interactive Entertainment Business at Microsoft.
"Record Black Friday sales in the U.S., coupled with our existing global install base of 25 million and an online community of more than 14 million Xbox LIVE members, have laid the groundwork for continued global sales momentum in 2009."
Xbox 360 sales have also surged worldwide since the September price drop, outselling the PlayStation 3 week over week across Europe. Console sales in Europe are up as much as 400 percent, with sales nearly double year over year and reaching 7 million consoles sold this generation.

The recent price-drop for the Xbox 360 has made the system just as viable as the Wii to own in mass quantities. Personally I'm thrilled that millions of more whiney kids & dweebs with a Live Camera will be invading the Xbox Live marketplace with their avatars. Alright, I'm not giving them a fair shake I suppose; I mean they are leet, don't you know? Anyway, by outselling the PS3, they have primed themselves to take a firm hold on the #2 spot on the video game sales chain. That's right, #2. Well actually #3. Somebody correct if I'm wrong, but aren't they #3 behind Wii & the DS? Maybe the DS doesn't count since it's portable but notice zero mention of the Wii. I love my 360, but I find it funny that they pick out a single other console (that they have traditionally beat in sales anyway) and say hey we sold more than they did. That would be the equivalent of this column getting more hits than say your Grandma's recipe website. Except your grandma doesn't have a web site. She does? Oh crap, I'm losing hits to White Chocolate Brownies and Fresh Squeezed Lemonade. Mmmmm, Brownies.
GTA IV


I'll say this for Rockstar – they do like a controversy. Usually, though, they go in for cool controversies like sexy mini games or the sensationalised depiction of car crime and bullying.
Lame kerfuffles about copy protection schemes just seem a bit off-message, somehow. C'mon chaps, you'll not get many tabloid headlines with this nonsense! Get back to the prostitute murder and leave the customer-punishing DRM nonsense to your competitors.
Yes, another high profile PC release – GTA IV this time – will be shipping with SecuROM. The usual arguments are being trotted out – on the one hand it is the publisher's best defence against piracy (the copyright infringement kind, not the Somali kidnappy variety) while on the other it is a horrible mess of code that will taint the PCs of legitimate consumers like digital scar tissue.
C'est la vie.


While the websites of game retailers are not typically the most reliable place for rumors, we have just that: a rumor from a game retailer website. GameStop is taking pre-orders for upcoming GTAIV DLC, Grand Theft Auto IV: Lost and Damned. The thing is, GameStop points out that the packaging does not include a disc and that it's "downloadable content only." What's more, the retailer adds that the customers "must have an Xbox Live account" and "a copy of Grand Theft Auto IV on Xbox 360" to play it. If true, maybe people will buy this as a present, which kinda makes sense. Seems like a lot of hassle for DLC; that's DownLoable Content and not DiscLess Content

A double dose of GTA news this week. The first article is a blatant reason why outside of the World of Warcraft, I don't touch PC Gaming. I ran this article a few weeks ago about how GTA IV was supposed to revolutionize Games for Windows. I thought there was a chance they could do it as long as they didn't do anything stupid. Guess what, they did. SecuROM is a joke and is pretty much the equivalent of required adware/spyware/nasty virus on your computer. The little problems of other programs not running and possibly causing your pc to come crashing down are happening all over. But yet it is the best bet against piracy. Or your best bet against people not buying the game at all.
There also goes my hope for a disc for the DLC of Grand Theft Auto IV. This sort of thing would have probably lead to a dual disc set of GTA IV & the DLC for a super-duper special edition at a reduced price. I know, I'm dreaming. But hey they have done it with plenty of other games. Anyhow, this is a nice way of grabbing a cheap gift and not having to waste your general points on the release. This also puts it in the same category as those XBLA cards you see at Target for sale. Meaning one thing, this code card (obvious way they will probably transmit it) will be at less than retail in the future due to Ebay and other second-hand sites. Of course they could shoot down my whole theory and email a code to you. Many sites did that for the Fable Pub Games. Sometimes, I really hate this digital download idea.
Escapism

Ian Bogost and his students have a new project underway looking at the intersection of journalism and games; their new blog is full of interesting stuff.
This week saw a thought-provoking post on the issue of escapism and games by Simon Ferrari do games really qualify as escapist? What, exactly, are we escaping from? Compared to the classic example of big budget 1930s musical spectacles, which allowed audiences to 'escape' from daily life. But as Ferrari points out, this is not what most games wind up doing:
… Escapism works, quite literally, as an escape from real world ills. Video games don't necessarily do this. If we sought an escape from violence and terrorism, then we wouldn't have so many video games on the market focusing on just these two issues. Rather, many video games seek to provide catharsis for the mental ills that plague us all. We don't see games about Iraq, but there are plenty of games that attempt to deal with the same "forces of evil" that fearmongering pundits fill our heads with through metaphor or displacement.
Even Mario wages battle against the totalitarian, (literally) draconian Bowser.
It's not a very long essay but definitely worth a read as are a lot of pieces on the new blog.

I can't necessarily speak for others but I have to disagree (for myself) here. The intent is right, but he doesn't go far enough in his thought process. Gaming is 3 things to me. 1)A form of pure entertainment that I can't get anywhere else, 2)A chance to do something with my girlfriend where we can have as much fun as we want to (even after, woo woo!) and 3)a chance to escape from the crazy world we live in. We live in a world of recession, lost jobs, heartbreak and even though there are plenty of happy moments, we wish to escape. To a place where there is no penalty for death, outside of try and try again. If we want to do something in a game that isn't related to our mission in life, we usually can and there is no penalty like lost wages or bill collectors.
We can try things we never tried and not have to worry about failure. We can be somebody else no matter if it is somebody heroic or not. Taking a page out of the Army's book, We can be all we can be. But inside a game where they are no consequences outside of lost time, we find our true selves. Sometimes that leads to a gateway to a better life in the real world and sometimes not. This is still okay. But to suggest that for many people, games are not escapist, then you have never been taunted, never been picked on, never told that you weren't the best at something. Games whether for the better or not, teach us that we can be something that we never thought possible.
Releases for the Week of December 3rd, 2008
Xbox Live Arcade – Banjo Kazooie (1200 MS Points)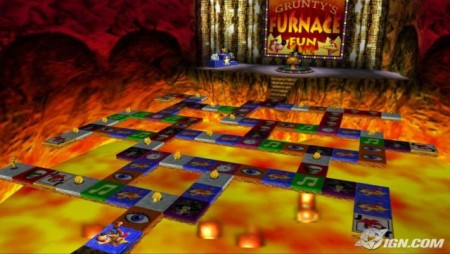 *reads over notes, Banjo is released for XBLA* Wait, isn't that the Nintendo 64 game that made me hate the N64 so much that I wanted to throw my friend's N64 into a lake just so my eyes would stop bleeding? Heck with that, I'm not talking about it. *You have to, it's your job* Oh alright. You are a bear named Banjo (no, he was not in Deliverance but I heard his mom had a fling with Ned Beatty, *squeal*) and you have a bird named Kazooie. Banjo's sister: Tooty has been kidnapped by the evil witch Gruntilda. This all sounds a little fruity to me, but let's carry on. The game was a lot like Super Mario 64 where you would explore free-roaming worlds and gather tokens. These tokens help you to proceed through the game. It sold a ton of copies and did quite well. Also, if you pre-ordered Banjo Kazooie: Nuts n Bolts, you get this one as a freebie which is an awfully good deal. But all of the Excedrin in the world isn't enough for me to get this.
Wii WiiWare & Virtual Console – Space Invaders Get Even (WiiWare – 500 Wii Points), Pit Crew Panic! (WiiWare – 800 Points), & Metal Slug 2 (NeoGeo – 900 Points)

















One's immediate thought here is probably about how cool a new Space Invaders game might be. 500 Wii Points is quite the enticement too. Furthermore, this game has a unique twist. You aren't defending the planet, you are trying to destroy it. The graphics look good but what do you actually get for five hundred points? 1 stage. 2 levels and a boss battle, that's it. I'd venture to say off hand, that's what an hour or two? Future stages will be delivered in the same format with 3 future packs having 2 stages a piece. When it is all said and done, 7 levels for 2000 points. Honestly, wouldn't they have been better off (especially with Wii's storage problems) to make this a disc release for $20 or even $30? This DLC nonsense boggles my mind sometimes.

















Pit Crew Panic! takes six girls. Alright, I like this game already. Oh wait, this is Nintendo and the game is made by Hudson. *keep reading* These six girls are repairing a variety of items starting out from the ordinary: race cars and motorcycles and going to the extraordinary of toilets and the Golden Gate Bridge. I've seen the Golden Gate Bridge and it's going to need a lot more than six girls. Anyhow, you use the WiiMote to direct the crew of what to fix in an attempt to beat the clock. Hudson usually does good work, so this might be a decent time waster.













Metal Slug 2 provided more fun and mayhem than the first one in the series did. It added new weapons such as the Laser, Fire Bombs & Armor Piercing Shells to tear into soldiers and aliens. New vehicles were provided too including the Camel Slug which was well a camel with a gun strapped to his back. However, the most important thing? Character Transformation. I know many of us are used to the characters in Metal Slug transforming into a mummy or a rather chunky gun totter but this was introduced in this game. Using a fork was never so much fun. If you have never played Metal Slug, this is a fine one to start with. As a note, Metal Slug Anthology includes this game and many more for the Wii or Playstation 2 and the game usually only runs about $20 used now.
Console Releases
PS2
Kingdom Hearts Re: Chain of Memories
Singstar ABBA
The Tale of Despereaux
Yamaha Supercross

PS3
Prince of Persia
Singstar ABBA

Xbox 360
Prince of Persia
Destroy All Humans!: Path of the Furon
Winter Sports 2: The Ultimate Challenge
The Tale of Despereaux

Wii
My Fitness Coach
Family Party: 30 Great Games
Iron Chef America / Supreme Cuisine
Nancy Drew: The White Wolf of Icicle Creek
Mushroom Men: The Spore Wars
Safecracker
The Tale of Despereaux
Summer Sports 2
Bigfoot: Collision Course

DS
Happy Cooking
Slingo Quest
Mushroom Men: Rise of the Fungi
The Tale of Despereaux
Cate West: The Vanishing Files
Burger Island
Wordfish
My Fun Facts Coach
Prince of Persia: The Fallen King
Heavy Armor Brigade
Emma at the Farm


Singstar ABBA, OMG! My question is who exactly asked Singstar to release a disc only for ABBA. Songs, sure; but a whole game? Guitar Hero: Aerosmith was a better idea. The real standout game this week is of course Prince of Persia. Beautiful graphics and a wondrous sight of landscape and action are sure to come with this game. Personally, the last Prince of Persia game I played was the first one for the PC back in the day. Falling on the spikes 50 times in a row was the epitome of self torture. However, much has changed for the Prince since then and while it is not a release day purchase for me, I am interested in it for down the road. Kingdom Hearts fans should rejoice as the PS2 gets a PSP port and a new KH game. As a parting note, the 360 did get an exclusive this week in the form of the new Destroy All Humans. I've heard good things about the previous 2, so if somebody tries this one out, let me know okay?
Final Thoughts & Mutterings
WoW time. 58/56/41/30/18. Instead of sitting around Orgimaar or Stormwind, I did do some questing this week. I kept it light and tried not to work too hard. So I wouldn't fall into the same traps I had in previous weeks. The rogue got to 56 via Winterspring and still has plenty of quests there if he wants to continue. It was an easy grind and I went ahead and made him a master swordsmith while he was at it. My mining was also maxed out at 300 (blacksmithing 261), so he is ready to mine in Outlands. However, he still needs a couple of points in lockpicking to be able to pick the level 50 junkboxes. Talloween, the dwarf priest found himself gaining a couple of levels at the Rebel Camp in upper Stranglethorn. Yes, I know I should have probably been there a couple of levels ago, but it made for an easier time to get through the quests. It's still weird for me when I complete a quest to get only alliance rep because my Stormwind and Darnassus rep is maxed out. I still personally believe I can get Exodar before 60 but I got about 8,000 to go to exalted. But I'm taking my own medicine and trying to make it fun again. That and I'm playing a ton of Fable 2 when I just don't feel up to leveling a character in WoW. Buying up all of the real estate and raking in cash even when I'm not playing my character in Fable 2 is an awesome thing. Have fun kiddoes and always play for your own self-enjoyment, not the enjoyment of others. Take care.

As Always,
Kedrix of Aldrianian
(*The Forgotten One*)