Nintendo has growth issues, Rockers who can't play RockBand and Circuit City is all gone – Welcome to the column that says it is responsible for 99% of the bad jokes against the Wii, Nintendo 64, and Portal known as Dare to Play the Game.
There were essentially three games that I played this week: Lego Star Wars CS, Fable II Pub Games, and RockBand 2. In Lego Star Wars, I played half-way through the 4th episode. I've noticed that the stages are a lot longer and you simply can't zoom through them as much as you would like. I am also up to 270 achievement points, about a 1/3rd of the points we have on Lego Batman (775) but we are slowly getting there. However, I am getting true jedi on every stage and for most, the red-brick. No stud multipliers though which is kinda depressing since I still have a few items in the extras menu, I don't want to waste the coinage on because I would rather spend it elsewhere. Fun game, though I still contend Lego Batman is a better made game. Star Wars just has that nostalgia factor going for it.
I'm not sure why I'm playing Fable II Pub Games. I guess it is the idea that I'm now within striking distance of hitting the 5-stars achievement (only 30000 points needed). That will leave only two achievements. The first one is placing in all of the tournaments and gaining all of the unique items. Right now, I have placed in 11 of the 12 available tournaments. The only one I haven't placed in is 4-star keystone. That game is such my weakness. I'm simply too conservative. This leads into the second missing achievement. Getting all games unlocked. Cake for Fortune's Tower and Spinnerbox. Spinnerbox is done as soon as I get five stars. Fortune's Tower will come in short order after that. Keystone, I'm not sure. Again, I'm pretty conservative, so regardless of winning or losing it leads me to not advancing much towards my goal. Simply put, 11/12 achievements are easily mine. The Locksmith achievement will be a bit more time consuming.
Ode To Gamer Girls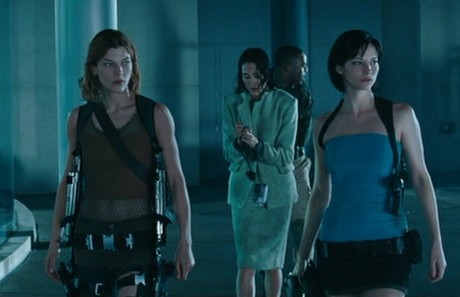 There goes Milla Jovovich & Sienna Guillory of Resident Evil Apocalypse. Better known as Alice & Jill Valentine. Sure Alice was the star of the three movies but Jill was probably the best supporting actor in the three movies. Well there was Mike Epps and Michelle Rodriguez characters who probably think they deserve a nod too. Sienna Guillory was a nice & subtle hot though (as subtle as you can be in skimpy clothing) and her beauty is appreciated here.
News of All Types
Nintendo


As has already been established, Nintendo is doing well for itself, shattering sales records in the United States with the Wii and Nintendo DS. And, according to Nintendo, it's 99% responsible for the industry's growth.
Nintendo highlighted that fact in its response to NPD sales data released yesterday, showing that Nintendo hardware sold more than 20 million units in the U.S. last year, with 132 million software units sold on the company's platforms. That's a considerable increase from the nearly 15 million consoles and portables it sold in 2007.
That increase in sales, Nintendo says, is 99% of the reason the video game industry saw revenues increase by $3.35 billion last year. That's a much smaller change than the game industry experienced from 2006 to 2007, we should note, 43% to 19% growth comparatively.
(The company included a handy; but visually ugly pie chart to drive the point home, one that we tried to improve upon.)
With four of the best selling games in the U.S., according to the NPD Group, and the best-selling hardware by a large margin, we'd think it's pretty safe to say Nintendo is protecting the video game industry from succumbing to a terrible economy.
Will it be able to stave off an even worse 2009?

This just in, Nintendo is responsible for 99% of the good things that happen to you in life. Or so they would have you believe. Exactly, where does Nintendo get off acting like the messiah of all that is right in gaming? Sure the gaming industry is doing huge numbers because of Nintendo but to say they are the only ones responsible is a complete load of horse crap. I'm 99% sure that Nintendo is responsible for the dump I took this morning too but you don't see me making a pie chart about it. I don't even agree that Nintendo is the only one protecting the gaming industry from succumbing to a terrible economy. Microsoft and even Sony would like to say hello to that little fallacy.
Another thing, I consistently hate when people mention that the Wii had 4 of the best selling games in the US. One of them is always Wii Play, a pack-in. Pack-in's should never count. The same reason that Super Mario World or Sonic the Hedgehog is usually left off debates of the best selling game in the 16 bit era. It doesn't count when the system comes with a copy and that copy is counted as the sale of a game. Another reason: attach rate. People with Wii's don't buy many games after they purchase a Wii. Most of the other top Wii titles in this NPD data are games that are commonly used as bundle bait. They are counting games that people are getting with the systems, whether pack-in's or bundles. It's fact. Mario Kart, perhaps Super Mario Galaxy, perhaps Smash Bros, perhaps Twilight Princess. There are some other games I'm not mentioning but the problem is that most people who buy the system aren't interested in the quality games out for the system nor the mountain of shovelware. I'm certain that the DS & the Wii game library count for 99% of the shovelware in the console industry. Now that is something to make a pie chart of.
Rockband


"I knew the bass line to the song, of course, but I couldn't quite master this new, different way of playing it," writes Krist Novoselic, bassist for Nirvana, of his encounter with Rock Band 2.
Novoselic wrote about confronting a song he'd played hundreds of times in studio, live, you name it" on Rock Band 2. But first, he's not a gaming luddite: "Rock has found new life with video games, and the phenomenon is leading to a revival of bands that have been around for a long time," he wrote in the Seattle Weekly.
But he never had any exposure to Rock Band or Guitar Hero until recently in a mall store, where he was literally beaten at his own game.
I know about Rock Band, because Nirvana has some songs on it. I had never tried the game before, so I gave it a go. I worked through the menu and found the song "In Bloom." I picked up the little guitar-shaped controller and hit the stage.
I knew the bass line to the song, of course, but I couldn't quite master this new, different way of playing it.
The game reminded me of Space Invaders. I tried to hit the notes cascading down the screen, but could barely keep up.
Meanwhile, this kid was watching me fumble with the game. I became self-conscious and took the controller off. I handed it to him, and he proceeded to jam on the songs and was really good! He had no idea that I was the musician he was emulating on the game, and I didn't tell him.
But Krist's final analysis? Thumbs up:
Regardless of my first experience with the game as a player, I'm loving Rock Band. Instead of file sharing, people are actually buying music again! HA!!!
Putting that issue aside, I like how the game makes the player focus on certain components of the music. When I listen to songs, I'll usually tune my ear to the bass line. With Rock Band, you can do that, but also see the procession of notes.

My first question is I wonder what the kid thought or said once he got home and hooked up with his homies. "Man, this old dude was playing RockBand today and he totally sucked!, he was playing some Nirvana song and I pwned him!" But I would imagine that Krist is not the first guitarist, bass or lead to find Rockband or Guitar Hero hard to pick up. Some are naturals I'm sure, but I bet a lot have trouble because the controller while it looks the same, functions very differently from the real instrument. It is also nice he mentioned that people are buying tracks on Rockband and Guitar Hero. I'll admit I spend a lot more on Rockband DLC songs versus retail cds since I got the first Rockband game. I haven't abandoned retail cds at all, but my purchases tend to be older rock n roll albums or even a little r&b. But with the Rockband songs, my purchases tend to be more random. I would probably never buy a full Lenny Kravitz album nor a Godsmack one (well maybe on Godsmack) but I would purchase a song or two from each artist to play on Rockband. Kudos to Krist and I hope there are more artists like him that have nice things to say about the product.
Circuit City

After closing 155 stores and filing for bankruptcy last year, the nation's second largest electronics retailer Circuit City is now planning to liquidate its remaining 567 U.S. stores.
The troubled company had been trying to find a buyer or secure financing in order to stay afloat, but today they announced that their last-ditch attempts had failed.
"This is the only possible path for our company," James A. Marcum, acting chief executive, said in a statement. "We are extremely disappointed by this outcome."
The closing of the remaining 567 stores could mean unemployment for another 30,000 Americans at a time when being unemployed is not something you want to be. It's also another blow to the nation's malls, as the closures will result in a flood of empty big box retail locations in an economy where no one is in a position to fill them.
"It will bring to market a glut of big box spaces across the country," said John Bemis, head of Jones Lang LaSalle Inc.'s retail leasing team. "It will have one of the largest impacts on big box real estate across the country."
Troubling news indeed. Our condolences to those who will be left jobless in the wake of the closures. We wish them the best of luck in finding gainful employment elsewhere.

I also express my condolences to the many employees who will be losing their jobs as a result of Circuit City closing. However, only those employees who actually did a quality job. There weren't many. It is unfortunate that Circuit City has to close so many stores and not remain afloat. I'll remember that Fallout 3 was the last game I purchased at Circuit City always. I'll also remember that was the first store I went to after I bought a 360 (I bought the 360 actually at MicroCenter due to a special promotion they were running) to look over their X-Box BC games.
But let us finally remember why Circuit City lost the war. The reason is not the economy. That's the easy way out. Circuit City should blame themselves. Poor management, horrible customer service and stores that were anything but friendly. Think about this. How many times have you been in a Circuit City and tried to find help? It's a vacant wasteland devoid of personnel. The sad thing is that I do remember one guy when I bought Fallout 3 at the checkout who was very nice and helpful and spent a good 10 minutes talking about the game cause he simply had nothing else better to do. Why a guy like that wasn't out on the floor was beyond me. So I feel sorry for him, he deserved better than this. The rest can go apply for a job in collections, that's where their attitude best serves them.
Releases for the Week of January 21st, 2009
Xbox Live Arcade: The Maw (800 MS Points)
The Maw appears to be the first great Xbox Live Arcade title of the year. The story is this, Frank an alien has a new friend called "The Maw". The two of them get locked up by some space troopers. The space troopers' ship crashes and when the dust clears, Maw and Frank are free. Well sort of. They are on a rather dangerous planet. Frank must lead the Maw to safety. The Maw he finds is good for one thing, eating. He can eat anything smaller than him. Say he eats enough critters, he can then grow to a new size and eat something larger. If he eats a fire lizard, he'll suddenly be able to spew flames from his mouth. Frank's job is to find the food and make sure the Maw eats the right things. The cut scenes to this game are supposedly up to retail quality and there are many incentives to playing. Finish the first stage, get a gamerpic. Finish the game? Get a free theme. Hopefully a premium one. It sounds like Boy & A Blob meets Kirby. I'm interested and will certainly give the demo a try.
Wii WiiWare & Virtual Console: High Voltage Hot Rod Show (WiiWare – 1,000 Wii Points), Family Glide Hockey (WiiWare – 500 Wii Points) & MUSHA (Genesis – 800 Points)






Let's go off-road in this racing game where you have to master death-defying stunts and build enough boost to slay the competition. There are ramps, power slides, bunny hops and tricks to learn while avoiding pits and smashing through Boost Rings. This will fill your meter and let you come out on top. Single player mode pits you against seven CPU opponents and multiplayer is available in split-screen for up to 4 players. Hopefully it is a decent romp in the glut of racing titles.





Here you can play glide hockey (it's air hockey people!) in a variety of environments from a gym to a forest park to even the freezing Arctic. There is some cel-shaded graphics and cute music to go along with the family friendly match-ups. The family's names incidentally are named Daddy, Mommy, Sarah and Billy. What the heck is my girlfriend doing in this game? (and no her name is not Mommy, at least not to the general public :-P) Didn't I tell her to stop appearing in WiishovelWare? There are mini-games and many multiplayer options but don't expect too much here.





MUSHA stands for Metallic Uniframe Super Hybrid Armor. Yes, it is a mech game. The story here is that you are Terri who controls one of these machines. Your goal is to eliminate Dire 51, a super computer that has gone out of control and is trying to vanquish humanity. However, this scrolling shooter offer more than mech action, its gameplay is what helps set it apart. There are special weapons like the Vanishing Buster, Blazing Beam, Defensive Detonator and six types of formation fire. There are seven levels and a whole lot of fun awaiting those who wish to take a ride. This also happens to be a pretty rare game in most Ebay circles which makes this a rather favorable purchase at a mere 800 points.
Console Releases
PS2
AR Tonelico 2: Melody of MetaFalacia
PDC Championship Darts 2008

PS3
Skate

PSP
Star Ocean: Second Evolution
PDC Championship Darts 2008

Xbox 360
Skate 2
PDC Championship Darts 2008

Wii
Deal or No Deal
Ultimate Shooting Collection
Imagine Fashion Party
SimAnimals
PDC Championship Darts 2008

DS
Jumble Madness
Wonder World Amusement Park
SimAnimals
Big Bang Mini
Inkheart
Drivers' Ed Portable
Johnny Bravo


The weeks are a little kinder this time around. We get some decent releases as things look to pick up somewhat. Skate 2 looks to capitalize on last year's smash hit that basically dethroned anything associated with Tony Hawk. I still remember beating the first couple of Tony Hawk games before it tried to become some kinda weird sandbox-hybrid game. AR Tonelico 2 proves that the PS2 isn't quite out of breath and a Star-Ocean PSP title proves that the PSP still makes relevant games. Well all the relevant games they do make end up being ported over to the PS2 anyhow. Then we come to the DS which I normally don't talk much about except for the sheer number of games. This week in addition to Stop Smoking (a previous DS game) we can now learn how to drive. Supposedly this will be a valid way to take a Driver's ed course in all fifty states. It is recommended though that you don't actually try this while driving the vehicle. The other one is Johnny Bravo. Assuming this release is valid, isn't it a few years too late? I love the character but I can't remember the last time I saw a new episode. What I wouldn't give for a complete series DVD set of this…
Final Thoughts & Mutterings
I mentioned last week and this week that I finally secured a copy of RockBand 2 for my 360. Both me and my girlfriend have played it quite a bit and are very pleased with the game. The band interface is ten times better and much easier to navigate this time around. I'm positive I will pick up more achievement points in half the time of the first game due to this. After playing it for a while, I even bought the license key to export over the songs from Rockband 1. It's worth the $5 in points easy. The only problem with that is that it left out three songs. Two of which, I could live with. However, the third I am cursing out Metallica as we speak. Yeah, for those who are uninformed, the game doesn't copy over Enter Sandman. This was probably due to the fact that Metallica had signed an exclusive contract with Guitar Hero or simply wanted too much darn money to be included in that rights upgrade of sorts. That aside, we are having a very fun time playing this game. I've even picked up a couple of songs on DLC since purchasing the new game that I might not have if I was only playing the first one right now. We might also have a part-time third band member that frequents our house from time to time. Actually, she's the only one who actually visits our house on a frequent basis. She played both guitar and vocals and reportedly felt the twinge of addiction. Oh yes, we have reeled her in. Until next time kiddoes, may you give in to some of your addictions and stay away from those that keep you from gaming on your favorite console (except for the reading of this column). Take care.

As Always,
Kedrix of Aldrianian
(*The Forgotten One*)