Overpaid Severance, Everquest 2 Server Logs & Xbox Live Hackers on the Rise – Welcome to the column that promises to not knock anybody off-line unless they are on a 14.4k baud modem known as Dare to Play the Game.
This past weekend I finally beat Lego Star Wars Complete Saga for the Xbox 360. The game came to a satisfying conclusion and many achievements were gained. I found my way to 620 achievement points out of 1000. The most unexpected achievements were riding all the mounts and vehicles in the game as well as gaining access to all playable characters. It's nice to get an achievement you weren't even expecting. I really think I can get a few more achievements before I am said and done with the game.
The two that stand out most is getting all of the red bricks and maxing out the stud counter. They kinda go hand in hand actually. By getting all of the red bricks, it opens up the game to the much desired multipliers which make getting studs x3840 times easier. Right now, my multiplier is x12 which translates to about half a dozen million in studs. I don't think I have the drive to get 100%, but I do have the drive to finish out some of the other tougher achievements.
Ode To Gamer Girls
Meet Amanda Johnstone. She's supposedly Halo's #1 female fan in London and ridiculously hot. She's 25 and even sleeps with Master Chief every night under her Halo duvet cover and pillow case set (are these even available?). Her chihuahua is even named "Chiefy". I smell something awful fishy here, it almost looks like Microsoft is trying to convince to buy something, in this case Halo Wars. We all know hot women do actually play video games, but this one is a little too good to be true. Microsoft probably shelled out some cash and found somebody who was interested in going that extra mile to bring the point across. This doesn't make me want to buy Halo Wars, but it does make me wonder if she has a calendar.
News of All Types
Microsoft


"An inadvertent administrative error" meant that some of the 1,400 Microsoft laid off recently received overpayments in their severance packages. The company's asked for the money back, making this a hat trick of HR Kops komedy.
"We ask that you repay the overpayment and sincerely apologize for any inconvenience to you," says the letter, which spells out what happens if you pay back the dough in or out of the same tax year in which it was received. Reading between the lines, they threaten recipients with a big tax hit if they don't give it back.
Someone posted a copy of the letter on TechCrunch, and CNET went to Microsoft. The company confirmed the letter's authenticity but declined further comment.
Let's see. Fire a bunch of people, check. Screw up their sev package. Check. Go begging for the cash back. Check. See that embarrassing demand posted on the Interwebs. Check. Funny that the ones responsible for this clusterfuck are in fact the ones who kept their jobs.

Stay classy Microsoft, stay classy. In my usual MS fanboyism, I can't even defend this act of utter stupidity. Here, Microsoft does what every company is doing right now and sheds a healthy amount of workers. Then in what was probably overflow of paperwork the HR / Payroll department issues out a bunch of severance checks with too much money in them. So now they want them back, boohoo. The typical response by most disgruntled former workers would be haha and I don't think so. Or perhaps something about when pigs fly would enter into the conversation.
In these troubled times, I wouldn't blame anybody one bit for keeping the money. Even with the threat of a big tax hit or whatever the company is trying to scare people off with. I heard on the radio the other day that Microsoft is now indeed letting the people keep the additional money from the severance. Probably for the best when I'm guessing well over half of the laid off employees were plastering them with f-bombs and other assorted slurs about Bill Gates and farm animals.
Everquest


Nearly 60 terabytes of info gathered from more than 400,000 Everquest 2 players has been made available to scientists studying a variety of topics, from social interactions to machine learning.
A meeting last week of the American Association for the Advancement of Science said that Sony, when approached about access to the game's data, simply said, "Sure, why not," when asked if it was available for research.
One researcher, who's studied shopping cart abandonment at Amazon as "a virtual event without a real-world parallel," found himself with an enormous set of data regarding similar behavior – individual players dropping out of a game, what that meant for their peers and for the community on the whole.
Another scientist studying social interactions was able to examine how and why players became involved in partnering or trading interactions, and how the actual players physical proximity to one another (same time zone, or geographic area) affected that. He also found that, even adjusting for their low representation, women were more likely to avoid interacting with other players. Wonder why.
The data set spans four years and is so large that researchers have had to inspect large hunks of it rather than writing algorithms that pass through the entire database. But they have come up with some very detailed pictures of the user base:
The average age of players turned out to be 31. "These aren't just pasty white teenage boys in a basement-to be sure, they're there, but they're not typical," he said. The older players tended to play more than the kids and, although the total hours played seem large, he said that the time mostly displaced either TV watching or movie going. And the surveys showed that those who viewed TV news in the first place continued to do so, suggesting that gamers really slotted EQ2 into their entertainment time.
Mostly, the gamers seemed healthy; their body mass index was better than the US average and, although they were slightly more depressed than average, they were also less anxious.
Buried among those happy, average players was a small subset of the population-about five percent-who used the game for serious role playing and, according to Williams, "They are psychologically much worse off than the regular players." They belong to marginalized groups, like ethnic and religious minorities and non-heterosexuals, and tended to use the game as a coping mechanism.

In the pathetic statistics post for the week, we come upon this rube who decided to go analyze the average Evercrack player. Since Everquest has been out for a while, it does make some sense that the average player would be in their late 20's or early 30's. It is also suffice to say that the game isn't attracting much new blood. This is counter to World of Warcraft where the average age is 14. I kid, but certainly some days it seems like it. The survey goes on to say that the gamers were pretty healthy and not couch potatoes with nothing better to do. Here is the problem I have with the survey though.
The very end of the quoted article talks about serious role players. While, I am not a serious role-player, I have known quite a few. The article suggests that they use the game as a coping mechanism and most likely are an ethnic minority, part of a religious minority (think Wicca or Paganism), gay or all of the above. This is quite the stereotypical assumption and serious role-players can lead normal productive lives. I mean come on, acting like a dwarf or an elf in-game is perfectly okay. It's when they start dressing up outside of the bedroom in that gear that you have to worry. Hrmmm, maybe I should tell my girlfriend to put a cancel on the elf ears and the troll tusks.
The other part of the article I have issue with is the surveyor's past experience. He analyzed Amazon shopping cart abandonment. He goes on further to call that experience a virtual event without a real-world parallel. Well no doubt. Think about it, do you ever go into a real-world store, put ten items into your basket, go to the bathroom, take a dump and then dump your ten items out onto the floor while you go to the magazine stand to go look at porn? Sounds like a typical Saturday night to me but for some of you that might not be the case.
Xbox Live

Are Xbox Live users taking out contracts against their opponents? Microsoft is investigating a rash of attacks on Xbox Live users by hackers using data flooding tools to kick them offline.
It's the same sort of attack that's been targeting PC users for years. Hackers get a hold of the IP address players use to connect to Xbox Live and then flood the address with information, knocking them off of the service. Some hackers are even running booting services, where players can pay to have their rivals knocked-off, so to speak. The BBC reports that services can be bought for as low as $20, setting up an attack that can be run any time it is needed.
"There's been a definite increase in the amount of people talking about and distributing these things over the last three to four weeks," said Chris Boyd, director of malware research at Facetime Communications.
Microsoft is actively investigating instances of players being booted off of Xbox Live in this fashion, but this type of attack is extremely difficult to track down, as hackers generally send the data from pools of hijacked computers, and don't technically have to access Xbox Live in order to initiate the process. From Microsoft's official response to the issue:
"We are investigating reports involving the use of malicious software tools that an attacker could use to try and disrupt an Xbox LIVE player's internet connection.
This problem is not related to the Xbox Live service, but to the player's internet connection. The attacker could also attempt [to] disrupt other internet activities, such as streaming video or web browsing, using the same tools."
What they are basically saying here is that there really isn't too much they can do. Hackers can access your IP address by routing Xbox Live through their computer to the console and monitoring traffic using a PC application, a method that doesn't intrude upon the service in any noticeable way. Essentially it attacks the user's internet connection directly.
What can you do to avoid being the subject of such an attack? I've got a crazy idea…why don't we all just be polite to one another over Xbox Live so no one feels compelled to attack us? No?
Okay, just thought I'd throw that out there.

This is quite troubling and a terrible practice. I actually used to encounter this quite a bit back in college when somebody would be malicious enough to get a hold of your IP and then flood you to death. This was also back when most of us were on simple modems and the slightest thing could knock us off the connection. Of course as times change, so does technology and hackers today have more at their disposal to pull this off. These days you could teabag somebody and then if somebody was angry enough they could call their buddy and figure out how to get you knocked offline.
But actually, it's worse than that. A lot of online players are petty. So petty that even if you beat them under normal conditions, they will claim you cheated. Then these little kids (what most of them are) will call up their big brother or schoolyard chum (or even be able to do it themselves) and go to the means to nuke you. This isn't limited to the Xbox either, I could easily see this in any online game. Hopefully the companies with online games develop the skills to thwart these pathetic losers and send their ass to jail or at least a juvenile detention center where they implore shock therapy regularly.
Releases for the Week of February 24th, 2009
Xbox Live Arcade – Exit 2 (800 Microsoft Points)


I thought this was the week that Puzzle Quest: Galactrix was going to come out for Xbox Live Arcade. I was all ready with my this is way too many points to pay for this game speech too. We just get a straight up decently priced sequel to Exit which was released in late 2007 for XBLA. This game promises to focus more on puzzle solving rather than action. Chances are if you digged the first one, then this will be right up your alley as well. Not much more is known from what I can tell so I would imagine this is just a straight up sequel as the name implies.
Wii WiiWare & Virtual Console – Onslaught (WiiWare – 1000 Wii Points), The Last Ninja (Commodore 64 – 500 Points), International Karate (Commodore 64 – 500 Points) & Pitstop II (Commodore 64 – 500 Points)


*rubs eyes*, a first person shooter WiiWare title? Holy crap. I was sure we would get Connect the Commandments with Joel Osteen or something. Anyhow, you are in the middle of a futuristic war between humans and insectoid aliens. *caugh cliche plot, but let's continue* You are part of an Elite Strike Force and must take on a variety of alien life forms. Naturally this also includes online play where you can take on each other. Let WiiWare teabagging commence. Seriously though, it is very nice to see a FPS show up on WiiWare. It looks pretty decent and honestly might sell quite a few copies (as long as it is good). Here is hoping that the WiiWare line opens it self up to more titles like this.



The major announcement this week was that the Virtual Console had picked up another system, the Commodore 64. This is a good thing because the regular releases were starting to wear thin. They start off with a flurry including perhaps the largest original 64 game of them all: The Last Ninja.
Kunitoki, the evil shogun of the Ashikaga Clan envies the Ninja Brotherhood and will go to any means to acquire their knowledge. He wants to destroy the brotherhood. Once every decade, the Ninja must travel to the Island of Lin Fen where they pay homage to the Shrine of the White Ninja and receive teachings from the Koga Scrolls. However, this decade is when Kunitoki decided to strike. He destroyed all of the ninja or so he thought. Armakuni, the last ninja has escaped. He must seek vengeance and bring down Kunitoki. The gameplay on this was half puzzle solving, half combat and a ton of exploration. It included six worlds or sections, each with separate challenges and scenery. Furthermore the music score was immense including 11 full length songs, way more than the typical Commodore game which usually sported one or two. If you are looking for the one title that defined the system, here it is and it is easily worth the 500 points.



The second Commodore 64 launch game is essentially a Karate Champ clone. Two karate experts fight each other in one on one contest. Rather than fight it out with health bars, the object was to score solid hits where you could score half a point or a full point. Two points would win the contest. Incidentally, this game was in a law suit with Data East over the claim that this was copying Karate Champ. Data East initially won and International Karate was pulled from the shelves. On appeal, it was determined that while the game was similar, it was not the same and that Data East did not have a monopoly on the sport. International Karate ports and sequels would continue even up to the Game Boy Color and Advance.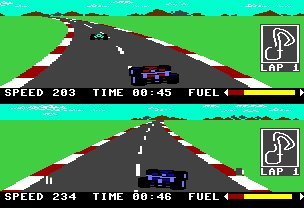 The final launch 64 game is a racer that looks an awful lot like Pole Position but with a few innovations. The first was that players could race head to head on a split screen. In addition, you had to keep an eye on your tires as well as your fuel gage. Players also are allowed to pull in for a pitstop (the namesake of the game) to change tires and refuel.
Console Releases
PS3
Shellshock 2: Blood Trails
50 Cent: Blood on the Sand
Eat Lead: Return of Matt Hazard
Killzone 2
Xbox 360
50 Cent: Blood on the Sand
Shellshock 2: Blood Trails
Stoked
Eat Lead: Return of Matt Hazard
Star Ocean: The Last Hope
Wii
Dead Rising: Chop Til You Drop
Yamaha Supercross
DS
Puzzle Quest: Galactrix
Legacy of Ys: Books I & II
Imagine: Ice Champions
Peggle: Dual Shot
Blue Dragon Plus
Core

A few good games this week and some stuff of interest. Killzone 2 is arguably the biggest release in Playstation 3's history. This FPS will have many people dubbing it the Halo slayer, but it will still not be enough to move systems. I do hope it does well though, PS3 really does need something. A new 50 cent game is out this week, smell all of the wanna be rapper kids run out to their store and plunk down $60. Didn't he learn from the first time he made a game? Oh well, it comes down to two titles this week that I'm interested in. The first is Eat Lead: Return of Matt Hazard which is supposed to be a throwback of a game that parodies every video game cliche in the book with inspiration from Duke Nukem and Tomb Raider. The second is Star Ocean: The Last Hope which I thought was a Playstation exclusive of sorts. I guess not, and it will be interesting to see if this sells some copies out there. I hope so, or at the very least I get to check it out for $20 somewhere down the road. BTW, this is also one of those weeks where I do wish I had a DS. Galactrix & Legacy of Ys. Geez, those suckers would keep me up for hours.
Final Thoughts & Mutterings
The question now remains, what game do I play next? I have beaten Lego Star Wars like I said I would. I have for the most part gotten every conceivable achievement in Pub Games. I mean I can sit there and play Keystone for hours on end, but what really is the point? I have decided to move on and start playing Sonic's Ultimate Genesis Collection. I am a huge fan of retro compilations (I'll pretty much buy anything they put out) and this one is practically begging me to play it. There are even achievements for playing these suckers. I want to relive Golden Axe, Sonic, Gain Ground (yes I love that game), and all of the Phantasy Stars. Even the Sega Master original where you have to map the dungeons because no good maps exist. I played that game forever when I had a Sega Genesis with Master System Converter and got to the very last dungeon. Then my battery failed. I think I shed a tear that day. Anyhow, there are so many games on that disc I want to play and I think I stand a good chance at getting a lot of the achievements cause of my experience with almost every game. Except that Mean Bean Machine game, I've already heard horror stories about it. Anyhow, have fun kiddoes and may the rest of your week bring you good things.

As Always,
Kedrix of Aldrianian
(*The Forgotten One*)