Fable is Little Big Planet, Farting Infringement & No More Consoles? – Welcome to the column that passed up an opportunity on trade marking the phrase: Why So Serious? known as Dare to Play the Game.
I did it, I did it! Whoop! 1000 points has become mine in Sonic's Ultimate Genesis Collection. This weekend I tried E-Swat once again. I found a lucky break on the 1st level that I had not seen in prior experiences with the game. That led to a pretty easy defeat of the 1st level boss. The 2nd level was honestly cake and I got the 30 achievement points. My remaining game related achievement was with Vectorman 2. Get to the 11th level. This might take a little while. So I started playing and playing. Levels were difficult at first (level 3 absolutely blows), but once I got over the hump of understanding the game, the levels started to go away gradually.
The only remaining tasks were to play all of the Genesis games (I hadn't tried the Shining & Dynamite Headdy games) and play all of the arcade games. Fantasy Zone and Alien Syndrome were probably two of my favorite but Congo Bongo and Zaxxon were purely exercises in frustration. Nevertheless, I amassed my 1000 points and finished off the game. It took me a month of playing on and off but in the end, I was pretty happy with myself. I only wish there were more achievements, maybe for some of the forgotten Genesis games like Gain Ground or the Phantasy Stars. It still irks me that none of the Phantasy Stars played into an actual achievement (simply playing them does not count).
Ode To Gamer Girls



Not sure who this girl (she is hot, I got that much down) and she is standing in front of a giant Xbox 360 sign in Japan. It seems that the 360 has finally sold a million consoles there. It's a milestone for sure, but not a very favorable one when both of the other competing systems have sold a lot more. So perhaps, we should just take a moment, stare at this pretty girl some more and try to forget how much Xbox gets slaughtered abroad.
News of All Types
Lionhead


Peter Molyneux still wouldn't give up the goods on his new game at the "Lionhead Experiment Revealed" panel, but he did give us a glimpse into how Lionhead let LittleBigPlanet slip through their fingers.
The studio that brought us Black & White and the Fable games has a creative process called "experiments" where anybody in the company can take a stab at developing a game mechanic or a piece of technology to be used in a future Lionhead game. The process sounds a bit more rigorous than Bungie pre-Halo 3; but it yields some pretty interesting results.
Molyneux showed off some of these experiments ones that worked and ones that didn't quite pan out. We saw two prototypes of the dog from Fable II: the first was a rewards system where you could pet the dog a la Nintendogs (which Lionhead eventually chucked; and the second was a mechanic of having the dog run ahead of the player instead of following behind (the status quo in the final game).
We also saw a host of technical developments like an aging system that applies a layer of wear and tear to everything in the world (murderizes the rendering rates), and a one-button combat system where the computer decides how the character attacks based on proximity to a target (which sort of made it into Fable II).
But the most interesting thing was a "tech demo" called "The Room" made with love by Alex, Mark and Dave. As in Mark Healey, Alex Evans, Dave Smith; three out of the four guys that formed Media Molecule which went on to make LittleBigPlanet.
You could see a lot of proto-LBP things in "The Room" from the textures on the fabrics and wallpaper to the concept of empowering player creativity" by letting them design their own items to fill the room , everything just screams "Make me into an award-winning game."
But Lionhead didn't. They shelved it.
"This is one that didn't work terribly well," said Molyneux. "They worked on this for quite some time… and they had some really, really cool ideas. All of this was enormously, massively exciting… Each time we looked at it, our jaws dropped every single time. But – at the end of the day, even though this looks really cool and inspired us massively, it wasn't an experiment that really went anywhere."
You're right, sir. Four Game Developers Choice awards, a BAFTA and tons of Game of the Year nominations and wins is nowhere.
But, before you can cry "sour grapes," Internet you should know that Molyneux said, "Media Molecule [are] some of the smartest people in the world."
Apparently, smarter than him, even.

Wasn't Quake started as a tech demo? Some of the greatest games did actually come out of tech demos that were merely produced to show off some great art or some great feature that many thought will never go anywhere. That was the case with "The Room". As impressive as it was, it just didn't work for the crew at Lionhead. "The Room" was destined for greater things including its own game. LBP or whatever name it would have ended up as would have been a great project for Lionhead but sometimes it doesn't work out that way. You certainly wouldn't have wanted them to try and shoehorn a concept like that into Fable II. It would have never worked and it would taken over the game. Things happen for a reason and even though I do wish LBP would have landed up on the Xbox 360 anyway, the guys at Media Molecule benefited greatly from this little mistake at Lionhead.


Wanna know how I got these scars? My father was… Peter Molyneux. And he designed Fable II. And one night he goes off crazier than usual mumbling about dogs & how you gain weight if you eat meat. Mommy gets the kitchen knife to defend herself. He doesn't like that. Not-one-bit. So – me watching – he takes the knife to her, laughing while he does it! Turns to me, and he says, "why so serious, LBP?" Comes at me with the knife… "Why so serious?"
iPhone


With enough chutzpah to make a patent troll wolf-whistle, a Florida company has claimed the phrase "pull my finger" – used by a competing iPhone fart app, of course – infringes on its intellectual property.
The two sides, Air-O-Matic, maker of "Pull My Finger," and InfoMedia, developer of iFart are in negotiations to settle the dispute. Pull My Finger was once upon a time the No. 2 selling application on the iTunes store. But then it was overtaken by iFart, which has done more than $200,000 in sales since its release. Perhaps not coincidentally, that resulted in Air-O-Matic demanding $50,000 from InfoMedia as compensation for lost sales and other, uh, shit.
iFart is about the most juvenile goddamn thing I've paid money for in the past year, which is to say I love it. You can order up a fart from a menu of disgusting ones or record your own. There's also a time-delay and a motion-sensor feature, allowing you to deploy the phone as a virtual whoopee cushion. I have no idea what Pull My Finger did or did not do, other than, of course, fart.
Naturally, someone with a juris doctor was paid a lot of money to write a C&D letter, with all of the gravity and dignity a $200/hour attorney can muster, about farting and pulling fingers. InfoMedia returned fire, asking for a declaratory judgment because "The phrase 'pull my finger' is understood to be a description of the act of passing gas, not a trademark violation."
"Believe it or not, I'm really uncomfortable with bathroom humor," Air-O-Matic co-owner Sam Magdalein told the Denver Post. "My partner is more into that kind of humor, and he pushed me a little bit into doing this as a joke. It would be pretty ridiculous to have this end up in court."
Yes it would. Wonder who took it there, Sam?
News of the legal action sent a throng of high-school sophomores to the U.S. Patent and Trademark Office to stake claims to other fart games, including "Two" (and its variant, "Sapes"), "Safety/Slug (The Cereal Game)" "You Ate It" and "Grenade." Bic, makers of disposable butane lighters, also filed for a patent protecting its discovery that farting on an open flame creates a giant orange fireball that is totally hilarious and impresses all your friends.

Normally I don't do iPhone news but this was so funny to me, I had to give it a try. This is the only nation in the world that would attempt to get away with a lawsuit such as this. It's based on a well-known catch phrase. Air-O-Matic can't really patent something like that. I'm pretty sure ideas for iPhone apps aren't mutually exclusive. If that's the case, is iBurp taken? Or iBeatBoxing? Or iYourMommasoFat? How the heck do you make 200 grand from a farting program? It's times like this when I know I went into the wrong business. Many video game companies have come and gone who have tried to sue some other game company on the basis of patenting an idea or concept. Rarely it works, because unless the game or app in this case is completely ripping off the other, they simply can't prove it in court. Look for this to be swiftly defeated. This will probably be followed by Pull My Finger 2: Farts, Burps and Armpits, oh my!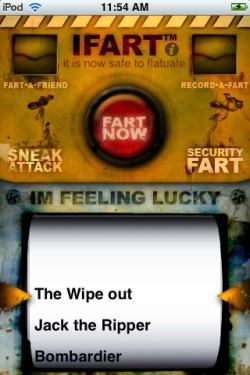 People pay money for this? I don't even have words for this, but this is further proof that some people have way too much money.
On Live

Last week's annual Game Developers Conference in San Francisco gave gamers a tantalizing glimpse at things to come in the world of interactive entertainment.
While the week of talks, demonstrations and press conferences was packed with news, the biggest attention grabbers included a device that promises to deliver high-end PC gaming without the computer and Nintendo's latest upgrades to their popular populist Wii console.
OnLive is a video games on demand service that requires only a low-end computer and high-speed connection to play the most technologically advanced computer games at home.
The system, developed by Rearden, does all of the number crunching and heavy-duty processing at remote server clusters. All a gamer would need is a light-weight computer or a low-cost micro console which would handle the controller input.
The idea is that the device would send your controller input to OnLive's servers which would be running the game and would then send a video signal back to your television or computer monitor.
The big issue seems to be the potential of lag, something that is inherent in a system that sends signals over any distance. But Reardon promises any delays won't be noticeable.
If true, OnLive could take cloud computing out of the clouds.
While it's still in its testing phase, OnLive became the topic de jour at the conference, with developers imagining the impact such a device could have on the future of gaming.
The thing that excited the likes of developers Warren Spector, Will Wright and Peter Molyneux is the idea that by storing games somewhere other than on a disc or at a person's home, you could move gaming toward a universal console.
It could, Wright says, fundamentally change games, making them more like modern television.

This is a pipe dream at best. I've heard a lot of stories about this over the last week. It's wishful thinking. Every effort to make gaming all digital or remove discs from the game playing field gets air play because developers stand the most to gain from such a venture. But no actual gamer would want the darn thing. We've barely become okay with downloading games to our 360/Wii/PS3, now you want us to not even have the game anywhere on our console? Instead, we are granted access to some server in Pango Pango and then we hope that the lag isn't absolutely ridiculous as we try to move our guy across the screen. And what happens if OnLive or whoever goes out of business tomorrow? Forget about playing that game ever again.
This is what developers don't understand. I have plenty of systems I play from time to time where I have discs and carts that I can go back to without making sure that X business still exists and I have a membership. Now, true my Xbox 360 will someday go out of existence and all of my DLC will probably go up the creek. But I'll still have my disk based games and as long as the 360 actually works (or there are others that do), I can still play those games. Developers just want to squeeze the consumer until they break and this is another ludicrous idea that only has legs because people are seeing dollar signs. It would never work in anything but a major city and only people with high end connections. The consumers have to buy into it.
Furthermore, as God as my witness, if the world of gaming does go digital only or even worse console-less, I am done. I want nothing to do with media I can't own. Some of the greatest joys in my life have come from going out to Best Buy on release day to finding a rare game at a garage sale or on Ebay. I like games that I can play without being held down by a server or a company who longer supports the product . If you look inside your heart, I bet many of you feel the same way. Don't support this crap.
Releases for the Week of April 1st, 2009
Xbox Live Arcade – The Dishwasher: Dead Samurai (800 Microsoft Points)

Originality is a good thing. This game oozes a bunch of it. It actually won Microsoft's 2007 Dream-Build-Play competition. Take a dead samurai who moonlights as a dishwasher and then throw in the fact you can use your guitar peripheral to deliver some killer riffs and you got lots of win. The game appears to be lots of fun and is something you want to have co-op fun with. So bring a loved one and a mere 800 points and you might just find one of the best XBLA games of 09.
Wii WiiWare & Virtual Console – Bonsai Barber (WiiWare – 1000 Wii Points) & Super Punch-Out!! (SNES – 800 Points)



So we go from awesome to this. You are the new barber of a small village (does that village also have an idiot?) and must use your scissors, clippers, spray can and more in this "first person groomer game". /facepalm. Different customers will come in, you must groom them to their liking or try out something new to appease them. Let's move on, shall we?



VC is consistently the only thing that makes me want to buy a Wii. Honestly, if it wasn't for Smash Brothers, Mario and Zelda, I could honestly buy a Wii and treat it as a emulation machine and nothing more. More win this week with Super Punch-Out!!. It's not quite as good as the original Punch-Out but there is some awesome stuff. Little Mac returns and he takes on some new characters like Bear Hugger but also old ones like Bald Bull and Super Macho Man. More styles to learn, can you get to the top of the heap again? Man, I need to start buying some SNES carts again.
Console Releases
PS2
Guitar Hero: Metallica
PSP
Air Conflicts
PS3
The Agency
Guitar Hero: Metallica
Xbox 360
Leisure Suit Larry: Box Office Bust
Guitar Hero: Metallica
Wii
Gold's Gym Cardio Workout
Dance Dance Revolution Disney Grooves
Don King Boxing
Cradle of Rome
Backyard Baseball 2010
Major Minor's Majestic March
Crayola Colorful Journey
Offshore Tycoon
Ocean Commander
Guitar Hero: Metallica
Gravity
DS
Rhythm Heaven
Gardening Mama
Gravity
Tokyo Beatdown
My Horse and Me: Riding for Gold
Imagine: Family Doctor
Emergency! Disaster Rescue Squad
Fashion Studio: Paris Collection
My Secret Diary
My Dress Up
My Make Up
Don King Boxing
Pet Vet Down Under
Di-Gata Defenders

This is the week of Guitar Hero Metallica. Word is they are also getting into the Rock n Roll Hall of Fame. Good for them. The game should do fairly well since the marketing is perfectly placed. I admit, I'm intrigued. Not enough to drop $60 on the first week but I thought about it when I went searching for Leisure Suit Larry. LSL: Box Office Bust is a mere $29.99 this week as the other major release but I couldn't find a copy. It has voice acting from Shannon Elizabeth and Carmen Electra but I guess I'll just have to wait. Maybe I should go get a DS and purchase Pet Vet Down Under. Crikey! *sigh*
Final Thoughts & Mutterings
So, now I've totally finished the Ultimate Genesis collection and while I will come back to it often (mainly for Phantasy Star and the Shining series), I feel the need to move on. Since this weekend, I've been playing a combination of Guitar Hero World Tour (still don't like this gig nonsense) and World Series of Poker 2k8. Neither is a long term solution, I assure you that. I do have a few things to consider but provided I don't find the new Leisure Suit Larry game this week, I'll have to find a new game to start. There is always Fallout 3. However, this weekend I am going to Ring of Honor Wrestling which will be at the Georgia R. Brown convention center. I can't afford Wrestlemania unfortunately, but I'll go spend $20 to see the little guys. Remember kiddoes, always support the little guy cause everybody has to start somewhere.

As Always,
Kedrix of Aldrianian
(*The Forgotten One*)