The Fate of Fallujah, Square Enix takes too long and How do those rules for Xbox 360 achievements go again? – Welcome to the column that can make sense of anything except achievements and New Kids on the Block reunion tours known as Dare to Play the Game.
At this point of the column, you are probably wondering if I kept playing Leisure Suit Larry after my review (just go with it okay). The answer is about enough time to finish another couple of quests (including a stupid timed one where I climb on top of buildings and find 11 different clues) and collect some more Larry awards. Then I calmly put it down and went back to a combination of WSOP 2008, Rockband and Rocketbowl.
I made progress in all three, I got a lot farther in the Seven Card Stud WC Tourney in the single player part of WSOP. In Rockband, our band finally got to a million fans, I spent $100,000 in the store and I grabbed some multiplayer achievements as well. In Rocketbowl, I got the achievement for bowling with all of the balls in the game (the last one costs 10,000 smackers!). Too bad I still can't get a 300 on any course (highest 258) or a 225 on the next to last course (which will open up the last course and net another achievement).
So, now that I pretty much have said to myself I am done with Larry, I need something new to play along with my usual dose of the above three games. Something to sink my teeth into. Recently, I did buy 4 new games, curtsey of the $10 sale over at Best Buy. Devil May Cry 4, Soul Calibur IV, Infinite Undiscovery and NHL 2k9. I'm down to playing NHL 2k9 or perhaps opening up Too Human as my choices right now. The playoffs fuel one and my desire to find a truly satisfying rpg fuel the other. We'll see what happens.
Ode To Gamer Girls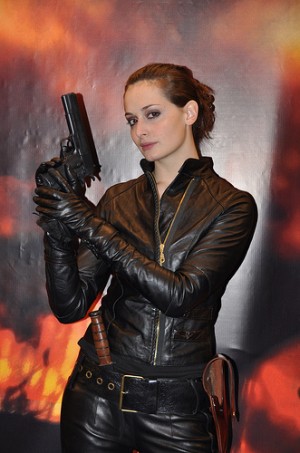 This is actually a Velvet Assassin booth girl from a recent New York Comic Con. Hot chicks in hot leather. I mean seriously how do they stand it? I know they are paid, but those things are latex I think. It doesn't exactly scream comfort. Perhaps they do shifts or something. Little things like this keep me up in the middle of the night or perhaps it is just the leather after all.
News of All Types
Xbox 360


Microsoft's only on-the-record guidance on how Achievements are approved came more than two years ago, and the maximums it set then have been easily surpassed. Xbox360Achievements.org says it's learned of new policies on Gamerscore ceilings.
X360A's Alan Pettit noted that the new batch of Fallout 3 achievements broke, once again, the stated maximum of 1250 Gamerscore (per title) Microsoft set forth in 2007. His complaint about the inconsistency brought him a response, he says, from an unidentified someone inside Microsoft. This person spelled out two revisions to the Gamerscore/Achievement maximums.
According to X360A, they are:
• A maximum of 1750 points and 80 Achievements for a full retail title. The Orange Box's 99 achievements seem to be grandfathered in, although it's an open question if they'll be allowed to add more achievements should a Team Fortress 2 update come to Xbox 360.
•A quarterly maximum of 250 points and 10 Achievements for any additional DLC associated with that title. Additionally, these totals are cumulative, so a company could wait three quarters to do a large expansion with 30 achievements and 750 points, or parcel them out in smaller additions. X360A says its source explained the rule is meant "to stop companies from releasing a whole slew of content immediately after a game's release to hit its 1750 max right away."
The source had no answers if there were rules regarding rumors "no achievements for free content," or requiring other peripherals or titles to unlock certain achievements. Still, this info, if legit, sheds a little light on how Microsoft tunes its policies with the goal of sustaining interest in a game.

Get all of that good buddy? Don't worry, I'm still figuring it out. Basically, I'm blaming this all on Halo 3. For those who don't know, Halo 3 was the first title with 1750 points. In addition those achievements seemed to grow overtime until it got to the maximum. But herein lies the problem, some of us are achievement whores. When we get a game, we beat it up as much as possible to get the initial 1000 points and then we go onto a new game. What happens? Well, they keep piling on these expansions at $5, $10, $15 a piece (in MS crack points of course) and soon our decent score becomes utterly pathetic in scope.
A $60 game becomes a $90 game and a lot of us buy into it for the extra achievement points. The only other option is to not buy the game at all and hope they make an all in one platinum hits title. Examples of this are the Gold or GOTY editions of Marvel: Ultimate Alliance or Elder Scrolls: Oblivion (and looks like they will follow suit with Fallout 3). But who has the foresight for that? Anyway, back on topic…achievements should be creative and I like to see games with lots of them, but don't kill us financially for them. Furthermore and this is to Microsoft, if you have a policy of no achievements for free content (which it seems like you do), please kill that right away. Not everything is about money.


Well at least I get something for trying to understand this partially regulated mess. Can I buy a vowel?
Square-Enix


In an admission that will no doubt mean…something to frustrated Final Fantasy fans the world over, Square Enix boss Yoichi "Imperial Hot" Wada has confessed that the company takes too long to make a game.
Speaking with GI.biz about their recent buyout of British firm Eidos (publishers of Tomb Raider), Wada said "…we at Square Enix…have a problem – it takes too long for us to produce a game…"
"In reality I think the issues we [and Eidos] have are basically the same", he elaborates. "On one side you might say that because of the budgetary constraints they released the games without having the games polished to perfection, but on the other side we take too long to release the game".
Small comfort to people hanging out for Final Fantasy XIII, then, but some comfort to anyone possibly hanging out for, I don't know, Kane & Lynch 2.

In the No….reallllyyyyyyyyyy part of our news, Square Enix figures out something that most of us figured out around Final Fantasy 8/9 and that is the only thing that takes longer than a Final Fantasy sequel is Duke Nukem Forever. Frankly, I kinda gave up on a new Final Fantasy after the 12th one on PS2 took so darn long. In fact, I'm convinced I might not see a 13 or what not on my 360 at all. Heck, I bought Infinite Undiscovery partially for my girlfriend (cause she loves FF games) and cause I wanted to play a Square Enix rpg even if it had absolutely nothing to do with Final Fantasy.
But then again, isn't this the problem with all video game developers (for the most part)? It seems like we'll get game announcements a year or two in advance and then as it comes down to like a CES, they will respond "Hey, we are still in development". More months pass. And a couple more delays. Then somewhere they release the thing finally and it has to have two immediate patches. It just happens that Square gets the brunt of it more often than not.


You would think with all of the time they spend on game, they could at the very least come up with dialog that doesn't sound like it is on the level of a 6 year old. Why do I love these games again?
Fallujah

Six Days in Fallujah might be down, but it's not yet out, with developer Atomic Games telling Kotaku to expect to a statement soon regarding the fate of the controversial shooter.
While Konami may have dropped its plans to publish the "game-amentary" in the face of public backlash, it's quite unlikely that developer Atomic Games and its sister company Destineer will do the same. Despite the emails, phone calls, and bad press generated by the video game adaptation of the Second Battle of Fallujah, Destineer has been behind the title since 2005, and that's not the sort of time investment you throw away lightly.
According to a timeline published over at One Last Continue, Destineer originally filed for the word mark "Six Days in Fallujah" on February 4th, 2005 – less than two months after the actual battle ended. Later that year the company purchased Atomic Games, who were then working on Close Combat: Red Phoenix, and would eventually be revealed as the developer behind Six Days.
In November of 2005 the trademark for Six Days in Fallujah was published for opposition, a step in the trade marking process which allows other entities to contend the application in case it conflicts with another product. Then in January of this year Destineer filed for the trademark again, as their original filing expired this February and they wouldn't have anything to show for it until April.
Then came April, when Konami proudly announced Six Days in Fallujah, sparking controversy among the general public and military veterans as well. The uproar grew even louder when it was revealed that insurgents that fought against U.S. Marines during the battle were consulted and likely compensated for their work on the game. Konami declined to comment on the nature of their business arrangement with said insurgents, but the fact that the term "business arrangements" was used in their response tends to indicate that compensation was provided for the insurgents work.
UPDATE: After posting this story, Atomic Games contacted us with a message from president Peter Tamte, informing us that the insurgents were in no way compensated for their contributions to the development of Six Days in Fallujah.
Amidst a storm of angry emails and phone calls, Konami finally decided to pull the plug on Six Days in Fallujah today, a day before the second trademark filing is published for opposition. We contacted Konami for comment, but as of this writing have yet to receive a response.
Does this mark the end of the Six Days saga? Not quite. Calls from Kotaku to Atomic Games were fielded by public relations officials from sister company Destineer, informing us that an official statement regarding the fate of the game would be issued within the next day or so.
Destineer's handling of calls about the game had us thinking that perhaps the company plans on publishing the title themselves, though we've just received word from Destineer that no plans of that nature have been discussed.
We'll know for sure shortly, but we're relatively certain this isn't the last we've heard on Atomic Games' Six Days in Fallujah.

Some companies revel in controversy but apparently Konami is not one of them. In fact, they pretty much shrivel up and run away from any sort of public outcry. Here Konami was trying to be PC and just decided to drop relations with the game all together. If this had been Rockstar, we probably would have seen a 6 page ad in the New York Times and plastered on a bus riding 5th avenue. But there is another problem here.
According to Atomic Games, the insurgents were not compensated for their input into the game. So, we have a game here…trying to take into account both sides from what I've read about it into a very scary but realistic gaming scenario based on Operation Iraqi Freedom. Yes, the insurgents were asked for input but so were marines, civilians and even war historians. Truth be told, this could be one heck of a game, albeit maybe too realistic. Atomic Games also put a lot of work into it.
So here is the thing, Konami wants nothing to do with it but I'm willing to bet this game gets released, possibly under a different title. There was a lot of development and time thrown into this title. To the haters out there, if you have a problem with the game, simply don't play it. Personally, this game isn't probably my speed. But the fact that they look like they are willing to provide both sides of the argument is an interesting idea. So we will see how this develops.
Releases for the Week of April 29th, 2009
Xbox Live Arcade – Virtual On (1200 Microsoft Points) & Banjo Tooie (1200 Microsoft Points)

Virtual On is a classic mech arcade fighting game from Sega. This revisit of an old classic has some new spit and polish as well as a welcome new online multiplayer mode. There are 15 playable mechs, 10 arcade levels and the online matches are probably going to be the main attraction. I've never been into mech games all that much (I have given some of the Armored Cores a try though), but if this is your thing, this looks like the best you'll find on XBLA.

*cover head* Surely, in my time I have been writing this column I've had to express my utter hatred of Banjo Kazooie. Part of it has to do with the Nintendo 64, part of it just has to do with that crazy bear. But here is a redo on the sequel with full HD graphics and enchanced sound. For fans of the series, apparently there is something awesome going on with a washing machine. Well unfortunately, it isn't a dryer…or else I'd turn it on high and stick Banjo and his bird inside. Anyway, it's available for download @ 1200 points.
Wii WiiWare & Virtual Console – Cocoto Platform Jumper (WiiWare – 700 Wii Points) & Nobunaga's Ambition (SNES – 800 Points)



Cocoto's friends: Shiny, Baggy and Neuro have been kidnapped by the forces of Zaron, the god of lightning. He is after a magic cauldron which protects the secret of the magma. I wonder what type of game this is. Let me think. A platform jumper perhaps? Could they be anymore obvious? I heard Halo First Person Shooter or Madden Football Game was also pretty awesome. /facepalm. I'm sure some kids out there will love it.




This game is set way back in Japan's history where feudal warlords battle for control of the country. You were in charge of a fief and must make diplomatic decisions on how to rule that fief. Waging war, economic conditions, or even sending ninjas to other areas was all common tasks in this game. I actually own this cart for Super Nintendo (box and manual too). Before these Ambition games became ridicously difficult and complex, this one was actually a good fairly simple strategy game. If you aren't afraid to use your brain a little, you will enjoy this. Recommended.
Console Releases
PS2
Backyard Baseball 2010
X-Men Origins: Wolverine
PSP
X-Men Origins: Wolverine
Dynasty Warriors: Strikeforce
PS3
X-Men Origins: Wolverine
Xbox 360
X-Men Origins: Wolverine
Velvet Assassin
Wii
Fantasy Aquarium
My Horse and Me: Riding for Gold
X-Men Origins: Wolverine
Party Pigs Farmyard Games
Burger Island
Tournament Pool
DS
Super Robot Taisen OG Saga: Endless Frontier
X-Men Origins: Wolverine
Crazy Chicken – Atlantis Quest
Elite Forces: Unit 77
Dreamer Series: Babysitter
Emergency Disaster Rescue Squad

There are only a couple titles this week worthy of mention (unless you are into Party Pigs, Horses or Babysitting) and those are Wolverine & Velvet Assassin. Wolverine is out for every single system out there. (I think even Sega Saturn was contacted but when they found the division had been closed for almost ten years, they decided to not put it on that system) Will this game break the movie tie-in curse? The game is influenced by such awesomeness such as Devil May Cry & God of War and there is an M rating attached to the Xbox 360 & PS3 copies as well. (PS2, PSP, & Wii got a T rating while the DS was rated E 10+). So I'll put it at a maybe. Velvet Assassin seems to be kinda like Splinter Cell except the main character is a pretty hot chick in leather pants. It was even inspired by a real life World War II secret agent named Violette Szabo. Did she wear leather pants too? Suffice to say, you might like one of these titles or might decide to wait it out another week.
Final Thoughts & Mutterings
As mentioned last week, I got a Blu-Ray player. It arrived last Saturday in its original box. It looked brand-new. I unhooked my dvd player and put the blu-ray in its place. No problem. Programmed my Logitech Harmony for the player, no problem. Firmware upgrade, problem. Since the player had the look of never being setup before, the firmware was very old. The old firmware didn't support USB upgrades and wanted either a cd or an Ethernet cable stretched from my computer room. I probably should have went with the cd.
Anyhow, finally got it updated and everything seemed okay. We played the first hour of Dark Knight to much delight. It was amazing. The sound, the video (especially the video), everything simply awesome. I even popped in the last twenty minutes of Fantastic Four on Blu-Ray. Still amazing. So I am pretty excited at this point. Then I come in on Tuesday and Sarah had popped in Sweeney Todd on Blu-Ray. Nothing. I get her to try the other two unopened discs. Daredevil and Sleepy Hollow. Sleepy Hollow does fine (she said it looked and sounded really good) but Daredevil suffers the same fate as Sweeney Todd. In the six discs we have, 4 work well and 2 don't work at all. (all dvds I have thrown at it work so far as a side note)
So, I go home and try it out. Eventually I do get Daredevil and Sweeney Todd to work but the best term I've come up with for the whole experience is the player is ridicously inconsistent when it comes to Blu-Rays. I finally wrote the Ebay seller who sold me the item to shed some light but I'm not sure how this is going to be handled. Video and audio wise I'm crazy thrilled. Blu-Ray is awesome. Compatibility issues and every disc working, I'm not sure I like the way it is going. More next week, have fun kiddoes.

As Always,
Kedrix of Aldrianian
(*The Forgotten One*)