Guitar Hero Smash Hits Setlist, Rock Band & Pearl Jam Unite, and Duke Nukem Forever ever? – Welcome to the column that is considering a petition to ban Rush from any Guitar Hero/Rockband title going forward known as Dare to Play the Game.
More NHL 2k9 greatness. I have moved up in difficulty, it is obvious harder but not too overbearing. However, it creates for a much more exciting game which is what I was looking for. There isn't too much going in the achievement part due to a little bit less scoring and more competitive play. The penalty minutes are still racking up though. I'm certainly not getting tired of it but my gamerscore isn't going to jump up overnight unless I go ballistic on it. Then, I run the risk of hating myself while I'm at it. I do plan to start a franchise and hopefully I will be able to knock down the amount of games in a season. I'm not looking for a full 80+ game schedule.
I also took the opportunity to play the Arkanoid Lives demo. It does play better than a casual copy of Super Breakout, but it is not far off. I played the demo up to the 6th level and decided that it may be best that I don't go any further. It does have addictive qualities and not in a good way. Interestingly enough I spent a lot of time this week revisiting Catan. I played through several versus computer games and I quite enjoyed myself. Then I got the great idea of trying to play online again. It took forever and then everybody dropped about 3/4 through the game which caused it to freeze (I was able to exit to the dashboard). Now I remember why I stopped.
Ode To Gamer Girls



This is Lucy Fur portraying Link. She's part of the Burlesque Troupe called Devil's Playground and they recently had a Video Game Girls event. Except Link is technically a boy. Okay okay, he's really flaming, that should count too. Truth is that these girls strip down to their bare bottoms in order to impress the crowd. I would love to show you Samus Aran but we kinda have a rating on this column (I'm not sure what it is, but I'm guessing it exceeds it). Varia Suit sans the Varia.
News of All Types
Duke Nukem


3D Realms, still plugging away at the slightly delayed Duke Nukem Forever, may have given up the ghost, as the Texas-based developer is rumored to have shut down.
We heard from an anonymous tipster earlier today of 3D Realms demise, with Shacknews reporting the very same thing, citing a "very reliable source" close to the Duke Nukem dev. According to 3D Realms co-founder George Broussard, the game was "closing out a milestone this week" as of mid-April, but little progress had been publicized outside of video and screen shot teasers from last Summer.First announced in April 1997, Duke Nukem Forever has been ridiculed for its extended development schedule, with 3D Realms employees sticking to a "When it's done" release date.
But Broussard hinted earlier this year that the game was getting closer to finally shipping, writing on his Twitter account "Game developers often say 'Cutting is shipping'. We begin this year with a vengeance and a chainsaw." The game appeared to at least be making some sort of tangible progress, with 3D Realms releasing game screenshots and artwork from Duke Nukem Forever.
We've reached out to staffers at 3D Realms for clarification.
Update 1: Take-Two has responded, adding a little clarity to the situation, but not solid confirmation. "It is the Company's policy to not comment on its contractual relationships, nor do we comment on rumors and speculation. That said, we can confirm that our relationship with 3D Realms for Duke Nukem Forever was a publishing arrangement, which did not include ongoing funds for development of the title. In addition, Take-Two continues to retain the publishing rights to Duke Nukem Forever." – Alan Lewis, Vice President of Corporate Communications & Public Affairs for Take-Two.
While 3D Realms may be finished, Duke Nukem Forever may not. Well, we know it's not finished, but it's not done. Okay, it's not done either, or else it would be out…. look, the game's not dead, OK?
Not officially anyway. Take-Two may hand off development to another studio, one a little speedier than 3D Realms.
Update 2: 3D Realms webmaster Joe Siegler has, posting on the company's forums, seemingly confirmed the closure, saying "It's not a marketing thing. It's true. I have nothing further to say at this time."

We all knew that everything at 3d Realms seemed too good to be true. For years we had heard progress of Duke Nukem Forever only for it one good joke after another. Welp, so 3d Realms went down in a blaze of glory. So the obvious question now is : "What happens to the Duke Nukem franchise and more importantly: Duke Nukem Forever?
The current state of Duke Nukem Forever development would suggest that the game is at least in the neighborhood of getting released. There are game screenshots, artwork and other assorted goodies out there on the net if you pluck around a bit. Those publishing rights are held by Take Two. Chances are that Take Two will step in and sell it to another company that can finish the game.
I have 2 ideas. 1) ID Software, they are pioneers in first person shooters. Doom, Quake, hello people! 2)Rockstar Games. They have done plenty of business with Take-Two and are willing to take risks. Duke Nukem is edgy. He's a smart ass and he likes the nudie dancers. Rockstar sounds like a slam dunk. But the question with both, do they have the time and do they want the cursed project? I guess we will find out in the upcoming months.

I would love to show you the front, but again with that whole family rating system thing. Anyhow, this is the chick from Duke Nukem 3d that constantly says "Kill Me" until you pull the trigger on her. I'm telling you…Rockstar is perfect for this. Heck, in GTA you are already used to having sex with the hooker in the back of your car for the health boost and then when she gets out, you shoot her down so you can get your money back. This just skips the middle part and lays it out for you what to do. Instant win!
Rockband


Pearl Jam fans are being asked to curate the live performances of the Seattle-based band's best, a cross-promotional project that will result in a forthcoming Rock Band release. The currently untitled Rock Band project which combines the efforts of Pearl Jam's Ten Club, MTV Games, Harmonix and music subscription service Rhapsody will feature the best of the best concert performances of Pearl Jam's biggest hits.
Fans of the band have been asked to "vote" on the best live versions of each song by listening to the track of their choosing. In some cases, there are a dozen or more variations available to be judged. The process may result in the default loaded track being more heavily weighted, mind you, so if you're serious about your Pearl Jam live performances, act accordingly.
While MTV Games and Pearl Jam haven't spilled much in the way of details on the game, we'd expect the "project" to follow in the footsteps of the already released AC/DC Live Rock Band Track Pack. Don't go pinning your hopes on a Rock Band: Pearl Jam release on par with The Beatles: Rock Band, even as appealing as a unique flannel controller might be.

I really didn't think much of the AC/DC pack due to its lack of content for a high price ($40 for 18 songs?!). It's almost at the $20 range which is about right. The theory behind a Pearl Jam pack is a good one. Pearl Jam is famous for their live concerts and have a ton of live material they can put out there. That's great for cds and dvds. RockBand format? Not so much. The Ten album is already available in full as DLC for RockBand. Whether any Pearl Jam fan wants to admit it or not, that is their best album. So you either you rehash some Ten material or you put on music that isn't quite as popular as your greatest stuff.
Live material also suffers from another issue: familiarity. Whether it would be the vocals or the guitar solo, every live performance is slightly different from the studio version. Sometimes it's a good difference, sometimes it's bad. The problem is it's not the studio version and you are forcing players to re-learn the music in order to play it correctly. This affects guitar and drum players a little bit but the real concern is vocals (my bread and butter). Every little affliction of the voice I learned from the studio version changes and while I could pop in a CD to practice it in the car (a current practice method of mine), there is no CD for live stuff unless I go spend more money on Rhapsody as mentioned and transfer it to a CD or mp3 player. I'm interested to see the set list, but my reservation is against buying at this time.
Guitar Hero: Smash Hits
Announced Tracklist for Guitar Hero: Smash Hits

Guitar Hero
Blue Oyster Cult – Godzilla – .50
Boston – More Than a Feeling – .25
Deep Purple – Smoke on the Water – 1.50
Franz Ferdinand – Take Me Out – 1.50
Helmet – Unsung (Live) – 1.00
Incubus – Stellar – .75
Joan Jett & The Blackhearts – I Love Rock N' Roll – .50
Ozzy Osbourne – Bark at the Moon – 1.25
Pantera – Cowboys From Hell (Live) – 1.00
Queen – Killer Queen – 1.00
Queens of the Stone Age – No One Knows – 2.00
The Donnas – Take It Off – 1.50
The Exies – Hey You – .01
White Zombie – Thunder Kiss '65 – 1.25
Total for GH1= $14.01

It's that time again. I go after track lists and tell you what the package is really worth. The list does start strong. I mean how can you not like Queens of the Stone Age, The Donnas, Deep Purple or Franz Ferdinand? There are some questions here like The Exies or Joan Jett. Sure they are decent songs, but I don't think this is the best of the bunch. Also, how many frigging times are we going to see Boston – More than a Feeling? I've lost count. Guitar Hero 1, Rock Band (I think as DLC), Karaoke Revolution and I even think one of the lesser known titles have had this song. It's overkill at this point. Also, the live versions of Cowboys From Hell and Unsung? I believe they used Live versions in the first game, but couldn't we clean this up for the Smash Hits package?
Guitar Hero II
Alice in Chains – Them Bones – 1.50
Avenged Sevenfold – Beast and the Harlot – .25
Danzig – Mother – 1.00
Foo Fighters – Monkey Wrench – 1.00
Iron Maiden – The Trooper – .50
Jane's Addiction – Stop! – .25
Kansas – Carry on Wayward Son – .25
Lamb of God – Laid to Rest – .50
Lynyrd Skynyrd – Free Bird – 2.00
Motley Crue- Shout at the Devil – 1.25
Nirvana – Heart-Shaped Box – .25
Rage Against the Machine – Killing in the Name – 1.25
Reverend Horton Heat – Psychobilly Freakout – .50
Rush – YYZ – .01
Stone Temple Pilots – Trippin' on a Hole in a Paper Heart – 1.00
The Police – Message in a Bottle – 1.00
The Sword – Freya – .25
Warrant – Cherry Pie – 2.00
Wolfmother – Woman – 1.00
Total for GH2= $15.76

Truly the meat of the disc starts and ends with Guitar Hero 2. This was also the first title that made it to Xbox 360. I'm very excited about the Alice in Chains, Warrant, Rage Against the Machine and of course FreeeeeeeeBirdddddd. And hey, I get yet another Motley Crue song to sing. I fully expect it to be on RockBand at some point in time though. This is a good second list, the only question marks would probably be Carry on Wayward Son (which suffers from Boston syndrome), Heart-Shaped Box (possibly one of the worst Nirvana songs ever) and of course Rush. I hate Rush, I hate them like the plague. Everytime I hear a Rush song, I want to take tiny needles and stick them in my ear until blood comes oozing out. Blame it on my college roommates who played Eagles, Pink Floyd and Rush every frigging day, all day. At least I still can appreciate the Eagles (and some Pink Floyd) but Rush is too much of a wound in this old body.
Guitar Hero Encore: Rocks the 80s
Anthrax – Caught in a Mosh – .50
Extreme – Play With Me – .50
Judas Priest – Electric Eye – .50
Poison – Nothin' But a Good Time – 2.00
Ratt – Round and Round – 1.00
Twisted Sister – I Wanna Rock – 1.00
Total for GH Rock the 80's=$5.50

This is the bane of my existence. I understand that Rock the 80's did probably the worst business of all Guitar Hero titles. However, it had some of the best songs just poorly placed in a full retail package. Then they go and pick these songs? I'm 100% good with Poison, Ratt and Twisted Sister. But you are telling me that Anthrax, Extreme and Judas Priest make up the rest? What kinda crock is this? There are at least half a dozen other songs I would have gone with before I even touched these three songs.
Guitar Hero III: Legends of Rock
AFI – Miss Murder – 1.00
DragonForce – Through the Fire and Flames – 1.00
Heart – Barracuda – .50
Kiss – Rock and Roll All Nite – 1.00
Living Colour – Cult of Personality – 1.50
Pat Benatar – Hit Me With Your Best Shot – .50
Priestess – Lay Down – .50
Slayer – Raining Blood – .50
Guitar Hero: Aerosmith
Aerosmith – Back in the Saddle – 1.00
Total for GH3 & Aerosmith=$7.50

Guitar Hero 3 also gets kinda the shaft in amount of titles. I thought this title did better business but for some reason, 1&2 got all of the titles. Living Colour is the best of the group and the others are decent titles but nothing spectacular. Also, do I really have to live with another title where everybody and their dog online plays Through the Fire and Flames for the 964th time? Really? Guitar Hero do you really hate me that much? It's a decent song but I am a simple man and I can only take so much. The other oddity? One lone Aerosmith title and it isn't Sweet Emotion or Love in an Elevator. Back in the Saddle really? Why even bother? Just include Last Child from the GH series and call it a day.
So that brings the game to $41.77. As probably mentioned before, it is a platinum release and should be treated as such. $39.99 and that's that. Instead, we get $60 and no sale for me. Also, I thought I would dip into the research pool and present to you the top 5 songs from each pack that they flat out missed. No duplication of artists and a better range of songs in my honest opinion. Enjoy.
GH1
Cream – Crossroads
Megadeth – Symphony of Destruction
Red Hot Chili Peppers – Higher Ground
ZZ Top – Sharp Dressed Man
David Bowie – Ziggy Stardust
GH2
Alice Cooper – Billion Dollar Babies
Matthew Sweet – Girlfriend
Rick Derringer – Rock n Roll Hoochie Koo
Guns n Roses – Sweet Child of Mine
Primus – John the Fisherman
Guitar Hero – Rock the 80's
Skid Row – 18 and Life
White Lion – Radar Love
Eddie Money – Shakin
Winger – Seventeen
Dio – Holy Diver
GH3
Slipnot – Before I Forget (for my sweetie Sarah)
Tenacious D – The Metal
Rolling Stones – Paint it Black
Scorpions – Rock You Like a Hurricane
Metallica – One
And for the idiot in the room who says they included One in Guitar Hero: Metallica: shut up and sit down. The rest of us have no problem with this one being included again, it's a damn fine song.

Please tell me that this is all that is left of this Canadian's car. Cause if it is not, I got a baseball bat and a lot of pent up anger over listening to Rush for the last 15 years to make it that way.
Releases for the Week of May 13th, 2009
Xbox Live Arcade – Star Trek D-A-C (800 Microsoft Points), & Texas Cheat 'Em (800 Microsoft Points)

Star Trek D-A-C is being released to bounce off the popularity of the new prequel Star Trek movie that just opened last week to big business. It's not based on it though. It's an arcade shooter with mulitplayer options with up to 12 players via 2 teams and six players a piece. There will be objectives to complete and you will be able to upgrade your ship. It is a very pretty game, I just hope that the gameplay backs it up.

Texas Cheat 'Em is another one of those poker games. The type that this person right here is probably going to download and play endlessly until he gets every single achievement but take a couple of years to do it (see Hold 'Em). This one has a twist, Cheat 'Em en cooperates mini-games with the ability to actually cheat during the game. Like trade their hole cards for some crappy cards. The idea is to be sneaky and pull off a victory. I dunno, I think less emphasis will be put on outwitting your opponents and rather learning how to cheat to win. I'm still interested but reserve judgment.
Wii WiiWare & Virtual Console – Family Pirate Party (WiiWare – 500 Wii Points) & Galaxy Force II (Sega Genesis – 800 Wii Points)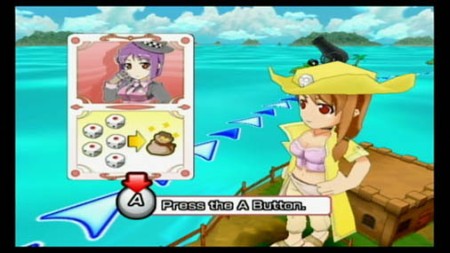 From the people who brought you Family Table Tennis and Family Glide Hockey, we have Family Pirate Party. Wait, wasn't there a pirate game a few weeks ago? Oh yeah, the one where you stuck swords into a barrel that contained a pirate. Genius. But that's not this game. Here you roll the dice, sail through the islands and gather treasure and the person with the most gold wins. Well heck, that's already better than that other game. Have fun with the whole family and at 500 points, how bad can it be? Don't answer that, just spend the points.




An early shooter that sported a 3-d view, this game had you flying through five different planets with landscapes that range from a garden to planets made of fire and ice. You could start up blowing up enemy robots and then destroying their turrets. By the end of the level, you found yourself flying through a tunnel to take out the enemy stronghold. Not a very well known game, but some of you might find enjoyment in this.
Console Releases
PS2
Shin Megami Tensei: Devil Summoner 2: Raidou Kuzunoha versus King Abaddon
Short Track Racing Trading Paint
PS3
Sacred 2: Fallen Angel
Xbox 360
Sacred 2: Fallen Angel
Raiden Fighters Aces
Battlestations Pacific
Wii
Help Wanted
Family Aquarium
Pirates vs Ninjas Dodgeball
Guilty Gear XX Accent Core Plus
Puzzle Kingdoms
Garfield Gets Real
DS
Challenge Me: Math Workout
Desktop Tower Defense
My Farm Around the World
Drama Queens
Dreamer Series: Shop Owner
C.O.R.E.
Mission Runway
Rollin' Rascals
Johnny Bravo
Imagine: Music Fest
Pirates: Duel on the High Seas
Girl Time

A lot of games this week, some decent, some not so decent. At top of the list is Devil Summoner 2 which has had a steady list of fans. And you thought that PS2 couldn't have the best game this late in their lifespan. Sacred 2 is also worth noting as it looks to be quite a decent rpg with character classes ranging from High Elf to Temple Guardian and four more in between. Classic leveling and a giant free-roaming world are also included. Also out this week is Raiden: Fighter Aces which is a collection of 3 classic vertical shooters for the nice price of $19.99. After getting burned on Leisure Suit Larry at that price, I'm a little weary, but still very interested. There are also a few new Wii titles out there including Help Wanted which is some family fun centered on taking up odd and quirky jobs. You can shop with your money and get all sorts of interesting items too. It's a decent week, pick up something or just wait for Punch Out and the UFC in 6 days.
Final Thoughts & Mutterings
Is anybody else coming across really cheap Game Boy Advance games like on clearance at Target or Hastings for a couple of bucks? Found two in the last week, yeah they were those combo games by DSI but at $2 a pop, who am I going to complain to? I am still playing my Game Boy Advance here and there, it satisfies the I got nothing better to do quotient in my game diet. I also picked up a couple of Blu-Rays at Fry's: Dodgeball and Road Warrior. No, I still don't have a player. I know, I know. But I also know that I will be getting it eventually, I'm just picking my spot. Right now though? I got a hunkering to break out the PS2 Guitar Controller and Rock Out to the 80's. I was a Shhhshshhshsakin! Have fun this week kiddoes and remember, its 18 and Life when you get Radar Love for a girl who is only SEVENTEEEEN!

As Always,
Kedrix of Aldrianian
(*The Forgotten One*)