Free Realms Draw a Million, Tatsunko vs Capcom and Wal-Mart Goes Gamestop? – Welcome to the column that will open up a used video game store and only take Super Mario Bros/Duck Hunt combo NES carts known as Dare to Play the Game.
Still playing NHL 2k9. I did pop a few achievements this week. Nothing special, just more of the win this many games, score this many assists and sit in the penalty box for these many minutes types. I stand at 200 achievement points and in franchise mode I am currently 6-2 on the middle of the road difficulty with the San Jose Sharks. Not bad, not bad. But even though I do like the game a lot, it doesn't come without its faults.
Unfortunately, the first thing I noticed about Franchise mode is how many things you have to play with before you even enter a game. I must have started Franchise mode about 3 or 4 times before I got it down right. You can't choose the number of games which is a downfall in my opinion. Playing 80 games plus a playoff schedule is simply brutal. I also turned off the Salary Cap because for some reason I picked the team with absolutely no cap room.
I had played with caps in various Madden games and didn't find them too taxing, heck I liked them. This was just a pain in the butt. Trades are fairly straight forward thankfully. Number one funny thing in Franchise so far, I pick up Chris Chelios from the Free Agent pool after I trade around a bit to get more names I am familiar with (I always play better if I know who I am playing with). He goes down for the season several games in. *sigh*. That'll teach me.
Ode To Gamer Girls



These are the legendary Frag Dolls. Stop drooling. These ladies are the subject of many a man's fantasies and probably some women too (and I don't mean for knitting or swapping gossip either). Just remember, as hot as they are, they can still kick your butt in just about any game you can think of. Well, except Monopoly…noooobody can beat me in Monopoly. Except Sarah my sweetie. But that's only because I let her. *whistle*
News of All Types
Free Realms


Sony Online Entertainment's new family-friendly online game Free Realms has exploded out of the gate, with more than one million registered users within 17 days of launch.
Free Realms is a free-to-play massively-multiplayer online game that combines puzzle games, pet raising, card dueling, exploration, and combat into one colorful and attractive package. So attractive that more than a million users have signed up for the game since launch, a fact that has SOE's John Smedley all a' flutter.
"The excitement surrounding Free Realms, and the positive response the game has already received, is overwhelming," said John Smedley, president of Sony Online Entertainment. "To achieve this milestone so rapidly speaks to the quality and the fun gameplay experience Free Realms offers to players of all ages."
To celebrate the quickly achieved milestone, SOE is giving all current Free Realms players with a limited edition Free Realms t-shirt for their character. On top of the t-shirt, the first 999,999 registered users are also getting a matching shirt for their pet and 200 Station Cash to purchase in game items. The 1 millionth registered user gets an even bigger prize: a lifetime premium membership, a one-of-a-kind astronaut suit, and 10,000 Station Cash. I've been playing the game myself since launch, and I have to say that it's extremely addictive…and not just the premium bits either. There are just so many different things to do, and none of the posturing you find from the "elite" players in other MMO titles. If you play, send a friend request to Mochrie Shadowdancer, and I will try to resist the urge to hide from you.

Nice job Sony Entertainment. Apparently put Free in the title of your game and people will jump at the chance to at least give it a test run. Of course being the eternal pessimist I am with Online MMOs, I am more interested to see 6 months or even a year from now and where those numbers stand. Furthermore, is anybody actually spending any money to get a crack at the premium content? Sure, I'm somewhat interested too. But chances are if the free portion isn't up to snuff, there is nothing to lure you into the paid portion of the game.
However I will have to hand it to Sony, so far so good. The bonuses are enticing and the millionth user getting a whole boat load of crap is always good for public relations. But can they make a run at World of Warcraft in some regards (62/60/34/23, *caugh*, no I still don't play *caugh*)? It doesn't look like they have to. Both are MMO's but both are targeting different audiences. As long as Sony stays on their side of the road and Blizzard stays on theirs, we won't have to separate the Lich King from a cute personalized puppy dog or anything.


Meanwhile, the artists at Sony are hard at work and creating more characters for Free Realms before our very eyes.
Capcom


Capcom has confirmed that a North American version of Tatsunoko vs. Capcom for the Nintendo Wii is indeed one of their two secret games for E3 2009, debuting in playable form at the Capcom booth.
The magazine scan we posted Saturday is from the new issue of Nintendo Power, which features the exclusive reveal of the 2D fighter that we were relatively sure would never make it out of Japan. North American players will be able to pit Capcom characters like Ryu and Roll against Tatsunoko animation studio icons such as Tekkaman and Ken the Eagle, some sooner than others.
The game that many thought would never make it to North America is actually in the works and will be at E3 for all of you lucky Unity members to get your hands on.
Yes, it'll be there, and it'll be playable. Look for more details out of Capcom within the next two weeks leading up to the big show.

This game actually was released on the Japanese Wii back in the December of last year. It's naturally based off the other versus games and has a couple of new techniques to entice gamers. The game has done pretty well over there but the main thing keeping it from here has been licensing, naturally on the Tatsunoko side which is kinda all over the place as far as the United States properties are concerned.
I looked over the list of characters and it was one of the most interesting lists I have ever seen for a fighting game that didn't have the title Super Smash in it. Mega Man characters, Onimusha, Viewtiful Joe, Okami, and Rival Schools among the usual assorted SF characters on the Capcom side. I'm not very familiar with the Tatsunoko side but they look well represented and the pictures certainly look interesting. Chances are if I had a Wii, I would be pretty excited for this import turned Stateside. Especially when good 3rd party games are a rarity for the Wii.


This screenshot shows off the devestating pointing attack. This will be followed by Chun Li's "Crush Your Head" finisher. No Wiimote required.
Wal-Mart
Wal-Mart Launching Video Game Trade-In Kiosks

Wal-Mart has teamed up with kiosk company e-Play to test automated video game trade-in kiosks in several store locations throughout the Northeastern United States.
The machines, currently being tested in 77 Wal-Mart locations in New York, Massachusetts, Connecticut and Rhode Island, should be relatively simple to use. You scan the bar code on the game box in order to receive a quote. Once you accept the quote, you insert the game discs, which I am assuming are checked for damage before being accepted. Then things get a bit cloudy.
While the Video Game Buy Back kiosk shown in this photo has a Wal-Mart sign that says "Trade in Games for Credit", it doesn't seem to mean Wal-Mart store credit. According to an e-Play representative, the machines only support charging the trade-in value back to a credit card, which takes 2-3 days, according to the instructions on the company's website.
We also asked e-Play who sets the trade-in prices for the games, and are awaiting a call back with that information, as the representative we spoke with did not know.
NeoCrisis had a chance to try out one of the machines this weekend, only to find that most of their games wouldn't scan and the one that did (Mirror's Edge) wasn't in the kiosk's database.
Not exactly a GameStop killer of a trade-in program, really. With no immediate payout, I can't see these kiosks taking any substantial amount of trade-in business from the video game retailer any time soon.
UPDATE: e-Play has confirmed that they themselves set the trade-in prices based on a proprietary algorithm that can change as regularly as daily based on a number of different factors. They also verified that trade-in credit can only be applied to a credit card or debit card at this time, so no Wal-Mart store credit is changing hands.
Also, a representative from Wal-Mart contacted us to let us know that if the pilot program is successful, the company would consider working with e-Play to provide actual Wal-Mart credit instead of a charge back.

Don't you love it when you can see a trainwreck from a mile away? I know what some of you are thinking. What a great idea! I can sell games without the muss and huss of Gamestop and get money back on my credit/debit card. How easy can it be? *face palm*. Okay, it will be easy but I just don't see good things coming out of this. This is mainly due to the lack of the human factor/quality control at the other end.
Let me get one thing straight, I'm not interested in selling games back to a machine. I use Ebay and trade lists for that purpose. The only thing I have ever sold back to a store is either books or magazines (Half Price Books) because they are simply too much hassle to sell over the Internet. That aside, I am interested in the other end. The used stock side. Have you ever been to Walmart, especially one within the city limits? Rednecks, punks, lowlifes, and other assorted miscreants are regulars at this establishment. They are the same people who sit at Redbox machines at McDonalds and return their dvd discs with one hand while grabbing a greasy Big Mac with the other.
Do you really want those same people to be selling their used games back to Walmart? There is apparently quality control for cases as the article implies but there is no qc for instruction manual or disc condition or even if it is the right disc if I am reading it right. (I'm not buying that there is a system that checks the condition of the discs, BAH!) Now I know they can track who puts in what, blah blah but they are only going to go after the people who really abuse the kiosks. This leaves the potential for a lot of crappy used games. I want to believe that this will be a potential money maker but I'm not putting a lot of stock in it.
Releases for the Week of May 20th, 2009
Xbox Live Arcade – Gel: Set & Match (800 Microsoft Points), & Blazing Birds (400 Microsoft Points)

This is one as puns would have it is a bit of a puzzler. It's a puzzle game I get that. It features multicolored blocks that melt as you match them together. Okay cool screen effect. Action mode adds side-scrollling and there is online co-op in Puzzle and Action modes. Naturally there is also Battle mode with competitive online play. It just seems to be a simple puzzle experience.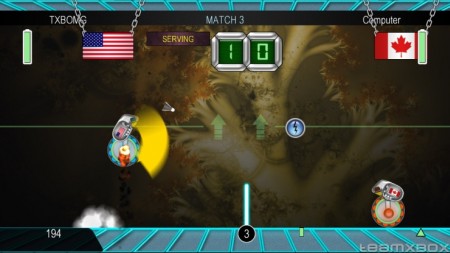 When I was thinking of what game I wanted to play this week, a little birdie must have whispered in my ear: Badminton. Then I snatched the bird and had him for a small lunch. Anyway, this is a badminton game with Robots and at 400 points it might not be that bad. This game was also another veteran of 2007 Dream…Build…Play Competition. The same one that got us that Dead Samurai game from a few weeks back.
Wii WiiWare & Virtual Console – Crystal Defenders R2 (WiiWare – 800 Wii Points), Silver Star Chess & Legend of Zelda: Majora's Mask (Nintendo 64 – 1000 Wii Points)



This is release #2 for Crystal Defenders. There are some new jobs including Flintlock and Tinker. There are three new varieties of Power Crystals and some new maps containing multiple exits and entrances. I do wonder if it is really worth 800 points a pack and/or there is enough content to keep you busy. I am still interested in the Xbox Live Arcade version but I just wish I had more information about it.



This seems to fit the very simple chess game quota of WiiWare providing a single and 2 player mode. The single player mode has 5 computer opponents, the ability to analyze games and take back moves that you didn't like. Since you can review games, you can also resume games from any point. I don't see a chess game on the Virtual Console list (not even Archon or Chessmaster for the NES) or know of one for WiiWare already, so this might be for you.



Another famous Zelda game. This time Link is in Termina, an alternate version of Hyrule that is set to not exist in a mere three days. Link needs to recover the Ocarina of Time and defeat a plethora of bosses in assorted dungeons. This is the only way he will be able to unravel the mystery of Majora's Mask. Plenty of puzzles, masks and items to sort through make this an easy pickup. It's Zelda for pete's sake. Do you really need a reason?
Console Releases
PS2
Rock Band Track Pack: Classic Rock
PS3
UFC 2009 Undisputed
Terminator Salvation
Bionic Commando
Rock Band Track Pack: Classic Rock
Xbox 360
UFC 2009 Undisputed
Terminator Salvation
Bionic Commando
Rock Band Track Pack: Classic Rock
Wii
EA Sports Active
Punch-Out!!
Boom Blox Bash Party
Rock Band Track Pack: Classic Rock
Yu-Gi-Oh! 5D's Wheelie Breakers
Secret Files: Tunguska
Puzzle Kingdoms
Space Camp
DS
Steal Princess
Math Blaster in the Prime Adventure
Yu-Gi-Oh! 5D's Stardust Accelerator World Championship Tournament 2009
Challenge Me: Brain Puzzles
Secret Files: Tunguska
Jagged Alliance
I Love Beauty: Hollywood Makeover
Puchi Puchi Virus
Space Camp

A decent week by most standards. Three titles to certainly be excited about and a little more this release time around. Punch-Out for the Wii is the stand out title and it is certain to do big business for Nintendo. Heck, I'm even interested to see a few store demos on this one. The commercials are very entertaining if nothing else (and include the original music to boot). UFC 20009 just might be the first decent UFC game to come out, well ever. I have played a couple of the older ones PS1/PS2 and they flat out stunk up the place. Bionic Commando is out this week which I hope does big business despite the other two titles because BC's idea and premise is something very appealing to me. BTW, I did read somewhere that the XBLA game: Bionic Commando: Rearmed would be 400 points this week. I think that was a mistake on Xbox's part(checked this morning), and that should be next week. Let's see, we also have EA Sports Active which fulfills the Wii Fit clone quota for this week. Don't worry, Daisy Fuentes & Jillian Michaels have games coming too. I wish I was kidding. Another Track Pack from Rock Band rounds out the list. The good thing is I don't have a single title in the set list but it will have to be a bargain bin purchase for me to take a snap at it. I'm patiently awaiting the Country pack in July, believe it or not.
Final Thoughts & Mutterings
I mentioned Bionic Commando: ReArmed above which seems to be another title in the long list of XBLA games that have enticed me lately. Let's go over the list, shall we? Penny Arcade: Episode One, bought at half off, unplayed. I have that Namco disk and there is a whole mess of XBLA games on that one (some of which I have played through other sources, some not touched at all). There is that Doritos game too, ummm lets move on. Then just this week, Amazon had to go hold a sale for a bunch of their XBLA codes. I only picked up TMNT 1989 Arcade for a measly $2.96. I think I caught the tail end of the sale (my wallet thanks me) because when I checked Amazon, only Ms. Pac-Man and TMNT were listed as on-sale. Supposedly, Gauntlet, Dig-Dug, Galaga, Paperboy (which I would have bit on), and a few others were also in on the bargain.
Anyhow, if you ever catch me playing an XBLA game, it's usually RocketBowl. I'm not sure what the allure is there, but it is simple and pretty fun. I also play a good deal of Catan and Doom along with the ones everybody plays like Uno or Carcassonne or Bomberman. At some point, I will play Duke 3d again. I'll get an itch like I did with Doom and just start going through the episodes one by one. Speaking of which, are we ever going to see Wolfenstein 3d on Xbox Live? Maybe with the new Wolfenstein game that is coming out in the summer, we might get lucky enough and no it doesn't need multiplayer. I'm just covering those bases in case somebody brings it up. Am I the only one who would also enjoy a Blake Stone re-do as well? Anyhow, enjoy a XBLA game (or WiiWare or PSN) this week, it's cheap and it doesn't hurt anybody. Have fun kiddoes!

As Always,
Kedrix of Aldrianian
(*The Forgotten One*)