Rock Band goes Country Tracklist, Ronnie James Dio Dropped & No Van Hagar? – Welcome to the column that sings for their dinner and any other meal too just to keep from paying known as Dare to Play the Game.
My two Arcade reviews for Wolfenstein 3d and Cellfactor: Psychokinetic Wars were posted this past weekend. In such, I played a lot of those two games. My mood of those games was a very positive experience as it was the only week I could think where I bought all of the new releases Xbox Live had to offer. In Wolfenstein 3d, I primarily played around in the opening levels of each episode getting used to the gameplay before I really try to finish. I had beaten the game a few times on PC and my goal is to ultimately beat all 6 episodes. The problem is I have a feeling it will be like Doom and might not happen right away. Then all of the sudden, I'll get a groove and try to finish it in a couple of mad sessions.
Cellfactor is still one of the most pleasant gaming experiences I've had. I went in expecting trash and instead found a great game. I'm about halfway through the challenges on each character and playing some Live multiplayer. Just for the record, I suck at multiplayer but I'm okay with that. My only goal with that is to get enough kills for the 100 kills achievement (and if somebody wants to trade 5 kills in a row, I'll take that too). I do worry though that the online community for the game will dwindle. I found a few games this weekend to play in, but I never considered it busy. It's a really good game, but unfortunately a lot of people are missing because of the lack of press. If you like first person shooters (and especially if you like Unreal), go spend the 800 points, it's worth it.
Ode To Gamer Girls



I always need a good excuse to include an Alyssa Milano picture when she really has very little to do with gaming. This week is Ghostbusters week and as some of you know Alyssa Milano does the voice for main heroine in the console version of the new Ghostbusters game. She does well in supernatural roles…I know. I've seen Embrace of the Vampire at least half a dozen times to prove it.
News of All Types
Guitar Hero


The Guitar Hero: Van Halen trailer running during E3 only showed off four members of the band. Thing is, over the course of the group's history, there have been more than four members of the band.
The four shown in the trailer were Eddie Van Halen, David Lee Roth, Alex Van Halen and Wolfgang Van Halen. But prominent former members of the band include ex-vocalist Sammy Hagar and former bass player Michael Anthony. Are they going to appear in the game?
No.
Activision have confirmed that Lee Roth and the three Van Halens will be the only band members in the game. Which will no doubt upset a lot of fans of the Hagar era.
It's not the first time Activision have run into this kind of trouble with a Guitar Hero game – the fact GH Metallica didn't feature Jason Newsted irked a few people – and if they insist on making band games out of bands with changing lineups, it won't be the last, either.

Let the shaking head commence. Arguably, this had been the most exciting Guitar Hero add-on for me. Aerosmith was alright, Metallica was good, but Van Halen…wow, they can't screw this up. See, that is my problem. I forget, 1)This is Guitar Hero. I mean they screwed up Aerosmith by not including at least vocals. Who doesn't want to try to sing like Steven Tyler? Hence why that game is doomed to the $10 bargain bin. And 2)This is Van Halen. Eddie is infamous for running his mouth and ruining reunions, albums, and just the band in general. He's a fantastic guitarist just kinda sucks in the PR department if you catch my drift.
So what happens? Well we get Eddie, Alex, David Lee Roth and Wolfgang Van Halen. Wolfgang is Eddie's 18 year old kid. He's the current bassist and the one who replaced Michael Anthony. I'm sure he is headed for greatness (or rehab) but Anthony will always be the real bassist. Then there is Hagar, I always liked Roth better but you know what, Hagar put out some great music. I was honestly hoping that in addition to Van Halen, we might get one or two of his solo tunes like Mas Tequila or I Can't Drive 55. Even worse, now I'm worried about the tracklist in general. How many Hagar sang tunes are actually going to be on this game and are they going to ignore many of them all together? Once the tracklist is finalized, I'll be sure to bring it on board and do my usual analysis.


The current face of Van Halen. I really want to know what the over/under is on when this kid visits rehab. I'm going with 5 years or less.
Brutal Legend


There once was a time that Black Sabbath legend Ronnie James Dio was included amongst the list of guest stars appearing in Brutal Legend. That time has passed. But don't worry. You should see who's replacing him.
While no official reason was given for the move, it may have something to do with this lawsuit, brought by Ozzy Osbourne against former guitarist Tony Iommi. The suit sees Ozzy trying to reclaim a stake in the "Black Sabbath" trademark, and since Ozzy is also due to appear in Brutal Legend, it appears that legally that town may have only been big enough for one Black Sabbath vocalist.
Whatever. It's a shame Dio's out, but his replacement in the game is none other than Tim Curry. Yes. Tim. Curry. Who may not be "metal", but who is "Tim Curry". So, rather than mourn the passing of Dio's contribution, let's instead celebrate the fact we've got another game featuring, yes, Tim Curry!

Awwww, no Dio. Here I was hoping that Holy Diver would appear somewhere in the game. Actually, the real reason (or so they would have us believe) that Dio did not make it was that the character they were creating for Dio: Doviculus, Emperor of the Tainted Coil evolved into a better vehicle for Tim Curry. The inspiration came from the Curry's role of Lord of the Darkness from Legend. It makes sense, having watched Legend more times than I care to admit in this column, he does seem to be a personification of metal music in that movie. However, if Tim Curry is included in the game, it is only fitting that an alternate costume based on the following character appears somewhere in this game: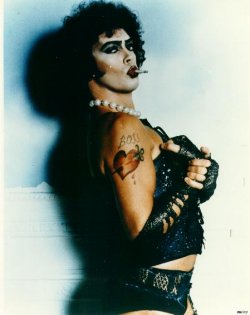 I'm just a sweeet Transvestite from Transylvania, oh yeah.
Rock Band
Rock Band: Country Track Pack Listing

Here's the full track listing:
1. Alan Jackson "Good Time" – $1.00
2. Brad Paisley "Mud on the Tires" – $.50
3. Brooks & Dunn "Hillbilly Deluxe" – $1.50
4. Cross Canadian Ragweed "Cry Lonely" – $.01
5. Dierks Bentley "Free and Easy (Down the Road I Go)" – $.25
6. Dixie Chicks "Sin Wagon" – $1.00
7. Drive-By Truckers "3 Dimes Down" – $.25
8. Jason Aldean "She's Country" – $1.00
9. Keith Urban "I Told You So" – $.50
10. Kenny Chesney "She Thinks My Tractor's Sexy" – $1.75
11. Kenny Rogers "The Gambler" – $2.00
12. Lucinda Williams "Can't Let Go" – $.50
13. Martina McBride "This One's For The Girls"$1.00
14. Miranda Lambert "Gunpowder & Lead" – $.25
15. Montgomery Gentry "Gone" – $1.00
16. Rascal Flatts "Me and My Gang" – $.10
17. Sara Evans "Suds In The Bucket" – $1.00
18. Shania Twain "Any Man of Mine" – $1.00
19. Steve Earle "Satellite Radio" – $1.00
20. Trace Adkins "Swing" – $.10
21. Willie Nelson "On the Road Again" – $1.00

RockBand Country Track Pack goes on sale 7/21 for the Wii/360/PS3 for a price of $29.99. For those who know me, I'm a hard rock guy with metal roots. But for some strange reason, I am taking a liking to this track pack. Maybe it's the fact that I have sat in Karaoke Bars since I was 19 years old and listened to a whole smattering of country since that's what they like to sing in Texas places where they serve alcohol. Heck, a lot of these songs I remember them doing. Often. So for me, I just do my best to sound like an absolute hick and I probably can pull these off.
Most of the artists you think would be represented are. Brooks n Dunn, Alan Jackson, Brad Paisley and Keith Urban are all frequent fan favorites on the country circuit. Kenny Chesney's hit "She Thinks My Tractor's Sexy" will probably be one of the funniest songs to actually do in front of other people. I am also mildly surprised that the pack includes a good number of female songs with representation from the Dixie Chicks, Shania Twain, Martina McBride and Sara Evans among others. Keep in mind, I can't sing those songs but my Sarah has already went on record and told me she knows all of the female related songs. Just a small note, Sarah doesn't do vocals very often, so that's already a bonus.
The couple of odd things about the package include the complete lack of Big n Rich (I would have been all over "Save a Horse (Ride a Cowboy)" or "Comin to Your City") and the use of Trace Adkins "Swing" when his hit "Honky Tonk Badonkadonk" is a huge crossover song and sang at more Karaoke bars than I care to talk about. I also had hoped a little bit that they would have picked Rascal Flatt's cover of "Life is a Highway" since it was included it in Karaoke Revolution: AI 2. Even though I prefer Tom Cochrane's original version a lot more, I'll take what I can get.
If you add up those songs, they equal $16.71. That alone would tell most people to wait for it drop $10 to $19.99. Here is my suggestion. If you like country, you are obviously going to get this pack. If you can accept country and have a subtle fascination about it like me, you are going to look for a sale the first week but not force yourself to buy it. I am willing to budge for $25, only $5 off the retail price. Take note Amazon, Buy.com, Frys or whoever and adjust your release week price accordingly.
Releases for the Week of June 17th, 2009
Xbox Live Arcade – Sam & Max: Save the World (1600 MS Points), Magic: The Gathering – Duels of the Planeswalkers (800 MS Points), and Rocket Riot (800 MS Points)

This episodic series was actually released on the PC first followed by the Wii. It has been often heralded as the first successful episodic video game. It's awesome, I've wanted to play it for quite some time. I loved the original PC game, I own the dvd set of the complete cartoon series. But I admit I have a small stroke of selfishness. I really wanted a retail copy of this game, complete with disc and cover art, not DLC. At 1600 points or $20, I expected a budget retail release. The sad thing? I would have paid up to $30 for a full retail release but I won't pay $20 for DLC. Is it wrong of me to want something that the Wii and the PC have, a $20 disc-based product? I still might bite at some point though.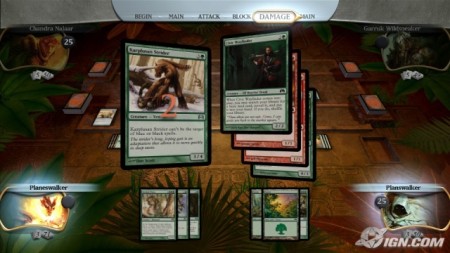 This release will make many addicts of the card game very happy. There are eight player decks, deck customization, single player and of course online play against your homie. There will be also be leaderboards to compare yourself with people around the world in your quest to be addicted, I mean be the best. Folks who buy the title will also get a code good for one limited edition foil Garruk Wildspeaker Planeswalker promo card which can be redeemed on the Wizards of the Coast website.

The last title for this week is Rocket Riot. It's a side-view shooting action game with an 8 bit look and feel. There are 80 single player missions and four multiplayer modes for up to 8 people over Live or 4 people locally. There are plenty of weapons including guided rockets, missiles and other things commonly associated with rockets. I have a feeling this one will get lost in the shuffle in light of the other two strong releases this week but you might want to give it a try.
Wii WiiWare & Virtual Console – Eduardo the Samurai Toaster (WiiWare – 800 Wii Points), Let's Catch (WiiWare – 1,000 Wii Points), Rainbow Islands: Towering Adventure! (WiiWare – 800 Wii Points) & Space Harrier (Arcade – 800 Points)



Sometimes, I don't even know what to write under these pictures. You are a toaster. You fire pastries at other evil food products. Then you get on laser-mounted scooters and fly across the screen in rocket packs. There are 13 diverse locations. I wonder if any of them include a kitchen. My question, does it shoot Pop Tarts or Toaster Struedels? Now I will suddenly think after putting a bagel in my toaster (because I love some bagels and cream cheese) that it will come alive and attack me. Just what I need. /sigh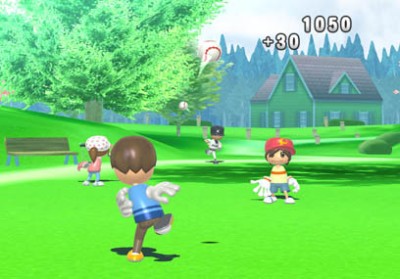 It gets worse. Can I cry myself to sleep? Please. This is a set of party games where you simulating the art of playing catch. Playing catch? Are you *beeep beeeeep beeeep* kidding me? Go the *beep beep beep* outside and throw a gd ball with your friend. Unbelievable. Supposedly you will be able to unlock special features when you own both this game and Let's Tap. More on that later.



Sorry about that, it took a moment to compose myself. Rainbow Islands is back folks. And in this Towering Adventure, you control the Bubby or Bobby and their power to make rainbows anywhere they darn well choose. I'd like to start a rant but honestly the original was fantastic. Here you are fighting a plethora of bosses under the control of Dr. Crescent and unraveling the story of Holly's Comet. It's your best bet for sure in WiiWare this week.



Well, we already had the Sega Master version of Space Harrier, here is the better arcade one. Most of you know the story in Space Harrier, your warrior takes on all sorts of strange creatures and robots as you fly across the screen in a 3-d world while avoiding columns and pillars. The arcade version was stronger graphically and had way more narration than its Sega Master counterpart. If you have the SMS one downloaded, it's probably not worth the extra 800 points, but if you were holding off, then get the Arcade version.
Console Releases
PS2
Ghostbusters: The Video Game
Guitar Hero Smash Hits
PSP
PDC Championship Darts 2008
PS3
Ghostbusters: The Video Game
Guitar Hero Smash Hits
Xbox 360
Ghostbusters: The Video Game
Guitar Hero Smash Hits
Wii
Ghostbusters: The Video Game
Guitar Hero Smash Hits
Let's Tap
PDC Championship Darts 2008
Big League Sports: Summer Sports
DS
Ghostbusters: The Video Game
Flower, Sun and Rain
Emergency Room: Real Life Rescues
Big League Sports: Summer Sports
Diva Girls: Divas on Ice

There are two major releases this week. There is Ghostbusters which among other things includes a special edition that includes a bust, a key chain and some other goodies for $90 (Wii) or $110 (PS3 or Xbox 360). I'm interested in the game but I really don't think the goodies are worth an extra $50. Also, for those who just like the movie, the original is out on Blu-Ray this week. I have my copy in the mail from Amazon as we speak. The other title is Guitar Hero: Smash Hits in which I have done a full tracklist go-over in a previous column. My suggestion was to wait when it drops under $40. $60 is simply too much to expect for re-hash of music. There really isn't anything else to speak of this week. Oh, except one title. Yes folks, Let's Tap is finally here for the Wii. In celebration, I present to you a photo of the special extra character who should be included.


Okay, the game isn't about Tap dancing, it's about Taping your hand on an oversized box. I wish it was about Tap dancing, because the idea of tapping a cardboard box is almost as idiotic as playing catch on a console. Oh wait, both of those games are made by the same company. And they interact with each other. Shooooot me.
Final Thoughts & Mutterings
This week, Sarah had a good friend from Ohio visit us who also just so happens to be big into video games. So, it was nice to talk to yet another female who is into gaming. I spent some of this week playing Warcraft but not too much. Just enough to get my rogue to 67. He's still in Blade's Edge, but he's moved areas (currently in Evergrove) to get some Cenarion Expedition rep. I also played a single game of NHL 2k9 and beat the Washington Capitals 6-0. I don't play a game for an entire week and then come back to a shutout. If only that worked for every sports game. This week, I am sure I will play more Cellfactor, so be sure to look for me (Kedrix) if you happen to pick it up. I'll trade achievements or even help you by posing as cannon fodder in the middle of the playing field. Okay, it really won't be cannon fodder, just my impression of how not to play a Black Op character. But the important thing is to have fun and this game has certainly accomplished that. Take it easy kiddoes.

As Always,
Kedrix of Aldrianian
(*The Forgotten One*)