Warner gets Midway, Patcher on the Used Game Market & Console Price Drops coming? – Welcome to the column that is better than the rest because we gave the rest a very strong laxative in their morning cereal known as Dare to Play the Game.
Cellfactor was again the game of the week for me. I only gained one achievement this week, but it was perhaps the most important one left. The ArenaMaster achievement finally clicked this weekend. I went into a Training Room DeathMatch with another guy where we proceeded to have a good time. We just racked up kills and let each other get our smacks in. I ended up giving him the Slayer achievement and he gave me the Arena Master in return. This leaves two achievements, All Rewards Unlocked and Marathon. Points wise, I think I have about 505,000 points. 600,000 is All Rewards Unlocked and Marathon is a Million. Looks are deceiving since the only thing I can do for points is Multiplayer and kills are 10 points a piece. Nobody seems to do capture the flag or assault even though that is where the larger points are at. Sure there are other variables like double kills, triple kills, using abilities and arena master but if the only games being played are Deathmatch and Team Deathmatch, it kinda limits your options.
In the World of Warcraft, I reached level 69 courtesy of all those Mid-Summer festival quests where you honor (Horde) or desecrate (Alliance) flames. I have 265 burning blossoms and I am working my way to 350 for the pet reward. There are other things to get but that would require a lot of extra grinding. I am still working on Lower City rep at the same time and figure I only need a couple more instances in Auchindon to get me over the hump. My original goal a long time ago was to get to level 70 and I'm one level away from reaching that. Of course, now the cap is 80, but it will feel really good to accomplish the goal I've worked so long for.
Ode To Gamer Girls
This is Kristin Kreuk, you know her as Chun-Li from the last Street Fighter movie. That movie is on Blu-Ray/DVD this week and sure to sell…dozens of copies. I do have this curious fascination for the movie but I'll probably wait for the price to come down quite a bit. Course, I had also that fascination for the original Jean-Claude vehicle and look where that got me.
News of All Types
Midway


Looks like the new home of Mortal Kombat, Joust, Spy Hunter and other well-known Midway properties will be Warner Bros. after all. The media conglomerate looks to have won bidding rights to the publisher and developer by default.
According to the LA Times report on the matter,Warner's $33 million bid for the better portion of the company's assets was the only serious offer. There were no other formal bids.
As part of a buy out time line that would accept offers until June 24th, Midway's goods and people were previously planned to go up for auction on June 29th to the entity with the deepest pockets. No need for that now.
Warner's bid would net the media giant development studios in Chicago (Mortal Kombat, Stranglehold) and Seattle (The Suffering, This Is Vegas) and rights to new and classic IP. It would also almost certainly mean another Mortal Kombat and DC crossover.
Midway still has two orphaned studios, one in San Diego, one in Newcastle (Wheelman), with the latter currently seeking a buyer for the team and its original Necessary Force property.
More details at the LA Times.

That was kinda of a bummer. I was fully expecting somebody, heck anybody to give an opposing bid and at least try to make this seem a hot commodity. Honestly, Warner Bros kinda just swooped in and said hey, nothing more to see here. Move along. I thought Capcom would at least do something, or maybe that was just the fanboy in me. So, hopefully this will be the kick in the arm some of the Midway old standards need. I would disagree with the news reporter and suggest that we will see Mortal Kombat vs DC crossover but it won't be a fighting game. Instead we should see, Lego Batman & Subzero vs Darth Vader & Mola Ram. Tag team action doesn't get better than this. Behold!


Heck, just make it a Fatal 4-way match. "Cold Shoulder", "the Force is strong in this one" & "He's going for the heart" are guaranteed to be in this slobberknocker somewhere.
Console Price Drops


Anyone not expecting a price cut on the PlayStation 3 this year? How about the Xbox 360? Well, if Ars Technica's "Mole" is right;and it has been before both consoles will be cheaper by the fall.
A relatively easy prediction, yes, but Ars' source lays out how it might go down, with the PS3 80GB model becoming more and more scarce. The constant bundling that Sony is doing at U.S. retail outlets will make sure that decrease in supply comes to fruition, about 2 months from now according to the Mole.
But the Xbox 360 retail offerings will also be changing, for the better value. According to the rumored price drop scenario, the Pro version of the Xbox 360 will phased out in favor of making the Elite the standard. Ars hints that another bundle configuration will hit before the holidays to replace the Elite, but doesn't offer specifics.
Does it all sound possible? Definitely. Will we get that PS3 "Slim" and a slightly modified rebrand? That sounds possible too.

I would agree with half of this. I can easily see the PS3 getting a price drop before the holidays, because that could possibly be huge and actually get Sony some good sales for once. To be honest, the game production in my opinion has improved dramatically this year with several games that just look better than anything Sony has put out for the PS3 so far. I've even tossed around the idea of getting a PS3 and a price decrease would make it easier. The only thing that has stopped me is the PS2 compatibility issue. I'm not ready to regulate the PS2 to the other room just yet. But a couple more good-looking exclusives and a price drop could sway me in that direction.
However, I don't see that same scenario with the 360. I already own a 360, most people who had wanted a 360 already have one. A price drop isn't going to scream to consumers the way that one would for Sony. Project Natal will play a part in this and I do see a price drop eventually but not this year. Even if they want to make Elite the standard, they might need something like a "Supreme" Model with 250gb (at least), Natal and some other goodie to stand above it.


It's the George Foreman Playstation 3 Grill. Call now and receive the Infamous disc which is sure to make this a power punch in the kitchen. I think that would be the final straw in getting me to buy a PS3. Good smelling meat and Infamous. That's a winning combination.
Used Game Market

Gaming's most-quoted financial analyst shared some unconventional wisdom about used games today.
In a 210-page annual report about the state of the gaming industry that begins with him thanking Kotaku and other websites for "keeping us on our toes and always asking us to think about the industry in real-time," Wedbush Morgan Securities analyst Michael Pachter sized up the used games industry.
And then Pachter argued why used games aren't the danger game publishers suspect them to be.
On the size of the phenomenon, he stated:
The number of games traded annually is striking; we estimate the overall used game market to be $2 billion in the U.S., with an average ticket of around $20 per used game. This means that an estimated 100 million units of used games are traded in each year, representing around 1/3 of all games sold annually.
A third or a quarter if the 270-million games sold annually in the U.S. also cited by Pachter doesn't include used games of games sold annually in the U.S. are used? That is a striking figure, either way you look at it. Kotaku contacted GameStop and the game sales-tracking NPD group for corroboration, but neither replied by press time. The $2 billion figure was reported earlier this year by the Wall Street Journal, citing another analyst.
If that market is so big, why shouldn't publishers, who derive no profits from the sale of used games, be shaken by it?
His analysis: we think that used game sales benefit new game sales by providing currency to gamers with less disposable income, thereby enabling the purchase of additional games. The vast majority of used games are not traded in until the original new game purchaser has finished playing, typically well beyond the window for a fullretail priced new game sale. Thus, while there may be some limited substitution of used game purchases when GameStop employees "push" used merchandise upon consumers lined up to buy new games, the vast majority of used game purchases occur more than two months after a new game is released. Other than the potential impact at holiday (when new game lives are extended beyond the typical two month sell-through pattern), used game sales just don't impact new game purchases very much. To the extent that there is a substitution effect, we estimate that fewer than 5% of new game sales are impacted
Pachter's analysis echoes what GameStop reps have told me about a view of the sale of used games furthering the purchase of new games, rather than cutting into such sales.
As Pachter notes, many publishers have been acting as if the threat is real, bundling their games with map-pack codes and other add-ons that add value for the first purchasers of a given game disc.
Pachter argues that the ability for gamers to sell their newly-bought games back to GameStop and other retailers for store credit is one of the factors limiting consumer interest in downloadable games. Used games keep them coming into stores and keep the trafficking in new game purchases. Consumers, he writes, perceive less value in the purchase of a digital game that they can never sell back.

In my elaborate mock-interview last week, I took the time using humor to explain why a digital download only market isn't the way to go. It alienates the consumer and basically ruins the used game and clearance markets for which for many of us is where we get most of our games from. This article demonstrates that the used market while big business for Gamestop is really not that big of a deal for game companies despite what they have you think.
Used games generate business for Gamestop because they are buying the game from the consumer at cheap prices and then selling it back for a modest markup. With the average used game at $20, and the average new game somewhere around $50, used games don't really make up much money. The problem here is perception. Software companies think that if we eliminate used games, that everybody will have to buy the game at $50. Sure there would be a few who would pony up the money but there would be most people who just wouldn't buy it at all. Most normal people buy games cause of perceived value. Example, I bought Prince of Persia at $15 recently at Target on clearance. Let's take Target out of the picture (the clearance market). Ubisoft or Microsoft offers me the game at $50, I'll just give them a blank stare and move on. I'm not knocking Prince of Persia. That amount represents to me a great bargain. In truth, I might pay $20, I might not. The same goes with used. I like physical media, sue me.
To touch on that subject a different way, the last comment says that we as consumers perceive less value in the purchase of a digital game because we can never sell it back. This is totally correct. I have not spent more than $15 for a digital download and that my friends was a one time occurrence for Puzzle Quest. The rest of the purchases have been $10 or less. They are downloads, after I get all of the achievements (or played it to what I consider completion) they most likely sit on my hard drive indefinitely (with a few exceptions). I can't sell them back, all I can do is delete them. Furthermore, there will come a point in time possibly where I won't even be able to play the game, even if I want to because it is a digital download. It scares me sometimes to see where games are headed, I have no problem with digital downloads or games not sold in the retail store environment. I have all the problem in the world if that is my only option to game.
Releases for the Week of July 1st, 2009
Xbox Live Arcade – Worms 2: Armageddon (800 MS Points), and King of Fighters '98 Ultimate Match (800 MS Points)

The original Worms has been a huge success on XBLA, frequently appearing in the top 10 long after it was released. A sequel seemed only natural. This time, it looks like they listened to the fans and increased the amount of weapons. At the top of the list: Concrete Donkey. Gotta love it. A new story mode with 30 missions is also included. At the tidy price of 800 points and a girlfriend who adores Worms, I'll probably pick this up.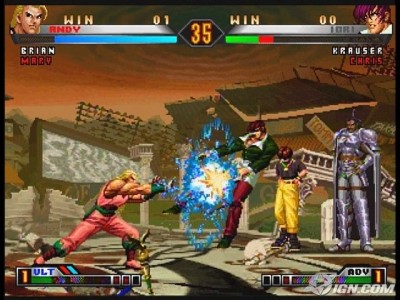 This originally was the fifth game in the King of Fighting series made back in 98. In 2008, They updated it and dubbed it the Ultimate Match and it included somewhere in the neighborhood of 60 different fighters and ported it to the Playstation 2 as well as getting play in Japanese arcades. The graphics still look like 1998, but the gameplay and customization are considered excellent. The options alone and ease of controlling your character made this a true joy. Expect multiplayer and achievements in this fighting game powerhouse.
Wii WiiWare & Virtual Console – Water Warfare (WiiWare – 800 Wii Points), Reel Fishing Challenge (WiiWare – 500 Wii Points), Silver Star Reversi (WiiWare – 500 Wii Points) & Fantasy Zone II: The Tears of Opa-Opa (Sega Master System – 500 Points)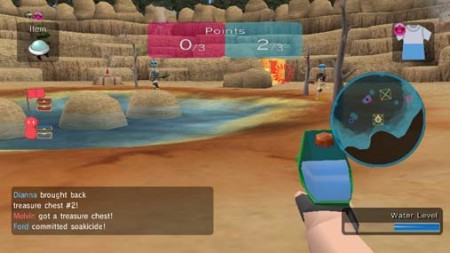 Ever thought that FPS games were simply too violent for your kids? Well here is one where you soak your opponent with water. There is a 38 level single player mission mode and even bots to play against. But as any FPS fan knows, the gravy is in the multiplayer as this allows for 2 player splitscreen and 8 players online. I had to admit, I chuckled a little bit when I saw one of the screens that said he has committed soakacide. I don't expect the gameplay to actually hold up, but who knows; who knows.



Another fishing game by Natsume. Again, use the Wiimote and cast it out there to reel in your fish. (Don't let go of Wiimote). It's similar to Angler's Dream which if you also own you'll be able to unlock extra fish and challenges for you to complete. In other words, unless you love Angler's Dream, run far away from this one.



I suck at Reversi. I really do. That's why even if I had a Wii, you couldn't pay me to buy this game. Here you are pitted against the computer (or a friend) and you must find a way to win. It looks like they have some colorful characters to play against and I'm sure there are skill levels and the wholeshebang. So if you are not me and actually like the game of Reversi (known as Othello to some), then go spend 500 points.



If you like shooters that aren't the norm, then this is for you. Basically you take your cute little ship, put in this cute little horizontal level of endless enemies. Your quest is to blow up the bases and then you can encounter the Boss of the level who is usually huge and is going to stand in your way until you want to deal with it. There are shops where you can buy upgrades such as improved weapons and bombs. It's different and certainly worth a try.
Console Releases
PS2
Harry Potter & The Half Blood Prince
PSP
Steamboat Chronicles: Battle Tournament
Harry Potter & The Half Blood Prince
PS3
BlazBlue: Calamity Trigger LE
Call of Juarez: Bound in Blood
Harry Potter & The Half Blood Prince
Ice Age: Dawn of the Dinosaurs
Xbox 360
BlazBlue: Calamity Trigger LE
Call of Juarez: Bound in Blood
Harry Potter & The Half Blood Prince
Ice Age: Dawn of the Dinosaurs
Wii
Harry Potter & The Half Blood Prince
Ice Age: Dawn of the Dinosaurs
Roogoo: Twisted Towers
Fritz Chess
DS
Harry Potter & The Half Blood Prince
Mega Man Star Force 3 Black Ace
Mega Man Star Force 3 Red Joker
Ice Age: Dawn of the Dinosaurs
CORE
Roogoo Attack
Treasure World
Ultimate Game Room
My Make Up DS
Fritz Chess

A lot of games and not much to show for it this week. The two games of most interest to people this week will probably be the limited edition release of Blazblue and the Call of Juarez sequel. I never did get to play the original Call of Juarez since I was playing the original Gun (awesome game btw) at that time. I might take this opportunity to pick up the original, we'll see. But Old west games always interest me, it's something about the open plains and a six shooter and some Indian named Tonto. *sigh*, the memories…errr anyhow, Blazblue looks to be an amazing fighter with lots of options and appeasing graphics. Another Harry Potter game comes to console with the movie only a few days away. I love the movies, I like the books a lot, I've played two Harry Potter games. They both stunk to high hell. Wake me up when they make a Lego Potter game, then I'll listen. Outside of that, a lot of random stuff make up the rest of the release list. We'll see what pops up next week.
Final Thoughts & Mutterings
Next column is an anniversary for me. Three years. One hundred and fifty six columns. Quite the feat. When I started doing this three years ago, I never thought I would still be writing on this site. It wasn't that I didn't like this site or thought this would open up some kinda life opportunity somewhere else, I simply thought that the column didn't have enough legs on a DVD site to survive. The fact is that this column shouldn't still be here. However, with some dedication and a lot of writing, this column not only survives, it thrives. I've written in the neighborhood of 200 reviews, a mixture of games and dvds but I am most proud of this column. If I could chronicle the columns into a book, I would do it. Heck, if I thought I could make money at it, I'd make sure your local Borders would have copies and I would do book signings.
But in reality, there is something more out there for me. Outside of my cubicle, outside of this site. I don't want to leave this world without my name on something that is appreciated long after I'm gone. A radio show? It could happen, a TV show? Probably not, some ugly mugs should be kept away from the camera. A website of my own? Not a bad idea. A book? I certainly would like the opportunity. Or perhaps something else. This column I believe can bridge that road for me and I hope to take each and every one of you along for that journey. Believe in yourself each and every week kiddoes and let your dreams be the vision you set world on fire with. Take care.

As Always,
Kedrix of Aldrianian
(*The Forgotten One*)