Guitar Hero: Van Halen Setlist, World of Warcraft Races & Roses for the Sweetie? – Welcome to the column that realized a long time ago that flowers are poor substitutes for excuses when they own a rose garden known as Dare to Play the Game.
Remember when I had a lot to write about in this space every week because I would either play some new 360 games or conquer something new in the World of Warcraft? Well I can't confess to either. I did boot up WoW after the 3.2 patch and outside of installing add-ons and buying up a ton of mounts for my rogue (since they were extra cheap now), I didn't do squat. Oh, I did fish. A lot. For some reason in my boredom, I raised my fishing nearly one hundred points.
My Xbox 360 wasn't exactly overloading from massive playing either. In Rocket Bowl, I came within 4 pins of unlocking the last course. I did try out the Turtles in Time demo only to be mostly underwhelmed. The demo was fine, it showed enough of the game. I played through the first level with Donatello and it just felt really repetitive. It made me want to bust out the old Turtles game more than continue with this one. This Summer of Arcade has been a couple of batches of disappointment. I hope Shadow Complex on August 19th lives up to the hype.
Ode To Gamer Girls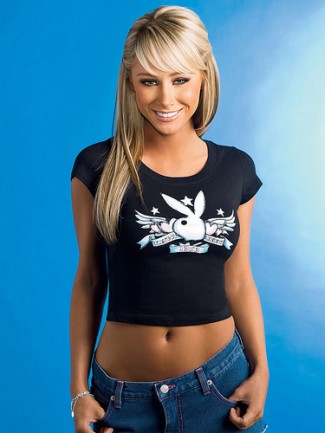 This is Sara Jean Underwood. This week (and last week as well), she was filling in for Olivia Munn on G4 for Attack of the Show. What you might not know about her, is that she was a Playboy playmate. In fact, she was the playmate of the year for 2007. She certainly is hot and like other girls I've shown here, it was hard to find a clean picture. (Translation = run to your favorite image site and look her up. *waits* You're welcome.)
News of All Types
World of Warcraft


Internet rumors regarding two new playable races in World of Warcraft's unannounced new expansion continue to stir, as sources close to one website point further towards the addition of Worgen and Goblins.
WoW.com reports that "multiple sources close to the situation" have laid out the two new playable races in World of Warcraft's "Cataclysm" expansion to be the Worgen and the Goblins, as indicated by the two new Halloween masks data mined from the latest patch last month. And really that's all they have to offer right now. Sources have told them, and the internet goes crazy with the news.
Of course, there really isn't any news. BlizzCon is a week and a half away, and if Blizzard plans a big expansion announcement, that's where they would announce it. We've contacted the company for comment, but really don't expect a confirmation before next week.
As I've said before, the two new races would make sense, but I still remain highly skeptical. It isn't like Blizzard to leak big news before they announce it, as it would seem it has if the rumors prove true.
Just relax, everyone. The answers are coming next Friday.

See, Blizzard is smart. I feel myself in a lull, sure I have a level 71 Troll Rogue and a couple of miscellaneous characters. But I haven't been playing much. I even bought another WoW card to reactivate my second account so that Sarah and me could play at the same time. So what do they do? They let some news leak about a new expansion and two new playable races. And it just so happens that one of those races is the race I've been thinking about playing from the beginning that wasn't called a Troll or something Elf. The Goblins.
Masters of merchants and shady affairs, these characters make for perfect Rogues. Sure, we would probably have to add mage, shaman, hunter and the usual ones you would think for goblins or any race really. I'm not sure how they decided Worgens would be Alliance. For those that see Worgens out in WoW, they don't really seem friendly to anyone. But I guess they had to even the side and also give Alliance something furry to play with. *shakes fist* Darn you Blizzard…why must you make me part with my money! *sigh*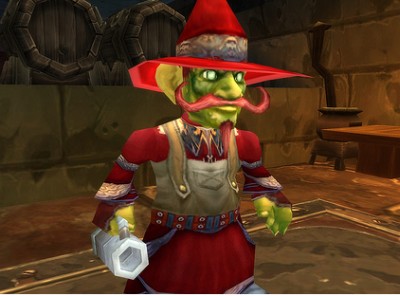 If they include goblins, they must include the mustaches. It's all about the stache. I think Horde might finally have the answer for the Gnomes and the Dwarves in one race.
Wal-Mart


It may sound like the title of a bad goth poem, but razorblades and roses are just two elements in Wal-Mart's promotional blitz for Madden 10.
Wal-Mart is going all out for the Madden 10 release, prepping thousands of stores for a midnight release on August 14th, with a couple of exclusive promotions to make sure players don't offend their loved ones too badly in the days following the game's release.
First off, Wal-Mart stores will have a limited edition Gillette Fusion NFL razor for sale with the game, with handles featuring your favorite NFL team. It doesn't specify that this is the Gilette Fusion Gamer, but seeing as that's just the normal Fusion marketed at gamers, it might as well be the same thing.
Then come the roses.
With thousands of men likely to be glued to the game after Friday, Walmart is rolling back the price of a dozen roses to $8 and making them easily available in the Electronics department, so guys, who may need some early forgiveness, can remember their gals who don't want to feel "left out." An easy to send and thoughtful "early apology email" is also available at Walmart.com/madden.
That's extremely thoughtful of them, isn't it? You can even visit the company's Madden micro-site and send a pre-emptive apology email. Extremely cheesy as well, but this is Wal-Mart. It's not as if they could have used my idea of an NFL-licensed marital aid anyway.
Wal-Mart is also offering a $10 online gift certificate to anyone who pre-orders the game online instead of hanging around the store in the middle of the night, but I'm not sure you can call yourself a Madden fan if you aren't physically handing over a method of payment at 12:01am.

One can't help to snicker at this. At least Wal-Mart is trying I guess. The razor blades are a curious idea because I guess they think when we are playing Madden, we don't stop for such trivial matters as shaving. Good hygiene boys. I'm surprised soap and deodorant aren't included too. But the roses aren't going to help guys. If you are a hardcore Madden gamer and you don't talk to your sweetie just because you are playing this, then all of the roses in the world won't keep you from the dog house.
Furthermore, check out the website. This is the best part. You can send your gal a pre-apology email (you have to be over 13, because I guess guys under 13 don't have girlfriends who are hurt by zealous Madden gaming, they are too busy playing with Barbie). The $10 gift certificate is unfortunately on-line only or I might actually think about picking it up since I could automatically use the $10 for some groceries. I want to try out a Madden game for the first time in five years but I can't bring myself to it. Maybe I'll just fire up NFL 2k5 or All-Pro Football instead.


I heard with the same software that came up with this note, you can also print divorce papers. Cause you'll need those too after August 14th if you really think that this letter is going to work.
Guitar Hero
Guitar Hero: Van Halen

Guitar Hero: Van Halen drops on December 22nd, 2009, right before Christmas. I finally got my hands on the setlist and here it is with the usual price evaluation.
Van Halen Songs:
"Ain't Talkin Bout Love" – $1.50
"And The Cradle Will Rock" – $.50
"Atomic Punk" – $.75
"Beautiful Girls" – $1.50
"Cathedral" (solo) – $.25
"Dance The Night Away" – $1.75
"Eruption" (solo) – $2.00
"Everybody Wants Some" – $.50
"Feel Your Love Tonight" – $1.25
"Hang 'Em High" – $.50
"Hear About It Later" – $.75
"Hot For Teacher" – $2.00
"Ice Cream Man" – $2.00
"I'm The One" – $0.25
"Jamie's Cryin" – $1.50
"Jump" – $2.00
"Little Guitars" – $.50
"Loss Of Control" – $.25
"Mean Street" – $1.00
"Panama" – $2.00
"Pretty Woman" – $1.25
"Romeo Delight" – $0.25
"Running With The Devil" – $1.25
"So This Is Love" – $0.25
"Somebody Get Me A Doctor" – $.50
"Spanish Fly" (solo) – $.25
"Unchained" – $1.75
"You Really Got Me" – $.75
Van Halen total = $29.00
-$2.00 for No Michael Anthony
-$5.00 for No Sammy Hagar (or his songs)
=$22.00
Other Artists:
Alter Bridge – "Come To Life" – $.01
Billy Idol – "White Wedding" – $1.00
blink-182 – "First Date" – $.01
Deep Purple – "Space Truckin" – $1.00
Foo Fighters – "Best Of You" – $1.00
Foreigner – "Double Vision" – $1.50
Fountains of Wayne – "Stacy's Mom" – $1.00
Jimmy Eat World – "Pain" – $.25
Judas Priest – "Painkiller" – $.75
Killswitch Engage – "The End Of Heartache" – $1.50
Lenny Kravitz – "Rock And Roll Is Dead" – $1.50
Queen – "I Want It All" – $.50
Queens of the Stone Age – "Sick, Sick, Sick" – $1.50
Tenacious D – "Master Exploder" – $1.00
The Clash – "Safe European Home" – $.50
The Offspring – "Pretty Fly For A White Guy" – $1.00
Third Eye Blind – "Semi-Charmed Life" – $1.00
Weezer – "Dope Nose" – $.50
Yellowcard – "The Takedown" – $.01
Other Artists Total: $15.53
-No David Lee Roth solo efforts: $2.53
=$13.00
Grand Total for worth of game = $35.00

This is the first time I've used modifiers in evaluating a game because this is the first time they so richly deserved it. Van Halen totally ignoring the efforts of Michael Anthony and Sammy Hagar is just uncalled for. Instead we get Wolfgang on Bass? F'ing Wolfgang. Is anybody else creeped out by the fact that the only thing in this band not named Van Halen is David Lee Roth? If Alex or Eddie have another kid lying around, especially one who could sing, David Lee Roth better watch his back. And it has to be a mark of laziness not to include some solo efforts by DLR too. California Girls, Just a Gigolo, Just Like Paradise, Yankee Rose for pete's sake…come on!
*sigh*, there is a good collection of Van Halen Roth songs. These songs all come from the first six albums: Van Halen, Van Halen II, Women and Children First, Fair Warning, Diver Down and 1984. I really didn't walk into Van Halen until 1984, and then kinda worked my way backwards so I was a little dismayed to see only three songs from 1984 make the list. I was also a little disappointed that Me Wise Magic from their first Greatest Hits album didn't make the list either. It's an awesome song. Another thing, 3 of the songs are Guitar Solos. Now, I'm not denying that Eddie Van Halen is a guitar god or that "Eruption" is quite possibly the best guitar solo of all time; but the other two solos should be bonuses at most.
The bonus songs are certainly decent but I have no interest in them outside of Foreigner, Killswitch Engage, Lenny Kravitz and Queens of the Stone Age. Why? Cause I've already seen them in Rock Band (Billy Idol or Offspring) or I have no interest in playing them (Blink 182 or Jimmy Eat World). I really wanted this, but put this in the class of Aerosmith. I'll wait. $40 is certainly my limit, $25-$30 is more realistic.
Releases for the Week of August 12th, 2009
Xbox Live Arcade – Trials HD (1200 MS Points)

This is a 2d puzzle/racing title that features 3d high definition graphics. You drive on a motorcycle through various stages or races and can create your own races to share with a buddy or the world. It can be compared to Excitebike, the next generation. The physics and the graphics seem top notch but the price tag is a bit hefty. We'll see.
Wii WiiWare & Virtual Console – NyxQuest: Kindred Spirits (WiiWare – 1,000 Wii Points), Rock N' Roll Climber (WiiWare – 800 Wii Points) & Super Star Wars (SNES – 800 Points)



You are a winged girl (don't get too excited) who must descend from heaven to find her missing friend, Icarus. Ancient Greece is your landscape and you must avoid blazing sands and various obstacles. You must destroy harpies and hydras but you will get help from Zeus and other gods from Olympus. It sounds cool, hopefully it is like Valis & Kid Icarus.



Unfortunately this is one of those instances, where you cringe when you hear the title of the game, and cringe even more when your hunch is right. Here you get to climb some rocks with your Wiimote and Nunchuk controllers. There are a variety of things to climb from an indoor rock wall to some waterfalls with slick moss-covered rocks. Optional support for the Wii Balance Board is included. Once you get to the top, you might even get your own guitar. /facepalm.



One of the classic Star Wars games, here you will help Luke, Han and Chewie in a war against the Evil Empire. There are aliens, there are high speed vehicles that you drive in first person. There are stormtroopers and even Tie Fighters. You even get to mosey around the Cantina and use your lightsaber to singe off a few hands. It's a decent game, and at 800 points, it is worth a look.
Console Releases
PS2
Madden NFL 10
PSP
Madden NFL 10
PS3
Madden NFL 10
Xbox 360
Madden NFL 10
Wii
Madden NFL 10
Real Heroes: Firefighter
Phantom Brave: We Meet Again
Active Life: Extreme Challenge
Monster Mayhem: Build & Battle
Groovin Blocks
DS
Fossil Fighters
Imagine: Soccer Captain
CORE
Monster Mayhem: Build & Battle

Pssst, know what comes out this week? Madden. *gasp* I know, it comes out every year at this time. I always get caught so off guard. This game drops on Friday, an odd day for a release but I guess they want you to plug away the entire weekend taking your favorite team to the Super Bowl. There are some decent deals out there, be sure to find one unless you just got to have it the first minute of the first waking day. In that case, there are a few midnight events as well to satisfy that need. The only other thing that comes out this week is for the Wii, a remake of the very decent Phantom Brave. If you haven't played the PS2 version and own a Wii, it's a pretty cool RPG. Oh and Imagine: Soccer Captain. Way to go UBISoft, turning out those killer DS games, I'm sure they will just blame piracy when the thing doesn't even sell 5,000 carts.
Final Thoughts & Mutterings
As many of you know, the Xbox Live Update happened on Tuesday and I wanted to share with you some personal highlights. After about ten minutes of patches, it did boot back up and the interface certainly moves faster. I noticed on the games, they have a rating system. Rocketbowl only looked to have 2 ½ stars. Other games like Rock Band 2 had nearly all 5 stars filled in. After laughing my way through the Avatar Store (cause I need to pay for a Big Daddy head) and Games on Demand ($29.99 for Lego Star Wars, seriously?!), I removed my installed copies of NHL 2k9 and Rockband 2 from the Hard Drive. They were 5.8 & 6.3 gb respectively. I took the next half hour to reinstall them and they had shrunk. NHL 2k9 was now 4.9 and Rock Band 2 was 4.6gb. Nice improvement, I think I will try a couple of more games and see how they are. Overall, the interface seemed to move faster, smoother and cleaner. I dig it, now if I can just play some more games on the thing, I'll be a happy person. Take care kiddoes and have a great week.

As Always,
Kedrix of Aldrianian
(*The Forgotten One*)