Nigerian Government upset over the PS3, A New Bonk & Kicking your WoW Habit for 14k? – Welcome to the column that wants to know who to contact to get rid of this Peggle addicition known as Dare to Play the Game.
This last week has been a rollercoaster of sorts. I made the journey from Texas to Tennessee to help my folks move. They are in that retirement age bracket and plan to only work a couple of more years. So due to exhausting most of their options, they decided to move to where they bought their retirement land in hopes of finding jobs and building their retirement home. I wish I could say the trip went well. I had the job of driving the Buick with my mother right next to me. My dad had the job of the UHaul. I'm not sure who had it worse.
The trip had a little bit of everything. It had backseat drivers who insist that I stop in the middle of the street. It had a parking lot accident that involved cramp corners and an inviting truck bumper. It had good food as long as you don't mind the fact that it came from a Cracker Barrel, fast food joint or the back of a Hamburger Helper box that you had to make by yourself. It had mental breakdowns, it honestly had a little bit of everything a Fox TV executive could want for a mini-series. Hopefully there are no plans for a sequel.
So I apologize if this column is a little late today. I'll bring the funny, I'm just trying to block out of my mind some of the events that went down this weekend. At the very least, I know that my parents are safely in Tennessee, even if they aren't very happy that they are there in the first place.
Ode To Gamer Girls



Two lovely ladies doing their best to bring the cosplay to the Penny Arcade Expo that was held this past weekend. The column actually had one of its biggest supporters attend the event, no other than Teedub made the journey to Seattle. However, the poor chap also came down with a case of the nasties. Reportedly there are swirling rumors that the H1N1 (also known as swine flu) virus could be the cause of many people getting sick at the event. Hopefully this doesn't lead to anything irrational for future events (such as those surgical masks), but here is a small hope that everybody had the best time they could.
News of All Types
PS3


While news of the PlayStation 3 price drop to $299 USD appeared to have been met with universal praise, it appears that one group isn't so thrilled with Sony. That would be the entire country of Nigeria, apparently.
According to reports citing a statement from Nigeria's Minister of Information and Communication, Prof. Dora Akunyili, the African republic is up in arms over Sony's latest PS3 ad campaign. Specifically, it appears one line from one of the commercials is an "unwarranted attack on the reputation and image of the country" according to Nigeria's federal government.
That would be "You can't believe everything you read on the internet. Otherwise, I'd be a Nigerian millionaire by now." Fictional director of rumor confirmation Kevin Butler says so in this ad, which is only amusing to me because I'm not Nigerian.
Nigeria "demands an unconditional apology from Sony Corporation for this deliberate negative campaign against the country's image and reputation" according to a cited press statement.
We've asked Sony Computer Entertainment America to see if we can get a copy of that expected apology and comment about the slight against Nigeria, but have not yet heard back. Furthermore, we'd recommend heeding the advice of the fictional Mr. Butler, because we've definitely seen some sneaky shit come out of Nigeria. Just sayin'.

If you haven't seen this commercial, it's actually pretty good. They have a dorky internet guy who keeps asking if the rumor behind the $299 PS3 is true. The director of rumor confirmation Kevin Butler, despite the fact there are 50 signs saying this very statement, says he can't confirm or deny the rumor. Then he says the infamous line, "You can't believe everything you read on the Internet. Otherwise, I'd be a Nigerian Millionaire by now."
Well needless to say, Nigeria is none too happy. Even though they have been the joke of every internet scam for the last ten years. Think about how many spam letters you get with something about millions of dollars from the Nigerian government because you are heir to the throne or something silly like that. All we need is your bank account number and your social security number. I swear, Nigeria needs to hold a Publishers Clearing House sweepstakes, think of the free publicity. Though nobody would ever enter it. Actually, you could make a movie off that…some silly, campy movie staring Adam Sandler or Rob Schneider. Or Martin Lawrence, yeah he would do it.


So if the Internet rumor/Nigerian Millionaire ad didn't work, why don't we just use scantily clad hot female Asians to bring the sales in? Seriously guys, if you really wanted to sell PS3s, you should have just advertised backwards compatibility for the PS2. Oh what is that? You don't have any? I'm so sorry.
Hudson


Hudson Entertainment will be reviving two of its oldest properties, expert headbutting caveman Bonk and turn-based strategy game Military Madness, with two all-new games, the company recently announced.
Bonk: Brink of Extinction will be coming to the PlayStation Network,Xbox Live Arcade and WiiWare in early 2010, as "next generation graphics meets retro gameplay," according to Hudson. In Brink of Extinction, every TurboGrafx fan's favorite neanderthal will have eight transformations, spurred by eating meat or ingesting "primordial ooze." It looks… well, I always think one should cel-shade on the side of caution.
More personally interesting is Military Madness: Neo Nectaris, a touchscreen controlled update to the hex-based sci-fi strategy game. That's due to hit iPhones this fall and if we know Hudson, it won't do much to muck with the Military Madness formula. And that's OK, because I earmarked the necessary funds as soon as I read Military Madness.
Hudson also has a Military Madness game coming to the PlayStation Network, WiiWare and Xbox Live Arcade, dubbed Nectaris: Military Madness. Yes, it is getting a little confusing, these naming choices.

My Turbo Duo sits in my closet, it is honestly one of my most prized possessions. However, I am afraid to play it. I know I will enjoy the games, I have a variety of hucards, cd-roms, super cd-roms and even games for the Arcade card both foreign and domestic. But I'm afraid it will break. CD-roms weren't popular back then. Therefore, I have a feeling this one is sporting a huge pile of dust and might not work. *sigh*
So needless to say I'm very excited with news about a new Bonk game and some more Military Madness. Bonk was always overshadowed by Mario, Sonic, Link, and even Crash Bandicoot. But in reality, he brought several of the best platforming games ever to consoles. I remember getting home with my Duo and popping in the 4 in 1 cd which came with Bonk's Adventure, Bonk's Revenge, and Gates of Thunder (the original Bomberman was included as a secret game as well). I actually beat Revenge before I went back and beat Adventure. Both of them satisfying and both I would like to see in a compilation someday.
My worry is that despite them saying otherwise, that the retro gameplay won't be there and it will merely be Bonk in hi-def. His big head and wacky powerups with creative level design are the trademarks of the Bonk franchise. Please don't screw it up Hudson, the point card is ready to go.

A picture from Bonk's Revenge. So many fond memories. It's actually available on the Gameboy and Virtual Console. By the way, supposedly a new Bomberman game for downloadable content is also on the way. Hopefully, story mode makes a comeback.
WoW Addicts

There's little doubt that Blizzard's World of Warcraft can be addictive. Most of you probably know someone addicted to it. But we doubt you know anyone stupid enough to pay $14,000 to kick said addiction.
The ReSTART clinic in Seattle claims to be "the first residential treatment center for Internet addiction" in the US, and are offering WoW addicts a 45-day course where patients are weened off World of Warcraft. All for the low, low price of $14,000.
Seriously, $14,000? I know the American medical system is a joke, but I didn't think it was that funny.

*caugh* $14,000. Suffice to say, I found this a bit alarming. I mean really, who would actually pay $14,000 to get rid of World of Warcraft? I haven't played WoW in a week and I feel fine. So, I thought it was time to pay the ReStart clinic a little visit and see what they offered for such a high price.
Kedrix: Thank you for joining me today, Mister…LJ? Does that stand for Leroyyy…
LJ: Leroy Jenkins? Aye, you might be addicted son…it stands for Dr. Lanny Jefferson. I'm the director here at ReSTART clinic.
Kedrix: Sorry about that. So you offer a 45 day clinic for $14,000 that will cure people of their addiction to World of Warcraft. What exactly do you offer with that?
LJ: The client would stay here at clinic supervised for 45 days and be broken slowly of World of Warcraft addiction. That money also includes boarding, medicine and meals.
Kedrix: But don't you think that amount of money is a little staggering for somebody who pay $15 a month to play the game in the first place?
LJ: Not at all. Cause the experience lasts a lifetime and can you truly put a price on addiction?
Kedrix: Sure can, and I bet it is a lot less than $14,000 over forty five days. So you mentioned medicine or treatments, what drugs do you actually administer to a person for this kind of thing?
LJ: Pain Pills, Counseling sessions, and in extreme cases: shock therapy.
Kedrix: Shock Therapy, what does that entail? A little goblin or gnome with jumper cables?
LJ: Ummm no. His name is Frank. He's a little person and he's been out in the sun too long.
Kedrix: I see. What if I wanted in home service?
LJ: We don't offer that option at this time. You will need to hop on your mount…errrr I mean drive your car over to our location so we can properly administer the treatment.
Kedrix: Righhhht. Another thing I see here is you mention weening people off Warcraft, does that mean they still play at first?
LJ: Yes, we place them on lowly populated servers with level 80's maxed out in epic raiding gear and force them to sit in Stormwind so we can monitor their progress. We find that once they have the best gear they can get and nothing to use it on, they get bored very quickly and it helps to cure their addiction.
Kedrix: For being doctors at an addiction facility, you folks sure know a lot about the game.
LJ: We have to in order to know the monster we are dealing with, you have to slay that dragon you know. Did I also mention that upon completion that you get this certificate saying that you are cured?
Kedrix: Could I see that? *receives the document* Looking at the document here, it is very nice and official, that's appreciated. Ummm, this number in the corner, what's that?
LJ: It's a code for record keeping purposes.
Kedrix: Wait…I'll be right back, looks up WorldofWarcraft.com account. I knew it…that's not a code for record keeping purposes. It's a CD-Key. What exactly is this for?
LJ: Ummm….nothing I assure you.
Kedrix: Well why don't we just go to the computer over here and try this out. *tappity tap tap tap*, its downloading Cataclysm.
LJ: I know nothing about this.
Kedrix: You don't cure anything….wait…*checks side of computer* *owned by Blizzard*, I knew it! Basically I'm paying $14,000 for an advance copy of Cataclysm. Don't you have anything to say?
LJ: Want a certificate?
Kedrix: (stuffs certificate in pocket): Thank you, Dr. Jefferson, I believe I am fully cured.
Blizzard is the borg I swear.
Releases for the Week of September 9th, 2009
Xbox Live Arcade – Sonic and Knuckles (400 MS Points) & Wallace and Gromit: The Last Resort (800 MS Points)

Sonic & Knuckles is here and it is brilliant. Well as brilliant as 400 points will give you. The nice thing about this game is that it offers backwards compatibility with the previous XBLA titles Sonic the Hedgehog and Sonic the Hedgehog 2 allowing you to play with Knuckles in the previous games and introduce to new ways to play the third adventure. Obviously if you have any of the previous 3 and enjoyed your experience, there is reason to buy. Though obviously, I wish this would have made it to the Ultimate Genesis Collection.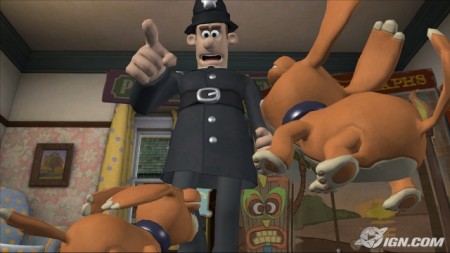 Episode 2 of Wallace & Gromit hits today. The duo with fresh profits from their honey business in their pockets set off for new adventure. Wallace is taking Grommit to Blackpool but the weather has other ideas. The cellar is flooded but Wallace has the bright idea of using the cellar as an indoor holiday resort. But things start to go awry and chaos soon follows. Needless to say, if you enjoyed the first one, the second one will be right up your alley.
Wii WiiWare & Virtual Console – Contra Rebirth (WiiWare – 1000 Wii Points), ColorZ (WiiWare – 700 Wii Points) & Super Return of The Jedi (SNES – 800 Wii Points)



A new Contra game? Do my eyes deceive me? Bill Rizer and his friend the cyborg: Genbei Yagyu from Neo Contra team up to fight the Neo Salamander Army led by Colonel Salamander. This game is 16-bit in style and promises to bring back old weapons as well as new ones. Naturally two-player co-op will be available. Is it possible to get to this Xbox Live Arcade as well? I wore out my copy of the original and would love to play something new with these guys.



One of those action puzzlers. The game is set in a world that has been polluted by germs. The player must clean up by using their UFO and suck up these germs that match the color of their UFO. But then it gets complicated, the UFOs can also join together to make other UFO's, like red and green will make yellow. Ummm. *raise hand* nevermind. If you are into puzzlers, you might want to give it a shot.



The Super Star Wars series is back for one more installment. This time, Leia (with slave gear among other costumes) joins Luke, Han, Chewie and Wicket (the Ewok) in this adventure to take on Vader and Emperor Palpatine. Enemies include Jabba's door droid, Rancor, and of course Vader and the Emperor. Mode seven graphics as well as a password option make this the last great game in the series. An easy buy, especially if you have the other two.
Console Releases
PS2
Cabela's Outdoor Adventures 2010
PSP
Disgaea 2: Dark Hero Days
Dirt 2
PS3
The Beatles: RockBand
Dirt 2
Little Big Planet: GOTY Edition
Mini Ninjas
Cabela's Outdoor Adventures 2010
Xbox 360
The Beatles: RockBand
Dirt 2
Darkest of Days
Mini Ninjas
Cabela's Outdoor Adventures 2010
Wii
The Beatles: RockBand
Muramasa: The Demon Blade
Cabela's Outdoor Adventures 2010
Cruise Ship Vacation Games
Mini Ninjas
Dirt 2
Go Play City Sports
DS
My Virtual Tutor: Reading 1st Grade to 2nd Grade
My Virtual Tutor: Reading Kindergarten to 1st Grade
My Virtual Tutor: Reading Pre-K to Kindergarten
Imagine: Detective
Ant Nation
Dirt 2
Mini Ninjas

It's 9-9-09. Rockband with the Beatles. Forty five songs that are sure to delight fans and people around the globe. I wish I liked the Beatles music. I wish I understood the infatuation. But I don't. However, for those who do, this is your defining day. In time, I probably will pick this up since I know Sarah likes the Beatles. I just know singing falls on me and it's hard to sing something that you are just not into. It's like that choir practice when you are singing hymns. You have the voice, you just can't get into it. Outside of that, we get yet another Cabela's hunting game and Dirt 2 for the racing fanatics out there. Darkest of Days also deserves a nod for having one of the oddest achievements for the 360. In this otherwise generic shooter, it actually encourages you to punch a horse. And kill it. Let me know when it goes to $20, will ya? PETA will be all over that sucker for sure.
Final Thoughts & Mutterings
As you can tell, I didn't get in much gaming this week. Unless you count Peggle (which I think I'm going to lay off for a while) and Final Fantasy on my GBA. I actually took my GBA with me on my trip to Tennessee and it actually proved its worth more than its original purpose. It allowed me to escape and I really needed it at various times on the trip. I brought along the original Zelda, Dodgeball, Fire Pro Wrestling 2 (Angle is a beast on there), but spent most of my time on FF 1. The game was like I remembered it, vast, classic rpg goodness and a little confusing too. But I welcomed the confusion as it helped to melt hours here and there away. I'm glad to be home, but I hope I find a time where I can play some Final Fantasy and see if I remember how to beat it. Take care kiddoes, re-discover a classic this week and try to not let your family bring you down.

As Always,
Kedrix of Aldrianian
(*The Forgotten One*)