Natal & Fable, Venezuela bans violet games & People receiving Guitar Hero: Van Halen early? – Welcome to the column that says hello to its little friend once a winter before going into hibernation known as Dare to Play the Game.
So, I'm back…hopefully somebody out there missed me. I spent a week in Ohio, and since I've been back; I've spent one week recovering from the cold (or whatever this sucker is) I caught while I was up there. I'm still not quite over it, however I am much better. Usually I'll wake up and my sinuses will be totally blocked, an hour or two later they usually drain. Then I'll usually cough on and off throughout the day. However, the cough is getting less and I'm slowly getting better.
Once the sinus blockage stops happening on a nightly basis, I know I'm recovered. That sort of thing really weighs on your sleeping patterns. Translation=you hardly get any sleep. I apologize in advance if this article in anyway seems like I'm going through the motions, it's not intentional…I'm still recovering. With that said, let's go ahead and jump into this week's proceedings. We got some fun things to cover.
Ode To Gamer Girls



This is Jillian Michaels. Many of you might know her from the Biggest Loser as one of the two trainers on the show. Welp, this week she is actually coming out with not one but two games featuring her likeness. The Biggest Loser gets a release as well Jillian Michael's own workout game falling in the likes of Daisy Fuentes and others. She is certainly hot, but kinda a scary hot (especially if you have seen the show). Maybe it's best that we appreciate this one at a distance.
News of All Types
Fable


Sure, Peter Molyneux's studio is developing Milo, the proof-of-concept Microsoft used to unveil Project Natal at E3. But he's clear he "never said" Fable III wouldn't incorporate Natal. Then he jokes about being eliminated for discussing it.
In an interview at the PICNIC Conference in the Netherlands last week, Molyneux's interviewer basically stipulates that there will be no Natal support in Fable III. Rather than move on to the rest of the question, Molyneux goes out of his way to correct the record, and then some. Here's a transcript of Molyneux's relevant remarks, beginning with his questioner saying Fable III will not incorporate Natal. I never said that.
I am going to say it's going to use a controller. But I've never said it's not going to use Natal. And obviously what would probably happen if I started talking about this is you would see a little red dot appear moving on my forehead. And then as I would start to speak the words then there would be a shot, gunfire, and I would be assassinated. Quite clearly it is that sensitive.
But let me give this to you absolutely straight. I have not said that we're not going to have Natal in Fable III. All I have really said is it is a controller experience. That doesn't mean there isn't going to be Natal.
Do you really think … knowing me … I wouldn't want to use something like Natal? I mean that's just mad, man.

Mark this beginning of many articles that will make me grumble and worry about upcoming games (that I may or may not be excited about) and their use of Project Natal. I'm superexcited about Fable III, heck I want to go home and screw around with Fable II for about a dozen hours. However, Molyneux leaves me happy and worried in the same breath.
Happy, because he is leading us to the notion that Fable III will still be controller based. If Project Natal is implemented at all, it would probably be believed that it will be a side item for those of us who are adventurous enough to mess with the darn thing. But this is Fable where Molyneux makes a regular habit of promising the world and then giving us a fraction of it.
Meaning, they could implement Natal in such a manner that could leave parts of the game locked away or much more difficult without this device. Could you play and finish the game? Most likely. Full enjoyment? Not as likely. I like Molyneux, Fable I & II are some of the best games I've ever played. But sometimes, he reaches for the skies and comes back with a bunch of hot air.

I would think that rather than a red dot appearing on Molyneux from somebody trying to snipe him, we would see a lighted path underneath our feet to his bed at night; but that could just be one too many late night sessions of Fable II talking.
Guitar Hero: Van Halen


Those who ordered Guitar Hero 5 in September and took advantage of the free Guitar Hero: Van Halen offer are starting to get their game in the mail, offering a peek at something that's flown under the radar until now.
The game arrives in a promotion-copy-only sleeve, with the same advisory stamped on the disc so, no case and no full value for those who think they might flip it for cash or store credit. Recipients also found no evidence of the means to export Van Halen tracks into Guitar Hero 5, probably another resale-defeating mechanism. although who knows if this capability may be enabled once the game is fully on sale in the U.S. Dec. 22.
On the whole, the game appears to be based on Guitar Hero: Metallica, skinned for Van Halen. More pics and details at the link.

BWHAHAHAAHA. For all of those who thought that they were getting a deal by buying GH5 in September, I just knew in my gut that something was going to be bad about it. I couldn't do it, heck there wasn't a day from about mid-september that went on that I didn't think about buying a copy of Guitar Hero 5. I wanted that Van Halen. The sweet taste of David Lee Roth lyrics on my tongue and rocking until dawn. Okay, maybe that's a bit too far.
But I'm so glad now that I didn't pull the plug on this. I'm not sure what version of holy hell would have occurred if I would have opened up my mailbox expecting to find Guitar Hero: Van Halen and instead saw the equivalent of a screener copy in a sleeve peaking back at me. Sure, I can go get a printer, print a custom cover and slap it in one of the many replacement cases I have running around this house…but it is just sloppy! When we fill out something for a full game, we expect the disc, case, cover and the instructions.
I know they don't want people to resell it. That makes sense. But there are techniques with the upc symbol like holing it out, scratching it up, replace it with do not resale, etc. This is a cheap way to give people a freebie. The only saving grace is that come January and February of next year when I go looking for the game, if I'm okay with a promotional copy…I'll be able to get it very cheap over Ebay or some other reseller effort. No wonder I stick with Rockband.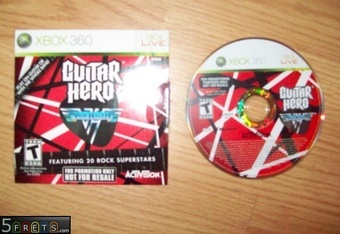 Listed above is a picture of the promotional do-hickey. I'm surprised the game isn't on a cd-r…lord knows they cut enough corners already. Somewhere, Sammy Hagar and Michael Anthony are laughing over this one.
Venezuela

The Associated Press reports that the Venezuelan government's attempts to ban violent video games such as Counter-Strike, is weeks away from passing, though it isn't likely to affect widespread sale of pirated games.
While the arguments for and against the ban of violent video games are familiar, they are set against a more violent state of affairs than is seen in the U.S., Europe and Asia.
From the AP report:
[Venezuelan president Hugo] Chavez's government stopped releasing complete annual murder figures in 2005 amid rising concerns. But last year, the Justice Ministry said homicides averaged 152 a week, or roughly 7,900 for the year. That's more than five times the murder rate in Texas, which has roughly the same population as Venezuela.
As manager of the [Internet] cafe in San Augustin, Jenny Rangel struggles with a moral dilemma as she stands beneath a "Scarface" movie poster and watches the virtual shoot-'em-up. Like many of her neighbors, Rangel rushes home at nightfall before gunshots begin echoing through the barrio.
"The message for them is that you must shoot and kill," Rangel said.
Opponents say that the government's efforts to ban violent games may shutter some Internet cafes but it won't curtail the playing of violent games nor have any effect on the country's crime rate.

Well I attempted to hold an interview with Hugo Chavez, but he isn't taking my calls. Something about him being a world leader and something about me being the dung between his toes that I couldn't make out in his native tongue. And that gun pointed in my face wasn't too friendly either. However, what he doesn't understand nor his government is that you can sit here and quarantine your whole bleeping country. You can take out violent games, violent movies, heck knock some tv shows and even ban some toys if it makes you happy. But the people still exist. Your own people.
That's the real problem here isn't it? The violent people still exist, crime still exists, regardless of video games or anything else that people want to deem inappropriate. Venezuela needs to attack its problems from within and not attacking external sources that have absolutely nothing to do with the crime rate. Start by working on your piracy problem, start by educating your people on right and wrong but stay away from banning something as silly as "violent" video games.
Releases for the Week of October 7th, 2009
Xbox Live Arcade – Lucidity(800 MS Points) & South Park Tower Defense (800 MS Points)

From the minds of Lucas Arts comes this downloadable title. It's a 2-d side scrolling title and your main character of interest is Sofi. But there is a trick to the proceedings, see you don't directly control the main character. You control objects around her like trampolines or stairs or slingshots which get her across various traps and away from enemies. The items come randomly and so the action is always changing. It's a rather interesting idea and might be worth a look.

I used to love South Park. I faithfully watched every episode up until I'd say Season 5….and then came back for sporadic episodes like the Warcraft one or others. No offense though, but everything not involving the actual cartoon that has mushroomed from the series has been nothing but a load of crap. Their games have been atrocious. This is a tower defense game where you must destroy waves of enemies using your towers strategically. Kill enemies, get coins, build more towers to kill more enemies. Rinse and repeat. Of course, this will include plenty of South Park characters and events but the graphics are downright scary and unless I hear otherwise, please avoid.
Wii WiiWare & Virtual Console – Word Searcher (WiiWare – 500 Wii Points) & Final Fantasy (NES – 500 Wii Points)



A fairly simple game and time waster, here you do exactly what the title says, search for words. A Word Search, you know those books they sell at the airline magazine counter that have a 100 puzzles for $3.95? Same thing here with 100 puzzles for about $5. Except with these puzzles, the words are jumbled up in new puzzles every time and your hand doesn't have a million pencil marks on it either.



The game that launched a franchise. If you haven't played this one, well then shame on you. Pick four characters from a plethora of classes including fighter, thief, white mage, black mage and more. Then take your Warriors of Light to save the world from the impending darkness. Fantastic game, I have it on my GBA and PS1 and you can now own a copy for almost nothing.
Console Releases
PS2
Star Wars the Clone Wars: Republic Heroes
NBA 2k10
Disney Sing It: Pop Hits
PSP
Star Wars the Clone Wars: Republic Heroes
Naruto Shippuden: Legends: Akatsuki Rising
NBA 2k10
NBA Live 10
NBA 10: The Inside
PS3
Demon's Souls
NBA 2k10
Operation Flashpoint: Dragon Rising
NBA Live 10
Star Wars the Clone Wars: Republic Heroes
Saw
Afrika
Disney Sing It: Pop Hits
Xbox 360
NBA 2k10
Operation Flashpoint: Dragon Rising
Star Wars the Clone Wars: Republic Heroes
NBA Live 10
Saw
Black College Football Xperience: The Doug Williams Edition
Wii
The Biggest Loser
Jillian Michaels Fitness Ultimatum 2010
Star Wars the Clone Wars: Republic Heroes
Spore Hero
Disney Sing It: Pop Hits
Game Party 3
Sudoku Ball – Detective
Islands of Dr. Frankenstein
DS
Star Wars the Clone Wars: Republic Heroes
A Witch's Tale
Spore Hero Arena
The Biggest Loser
Imagine: Zookeeper
Animal Paradise Wild
Aqua Panic

The most obvious big release of the week is Demon's Souls for the PS3. A landmark RPG exclusive described as a spiritual successor to King's Field for the PS3 (I honestly would give it a shot if I owned the console) and could be a lot of fun. Be warned though, this game is not for the casual RPGers…it's hard but rewarding. The yearly slew of basketball titles mark this week as well as a new Star Wars game to delight the loyal fanatics. Outside of that we get some Fitness games and some other odds and ends to complete the week. Nothing for me personally, but certainly enough to garner some interest in those reading.
Final Thoughts & Mutterings
Some of you might ask, well even though you were away in Ohio and taking a siesta, haven't you played some games lately? Well sure I did. I actually tried out two new games. Soul Calibur IV and Watchmen: The End is Nigh Pts 1 and 2. Soul Calibur was my main poison in Ohio and I spent roughly half a dozen hours beating the game in story mode, arcade mode and designing a couple of really cool characters. It's a shame it was all done on somebody else's account because I had about a dozen achievements and some really detailing creations. But perhaps at some point, I'll try recreating some of that on my own account to be able to fully enjoy.
Once I got home, I was on strict Watchmen duty. I played through the entire first episode with Rorschach and working back through now the same episode with Night Owl. It's not an awesome game by any stretch but it's a cool little beat em up with a well done storyline that will you can give away some good hours too. I do plan to keep playing through the game, though I have a feeling I'll need a mini-guide for all of the cards and batteries I'm supposed to find (they are small as heck) if I expect to get the appropriate achievements. It's not bad, and if you can snag the entire disc package for under $20…go for it. With that said, have a good rest of the weekend and a few kind words about getting over my sickness would be appreciated. Take care kiddoes.

As Always,
Kedrix of Aldrianian
(*The Forgotten One*)