Atlus stops Undersupplying, Japanese PS3 Sales Up, & Should Game Developers be on Facebook? – Welcome to the column that doesn't understand why 29 different Wii games need to be released in a week when the only one you need is Press Your Luck known as Dare to Play the Game.
Remember that pain in my side that was something between a strain or possibly worse stemming from my bronchitis? Well it seems to be healing up nice. I had a lot of good rest and it has taken its sweet time but I'm pretty close to being back to 100%. It's amazing how much a sickness can take out of you. Like I mentioned before, I have not had something like this since I was in college. I don't ever want to experience that ever again. We won't be visiting that person's house again as a result.
But I guess what doesn't kill you makes you a whole lot stronger eh? That's a bunch of baloney. It just ticks you off when simply bending over to get a sock hurts you in the process. I didn't even have passion to play video games for a while, though I was able to catch up and do some gaming finally over the past few days. The only thing it does do is make you appreciate your mobility. Now that I'm mobile again, I'll make darn sure to do something with it. Like getting up to stare out the window instead of sitting on the couch.
Ode To Gamer Girls



These gals are Anli & Lauren. Quite recently these two lovely lasses got married. Yes, girl on girl action. The best part? Well actually that is the best part. The second best part? They are both hardcore gamers. I would elaborate more but I need a really long cold shower after looking at this. You can find more information about their wedding by clicking here..
News of All Types
PSP


It's not the fact that Atlus has released a selection of its best PSP games in downloadable form on the PlayStation Network, but how they announce said release: no more purposefully undersupplying retail channels!
Oh the Atlus PR team has fun. Just look at the title to their press
release: "ATLUS ENDS YEARS OF ALLEGEDLY NOT PRINTING ENOUGH COPIES OF GAMES AND THEN LAUGHING AT EMPTY-HANDED CUSTOMERS, RELEASES DIGITAL DOWNLOAD VERSIONS OF PSP SYSTEM CLASSICS VIA PlayStation NETWORK." This is how they announce the addition of Crimson Gem Saga, Hammerin' Hero, Yggdra Union, Steambot Chronicles Battle Tournament, R-Type Command, and Riviera: The Promised Land to the PlayStation Network.
Wait – it gets better.
"We've finally reached a point where, according to our physicians,
any further laughing at our masterfully executed plan of never making
enough copies of our games for everyone poses risks to our health,"
admitted Aram Jabbari, Manager of PR and Sales at Atlus. "In order to
prevent illness, and because, hey, sometimes you just want to change
things up, we're very pleased to offer PSP system classics via digital
download. It may mean that we'll have to shut down our numerous online auction accounts, as we won't be able to hoard large quantities of our hard-to-find games and then slowly trickle them out at obscenely high prices anymore, but the end result will be better for everyone."
I knew that JabbariBay eBay handle sounded familiar…

Atlus, I swear if I didn't actually enjoy some of your rpgs I would arrange a barbeque. Atlus has been famous for releasing any game they put out in limited quantities. Basically it makes all of their games a collector's item and leads to some ridiculous pricing. I have a good number of PS1 and PS2 games that if I ever started to sell them, I probably could make a decent penny. But as time has worn on, I've resisted the urge to try to make a buck or two and stick to what I like.
If they were a small company and just wanted to release things in small quantities I could understand. Hey, you don't have to be a crazy printing press to sell me games. But when you do it on purpose to stimulate demand, I've got an issue. Add in the fact that they let a few copies trickle out every so often and then mysteriously show up on Ebay by a variety of handles…yeah I'm not going to be happy in the slightest.
I think the fact that they now have found a way to get rid of the middle man in digital distribution is the ultimate slap in the face. Why? It isn't because they want to make more money, that's normal and natural. It's the way they went about it by laughing in the consumer's face. Haha, you can't own physical copies of our products but here buy it off of us through digital means. It really really reeks.

Here is a copy of Valis IV on the Super Nintendo sealed and up on Auction (by a private seller I'm guessing). $399.99. It's a great Atlus game but come on, I can't even begin to comprehend this thievery, sealed or not.
Playstation 3


A spate of price cuts has hit game hardware. Famitsu publisher Enterbrain examines how it has affected each platform. Let's have a look, shall we?
On September 3, the price of the PS3 was dropped by ¥10,000 to ¥29,980 from the previous price of ¥39,990. In that week, 150,832 units were sold. By October 11, Sony had seen a 707 percent increase in PS3 sales in Japan.
Sony also lowered the price of the PSP-3000. The ¥19,800 was lowered slightly to ¥16,800. Small price cut or not, PSP sales in Japan spiked 126 percent by October 11.
Last month, Nintendo announced a price cut for the Wii: the ¥25,000 console would go for ¥20,000 starting October 1. According to Enterbrain's data, Wii sales increased by 29 percent as of October 11.
Microsoft also cut the price of the Xbox 360 in Japan. On September 10, the ¥39,800 Elite console was marked down to ¥29,800. During the week of September 7 to the 13, Microsoft did see a bounce in sales. But for the period ending October 11, Xbox 360 sales were actually down 70 percent in Japan.
According to Famitsu, the spike in sales for the PS3 and for the Wii can be attributed to the upcoming end-of-year titles: Final Fantasy XIII and New Super Mario Bros. Wii.

Things continue to go right for the PS3, finally. It seems that Japan is more susceptible to price cuts than the United States. The people of Japan seemingly forgot about the console. Furthermore, games like Final Fantasy XIII are going to sell huge in Japan because they love their rpgs. It's funny how that title which would do okay here would not be a system seller for us. In Japan however? They are probably having midnight sales and people out the door.

A screen shot from the most recent PS3 commercial, this time for the new Ratchet & Clank game. Good use of marketing again. I wonder if they do completely different commercials in Japan.
Community

Insomniac Games boss Ted Price recently confessed he'd been ignoring the world of Internet "community" that he'd been proselytizing as the future of gaming. Apology necessary?
Over at the official website for the creators of this week's Ratchet & Clank: A Crack In Time (aka the place I go to watch my Ratchet scores slide down the chart), the man running things admitted to only recently signing up for Facebook. And he still isn't ready to Tweet.
Here he is, explaining himself on his company's website:
Recently I've been feeling like a big hypocrite. Since Resistance: Fall of Man I've been extolling the virtues of the community features in our games. And a few weeks ago I mentioned in an interview that I think that community represents a hidden arms race in our industry.
But I have to come clean. I haven't actually been part of the community. I haven't been on Facebook until lately. I don't Tweet. I don't have a MySpace account. And I only post on forums occasionally. What's wrong with me? Haven't I heard that being part of the "community" is freaking awesome? How can I promote community if I'm an outsider?
Some might consider posting on Internet forums plenty of community right there. But Price runs a company that is releasing a game this week that has the word "Community" as one of its main menu options. And, hey, developers, gamers, reporters, PR people are on these networks. Is it essential to be connected in this way? Would there be something archaic about a person professionally involved in gaming shunning social networks, as if it was as essential to keeping up with things as, I don't know, reading a book, using a phone or trying Guitar Hero at least once?
I've seen developers join Twitter and then leave it. I've had gamers ask to be my friend on Facebook or argue with me on an Internet forum. Public relations folks and game creators alike use social networking tools to get the word out and sometimes to make gaffes in whole new ways.
In Price's case, the question is whether the head of a development studio has anything to be sorry for if he's not part of Internet "community." Do you demand the people making the games you play indulge in such things?

It's been the way for a long time that Developers and basically anybody involved with the gaming business barely make a sniffle when it came to online commitments. Heck, I went through college at first trying to pursue a programming career only to realize that most of the people in the major weren't gamers or even all that computer savvy. Unless there was something about code wrapped up in what they were doing, they were a little clueless.
That's changed. The evolution of the internet into a social medium has forced these programmers and developers to come out of their shell. They might not want to, but there is a need for the fans to connect with the people responsible for something that they love (or in other cases hate).
Personally, I'm still not sold on Tweeting. It's a status update app that is masquerading as an online social community. I do use Facebook frequently as I'm able to link my reviews and anything else I'm interested in. There is just a lot more going on there and I actually feel like I am keeping up with my friends and they are keeping up with me. And MySpace? Well I still have a MySpace account but everybody seem to give up on it when ads completely took over.
Releases for the Week of October 28th, 2009
Xbox Live Arcade – Rainbow Islands – Towering Adventure! (800 MS Points) & Inferno Pool (800 MS Points)

If you remember, back in June this game was released for WiiWare and I guess it generated some fair buzz so they ported it over to Xbox Live Arcade. You play as Bobblun or Bubblun (Bob & Bub) and use rainbows to vanquish your foes. Per reviews, it was only a decent update of the classic but perhaps they fixed some of the control issues.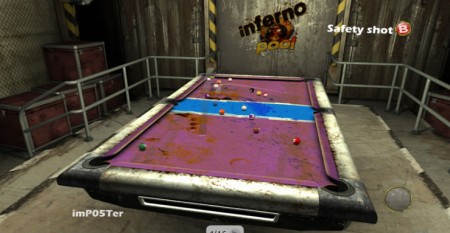 Inferno Pool is not your normal pool game. In this competitive game, there are actually players firing balls at their opponent as they try to win their table. One to four players can play offline or online. I'm kinda interested as pool games always draw me in (*caugh* Bankshot Billiards) and Lunar Pool on the ole NES was one of my faves and it was a different spin on an easy concept.
Wii WiiWare & Virtual Console – Ghost Mansion Party (WiiWare – 1,000 Wii Points), Tales of Monkey Island: Chapter 3 (WiiWare – 1000 Wii Points), Zombie Ate My Neighbors (SNES – 800 Points) & Golden Axe (Arcade – 900 Wii Points)



This game is set up like a computer board game where the ultimate goal is to help Fazzy the ghost get back into his mansion. It seems that some evil scare artists have locked him out and Fazzy is offering treasure to anybody who helps. Of course by landing on many squares during the game, you'll have to play mini-games. The only part that worries me, the official description reads: "Get Your Wii Remote controllers ready – You're About to Play With Them in Ways You've Never Imagined." Oh, I'm pretty sure I've imagined just about everything to do with those controllers and that's not a very nice thing to tell somebody to do.
Alrighty, Guybrush is back in Chapter three. This time he is questing for the voodoo exfoliating La Esponja Grande which is part of his big quest to save Elaine from the rampant Pox of LeChuck. He'll have to go through the guts of a giant manatee and meet new characters like the sexy pirate hunter Morgan LeFlay & the explorer Coronado De Cava. Good stuff, hopefully this makes the jump over to the 360 in the near future.



A truly cult classic Super Nintendo game. You played as Zeke or Julie and they battled all sorts of monsters in neighborhoods, malls, and other crazy areas. They must save the helpless people from being afflicted by of course zombies but also other monsters as well. The game did get some censorship due to some of the horrific elements but it is a game truly worth playing especially at this time of the year.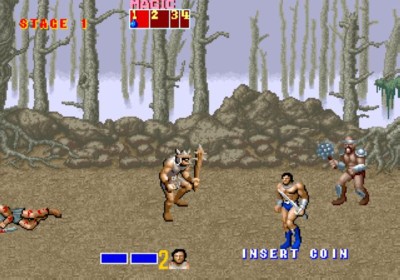 One of the best arcade games of my heyday, this brought together Ax Battler, Tyris Flare and Gilius Thunderhead to take on the evil Death Adder. They had to save the king and princess but magic and mighty weapons were at their disposal. They could also grab a friend if they needed the help which is something that some of the console versions missed. Fun buy, a little high on the points side perhaps but worth it.
Console Releases
PS2
DJ Hero
Dance Dance Revolution X2 Bundle
Ben 10 Alien Force: Vilgax Attacks
PSP
Little Big Planet
Ben 10 Alien Force: Vilgax Attacks
Petz Dogz Family
Spongebob's Truth or Square
Petz Saddle Club
PDC World Championship Darts
Petz Hamsterz Bunch
PS3
Ratchet & Clank Future: A Crack in Time
Tekken 6
Dragon Age: Origins
DJ Hero
Fairytale Fights
Madagascar Kartz
Xbox 360
Forza Motorsport 3
Grand Theft Auto: Episodes from Liberty City
DJ Hero
Tekken 6
CSI: Deadly Intent
Fairytale Fights
Ben 10 Alien Force: Vilgax Attacks
Spongebob's Truth or Square
Are You Smarter than a 5th Grader: Game Time
Madagascar Kartz
Wii
Dance Dance Revolution Hottest Party 3
Rabbids Go Home
Press Your Luck
DJ Hero
Madagascar Kartz
Hasbro Family Game Night 2
SpongeBob's Truth or Square
iCarly
Mountain Sports
Ben 10 Alien Force: Vilgax Attacks
Are You Smarter than a 5th Grader: Game Time
Nerf N-Strike Elite
101 in 1 Party Megamix
World of Zoo
CSI: Deadly Intent
Vegas Party
Remington Great American Bird Hunt
Ski-Doo: Snowmobile Challenge
Arcade Shooter: Illvelo
Ni Hao, Kai-Lan: Super Game Day
SimAnimals Africa
Horse Life Adventures
Monster 4×4 Stunt Racer
Dream Cheer & Dance
Water Sports
All Star Cheer Squad 2
Drawn to Life the Next Chapter
Safari Adventures: Africa
Doctor Fizzwhizzle's Animal Rescue
DS
Chronicles of Mystery: Curse of the Ancient Temple
Nostalgia
ICarly
Disney Fairies: Tinkerbell and the Lost Treasure
Touchmaster 3
Press Your Luck
100 All-Time Favorites
Madagascar Kartz
Atelier Annie: Alchemist of Sera Island
Drawn to Life: The Next Chapter
Diner Dash: Flo on the Go
SpongeBob's Truth or Square
The Backyardigans
CSI: Deadly Intent – The Hidden Cases
Ben 10 Alien Force: Vilgax Attacks
Are You Smarter than a 5th Grader: Game Time
Hasbro Family Game Night
Dora the Explorer: Dora Puppy
Rabbids Go Home
World of Zoo
Sushi Academy
Petz Dolphinz Encounter
Dream Salon
System Flaw
PDC World Championship Darts
SimAnimals Africa

Goodness gracious! I never saw much crap for the Wii and DS in my life. Wait I said that last week too. It still holds true! Twenty nine games on the Wii, twenty six on the DS. You would think with a list like that, that there would be something decent, but there isn't much. Press Your Luck, DJ Hero, Chronicles of Mystery, Rabbids Go Home and that's about it. It's a little depressing.
The best games this week sit on the PS3 and 360. Ratchet & Clank head up the list with some good media blitz and the usual awesome shooting action. Tekken 6, I really would like to get excited for but the last one I played was 4 and I wasn't all that impressed. (3 was a lot more awesome). Grand Theft Auto: Episodes from Liberty City intrigues me. Is it wrong that I actually want to buy that in retail form more than I want to buy a copy of GTA IV? Maybe I'll just get both in the near future.
There are some miscellaneous games that I am interested in such as Fairytale Fights in which I would never pay the full price but might take a look when it goes down in price to more reasonable means. Finally there is a new CSI game and another Forza snoozepiece. The cars are pretty darn attractive but I can't get into traditional racers.
Final Thoughts & Mutterings
Yes, I have finally cracked open a full retail game for once. WWE Smackdown vs Raw 2010 for the Xbox 360. It's been a long time since I've picked up a wrestling game, but let me tell you so far it has been worth it. The action is pretty awesome and the game is so vast and complicated at the same time. The controls that they tell you about are not the complication. The controls they don't tell you about are the problem.
The instruction book I swear was written by a two year old because they leave out half of the moves. I spent almost an hour at one point figuring out how to get Shawn Michaels on top of JBL and try to make him say I Quit. The game can be frustrating as well when it forces you to perform certain goals in order to advance. But it was rewarding to dive off the cage and take out an opponent.
The community is probably the best thing about the game. In the old days, you couldn't download creations, you had to go to various message boards, copy formulas and then try to recreate them. Not anymore, Wrestlers, Storylines, Finishers are all available from others free of charge. I'm still figuring out the storyline creation and it will take sometime before I have a full review. There are glitches as well that prevent this game from being the best ever but it's an awesome effort (especially if they release a patch or two). Take care kiddoes and enjoy the rest of your week.

As Always,
Kedrix of Aldrianian
(*The Forgotten One*)