Nintendo ponders the Kindle for DS, Japanese Gamers lack of Curiosity, & Industry Confessions? – Welcome to the column that contacted Montel Williams for an appearance but was pushed off because we were less exciting than an agoraphobic cat lady who isn't sure who the Siamese's baby daddy is (and doing the segment from her house) known as Dare to Play the Game.
So, it's just another week in paradise eh? Except I live in Texas and most people seem to have the disposition of angry red fire ants. And they can't drive. Most of my week was spent playing WWE Smackdown vs Raw 2010. It's the first wrestling game I've played since SvsR 2007. 2008 & 09 seemed like steps backward for the franchise, but I finally got back on board with all of the improvements.
Though the review probably won't be out until next week, I am having a lot of fun with the game. There are a few glitches and issues which I will be explaining but the core gameplay is certainly a step up since I last saw it. It's flat out impressive how much creating you can do with characters, finishers, and storylines. I am very happy about the game is a blast.
Ode To Gamer Girls



We love Milla, we really do. When she's not shooting the newest Resident Evil sequel, she had a little bit of time to sit down and do some interviews. In a recent one with Parade.com she took a stance on movies, video games and parenting. She said and I quote "I think parents need to take a lot more responsibility than they do about whether it's OK for their children to go to Resident Evil or any other movie with violence or sex or whatever. It's really easy to blame Hollywood for violence having an effect on kids, but movies would have no power if parents would just set their own standards. And it's the same with video games." Here, here my dear; well spoken…so parenting types put that in your pipe and smoke it! Oh wait, nobody says that anymore. Put that in your Prius and drive it! Doesn't exactly have the same kick. Back to the drawing board.
News of All Types
Lost Planet 2


Usually, when a country's gaming scene struggles, game creators take the heat. But an Edge interview with Lost Planet 2 producer Jun Takeuchi suggests gamers could also be to blame.
Here's Takeuchi discussing the winter 2009 Lost Planet 2 with Edge magazine's interviewer. Note that Lost Planet 2 is designed to be played in co-op and supports online play. And note that online gaming isn't very popular in Japan.
Edge asks: "Sticking with co-op, do you find it strange that Japan has one of the best broadband infrastructures in the world but online gaming is yet to really take off on consoles?"
After mentioning the rare popularity of co-op Monster Hunter and online Final Fantasy XI, Takeuchi says:
I just can't understand why Japanese gamers are so reluctant to play networked games. I find overseas players to be more curious; they go towards what they think looks, sounds or feels fun by themselves. In Japan, I have the feeling users are just waiting for us to guide, to feed them with fun things. The problem is that the online experience is something that requires users to make a move first. Nobody is going to open the door for you. You need to decide to go into it by yourself. I want to create in Japanese gamers that curiosity for going online. Because of course you can enjoy the game alone, no problem, but as soon as you are with a friend coordinating, you enter into a whole other dimension.
That interview runs in the new Edge issue, which covers the 2009 Tokyo Game Show and offers that new spin on the familiar topic of the modern struggles of the Japanese gaming industry. The issue is available in the U.K. and available to U.S. subscribers (like me) now.

I'm not sure the average Japanese gamer wants to open that door. Heck, there are a ton of filthy Americans behind that door. I know, I'm one of them. Seriously though, it is changing a culture. When it comes to pop culture, most countries do tend to lag behind America; look at blue jeans and other fashion trends. The concept of online gaming is still new, changing and honestly a little scary.
Think about it. You're a 14 year old kid in Japan, you have gamed for probably 7-8 years. You do very well in school and you love rpgs and perhaps some platform games. You hear about a magical world called World of Warcraft. There are elves, dwarves, orcs, trolls and other assorted creatures to play with and interact through communication. Then all of a sudden you accidentally log on to a pvp server because you want to get in on this communication thing.
All of the sudden, some level 80 is pounding your level 3 stick carrying rump and making you wish that you had signed up for an extra week of calculus. Except that level 80 is the Japanese kid and the level 3 is your father who is checking up on you. Maybe they are afraid of what they can become. However, with games like Final Fantasy XI; maybe they can slowly break the notion that they need to make the first move.
Maybe the Japanese gamer is afraid of running into this guy during their online game. One who shouts out lyrics to one hit wonders. Of course that guy who teabagged them 26 times straight might be a concern too.
DS


Could a future version of the Nintendo DS hardware use 3G for digital downloads? Nintendo president Satoru Iwata says the company could take a cue from Amazon's Kindle business model.
Unlike today's smart phones and mobile 3G cards, which require monthly fees to access the network, Amazon's Kindle eBook reader figures in the price of 3G into the initial hardware cost, so the customer effectively pays one fee for the device and a lifetime of 3G access. Speaking at an analyst briefing following last week's lowered financial outlook, Nintendo's president called the Kindle's price plan an "option for the future."
"Only people who can pay thousands of yen a month [in mobile phone subscriptions] can be iPhone customers. That doesn't fit Nintendo customers because we make amusement products," Mr Iwata said. The Kindle's one-off cost would better suit Nintendo's customer base, he said. "In reality, if we did this it would increase the cost of the hardware, and customers would complain about Nintendo putting prices up, but it is one option for the future."
I don't see any problem with the handheld's current Wi-Fi access, but then again I rarely go anywhere that doesn't have an access point these days. I suppose if you want to be able to download new games nearly anywhere, 3G is certainly one way to go. Would you pay more for a 3G-enabled Nintendo DS?

Not a bad idea. I'm not a big fan of the Kindle; but that's the old dodger in me because I like to handle books. That and I think the big money to be made with the Kindle is in textbooks and the classroom with these tools where cost & weight has completely gone out the window. Anyhow, that's not what this is really about, it's about the business model.
The business model is actually very smart. Part of the reason I have a normal cell phone and not some smooth Blackberry or anything with decent Internet is that I don't want to pay a ridiculous fee every month. I would like a model that includes the 3G access and built into the hardware price. Let me know upfront what I'm gunning after, don't keep socking it to me each month. Sure you can keep the DS they way it is and just hope that those who online game sit themselves typically in a Panera Bread or Buffalo Wild Wings or an Internet Café.
But it is not very logical to expect those things in the long run. Nintendo has an amazing user base with the DS and unless they have a serious misstep, they aren't going anywhere. Furthermore, 3G access is becoming more prevalent and this would be a great way to incorporate the access with the product. Yes, they might scoff at the price some but once they understand what they are getting, they should become more understanding.

The DS is on the verge of taking the best of three markets and putting it into one device. Gaming, wireless access, and yes the cell phone. We know gaming is secure, but Nintendo seems leery on pulling the trigger for the other two. Especially the cell phone, but it could be a bright future if they just plan for it and execute.
Evil Deeds

What's the most cruel, unfair, downright evil thing you've done in a game? Bitmob polled some industry types with the question. Hal Halpin was a real jerk in Mario Kart 64; Todd Howard created a suicide squad in X-Com.
Halpin, the Entertainment Consumers Association's president, deployed the lightning bolt with ruthlessness on fellow racers attempting to jump the gorge on the stadium track. "Like my character [Wario], I rarely hesitated in sending other racers off the cliff," Halpin answered.
Todd Howard, the executive producer at Bethesda Game Studios, came up with a failsafe against his men getting mind-controlled by aliens in X-Com. Since they dropped their weapons under an alien spell, he equipped them with live grenades that, when dropped, went boom. No more mind control problem. No more soldiers, either, but that's their problem.
Of course, there's a lot of evil done in the Sims (a franchise with a capacity for cruelty unlike many others), Knights of the Old Republic, and plenty of RPGs, for that matter. One guy even gratuitously shot up all the cows in Call of Juarez. Check it out. And tell us about all the innocent people you've wasted with a headshot, down in the comments.

I think all of us have one time or another went on a killing spree in Grand Theft Auto, I'm not sure that even counts to be honest. I've personally kept myself alive for a good hour on Vice City with a shotgun, some grenades and a good barrier of cars because nothing short of the army could do anything to hurt me. Games are giving us the flexibility to be the bad ass or lowlife we always secretly wanted to be. Or we were just bored enough to make it happen.
My most evil thing think I can think of doing was the original game of Fable. At some point in Fable, you are strong enough to do just about anything. Hence, anything that is actually in town (or really anything that isn't some huge boss) is powerless to stop you. This includes the women, men, children, guards, school teachers, just about anybody. So I decided to go postal.
I started to slay the whole town. Nobody and nothing was safe. Guards kept coming and they kept dieing. I watched as the fine counter got huge as more people lay in the streets. I was a one man wrecking crew for a good thirty minutes. Then, all of the sudden the game booted me out of the city and forced me to pay a fine. The game couldn't win, so it had to quit. But murdering women and children in a video game probably isn't very "evil", feel free to include comments on your evil deeds below.
Releases for the Week of November 4th, 2009
Xbox Live Arcade – Wallace & Gromit – Episodes 2,3 & 4 (800 MS Points each)

Bucking the normal trend this week, Wallace & Gromit decided to go ahead and release the other three episodes left in the series. The episodes are called Last Resort, Muzzled & the Bogey Man.
Last Resort involves setting up an indoor holiday resort out of a cellar. Muzzled is Wallace & Gromit's quest to stop Mr. Muzzle who is stealing people's donations to a fake dog shelter. The Bogey Man deals with a guy who wants to tear up the town because the town sits on a giant golf course that he owns. It's up to Wallace to challenge him for the deed and keep the town safe.
Each of these titles are 800 points a piece. Hopefully, we get a package deal or a disc release somewhere down the road. The humor is interesting and we know Telltale always puts forth some quality games.
Wii WiiWare & Virtual Console – Carnival King (WiiWare – 700 Wii Points), Aha! I Got It! (WiiWare – 500 Wii Points), Family Card Games (WiiWare – 500 Points), Fighting Street (TG16 – 800 Points) & R-Type (Sega Master – 500 Wii Points)



Ever wanted to play some Carnival games at home? Besides Whack-A-Mole? Didn't think so. Well, somebody ignored our claims and decided to release one for the WiiWare. Three different amusement parks with four sets of games and a bonus round are included. These can test speed and accuracy. The games can also be adjusted to the user's difficulty level as their skills grow with each passing game.



Today is Milo's Birthday. His present? A room full of puzzles from his dad. And he can't leave the room until he solves the puzzles. This sounds more like a horror film than a present. You'll need to shake, push and twist the Wiimote to collect and use in game items. There are plenty of puzzles to be solved like why did mommy leave your daddy? Cause Milo, Daddy once got caught with a stripper solving the puzzle of why his zipper was down. I won't fill in the details but let's just say this game creeps me out a tad.



Daddy, Mommy, Sarah and Billy are back. Again. Please clue me in when Family Horror film is released, this family is needed to be slashed more than Dr. Phil if he appeared in a Saw sequel (yes I saw Scary Movie 3). Games this time around include Daifugo, Speed & Memory. Multiplayer as well as single player action is included at a very cheap price.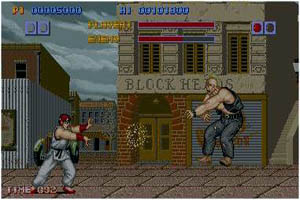 Fighting Street is a unique look of how a franchise starts. While the game isn't very good, it's an important first start of one of the most successful fighting game franchises. Street Fighter. Here you take Ryu or Ken and fight many different fighters from around the world. Ones like Birdie, Gen, Adon and of course Sagat. There are many moves and locales and despite the gameplay, it was the keystone of what was to come. Eight hundred points isn't a lot if you are interested in the history.



Most of you know R-Type. It's a side scrolling shoot em up and was released way back in 1987. Take a tiny ship, give the game a very hard difficulty and blow lots of spaceships up. Eight challenging levels are provided. The nice thing about the Sega Master version is that not only does it push the graphical limits of the system at the time but it also included a special secret level that wasn't in any other release.
Console Releases
PS2
Jak & Daxter: The Lost Frontier
Band Hero
Jurassic: The Hunted
PSP
Star Wars Battlefront: Elite Squadron
Jak & Daxter: The Lost Frontier
Ghostbusters
PS3
Dragon Age: Origins
Pro-Evolution Soccer 2010
Star Wars the Force Unleashed: Ultimate Sith Edition
Lego Rock Band
Band Hero
Xbox 360
Dragon Age: Origins
Star Wars The Force Unleashed: Ultimate Sith Edition
Lego Rock Band
Band Hero
Pro-Evolution Soccer 2010
Jurassic: The Hunted
Wii
Lego Rock Band
Band Hero
Food Network: Cook or Be Cooked
Dance Dance Revolution Disney Grooves
We Wish You A Merry Christmas
Need for Speed: Nitro
We Cheer 2
Barbie and the Three Musketeers
Hidden Mysteries: Titanic – Secrets of the Fateful Voyage
Academy of Champions: Soccer
Remington Great American Bird Hunt
Shaun White Snowboarding: World Stage
Jurassic: The Hunted
Dora the Explorer: Dora Saves the Crystal Kingdom
Ultimate Party Challenge
My Baby First Steps
Dream Salon
DS
Hidden Mysteries: Titanic – Secrets of the Fateful Voyage
Jewel Master: Egypt
Star Wars Battlefront: Elite Squadron
Jewel Quest Mysteries
Lego Rock Band
Style Savvy
Agatha Christie: The ABC Murders
Barbie and the Three Musketeers
Band Hero
Ni Hao, Kai-Lan: New Year's Celebration
Sushi Academy
Disney's A Christmas Carol
Need for Speed: Nitro
Junior Brain Trainer
Reversal Challenge
Junior Classic Games
Imagine: Babyz Fashion
WireWay
Horse Life Adventures
C.O.P The Recruit
Safari Adventures: Africa

There are a couple of games that interest me this week. Namely Dragon Age: Origins & Lego Rock Band. Dragon Age looks like an amazing RPG and Lego Rock Band looks like some fun songs and a bunch of Lego bricks dancing in unison. I still haven't bought Lego Rock Band despite it being $37.99 at Fry's this week. I'm still tempted as I write this but I might wait it out. Not really sure.
Besides that, we have the Ultimate Sith Edition of Star Wars: The Force Unleashed, Band Hero (pop version of Guitar Hero) and crap for the Wii & DS. Let's be honest, I find little reason to go into the Wii or DS list every week when the third title on the Wii sales pre-order list is a game based around the Food Network. The DS doesn't fair much better. Hopefully those who do pick up Dragon Age, Lego RB, Star Wars or Band Hero will enjoy their purchase.
Final Thoughts & Mutterings
After this week, I will be done with my DVD reviews for the time being. So, as a result for the first time in months, I will do a series of video game reviews. WWE Smackdown vs Raw 2010 is a given and will be first. After that, I plan to dive into the episodes stories of Grand Theft Auto with the pack that came out last Tuesday on disc. My review should be unique since I have never played GTA IV and will evaluating this as a slimmed down version of the GTA IV experience. After that, it becomes a little more muddy as to order. I have available the disc version of the two Watchmen games, Marvel SuperHero Squad for the PS2 and Red Faction Guerilla for the 360. Plus, if I do decide to buy Lego Rock Band after all, that will probably fit right after the GTA Episodes. I have a feeling 2010 will bring the site some game reviews and not just because I paid for them. So here is to the adventure of the coming holidays and whatever wonderful things might happen. Take care kiddoes and enjoy the rest of your week.

As Always,
Kedrix of Aldrianian
(*The Forgotten One*)