Mature Content in Games, Bad Band Hero Track Edits & Rock Band 3 will teach you to play the Guitar? – Welcome to the column that won't teach you how to be a video game columnist and instead just act like one known as Dare to Play the Game.
Well, I finally finished the review for WWE Smackdown vs Raw on the Xbox 360. I put a good 2 ½ weeks into playing it and wrote up a very lengthy & detailed column if you want to go read it. Overall, I do love the game and think it's the best WWE game in years. Of course, as we all know even before reading; the game isn't perfect. But it shows that if designers lead with their creativity hat firmly on their head, they can produce a really special product.
From here, I will be moving on to Grand Theft Auto: Episodes from Liberty City (Xbox 360). This game will probably be a bit shorter to review. After all, it is DLC put in stand-alone disc form. So I'm probably going to allow a week before posting a review. Honestly, I haven't played a GTA game to completion since Vice City. I played San Andreas and the PS2 ports of the PSP Stories games but after about 10 hours on each, I reached for something else. I'm hoping that this DLC pack renews my faith a little.
Ode To Gamer Girls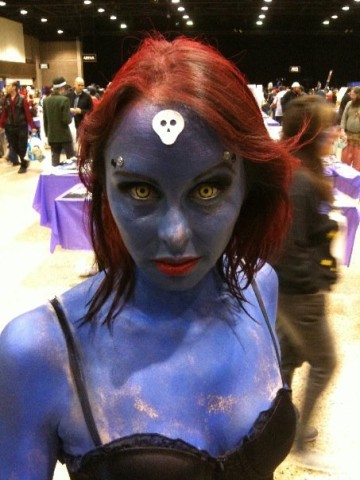 This is a lovely lady playing the part of Mystique from a recent Comic Con and the picture taker is devoted follower of this column: Teedub. Some may ask me why did I chose somebody who dressed as Mystique as a Gamer Girl. Well, comics and games go hand in hand. I read comics for many years and I still find time to read through an occasional graphic novel or one of those Marvel Essentials books. They have always intermingled in my eyes. Besides…with those eyes staring at me in that picture, I had no other choice than to obey.
News of All Types
Rock Band


In an interview with the Chicago Tribune, Dhani Harrison – son of former Beatle George Harrison – has revealed that he's not only working on Rock Band 3, but that it's going to take the series in a new direction.
The fact he mentions a third Rock Band should surprise only those who wake up every morning shocked to see the sun has risen. But the specifics, and why he's involved in the project, those are a little more interesting.
"I'm working on Rock Band 3′ and making the controllers more real so people can actually learn how to play music while playing the game," he told the newspaper. "Give me a couple years, it's going to happen."
I don't know. I enjoy playing Rock Band because I can't play the guitar. If I wanted to learn how to play the guitar I'd, well…learn how to play the guitar.

Story time. When I first picked up Guitar Hero/Guitar Hero 2 for the Playstation 2, I admittedly had visions of playing a real guitar. I had so many visions that I sought the help of a local music friend to get me a good guitar. I finally got one and I bought about half a dozen books and a dvd about learning to play guitar that now sit on my bookshelf. I honestly tried to learn how to play by myself.
But what did I find? Boys and girls, it's no cakewalk. Not that I thought it ever was, but it's not to be taken lightly. I still have the guitar, and I still want to play someday but I think professional lessons (or a very nice friend) might be more appropriate. The point is I don't really want to learn the guitar from playing a video game. Because why? If I want to learn how to play the guitar, I go and play the guitar.
I take solstice in the fact that I can medium on any song and hard on some in Rock Band. I am naturally proud of the fact that I can sing well enough to even finish some songs in expert. I don't need anything special from my Rock Band 3. I just need more DLC. I actively support Rock Band's DLC by buying packs, albums and individual songs. I don't need some kid who just happens to be offspring of music royalty trying to make something to break up that party.

I'm sure there will be a few females in the crowd who thinks he's so dreamy. Psssst, he still looks like a noob!
Band Hero


If you are planning on picking up Band Hero because it contains some of your favorite songs, be warned that some of the tunes have been butchered edited beyond enjoyment.
I picked up the game for the 360 the other day so my girlfriend and I could play through "Angels of the Silences" from Counting Crows, but there were several other tracks that caught my attention. For instance, I secretly enjoy Fall Out Boy's "Sugar, We're Goin Down," despite the fact that everyone else I know despises it. Fair enough. I start playing – alone – only to discover that some of the more colorful lyrics have been cut. For example:
Original Lyric: "I'm just a notch in your bedpost, but you're just a line in a song"
Band Hero Lyric: "I'm just a notch…but you're just a line in a song"
No bed post reference. Got it. Later on in the song I encountered this:
Original Lyric: "Oh don't mind me I'm watching you two from the closet, wishing to be the friction in your jeans"
Band Hero Lyric: "Oh don't mind me I'm watching you two from the closet, wishing to be the friction"
Jeans are also bad.
It isn't just that song. I encountered several more edits, including this one my girlfriend pointed out from OK Go' s "A Million Ways."
Original Lyric: "one last eighty proof, slouchin' in the corner booth"
Band Hero Lyric: "slouchin' in the corner booth"
That song also removes a line about "another couple klonapin," which given the previous edits is understandable. Perhaps this is why the game wasn't called Band Heroine. The point here is, when Activision says the game is family-friendly, they mean family-friendly. This is the price you pay for putting popular contemporary bands in a game and then aim for an E for Everyone rating. The silliest thing of all, is these are songs that everyone has heard on the radio in their original form, so the edits are simply a disappointment for fans of all ages.
Performing the songs is still enjoyable, mind you. Especially when you imagine singing the missing lyrics loudly in the face of the game producer who thought editing our favorite tunes was a good idea.

Well, I was on the fence about Band Hero. Now I'm gotten down off that fence, found some boards and nails and put up one twice as high. I'm all for the E for Everyone thing. Family-friendly I get that. Add to the fire that radio edits are nothing new. Still good. These edits are f—ing ridiculous. What possessed some game producer to sit there and snip off words that aren't even filthy words. The only reason they got rid of them is that they might imply that something happened and we can't have that.
The biggest point is that these same songs are on the radio in their normal form. They aren't terrible songs, just perhaps a little suggestive. But oh no, we can't have kids who have already heard the song fifty times go play it on Band Hero and think dirty thoughts and blame it on our game. *G-double gasp* *sigh*. If they really want to make it E for everyone, here is a tip: PICK DIFFERENT SONGS THAT YOU DON'T HAVE TO MAKE SILLY EDITS WITH. See Lego Rock Band and what they did to make my point.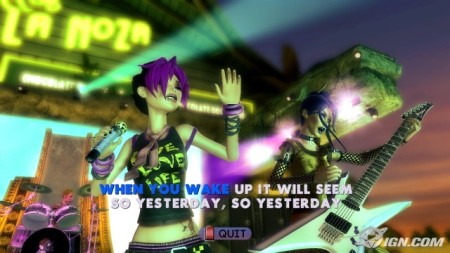 *sarcasm switch* If this girl is supposed to be in an E for everyone game, I demand that we see less skin and put on some sleeves. LESS ARM! *switch off*
Rated "M" for Mature

How old do you have to be to not get that games aren't just for kids? 40, according to EA. Though not everyone over 40 is guilty of that. Sound right?
In a story about the increased acceptance of sex and sexuality in video games, the Calgary Herald got EA spokesperson Colin MacRae to draw the line between those who get it, and those who don't.
|The confusion around mature content in video games typically starts with the over-40 crowd, who just don't understand the medium. They think video games are Pong and they should be seeing the Friendly Giant, and that it's a kids medium," says Macrae. "There's still a large chunk of the population that doesn't get it. Today, the audience for video games is as diverse as the audience is for TV, is as diverse as the audience is for movies."
Ever meet anyone under 40 who doesn't understand that games are capable of including mature subject matter? Or did MacRae get it right?
Sex grows up in gaming world; As technology has improved, attitudes have matured.

I'm thirty four years old. Yes, your favorite video game columnist has only half a dozen years until he hits forty. When I was 5 years old, we had Atari's, when I was 10 we had Nintendos. We didn't play no freaking Pong and I sure the heck didn't see the Friendly Giant unless it was Andre the Giant and he was bodyslamming Hulk Hogan because Bobby "the Brain" Heenan told him to. Now, I think the crowd you are actually speaking to is the over 60 crowd like my dad.
But not even my dad. He played Rampage, Blades of Steel and Mario with me growing up. My fondest memory to this day is playing with him the entire game of Rampage until completion. This might be more my mom who still asks when I'm going to grow up and stop playing video games. I have to remind her that I've had a stable real job for almost seven years. That usually quiets her down.
The point is that in six years I'll be 40. I'll still be gaming. And at that point, I better still see Mature Content in my games. And I mean ta-tas and blood and anything else they are willing to throw at me. It's not a kid's medium, it hasn't been for over 10 years now (ever since the first Mortal Kombat).
It's a piece of entertainment just like the movies that range from kids who love Dora the Explorer to Adults who love something more risqué. When we try to treat it as a medium that is the equivalent of Fisher-Price, it does nothing but dilute the games. Just check out 80% of the DS and Wii games that come out each week. Once we move into a realm where adult games can exist next to kids one without some soccer mom having a conniption fit we will all be better off.
Releases for the Week of November 11th, 2009
Xbox Live Arcade – NBA Unrivaled (1200 MS Points) & O-D Beat Drop (800 MS Points)

NBA Unrivaled is made by Tecmo who have made plenty of sports games in the past. Plenty of good ones actually. This one includes all 30 teams and players from selected rosters in a rousing game of b-ball. What makes this worth 1200 points? Well it could be because this game plays a lot like the old NBA Jam games with sweet cut scenes and crazy dunks a plenty.
Remember when playing basketball games was fun and you could always see a machine with people lined up when you walked into an arcade? *crickets* Anyway, multiplayer is supports, and there are tons of unlockables such as alternate and throwback jerseys. I have to admit, if it plays well this might be the first basketball game I have wanted to play in 5 years.

I'll be honest with you, I don't know much about this one. It is a puzzle game that allows you to use the beat of your own music to set the pace of the game. I would assume that it would allow you to use custom soundtracks to make the game unique. If you want something fast, use some ACDC or perhaps something slow, go with the down to earth Tom Jones or Michael McDonald. And if you want the game to impale itself and red-ring the console, then go with John Denver.
Wii WiiWare & Virtual Console – ExciteBike: World Rally (WiiWare – 1000 Wii Points), Frogger Returns (WiiWare – 500 Wii Points), Dragon Master Spell Caster (WiiWare – 500 Points), Wonder Boy III: The Dragon's Trap (Sega Master – 500 Points) & Cybernoid (Commodore 64 – 500 Wii Points)
Remember Excitebike on the original Nintendo? It's back and in WiiWare form which means judging from the pictures, it's pretty close to the way the game used to be but with improved graphics. There are still lots of fun jumps, obstacles and other racers to get around as you travel in races around the world. Multiplayer is a given and the track editor even makes a comeback. Sounds like a nice package for racing fans.



Apparently this is the week when we make sequels of classics that really didn't need sequels. The Frog returns in more mayhem that includes the classic top down 2-d game play but with some fancy 3-d graphics on top. There are new levels, new enemies and power-ups. Honestly, the last time I heard of a Frogger sequel, it bit the big one but maybe they figured out what made it fun in the first place.



There are dragons in the magical world of Nakiha and if you ride them you will receive amazing power. Choose your rider and then choose your dragon. Using your magic and dangerous attacks you can defeat other riders and their dragons. There are four different choices and you can battle your friends in split screen mode. At 500 points, maybe there is a bargain here but I'm not very excited from the pictures.



This is a direct sequel to Wonder Boy in Monster Land. It also starts in the final lair of the previous game. It's like the previous game with equipment and items but there is no longer a real level structure. As long as you have the right equipment, theoretically you can go anywhere. You can also change into various animals like a lizard, lion, hawk, mouse or piranha. They all have different abilities which make this game one of the finest the Sega Master system ever produced.



This game was one of the best games of its time despite being produced on an 8-bit machine. This game is the Commodore version and not the NES or Spectrum version. However, it still has great animation and wonderful gameplay to delight shooter fans. The basic story is that pirates have raided the Federation and your Cybernoid ship is to the rescue to get back the booty. At 500 points, you could do a lot worse.
Console Releases
PS2
Pro-Evolution Soccer 2010
Dora the Explorer: Dora Saves the Crystal Kingdom
PSP
Pro-Evolution Soccer 2010
Kenka Bancho: Badass Rumble
PS3
Call of Duty: Modern Warfare 2
Dragon Ball: Raging Blast
Buzz! Quiz World Bundle
Xbox 360
Call of Duty: Modern Warfare 2
Dragon Ball: Raging Blast
Final Fantasy XI: Ultimate Collection
Hasbro Family Game Night
Wii
New Super Mario Bros
Call of Duty: Modern Warfare Reflex
Harvest Moon: Animal Parade
NBA 2k10
Pro-Evolution Soccer 2010
Arcade Shooting Gallery
Ringling Bros. and Barnum & Bailey Circus
Buck Fever
Team Elimination Games
Pop'n Music
Free Running
DS
Disney Jonas
Phantasy Star 0
Harvest Moon: Sunshine Islands
Petz Nursery
Call of Duty: Modern Warfare: Mobilized
Wedding Dash
Style Lab: Makeover
Style Lab: Jewerly Design
TMNT 2
My Baby First Steps
Dragon Ball Z: Attack of the Saiyans
Ringling Bros. and Barnum & Bailey Circus
Sushi Go Round
DJ Star

Well, you probably have to be living under a rock this week if you don't know the newest Call of Duty game has come out. I logged on last night to try out GTA IV Episodes and everybody in my friends list was playing COD instead. By early reports, it looks like it will sell a ton of copies and be one of the holiday season's greatest hits. The Wii crowd would probably be more excited this week that they will get a new Super Mario Bros game. Actually it's called that.
It should have a lot of classic action and a few new surprises. Outside of that, you don't get much honestly. There is a new Dragon Ball game and apparently some soccer but if you aren't into Call of Duty or Mario Bros this week, there isn't a whole lot I can do for you. Maybe you want a makeover and jewelry design and you only have a DS to do it with…I'm reaching here. Stay tuned until next week.
Final Thoughts & Mutterings
Laugh it up because I actually did something I never thought I would do this week. I traded in a couple of my Xbox 360 games at Gamestop. Yeah, I know; I probably deserve the blasphemy comments. It was centered around a deal. Trade in 2 games, get another game for $20. The list of trade in games wasn't very big and I only had 3 of the games on the list. Fallout 3, Red Faction Guerrilla, & Rainbow Six Vegas 2.
I wasn't trading Rainbow Six because I had actual fun with that game. I might suck at it but hey I would occasionally hold my own. Red Faction Guerrilla was still unopened as part of an Amazon Deal of the Day. Fallout 3 became an early choice because I wanted the Fallout 3 GOTY edition. The harder choice was between Red Faction and Rainbow Six. Red Faction eventually lost.
So what game did I trade for? Dragon Age. It was released last week and I figured that rather than review Red Faction, I would try something newer. Now the truth is I won't be able to start until this time next week on it but I wanted to bring three quality new game reviews to the site. Besides Dragon Age looks to be a ton of fun. When you look at it like that, it doesn't feel so bad that Gamestop was the bitter end for two good games in my collection. Take care kiddoes.

As Always,
Kedrix of Aldrianian
(*The Forgotten One*)