Wii Third Party Game Madness, Left For Dead 2 Released & Night Elf Mohawks in Warcraft? – Welcome to the column that pities the fool who actually tries to wear 10 pounds of gold chain and isn't named Mr. T known as Dare to Play the Game.
This week I started the review for Grand Theft Auto: Episodes from Liberty City for the Xbox 360. Actually by the time you read this column, you will probably notice the review right above it. As I start to write this column I'm about 60-70% done and just need to get all of the mini-modes in the game down on paper. So what exactly have I figured out from this writing assignment?
One, Grand Theft Auto has changed a good deal since I last saw it. Some of the game mechanics are improved greatly and some of the fun has been stripped from the game. I for one enjoyed the Taxi, Ambulance, Vigilante Missions, etc. Those are all gone. Now Vigilante Missions are in IV, but not in Episodes from what I can find. I've tried getting in police cars and toggling the computer, but to no avail. There are plenty of things to do, but there certainly was some satisfaction in chasing down criminals. It was also a great source of income too.
The other thing is that GTA Episodes should be renamed to Night and Day. Lost & Damned is really dull and depressing. I had a hard time getting off the ground in that game. Ballad of Gay Tony? Absolute joy. I've done more in half the time with that expansion than L&D. This isn't to say that L&D sucks, it's still fairly good, but it's like a 6 when BOGT is a 9 out of 10.
Ode To Gamer Girls



This is Rochelle Aytes, she voices the part of Rochelle, a tv news reporter in Left 4 Dead 2. She can also be seen in White Chicks, The Forgotten & Madea's Family Reunion. She sure is very nice to look at, but I wonder if she is going to be using those items behind her against the zombies or something else. Hrmmmm.
News of All Types
World of Warcraft


Think Mr. T's original World of Warcraft ad was just a fluke? The Night Elf Mohawk is back, and he's proving his worth – with Mohawk grenades.
Yes, Mohawk grenades. Available today in North America and later this month in Europe and Korea, find a Night Elf Mohawk NPC in your favorite World of Warcraft starting location and they will grant you a five-charge Mohawk grenade, capable of turning anyone in the blast radius into a Night Elf Mohawk. I almost wish I was making this up…almost.

I saw my Sarah do this on Monday night. There he was right outside Goldshire (and apparently the rest of the starting towns) looking as only a Night Elf Mohawk can do. The grenades work in a splatter effect so you stand the chance to hit multiple people at once. In other words? Go to mailboxes, auction houses, battlegrounds, Dalaran, and other places where people frequent and hit em for a good laugh.
Of course this got me to thinking, if Mr. T can have a cool event in the land of WoW, what are the rest of the people who have been on WoW commercials getting? So I figured I would write down a few ideas. (feel free to use them Blizzard, but remember where you read them first)
Verne Troyer: this one is quite simple, for a week you get a charm off Verne who appears as a Gnome Arcane Mage. This will only be available to three races: Gnomes, Dwarves and Goblins (once the expansion comes out). They will make anybody that a dwarf, gnome or goblin kisses to transform into a dwarf, gnome or goblin (depending on race) for one hour. If they kiss another dwarf, gnome or goblin, they instantly transform into a bigger race such as Worgen, Tauren, or Draeinei for an hour. It promotes the new expansion: Cataclysm and it is guaranteed lots of fun on the battleground.
William Shatner: Now, we know that William Shatner is a Tauren Shaman, but is easily characterized by his speech pattern. Therefore, he will appear at major cities and give you the power to talk like he does. If you post in the trade channel or to your friends, your speech will randomly have … to indicate pause and shatner-isms will be included such as: "Remember-you can't port through a Death Gate. So, don't try it", "if saving gold is wrong, I don't want to be right" & my personal favorite: "How do I stay so healthy and boyishly handsome? It's simple. I drink the blood of young alliance humans & night elves."
Ozzy Osbourne: ahhh, our undead warlock. He already has the admiration of many succubi, what more could he want? To be an elite boss of course. Throw him in Crypts (on Heroic or Normal) near Shattrath for a week (I'd say around his birthday which is December 3rd). Naturally he will have about half a dozen minions, and he will drop cool items such as the Shot in the Dark (Gun ammo), Guitar of the Beast (a two-handed ax) with the chance on hit of a Blizzard of Ozz, & Crazy Train, a rare epic wolf riding mount that will actually bark at the moon.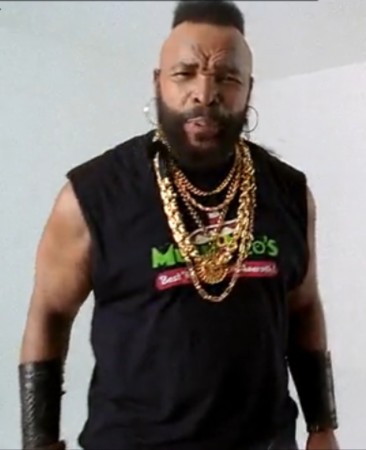 The coolest thing about this picture is not that Mr. T is talking again about being a night elf Mohawk. If you can make it out, it's the Murloco's Tacos shirt. Instant WoW credibility and awesomeness.
Wii Third Party Issues


As it seems to do these days, discussion with Nintendo of America's president turned to the possibility of a new Wii capable of rendering high-definition graphics. It's a common question, but one that Kotaku was told, misses something.
During my recent interview with Reggie Fils-Aime, Nintendo of America's president, we got to talking about a so-called Wii HD by way of talking about his appearance last week at an event featuring presentations by top executives of gaming companies. Top men from Activision and Ubisoft showed trailers for the complexly-rendered Modern Warfare 2 and Assassin's Creed. Neither game is slated to be released on the Wii, coming out only on more powerful platforms, such as the Xbox 360, PlayStation 3 and PC.
I asked Fils-Aime what he, as someone who wants his console to do the best, thought of that.
"I'm extremely disappointed," he said. "I've had this conversation with every publisher who makes content that is not available on my platform. The conversation goes like this: 'We have a 22-million unit installed base. We have a very diverse audience… We have active gamers that hunger for this type of content. And why isn't it available?'"
I told him that I assumed that technology was still a formidable obstacle. While Nintendo boasts that Resident Evil 4 and Call of Duty World at War each sold well over a million copies on the Wii, it seemed to me that more recent games, such as a Grand Theft Auto IV or an Assassin's Creed 2 just wouldn't be able to function on the console, given its level of horsepower.
"I think for those games, typically decisions are being made two years prior," Fils-Aime said. "And so the decisions two years ago were that those types of games would not be effective on the platform. But we've shown that that's just not the case. High-quality, effectively marketed against our installed base will sell, period end of story."
It seemed, I suggested, that a more powerful Wii would help.
I observed that even Nintendo's engineers and execs were discussing the prospects of the company getting into the business of making an HD-compatible console at a recent investors' event in Japan. And I mentioned that people like games financial analyst Michael Pachter and Game Trailers TV host Geoff Keighley had openly speculated that building a more powerful Wii that could do HD and the games that are made to that standard would seemingly check off the last box where Nintendo didn't have parity with the other console makers.
Fils-Aime and I weren't seeing things the same way.
He said: "The fundamental issue in the logic flow is that and this is what I'm hearing, whether it's from you or Geoff or Michael himself is that, gosh it's such an opportunity to take HD capability and link it with the Wii. And what we have said, repeatedly, is that that's not the way we at Nintendo do things. The way we at Nintendo do things is, you know, when we will move to a new generation, it's because there are some fundamental things the [current] console cannot do. What that says is that simply the addition of HD capability will not be the next step for us. There will be more to it. There will be additional capability. There will be additional elements, and, given that, it is far into the future."
In jest, I replied: "So, no new Wii in 2010?"
Fils-Aime: "Not to announce with you here today."



Poor EA. They bet heavy on the Wii and, of late, the Wii hasn't been doing so well, contributing at least partly to EA's recent fiscal/employee issues. Think boss John Riccitiello is happy? Well, no, he is not happy.
"To be honest with you, I think the Wii platform has been a little weaker than we had certainly anticipated" he said during yesterday's conference call. "And there is no lack of frustration to be doing that at precisely the time where we have the strongest third-party share".
"Wii is where we are missing it and so I really do think that the opportunity exists to find different ways to partner with first party in this case to sort of help establish in the minds of the consumer legitimacy of some of these other brands when they are going out multiplatform because very, very few multiplatform titles are succeeding on the Wii."

These two stories really go hand in hand. They both are talking about the same thing: Wii & third party games. Let's start with EA. EA to my knowledge has the biggest third party share of games sold on the Wii. EA Sports Active, the Madden games, and Rock Band among others have done their best to bring in the big cash. But it just isn't happening. The games are certainly big enough, they sell just fine on the other systems. But what's the problem? Well it's the Wii itself.
In the beginning, most of you will remember that the Wii basically got ports of Playstation 2 games and anything that Nintendo felt like putting out there by themselves. That's because the Wii in all practicality was nothing more than a last gen machine trying to play with the big boys. They did play, and they won because of some fantastic early games and the Wiimote.
Everybody bought up the system. They did some Wii Bowling, saved the princess in Zelda and played some Mario. Then the system promptly went either in the closet (only to be brought back out for get togethers) or sat there in the entertainment system waiting patiently for a new game. Of course there are diehards who do buy games, but if you have a 22 million user base, I'm guessing only 1/3rd of those played it beyond the first six months.
So, as you can see people eventually figured out that the Wii was a nice, cheap system but based on older technology. Therefore when games like GTA IV or Assassin's Creed 2 come to town, they don't even look in Wii's direction. And if they do, they come out with some stripped down lesser version that nobody wants.
Now the question is, what can Nintendo do? Well they increased the size of their memory capacity by allowing larger memory sticks and still market the system effectively. A hard drive would be nice but it's probably not going to happen. The time is not now to release a new Wii either, that will come but it might not happen until 2011 I'm guessing.
Okay, well if Nintendo can't do anything, what can companies such as EA do? Sticking to their guns isn't the answer. And copying somebody else's ideas isn't going to help either. Thinking out of the box is the only viable solution. Look at what works, Resident Evil 4 did very well on the Wii. The game was originally released on the GameCube and most people rebought it because they saw it as an upgrade.
You have to create exclusives but put some weight behind them. Dig back into your catalog and make something old into something new. Here is a free tip for EA. Guaranteed money maker. Take the time to make a new Road Rash. Bring it out for the Wii, use motion controls and keep it fun (don't try to create a racing game, create an adventure game with racing and fighting aspects).
But it doesn't stop there. So Grand Theft Auto IV won't touch the Wii. Alright. Then create a sandbox game you can call your own but play to the Wii's strengths. It doesn't have to be foulmouthed and full of saucy content. But make it over the top, make it totally open and crank up the fun.
The Wii has plenty of strengths, third party companies need to do 3 things: 1)stop making crap, 2)stop making copies of other games or stripping down current games just so they can fit to the Wii & 3)Play to the system strengths. If a company follows these guidelines, success might not be guaranteed but I bet you will stand a much better chance of breaking the cycle.
Releases for the Week of November 18th, 2009
Xbox Live Arcade – Gyromancer (1200 MS Points) & Diner Dash (800 MS Points)

I can certainly see myself spilling out 1200 points for this one. In collaboration with Square Enix and Pop Cap, we have an RPG game that combines Bejeweled Twist with role playing and artwork from Square. Addiction never sounded so bloody obvious. You are Rivel, a summoner who travels thru Aldemona Wood. There are puzzles to solve and beasts to defeat. Naturally it does seem a lot like Puzzle Quest which I played a ton when it first came out. If nothing else, it should take me away from that silly Facebook App.

Most people have probably played this game in some fashion. You are Flo, a stockbroker who suddenly quits her job to run a diner. Gameplay consists of seating customers and guiding Flo around to serve those customers. Get enough money? Go to the next level. Soon, the restaurant is turned into more restaurants with more options. The game is considered a fun time waster and if you hadn't played it before you might want to give it a try.
Wii WiiWare & Virtual Console – Pokemon Rumble (WiiWare – 1500 Wii Points), Indiana Jones' Greatest Adventures (SNES – 800 Points) & Street Fighter II: Champion Edition (TurboGrafx16 – 700 Wii Points)



We all knew that a Pokemon game was going to make it to WiiWare. It also serves as the most expensive WiiWare game if my memory serves me correctly. The game is the same as many other Pokey games where you control Toy Pokemon and take on tons of other Pokemon. Sometimes after beating them you will be able to take control of them and add to your collection.
If you are the last one standing, then you get a chance to compete in a battle royale with other Pokemon. Co-op and versus modes are included as well as the ability to exchange Pokemon with your friends. Interesting note, but this is the first time you can download a demo of the game before buying it. They are also releasing other demos to ease consumers into some of the higher priced WiiWare games.



This game is based on the trilogy of movies and was put out on the SNES around 1994. It has 28 levels with a combination of side scrolling action and driving sequences. Raiders of the Lost Ark is the only movie available at first but with the use of passwords you gain access to the other two movies. It was a better representation of the first movie and not so much from the other two films unfortunately.



The Street Fighter II port for the Turbo Grafx is actually one of the best. It was released on a super capacity HuCard. It included the four bosses as playable characters and was faithful in its recreation of the arcade stages found throughout the game. It was better looking than the first Genesis port and played a lot better than the first SNES port. The only trick might be how the Wii controllers handle the 6 button output since the game did have an interesting button layout that worked well with the special 6 button controller they sold for this game (and others) at the time.
Console Releases
PSP
LittleBigPlanet
Assassin's Creed: Bloodlines
Lego Indiana Jones 2: The Adventure Continues
Yu-Gi-Oh! 5D's Tagforce 4
PS3
Assassin's Creed II
God of War: Collection
Lego Indiana Jones 2: The Adventure Continues
NCAA Basketball 10
Chaotic: Shadow Warriors
Planet 51
Xbox 360
Assassin's Creed II
Left 4 Dead 2
Lego Indiana Jones 2: The Adventure Continues
NCAA Basketball 10
Scene It? Bright Lights! Big Screen!
Stoked: Big Air Edition
Chaotic: Shadow Warriors
Planet 51
Wii
Lego Indiana Jones 2: The Adventure Continues
Resident Evil: The Darkside Chronicles
Naruto Shippuden: Clash of Ninja Revolution III
Arcade Shooting Gallery
Just Dance
JumpStart Escape from Adventure Island
Hot Wheels: Battle Force 5
Scene It? Bright Lights! Big Screen!
The Princess and the Frog
Jambo! Safari Animal Rescue
Chaotic: Shadow Warriors
Planet 51
Sushi Go Round
Kamen Rider Dragon Knight
Crazy Chicken Tales
Bermuda Triangle: Saving the Coral
My Ballet Studio
DS
Lego Indiana Jones 2: The Adventure Continues
Imagine: Artist
Foto Frenzy
Princess and the Frog
Hot Wheels: Battle Force 5
Chaotic: Shadow Warriors
Petz Hamsterz Superstarz
Assassin's Creed II: Discovery
Petz Dogz Talent Show
Bermuda Triangle: Saving the Coral
My Hero: Firefighter
Planet 51
My Hero: Doctor
Photoworld
Kamen Rider Dragon Knight
Salon Superstar
Discovery Kids: Spider Quest
My Ballet Studio

There are quite a few games coming out this week. We have a new Lego Indiana Jones game (I bought the first recently for about $10, but haven't put it in), Assassin's Creed II, and Left 4 Dead 2. Left 4 Dead's sequel is probably the most interesting because of the extreme buzz it has gotten prior to release. There was a boycott not too long ago for the sequel. The most advertised reason for the boycott was simply because the sequel came too soon after the success for the first game. But Valve went out of their way to show this group that Left 4 Dead 2 is not a money grab and instead a successful sequel and follow-up to the original.
So what's new with Left 4 Dead 2? Well we got new survivors: Coach (high school football coach), Rochelle (tv news reporter), Ellis (mechanic) and Nick (gambler & con-man) added to the mix. We got new locations stretching from Savannah, Ga to New Orleans, LA. We have new melee weapons like frying pans, chainsaws and that Gamestop exclusive: baseball bat. Add this to the concept of bigger and better and you'll have more 1st person shooter co-op madness than you can shake a Molotov cocktail at.
Outside of that, we get a good God of War collection, a Wii Resident Evil game and the yearly installment of NCAA Basketball. After last week and Call of Duty, it is nice to see a fairly balanced week of games. There are some really good games and a smattering of a bunch of average games. We know there are stinkers in Wii & DS every week (other systems too), but it seems a little less this time.
Final Thoughts & Mutterings
I will probably play Grand Theft Auto: Episodes until the end of the week. In the mean time, I'm actually going to read a book for the site. A book you ask, Upcomingdiscs doesn't do books. True, but this book is in correlation to a game. The name of the book is Dragon Age: The Stolen Throne. I actually found it at Half Price Books. The book has been out for about 8 months, so it isn't too far of a stretch. But Stolen Throne is actually a prequel to the game. It will certainly set the mood and I highly doubt any other reviewer did anything except play the game. Most of you know me. I like doing different things with my reviews. Since I have some freedom on this site when it comes to games, I can go that extra mile. I also hope in the end that those who read my reviews appreciate the added time into something they can enjoy even if they have been playing the game for the last couple of weeks. I would expect that this review/reading will take about two weeks. It should be right at the beginning of December. That is plenty of time to convince your loved ones to buy it for you at Christmas. Have fun and take care kiddoes.

As Always,
Kedrix of Aldrianian
(*The Forgotten One*)