The Tester, Capcom in the Green, & Dante's Inferno at The Superbowl? – Welcome to the column that has seen hell and has the purple dinosaur marks to prove it known as Dare to Play the Game.
Welp, as many of you know I do play the World of Warcraft. I had fiddled around with my dwarf priest here and there. This past Monday, he hit level 70. He didn't really become my main until I started playing with Sarah and I turned him shadow (or rather dual-speced him to include shadow). Now it's nice because Sarah and myself can actually queue for Lich King dungeons together. She's had a couple of 80's and a 77 for a while, but I know she wanted to really play with me instead of just giving me an occasional run through of something.
I also got a couple more achievements in WWE Smackdown vs Raw 2010 to bring the total to 23 and that leaves only two remaining. I finished off Brand Warfare and the Strong Grapple achievements. Remaining: All Unlockables and completing the Training Checklist. Getting 100% is very much a reality, I just need to retrace my steps and figure out what I missed during the various Road to Wrestlemania scenarios.
Ode To Gamer Girls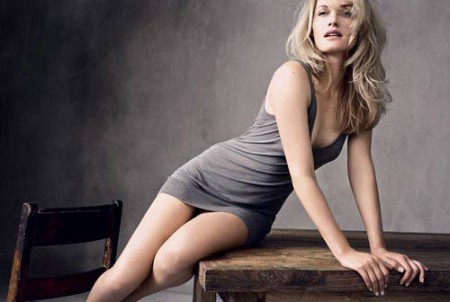 This week's girl is Amber Valletta. She's in the new to DVD movie: Gamer which I reviewed over the past week (go find it, it's a good read). She plays a character who participates in the game called Society. Society like Sims or Second life except people pay to control real people do demented things. …okay, I know what you are thinking I'm going to say and you are one sick person. I never would do such a thing, now excuse me while I return this collar and leather harness. Some people.
News of All Types
Reality Shows


Sony's venture into reality TV, The Tester, will be keeping it real this February on the PlayStation Network.
Available for free download starting February 18, the series follows 11 hopefuls as they, the Sony releases tells us, "compete in grueling physical and mental challenges to win a position as a game tester at SCEA and a $5,000 signing bonus".
That's right! Grueling physical and mental challenges to get a QA position.
The show is the brainchild of Sony Computer Entertainment America and 51 Minds, the production company behind The Surreal Life and For the Love of Ray J.
Over the course of 8 episodes, contestants wield paintball guns, don giant slingshots and push human hamster balls; because that is exactly what game testers do.
The contestants range from 22 to 36 years-old and come from professions as varied as paramedic and used car salesman.
"Connecting PS3 and PSP owners to great entertainment options and original digital content experiences such as Flower, flOw and Fat Princess has always been a cornerstone of our vision for PlayStation Network," said Peter Dille, senior vice president of marketing and PlayStation Network. "With the addition of the original series, The Tester, we further establish PlayStation Network as the preeminent destination for digital entertainment in the living room or in the palm of your hand."
Hosted by parts model Meredith Molinari, the show will feature appearances by appearances by God of War creator David Jaffe and some other bigwig people. Of course, the prospect of Jaffe going bananas on some poor contestant scrub means there is the potential for great television here.
Oh, and what is a parts model, you ask? This apparently:
With new (and free!) episodes hitting every Thursday, The Tester wraps up on April 8.

I do appreciate the heck out of video game centered game/reality shows. I think we all remember a few months ago when that WCG show was on and how I actually liked it despite the fact that nobody else even knew it was on. But I have to question somebody's bright idea when they think that a show that pits eleven people against each other to become a tester is good television.
Does anybody have a clue as to how awful a video game tester job is? Sit at a buggy game, play the same level 52 times and log your results. Also, the game usually sucks. The really cool games are only tested by some elite QA guys and gals. You get We Cheer 2 for the Wii… if you are lucky. I mean it is great if you have no job and no expectations, but it's a tough road to try to succeed through.
The only real reason why you would do this is because you hope for a small glimmer of exposure to the business. But then you hope that somebody notices what you are doing. Which I would suppose is possible with a Sony based gameshow. I don't know though, the whole process should be more realistic. But then would even eleven people show up for the thing?

Here is the cast of the upcoming show: Tester. Over on the left hand side, standing up with black hair looks like the girl from the WCG show, Ciji I think her name was. Nice to see her back in some other show. The rest of the cast? Okay, maybe a game tester job isn't such a bad idea for them. (It had to be said.)
Capcom


It's been a bad year for video game companies. Big losses, big layoffs. But one company, Capcom, appears to have sailed right on through, announcing today that over the past nine months things are looking just fine.
Compared to the same period last year, net sales at the Japanese publisher were up 5.9%, operating income up 84.3%, ordinary income up 127.5% and net profit up an impressive 865.9% to USD$19.1 million.
Games to thank for the upswing were Mega Man on the DS, Ace Attorney: Miles Edgeworth on the DS, Monster Hunter Tri on the Wii, Monster Hunter on PSP and Resident Evil 5.
Games not getting a thank you include Resident Evil: Darkside Chronicles and Okami on the Wii, both of which Capcom say "saw slow sales".

It is nice to see that somebody in this mess we called a recession actually turned a profit. The fact is that Capcom was very careful on what they produced and developed for each system. Mega Man & Ace Attorney games are natural fits on the DS and Monster Hunter seems to work on any casual system out there. (especially when they pack a classic controller with the Wii version)
As to the slow sales of the two mentioned titles, Darkside Chronicles is a rail shooter and not really a part of the Resident Evil franchise. By contrast; Resident Evil 5 did great business. Okami was failed from the start. First, it is a straight PS2 port (which almost never means anything above average sales) and then the whole fiasco with the cover art and how they had used an image from IGN. Hopefully they can push aside the disappointments and continue their string of positive income.

The infamous Okami Wii picture with the watermark emphasized. I'm pretty sure Capcom is tired of seeing it, but I just get such a kick out of it.
Dante's Inferno


EA is dropping a huge portion of the Dante's Inferno advertising budget this Sunday with the company's first Super Bowl commercial, hoping to capture the massive cross-section of football fans familiar with the work of Dante Alighieri.
With the estimated cost of a half-minute Super Bowl commercial estimated to cost close to $3 million, EA must have supreme confidence in the potential success of Dante's Inferno, an action game based on the Inferno portion of Dante Alighieri's "Divine Comedy." The company's advertising investment, titled "Hell Awaits," will air during the fourth quarter of Super Bowl XLIV this Sunday on CBS.
And while it may seem like I am picking on football fans in the opening of this article, I was actually just riffing on comments from EA president Frank Gibeau, which were included in the commercial announcement.
"Even within the spectrum of live sports events, the Super Bowl stands apart, almost as a national holiday. The Super Bowl is a bull's-eye in terms of cross-over to our core demographic and the reach is outstanding. Not only does it draw 100 million viewers, but most people watch the Super Bowl live, a rarity in the world of DVRs. While digital outreach to Facebook, Twitter, and online bloggers is a core part of our marketing strategy, we felt that advertising during the Super Bowl is an excellent way to introduce this new IP to a massive cross-section of people who are likely already familiar with the dark and twisted "Divine Comedy."
I'm familiar with it, and I watch the Super Bowl every year. Heck, my stepfather, one of the most intelligent, level-headed, and educated men I know, turns into a raving lunatic this time every year, so while it may sound silly, there very well could be a large cross-segment of people who've yet to hear about Dante's Inferno.
I'm still not sure if that segment would be keen on playing the game, but they might just chew a little bit slower on their Buffalo wing during that 30 seconds, and I consider that nearly $3 million well-spent.

I have to admit, Dante's Inferno keeps me interested. Their bizarre string of advertising gimmicks has ranged from $200 checks to video game critics to demonstrate greed (how come I didn't get one of those?) to "RickRolling" a bunch of journalists to demonstrate wrath (destroying a small wooden box to stop playing the song). Now they have moved onto the Superbowl.
Reportedly, the Superbowl wasn't too keen on their original message of "Go to Hell" despite that is what you actually do in the game. The game actually comes out on February 9th which is the Tuesday after the big game. Hopefully they are allowed a good commercial to air and it gets this amazing game even more press. Regardless of what happens, chalk up another winning title to Electronic Arts.
Releases for the Week of February 3rd, 2010
Xbox Live Arcade – Chime (400 MS Points)

An interesting release this week, this is a block-dropping game that combines elements from both Lumines and Tetris. I know, I know what you are thinking but hold on. Okay, you control a single shape at a time, and then rotate or move it onto a grid. A beatline moves across the grind in time with music and events happen when you hit the shapes. Quads are created by placing shapes in solid blocks of 3×3 or more. More quads, means more coverage and you are working towards 100% coverage. Okay, it is similar to lots of concepts, but this is special since it is developed by OneBigGame, a non-profit game publisher. So these 400 points actually go to charity. Give it a look, even if it doesn't work out, you'll feel like a good person.
Wii WiiWare & Virtual Console – Tales of Monkey Island: Chapter 5 (WiiWare – 1000 Wii Points), Tumblebugs 2 (WiiWare – 800 Points), 5 in 1 Solitaire (WiiWare – 500 Points) & Alex Kidd in Shinobi World (SMS – 500 Wii Points)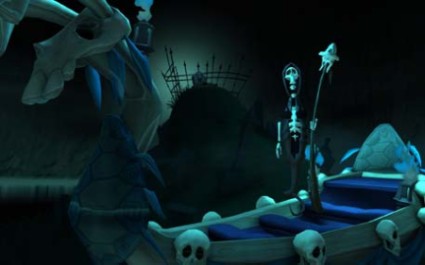 The finale to the Monkey Island Tales scenarios (can we get a retail compilation disc now?) brings the series to an exciting conclusion. We have to wonder who can save the Caribbean and what is the fate for LeChuck, Guybrush, and Elaine. This adventure will take you beyond the stormy isles as you experience the Rise of the Pirate God.



The original action-puzzler had the nasty Black Bugs rounding up and trapping the peaceful Tumblebugs. Well those Black Bugs are back and they are worse than ever. Tumble comes back to rescue the peaceful Tumblebugs and she's got backup. There are 89 new levels and powerups. This should help you free those cute creatures and be home in time for tea. Or something like that.



If you ever needed a solitaire game, well here it is. Klondike, Spider, FreeCell, Golf and Gaps are included in this collection. Each of these games are quite unique and are easy enough for anybody to enjoy. But of course, hard to master. (so sick of that line) Tutorials and score tracking are also included. Cheap time diversion for those who need it.



This is an odd game, but might be worth the 5 bucks. Many of you are aware of Alex Kidd but this title was not meant to include the character when it first came out. It was to be named Shinobi Kid and simply be a parody of the original Shinobi (which is also out on VC). However, they thought it would be better if they used the portrayal of Alex Kidd instead. The game is fairly short, only 12 stages over 4 rounds but it's an interesting piece and might make you chuckle a time or two. Give it a shot.
Console Releases
PSP
Puzzle Chronicles
Playstation 3
White Knight Chronicles
Wii
Family Party 30 Great Games Winter Games
DS
Playmobil: Knights
Puzzle Chronicles
Imagine: Reporter

Well, I am going to do you folks a service this week and only go over one game cause quite frankly that is all there is worth mentioning. The game of the week is White Knight Chronicles. It has been selling in Japan for over a year now and the nearly 350,000 copies have warranted an American release. It is a rpg that boasts over 100 hours of gameplay and is presented from third person perspective.
The game begins in the kingdom of Balandor where a princess is having a party. The Wizard Corporation raids the reception. From there, a small boy named Leonard helps the princess to safety. There he finds a suit of armor which makes him into the White Knight and forever his life is changed. It seems immense and people compare it to Soulblazer which was a fun dungeon crawler for the SNES (that somebody should consider releasing to virtual console).
Final Thoughts & Mutterings
As mentioned last week, I did get married to my lovely Sarah. We had a costume wedding where I dressed up as Beetlejuice and Sarah was Lydia. Everybody in the audience was actually dressed up to some degree, even the preacher who came as Elvis. The ceremony was recorded on a couple of different mediums including a couple of hundred pictures and two videos.
But most of all, it was a beautiful wedding and the best day of my life. To be married isn't so much the important thing but the sign of the union between two people who are certainly perfectly matched for each other. Every minute I think about it since that Saturday has made me smile and know that I have indeed made the right choice. Everybody, regardless of their personality deserves somebody who compliments them. Take care kiddoes.

As Always,
Kedrix of Aldrianian
(*The Forgotten One*)