Upcoming Titles for Xbox Live Arcade, Final Fantasy XIII reviews, & Apple gets rough on IPhone Apps? – Welcome to the column that will only be kid friendly to those who just got out of juvenile detention known as Dare to Play the Game.
After about four months and probably more mentions on this column than you care about, I finally have all of the achievement points in WWE Smackdown vs Raw 2010. The last achievement I had left was the training checklist. The training checklist is a nice way to learn all of the moves except you have to use the Create a Moveset to modify some of the wrestlers top open up everything.
Furthermore, you need a second person to setup certain situations in order for the checkmark under the move to pop. You could rely on the AI, but that's asking way too much. So I enlisted the help of my wonderful Sarah who helped me hammer home the last four moves and pop the final achievement. We then proceeded to beat the crap out of each other for the next half hour. Call me crazy, but it was a nice moment. I'm not used to that *shrug*.
Ode To Gamer Girls



Another voice to match to the body, this is Jacqui Ainsley. She's a model and she provides vocals for Madison Paige, one of the main characters in Heavy Rain which comes out this week for the Playstation 3. The character's role is a young photographer living alone. She has crippling insomnia and nightmares and often finds herself checking into local motels for the night. Are these like the rent by the hour establishments or the Doubletree? Inquiring minds want to know.
News of All Types
Xbox Live Arcade


Microsoft gets its Xbox Live Block Party started right, scheduling the weekly releases of Toy Soldiers, Scrap Metal, Perfect Dark, and Game Room, with a chance for players to score Microsoft points and a month of Xbox Live Gold.
The Xbox Live Block Party is a month-long celebration of….something or another, taking place over the course of next month, punctuated by the release of some major titles for the Xbox Live Arcade, including Rare's update of Perfect Dark and Game Room, Microsoft's free, avatar-driven retro arcade application.
Here's the release schedule, along with the prices for next month's releases:
March 3rd: Toy Soldiers -1200 points
March 10: Scrap Metal – 1200 points
March 17: Perfect Dark – 800 points
March 24: Game Room – Free to download. Individual games will cost 240 to 400 points
So picking up each game and the free download of Game Room will run you $40, but Microsoft is softening the blow to your wallet, with folks who purchase the whole shebang scoring 400 bonus MS points, along with an extra month of Xbox Live Gold for current Gold subscribers.
Once all of the games are released, Microsoft is holding a free online play weekend for the Block Party titles from March 26 to March 29, giving Silver members a chance to see what they're missing out on.
So, what are you folks planning to buy?

This should be a very interesting month for Xbox Live Arcade. Early reports for Toy Soldiers and Scrap Metal seem promising but it is still unknown how good they will end up being. The more intriguing title is Perfect Dark, a HD update to the classic Nintendo 64 title. Back when Perfect Dark was actually a great game, not the horrid one that was named and equivalent to the number zero.
Also, this Perfect Dark recreation will feature levels from GoldenEye since they can not re-release GoldenEye due to legal reasons. At 800 points, is certainly the most enticing of the three. The Game Room, still on the fence. It will clearly depend on the titles available and how faithful the recreation is. There is certainly value in getting the whole package but it might be a bit much to do so.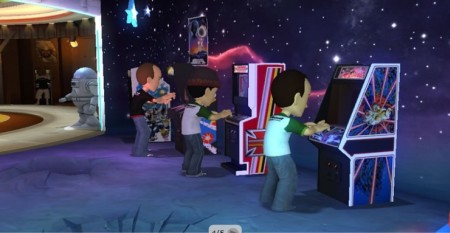 I have seen mentions of three titles to come out for Game Room so far: Centipede, Missile Command & Super Cobra. This doesn't exactly scream to OMG, this is awesome but I could be wrong.
Square Enix


Reviews and reactions for Final Fantasy XIII have been mixed. Some love it. Some don't. But Final Fantasy XIII director Motomu Toriyama claims to know why Western critics might not dig the game.
"We think many reviewers are looking at Final Fantasy XIII from a western point of view," says Toriyama in a recent issue of Xbox World 360. "When you look at most Western RPGs, they just dump you in a big open world, and let you do whatever you like…" Toriyama adds that it "becomes very difficult to tell a compelling story when you're given that much freedom".
Does that mean when Western critics like Final Fantasy titles, that they are looking at the game from a Japanese point of voice? Perhaps, you know, those critics just didn't like the game? Maybe they liked other Final Fantasy titles and just felt that XIII was not for them.
It should be noted that Japanese game magazine Famitsu pointed out that FFXIII's linear structure, too.
There is nothing wrong with a critic liking or disliking a game. Their opinion does not change the game itself, but rather, only the perception of it. The longstanding heavy reliance on review scores in video games has created this false feeling of validation.

Reviewing games is a funny business. You have to be honest, but yet when you are honest, you run into the risk of getting companies to downplay the review due to a multi-tude of reasons. Square-Enix decides to run the reason that you are simply being too Western in your thinking of our rpg. What exactly is too Western? Reviewing the game in a cowboy hat and blue jeans while eating some Cheetos and drinking Mountain Dew?
I have liked Final Fantasy since I was a little boy. To be honest, my favorite Final Fantasies are the earlier ones like I, II, VI and IX. All were…linear stories (and *caugh* turn based). It is probably a little true that some reviewers have become accustomed to the Oblivions and Fallout 3's of the world but I would bet they also realize that Final Fantasy is a little different.
The proof will be when the game is released, and Square should spend more time on trying to make sure that the US release is successful. We certainly don't want another Dragon Quest/Warrior which keeps good JPRGs from making their way to the US waters. There is no need for a blame game and that the Americans wouldn't know a good RPG if it walked up and smacked us in the face.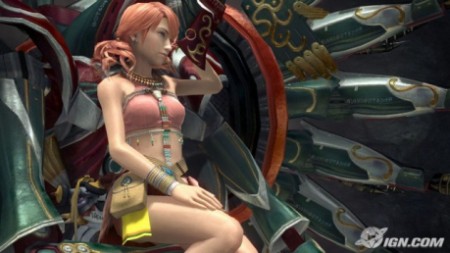 Maybe the reason that nobody likes the game is because it isn't enough like Mass Effect where there are romance options for the lead female characters like this one. Maybe Final Fantasy XIII is getting reviews from guys who live in their parent's basement with pictures of Sarah Michelle Gellar. Somebody will get that reference I swear.
IPhone


Apple has moved quite comprehensively to ban sex from its iTunes Application store, and while it does clear out some spam applications, some high-selling and even tame ones find themselves caught in the blast.
TechCrunch has been following these developments since Thursday, when the creator of "Wobble iBoobs" got at notice that his app – which grossed $30,000 last year – was being unilaterally removed due to user complaints about sexual content. The developer, Jon Atherton, went looking for answers from Apple on what it's new policy was toward sexual content – as Apple hadn't published one to developers. He says he was told the following. If accurate, it's more than prudish. Per Atherton (to TechCrunch):
1. No images of women in bikinis (Ice skating tights are not OK either)
2. No images of men in bikinis! (I didn't ask about Ice Skating tights for men)
3. No skin (he seriously said this) (I asked if a Burqa was OK, and the Apple guy got angry)
4. No silhouettes that indicate that Wobble can be used for wobbling boobs (yes – I am serious, we have to remove the silhouette in this pic)
5. No sexual connotations or innuendo: boobs, babes, booty, sex – all banned
6. Nothing that can be sexually arousing!! (I doubt many people could get aroused with the pic above but those puritanical guys at Apple must get off on pretty mundane things to find Wobble "overtly sexual!)
7. No apps will be approved that in any way imply sexual content (not sure how Playboy is still in the store, but …)
TechCrunch notes that Apple removed an app "that featured a popular fitness model in her workout clothe." It also asked if the ban would affect Sports Illustrated's swimsuit application. "The Apple employee wouldn't give a clear answer, but it was implied that the SI app would probably be removed as well," TechCrunch notes.
"Wobble iBoobs" might be a bit crude, but fundamentally, it's a joke application that some might say is no more offensive than "iFart" or "iPeePee" (both of which are on my phone.) It's also seems like an overreaction given that iPhones and iPods contain parental controls, and adult apps are listed with an "objectionable material" warning in the iTunes store.
It's Apple's store and device, so, the free-speech argument here doesn't apply. Apple can do as it pleases with the offerings sold under its name. If it wants to crack down on porn and paddle behinds and treat everyone like giggling kindergarteners, that's its right. If it wants to clean out useless or spammy apps that lure buyers with the promise of titillation, it can do that without harming developers who are a little more thoughtful or clever about mature subjects. It just takes more work. And a transparent policy. If this is accurate, Apple isn't serious about either.

To think that in this day and age we should be able to get away from needless censoring games and/or apps and treating the consumer as a child. Clearly, this is a result to the various apps that were pulled in the past few months that were overtly sexual. The only problem is that Apple went completely the other way and went overboard. Let's examine this basic policy as it stands from the interview.
In the Apple App world, basically all women need to be clothed from head to toe. If there is no skin, then actually gender shouldn't even exist. Silhouettes can't even be used, it is best if we are using any people in an app from here on out, that they are simply stick figures. If anything wobbles, it probably shouldn't. Actually those genderless stick figures shouldn't move at all. So basically, the Apple store will now feature apps that are the equivalent of Atari 2600 and Colecovision ports. Anything more and you might turn somebody on. And turning somebody on? Very bad.
The sad part is that there are parental controls on IPhones and IPods and if parents actually "parent" once in a while instead of blaming it on somebody else (in this case, Apple); then needless censoring wouldn't exist. I understand that this is Apple's store and they can do what they want with it with this kind of policy. However, in the long run: no sensible App or Game maker is going to take the ITunes App Store to be anything more than a casual diversion. Translation: Apple is not to be taken seriously.
Releases for the Week of February 23rd, 2010
Xbox Live Arcade – Fret Nice (1200 MS Points), Greed Corp (800 MS Points) & Lazy Raiders (800 MS Points)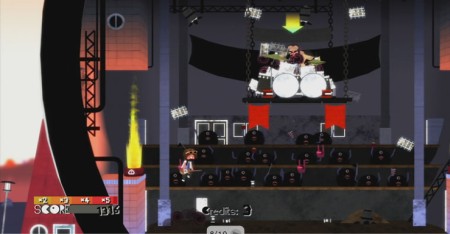 This game is actually already on the PSN play service and has earned enough respect to get an XBLA port as well. It's basically a 2d platformer but there is something special to the attacking scheme. It is done with music, or more importantly your little plastic guitar controller (it can also be played with a standard controller). Basically you jump in the air, hit a correct sequence of notes and kill your enemy. It's an interesting idea, but I would have to see how well it plays.

This game will be a turn based strategy game inspired by the industrial revolutions and the destructive effects on the environment. There will be battles on a map and they will feature land collapsing mechanics. Example, you gain credits by harvesting layers of land. By harvesting, you slowly destroy tiles in the area around them. Harvest too much and then the playing field starts collapsing. On the other hand, you also have to know how to use that against your opponent. There are up to four players and games will typically last twenty minutes.

You are helping one Dr. Diggabone. He's a British explorer who is on a quest for 16 lost relics across the continents. One problem, he doesn't run jump or shoot. Actually, he doesn't even walk. Instead you must make the world move around him so he can slide and tumble his way to these relics. You also have to hope he doesn't go head first into a spiked pit or get flattened by a boulder. There are 80 levels and if you use your avatar rather than Dr. Diggabone, you unlock a safari hat and outfit for the avatar.
Wii WiiWare & Virtual Console – Ghost Slayer (WiiWare – 600 Wii Points), Mouse House (WiiWare – 600 Points) & Family Go-Kart Racing (WiiWare – 500 Points)



Ghost Slayer is a first person sword fighting game. You are battling evil spirits that have come into the living world. The Ghost Queen awaits you as the final challenge to save the world. This game actually uses Wii Motion Plus (regular Wiimote okay too), and provides an extra layer of realism. Hopefully it plays out like Sword Fighting in Wii Sports Resort and adds to it. (If so, I might actually buy the thing).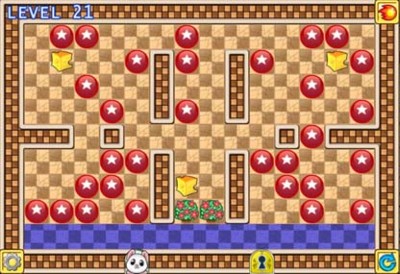 In this game, you are a mouse in a house looking for some cheese. This is a fast-paced logic puzzle game where you have collect all of the cheese in 100 different scenarios. There are some nasty bees and rats along the way not to mention obstacles like collapsing floors. According to the description, it should be fairly easy to play and perfect for players of all ages.



Our familiar family of four is back and they are ready to take on Go-Kart Racing. But this time, they brought along two friends, Auntie and Gramps. There are six members and karts to choose from. You can race on twelve different tracks and use the Wiimote for pin-point driving action. Like other racing games, this one has plenty of powerups including acceleration, lighting, and bowling bomb. If you liked the other "family" games, this should be an easy pickup.
Console Releases
PSP
Metal Slug XX
Playstation 3
Heavy Rain
Last Rebellion
Sonic & Sega All-Star's Racing
Xbox 360
Deadly Premonition
Sonic & Sega All-Star's Racing
Borderlands Double Game Add-On Pack: The Zombie Island of Dr. Ned/Mad Moxxi's Underdome Riot
Risen
Wii
Endless Ocean: Blue World
Remington Great American Bird Hunt
Sonic & Sega All-Stars Racing
Winter Blast: Snow and Ice Games
Sudoku Ball – Detective
Sled Shred featuring the Jamaican Bobsled Team
Pony Friends 2
Sushi Go Round
DS
Yu-Gi-Oh! 5D's World Championship 2010 Reverse of Arcadia
Casual Mania
Sonic & Sega All-Star's Racing
House MD
Hello Kitty Birthday Adventures
Lovely Lisa and Friends
Super Speed Machine
Pony Friends 2
Sushi Go Round

The game of the week is fairly easy this week and that is Heavy Rain. It's from the same people who made Indigo Prophecy for the PS2/Xbox (also known as Fahrenheit). The plot can be best described as a very dark film noir thriller with mature themes. But no supernatural ones. The motto of the game can be summed up in the following phrase: "How far are you willing to go to save someone you love?".
The game has four different characters and when one of them dies, that death is integrated into the rest of the story. The basic tasks are looking for the serial killer known as the "Origami Killer". The control system is quite unique and involves a lot of well timed key presses to get the correct action to take place. It looks like a winning exclusive for the PS3 and certain to do quite well for the system.
The rest of the games are quite the mixed mediocre bag. A word of caution, the top release for the 360: Deadly Premonition is a budget game. I'm not sure if it will be good or not but history is not kind to such games. One to watch, certainly but just be very cautious. The game is survival horror based and compared to the television show: Twin Peaks. Hrmmmmmm, I have to admit I am curious.
Final Thoughts & Mutterings
Nope, no original Xbox yet, I've bid on about a dozen auctions with no success. I think my price is right, I just have to be patient. $50 for a working xbox with one controller & a power supply is not asking too much. Anyhow, you might wonder what game I started after Smackdown vs Raw. After staring at my collection for about 15 minutes, I went with an odd choice: Mortal Kombat vs DC Universe for the 360.
I had purchased the game several months ago for $24.99 at a local Gamestop and it met the fate of many other games and doomed to sit in my collection until I got around to playing it. In the end, playing with the Joker, Flash and Scorpion interested me greatly. It's a fun game, I've already received 10 achievements and plan to at least complete story mode for both sides.
I'm pretty sure I will come nowhere near 1000 points since it involves mastering combos and being awesome online. However, I do see myself spending a couple more weekends at the very least going through the various characters and seeing how the play. Biggest surprise so far: Green Lantern. To be honest, I haven't been really impressed with the MK side outside of Scorpion. I miss Reptile and Johnny Cage. Anyhow, I'll be back next week with more thoughts on this game and a whole list of news to go through. Take care kiddoes!

As Always,
Kedrix of Aldrianian
(*The Forgotten One*)