Heavy Rain Film Rights, PS3 Lockdown, & Activision shuts down King's Quest? – Welcome to the column that asks you don't read any other gaming columns for the next 24 hours known as Dare to Play the Game.
This week for the time being, I am still playing Mortal Kombat vs DC Universe for the Xbox 360. I ran through the story mode on both sides and grabbed myself all applicable achievements. I'm at 350 points, unless I put some serious dedication to it, I don't see me getting much more.
Also, I'm certainly not getting any online achievements unless it involves the act of participating and nothing more. I played two matches online and got my you know what handed to me. It wasn't even a match, it was me playing the role of a punching bag. One of the participants even decided to whip out a fatality just to rub it in. Finish Him, oh you most certainly did.
Ode To Gamer Girls



This is Powergirl, in DC Comics she's the Earth-Two (alternate reality/parallel universe) version of Super Girl and cousin to Superman. She will be a part of the new DC game: DC Universe Online. Powergirl is an interesting character for she has a running joke with her largest assets. Yes, in the comics and in the most recent film: Public Enemies; let's just say they do draw attention to them consistently. In the photo above is a girl playing Powergirl who looks like she represents those assets very well.
News of All Types
Playstation 3


Around the world, PlayStation 3 consoles simply aren't working like they're supposed to, with an error Error: 8001050F; preventing people from not just going online, but from playing some PS3 games offline as well. [Post updated throughout day.]
From Europe to the Americas to, well, my house in Australia, users (mostly of older "Fat" consoles, those released before 2009's "PS3 Slim") have been complaining since Sunday that upon booting their consoles up, they're unable to sign into their accounts, check their trophies, use dynamic themes or access the PlayStation Network. That's fine, Sony say there are PSN connection problems, and that they are "looking into it".
Problem is, the error does more than just prevent you from going online. It prevents you from playing certain games offline as well. Even for some consoles that aren't connected to the PSN, like debug units. The screen above is what I was greeted with on a retail console when attempting to play Heavy Rain, and pressing out of it simply reboots the PS3, returning you to the main menu screen. It's the same story for other games that feature dynamic trophy support.
PSN games are no different; I tried to boot up "Flower", only to be greeted with a similar message about failed copyright protection, and it was right back to the XMB.
Sony say "stay tuned" for updates on the problem. In turn, we've emailed Sony for comment and will update if we hear anything more.
While theories abound that this has something to do with the calendar on older PS3s (some users are reporting their date/time settings have been reset), bear in mind Sony has redesigned its PlayStation website over the weekend, so it could be the result of some tinkering under the hood for the PlayStation Network. Then again, if consoles not connected to the PSN are also affected, it could be something else. Who knows!
Whatever it is, though, you have to wonder at the design process that turns a network outage into something stopping you from playing an offline, singleplayer title.
UPDATE – Sony has updated, saying "We're narrowing down the issue and continue to work to restore service to all. Updates as soon as we have them."
UPDATE 2 – A mass story-telling session on internet gaming forum NeoGAF points towards the issue potentially being related to a calendar bug in older PlayStation 3 consoles, not the PlayStation Network as was first suspected. Bear in mind this is mob science, however, and is by no means official confirmation on the cause of the problem.
UPDATE 3 – Citing unnamed "developers and studios", British site Develop say that the issue is affecting titles currently in production for the PlayStation 3, with debug consoles – used by developers to actually make games – thrown "into a rebooting cycle, due to an endlessly-looping error message".
UPDATE 4 – PS3's still aren't working, and there has been no official update from Sony in over 9 hours. Their last Twitter update says that they believe the issue does not appear to be impacting PS3 Slim consoles.
UPDATE 5 (8:20 am Mountain Time) – Sony U.S. silent since Sunday, but PlayStation Europe Tweets three times in the past hour: "Rest assured, we've many people working on fixing this issue. As soon as we have some news, we'll let you know." and then "Please don't trust info regarding this issue unless from an official Sony source. On Twitter this means @PlayStationEU and @SonyPlayStation." and then "We will be updating you the second we have some news."
UPDATE 6: Error code 8001050F was causes by a fault in the PS3's clock functionality, Sony tells Kotaku. A fix should be coming within 24 hours. Until then, stay off your console, they say.
UPDATE 7: Around 24 hours after the problem was first reported, people's PlayStation 3 consoles finally seem to be returning to normal

Uh-Oh! Well this issue affects the old fatties and not the old slim PS3s, it was certainly a black mark for Sony even if it only lasted about a day. When a company tells you not to turn on your console, that's bad. Furthermore, you know a bunch of people did turn on their console and the support lines probably got a few thousand callers who think they got some kind of Y2K bug when in reality it was a very odd clock bug that turned it back to the year 2000.
I also find it alarming that it was even affecting people who were playing a game off-line only with themselves. Thankfully, it wasn't something that was going to brick your console, just you couldn't play anything with a trophy system. Which is pretty much everything now isn't it? At least we can say that the PS3 didn't experience the Blue Screen of Death, errr the Red Ring of Death….errr doesn't play PS2 titles anymore…oh wait that was planned. I'm sorry…what were we talking about?

Here is why your PS3 is having an error. You have one guy who thinks the hook em horns is still cool and then I think you got Jesus in the right corner. No wonder your PS3 reset the time clock…I'm surprised the machine didn't set it farther like 20 years ago.
Heavy Rain


Heavy Rain was announced way, way back at E3 2006, which was the week of May 8. One week after the show, May 15, 2006, the U.S. Copyright Office recorded an option for the film rights to the game.
The option, re-filed in 2007, is between Quantic Dream chief David de Gruttola and New Line Productions. By itself it doesn't mean Heavy Rain is coming to a theater near you soon. Short form options are simply a notice that the rights to produce an adapted work have already been granted. It's largely a procedural matter, one that sets for the record who owns what rights.
But it's fascinating to see that, so shortly after the game went public, Quantic Dream had a Hollywood option for the game. It means they were either in talks well before this, or there are (or were) Hollywood types roaming E3 with orders to snap up rights to promising-looking games. Hollywood has tons of money, and options are often bought up as a hedge, comparatively cheaply, very early in a work's life cycle. Because they get hellaciously expensive when they get popular. So the latter scenario's somewhat plausible, too.

This is common practice really. The nature of the Heavy Rain game was such that it was written as a thriller, easy fodder to parlay into a movie whether animated or live-action. Heck, with the lack of original material in Hollywood today, this could actually be seen as about as close to original as you can get. Setting up an option to produce the work takes little money and little effort from a company such as New Line. In the same breath, would I like to see a movie based on Heavy Rain? Heck ya.
Honestly, I'll probably never own a PS3 since I own a 360 & a Wii (though if it ever dropped to under $100, I'm not sure I could hold out), but if I did I've already tabbed this game as a definite one to get. Regardless, I would go see the movie or at the very least own it on DVD/Blu-Ray. It's one of those codes of honor that diehard game fans have to go watch movies based on games. Except those directed by Uwe Boll. Though I still have a strange fascination to go watch Postal. I'm a very sick man.
King's Quest


The team of King's Quest enthusiasts who had, since 2002, been working on an unofficial continuation of the seminal adventure game, have complied with a demand by Activision to cease all development of their game.
The Silver Lining has a long and unusual history, even for fan-built games. The final official installment of King's Quest came in 1998. Two years later, enthusiasts started their first attempt at coding their own sequel, starting over with the current development volunteers, Phoenix Online Studios, in 2002. From the beginning, the team asserted a right to the project under U.S. fair use copyright law.
In 2005, Phoenix Online survived its first cease-and-desist order from the rights holder at the time, Vivendi Universal. Outcry and backlash over the project's termination led to an extraordinary non-commercial "fan license" granted for The Silver Lining.
However, Sierra's intellectual property has since changed hands from Vivendi to Activision. And Activision is not interested in continuing this license or crafting another non-commercial agreement. Says the developers:
After talks and negotiations in the last few months between ourselves and Activision, they have reached the decision that they are not interested in granting a non-commercial license to The Silver Lining, and have asked that we cease production and take down all related materials on our website.
As before, we must and will comply with this decision, as much as we may wish we could do otherwise.
We cannot say enough how much we appreciate the support we have had over these years from our fans. Without you, we would never have gotten this far. There would be no game to develop, and no one to develop it for. You have been amazing and steadfast, and we will always remember that and appreciate it more than we can say.
Sadly, after eight years of dedicated work and even more dedicated fans, The Silver Lining project is closing down.
What's more, the C&D requires closure of most of the forums set up to support the project's development. Phoenix Online says it is building a new, empty forum so fans brought together by the project can stay in touch.

If I had a sentence to describe Activision in this venture, I would probably not be allowed to write this column anymore. It's not kind and uses many small words. Instead I shall use some big words. Activision management or more specifically their lawyer division are psychiatrically disordered and show lack of intelligence. King's Quest has a small yet pretty dedicated following and Activision did the equivalent of spitting on their face and kicking dirt on them.
Honestly, I need somebody with half a mind to explain to me the reasoning behind the C&D. Here you have a project that doesn't use any protected code (to my knowledge) and was created by fans for fans. It's homage if nothing else. There is absolutely no wasted resources in letting them finish it out and seeing what quality of game they have on their hands. They already said they weren't looking to make money for it, what harm could it do?
If it turns out to be a winner, then you could probably hire a couple of them and possibly release it to consoles or a polished PC version. That would in turn equal money for Activision and for these developers. Activision has already said they aren't even going to do anything with the license. /facepalm. Of course this comes from the same people who had the chance to buy Blizzard for pennies on the dollar and then bought it when the price was many millions more.
If I was Silver Lining, I would change the name of the game and the npcs. Just remove any reference to King's Quest. Even if it came out something silly like Queen's Quest. The point is, I don't think they should give up. I know C&D's require you to give up…but there are ways around it. All I'm saying is don't throw away all that hard work, even if Activision is acting like immature monkeys with poo. I miss the real Sierra, they actually cared about fans.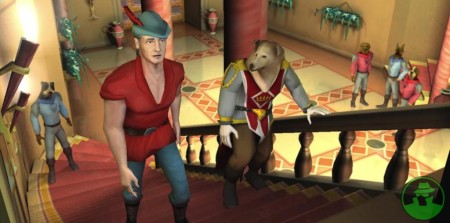 A screenshot from the now defunct game. I'm not sure about the dogs but the art is truly fantastic, a long staple of the King's Quest series. Hey, I know…call it Dog's Quest!
Releases for the Week of March 3rd, 2010
Xbox Live Arcade – Toy Soldiers (1200 MS Points)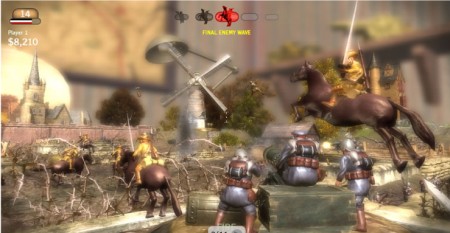 Xbox Live Arcade Block Party begins this week and the first game is Toy Soldiers. This is themed after the first World War (rather than the popular theme of the 2nd) and it can be described as a tower defense game. It pits toys against toys (you know those plastic ones you grew up with) where you defend a base in either single player or two player versus modes. You can control plenty of different soldiers including snipers and mounted gunners. There are also vehicles included in what could be a fun diversion.
Wii WiiWare & Virtual Console – Mega Man 10 (WiiWare – 1000 Wii Points), Dart Rage (WiiWare – 600 Points), Happy Hammerin' (WiiWare – 500 Wii Points) & Fatal Fury Special (Neo Geo – 900 Wii Points)



Another Mega Man game from the fine people over at Capcom. Since Mega Man 9 did some really good business, it only made sense that 10 was shortly behind. There are a few new things to this installment. You will be able to play as Proto man and be able to try Time Attack Mode from the very beginning. A couple of new modes are also added.
The first is Easy Mode which will make the game much easier to help out new players. So basically, it will be like the normal mode we have been begging for since the 80's instead of ultra-hard throwing the controlling against the wall mode. The other will be DLC and called Endless Mode. A stage that will simply continue on and on and on. (Insert joke here about most Mega Man stages).



Didn't we have a Dart game a few weeks ago? Or maybe this is the same game that just got pushed back. Supposedly this game sports pixel-perfect accuracy and requires no buttons to push, just use your Wiimote and go. There are four games included: 301-901, Cricket, Poker and Baseball. A VS mode is also included and there is even a commentator for the action. Just be sure to fasten your wrist strap tightly, okay?



Ever wanted bash some moles over the head with a hammer and you weren't at a Putt Putt or a state fair? Then we have your game for WiiWare. In this version of Whack-A-Mole (Sam & Max Reference FTW), you use your Wiimote like a Hammer and then try to frantically get the moles which are popping all over the screen. You can play against the CPU or up to three more friends. With plenty of options available, you'll let off a tank of steam in the process. Hey it's safer than a blunt axe to the junk.



Virtual Console makes a return this week and we actually get a NeoGeo game. Fatal Fury Special has 15 different fighters including some new ones (Billy Kane, Axel Hawk & Laurence Blood). There is also a new boss: Wolfgang Krauser. We also get the return of Duck King and Geese Howard along with usual favorites like Terry Bogard, Joe Higashi & Mai Shiranui. Line Move Attacks have been increased and you can also combo for the first time in a Fatal Fury game. If you don't lose a round in your 15 matches, you will also be treated to a special appearance by Ryo Sakazaki.
Console Releases
PS2
MLB 10 The Show
MLB 2k10
PSP
Lunar: Silver Star Harmony
Dante's Inferno
MLB The Show
MLB 2k10
Playstation 3
Battlefield: Bad Company 2
MLB 10 The Show
MLB 2k10
Xbox 360
Battlefield: Bad Company 2
MLB 2k10
Lips: Party Classics
Wii
Alice in Wonderland
MLB 2k10
Project Runway
Spongebob Boating Bash
DS
Alice in Wonderland
Sonic Classic Collection
MLB 2K10
Jigapix Pets
Spongebob Boating Bash
Deca Sports
Battle of Giants: Mutant Insects
Imagine: Sweet 16
Quad Kings

A good list of games but probably the only ones you will hear anything about is Battlefield: Bad Company 2 and MLB 2k10. The latter only deserves some sort of recognition because of the contest they are currently running. If you are the first person to record a perfect game and I guess video tape it or provide some other visual proof; you can win a million dollars. I'm trying to think back in any baseball game I played, I don't think I've ever pitched a perfect game. Shutouts, sure…but perfect…wow.
Bad Company 2 resembles the original breakout smash to a great extent, but the destruction has been upgraded. Now apparently, you will be able to collapse an entire building as opposed to just blowing out walls. New vehicles such as the UH-60, quad bike and a UAV helicopter (controlled by computer) will also be available. There are 13 single player missions but online is again where it is at. The game is so far getting very high marks and this could make a dent into the online shooter world or better known as Modern Warfare 2.
Final Thoughts & Mutterings
Hold onto your lugnuts, I will actually be completing 2 game reviews (count them two) in the month of March. The first will be coming this week (by Friday) in the form of Data East Arcade Classics for the Wii. It looks very promising so far, I played several of the games for about an hour and for $20 I'm very impressed. Besides, most of you know that I adore retro game compilations. This one has Bad Dudes, Heavy Barrel, Burgertime and twelve more from the archives of Data East. Awesome stuff.
The other title is Deadly Premonition for the Xbox 360. Often described (usually in sarcasm) as the 360's answer to Heavy Rain, this game puts you in the role of a young FBI agent named Francis York Morgan. There is a murder outside a town named Greenvale, and your agent has to investigate. The town is roughly 8 kilometers and you will be able to go over it by foot or car. There is also a day and night system with weather changes. Supposedly it has similarities to something out of David Lynch's playbook. Grand Theft Auto meets Silent Hill meets Twin Peaks, we can only hope that the game lives up to its odd billing. Expect this one by the end of March or after the next batch of dvd/blu-ray reviews that I do. Have fun kiddoes.

As Always,
Kedrix of Aldrianian
(*The Forgotten One*)