Patenting DLC Upsell, Changing Clothes in Fable 3, & In-Game Ads Going Away (Haha, Just kidding)? – Welcome to the column that tried to patent redundancy but realized Madden from EA beat us to the punch known as Dare to Play the Game.
Well, last week I was trying to find a game to tide me over until this weekend when I would open Deadly Phenomenon for the Xbox 360. To be honest, I didn't really try to find one. I ended up playing some World of Warcraft (there is a duh moment in there I know it), got my shadow priest to 74 and my combat rogue to 73 (I did start playing him again in spurts). I still feel I'm on track to make 80 with at least one of them by the end of the year.
The other thing I did was mostly silly. I played a bit of Fable II Pub Games. See, achievements are truly evil. I have one lousy achievement left and all I have to do is play Fortune's Tower & Keystone enough times to rack up some major points (I already finished up with Spinnerbox a long time ago). Doesn't matter if I win or lose, just generate points by making bets. Many times I will be bored or killing some time and figure hey let's go waste away in the Fable pub. Someday, I'll get that darn thing, and this column will probably be the first to hear about it.
Ode To Gamer Girls



This is Erin Torpey, voice for Athena in God of War 3. You might also known her for her role in the soap opera: One Life to Live as Jessica Buchanan. But these days, she singing folk songs and doing the voice acting thing. Athena is the goddess of war, but they have a folk singer voicing her? Well Athena also is the goddess of crafts and wisdom, maybe that was their angle.
News of All Types
Fable III


Peter Molyneux was smarting last week from the fact that half of the people who played his studio's last game, Fable II, didn't bother with half of its depth. People didn't even change their (virtual) clothes. His fault.
Molyneux's got a plan to fix things, and to induce more wardrobe changes.
The butler will do it — or, at least, endorse it. We're talking about the Fable III butler, voiced by Monty Python's John Cleese, appearing in the game when it launches late this year on the Xbox 360.
Molyneux explained: "The butler can say, 'Sir, you are wooing this girl. I can tell you the word on the streets is that you're just a hippie,' or whatever. 'Wear this and you're going to find out it's much better.' It doesn't come across as a tutorial. It comes across as a
butler. And it's John Cleese anyway, so it's naturally funny."
The butler solution being implemented by the Fable III team at Molyneux's Lionhead Studios is the latest attempt to fix a problem gamers and game makers suffer from in different ways. That problem is the neglect of parts of a game that have been toiled over but then left unexplored in the shadows. Gamers don't mess with the ability to change clothes in Fable II and X number of hours implementing a clothes-changing system in the game are essentially wasted. And the gamer misses out of something that might have been fun, interesting or even useful for their virtual quest.
"Thetragedy of it is there were these machines of [artificial intelligence] all running, anticipating you changing your clothes," Molyneux recalled, reflecting on the results of Microsoft's research into how people played the hit 2008 Fable II. "You could change people's attitude of you from good to evil, from kind to cruel, depending on how you looked. All of this stuff was running …" And people didn't use it. "We had done all this engineering but no one knew about it at all."
Molyneux dismissed the suggestion that maybe players just don't care about changing their character's clothes as they venture to save the world with guns and magic spells. He thinks they would, if they knew they could and if they knew the consequences. So he finds the fault with Lionhead. "We did an atrocious job of making people realize that you could change your clothes."
…
If the butler really does compel players of a big action-adventure like Fable III to change their clothes, that might be more akin to a Japanese role-playing game that convinces the average player that it is worthwhile to indulge in the game's deep but optional cooking system. Or it would be the fix that could diminish the kind of neglect for side stuff that leaves side quests in adventure game unexplored, that leaves secondary weapons in an action game unused. Imagine if all we neglectful gamers need is a nudge from a butler.
With a butler, gamers will know better. And if Fable III gamers change their clothes a little more often, everyone, from the players to the creators will be the better for it. Maybe, virtually, they'll even smell better, not that a Fable game is ever going to keep track of that.

So, I would be probably be correct if I were to say that Fable III's butler is going to be like Fable II's dog. By this, I mean that in the beginning you think that facet of the game is going to be utterly annoying. But by the end, you wonder how you ever got along without him. The dog from Fable II is also coming back supposedly with more tricks and things he can do.
Anyway, back to this butler or John Cleese in your virtual closet. I was one of the few people who actually did play around with clothes in Fable II but I was clearly in the minority. The only thing I ever looked at was the style (to my liking) and whether it possessed a good or evil alignment. The idea of changing your clothes for certain situations is a good one especially when dealing with disguises. But the problem is you don't want to go as far as micro-managing style.
A butler similar to Alfred (from Batman) could be just what you need. Say you are a little stuck on how to get past some guards and the butler suggests an outfit. Or trying to woo the king's daughter and not sure what color roses she likes, okay I can go with that. As long as the butler doesn't spell it out because some of the fun is trial and error.
Quite frankly, if he becomes a nuisance I'm going to bludgeon him like my second wife in Fable II. Blah, blah save my kid, blah blah take my gift, blah blah do you have a wife in another city? Good lord woman, shut up; I'm trying to find a treasure chest in the dirt here with my dog. And of course I have another wife, you really don't think I'm out questing do you?

When I can change clothes and have green glowing eyes, then I'll be interested more in this virtual butler idea.
Electronic Arts


Apparently tired of giving space to "Knobby Tires" and "Synthetic" on its virtual stadium walls, Electronic Arts is dropping its two in-game advertising partners and moving that sales operation in-house, beginning with Madden NFL 11.
EA, according to the digital marketing site ClickZ, will end its partnerships with IGA Worldwide and Massive Inc., after their deals with the two in-game ad companies expire in August. That, of course, is when Madden NFL 11 ships, so EA's internal operation will debut with what appears to be an attractive ad property. Of course, in-game ads are much more than whatever appears on the billboards in the arenas of a sports game.
Madden last year ramped up its broadcast presentation, bringing along sponsorships from Snickers, Burger King and a rotation of pop-ups that some found annoying. And it's more than console games, as well. Earlier this week at EA's first "upfront" event, where the publisher pitched its products to advertisers, EA gave emphasis to Apple formats, such as its growing line of mobile sports games, and the iPad. Social networking such as Facebook will also be a focus.

Honestly, I've only come into the whole in-game ads thing with my copy of WWE Smackdown vs Raw 2010 when it would tell me about the newest movie or some kind of new deodorant. IGA Worldwide and Massive Inc had a rather large stake with Electronic Arts and perhaps they got too annoying or their products weren't in line with Electronic Art's own vision.
Digging deeper, I wonder if it has to do with the Microsoft vs Apple war. Massive is owned by Microsoft. They bought them up in 2006. Recently, at this upfront event; Electronic Arts was promoting Apple formats. Is that really a coincidence? You really can't play both sides of that fence though if anybody could play that fence, it certainly would be Electronic Arts.
Microsoft


A recent patent application describes a process in which an Xbox Live gamer, invited to a multiplayer session, but missing a critical piece to play (a map, a track, whatever), is offered and may buy it without dropping the invitation.
There probably is something patentable in the technology that manages such an online state, which Broke My Controller spied yesterday. But to the layperson, yeah, this looks like Microsoft's thinking that asking a simple question to solve a simple problem is a patentable process. Lots of things are patentable in the U.S. I remember at the end of the Coors brewery tour they had a wall proudly displaying all the patents their engineers had been awarded. One was for a beer bottle shaped like a baseball bat.
So the news here is how we might see some changes to Xbox Live Marketplace. Here's the problem the patent application seeks to solve: Say you get invited to a race, the race is on a track that's sold as DLC and you didn't buy it. Currently, you'd get an error message and have to figure out for yourself why your session dropped, then go into Xbox
Live Marketplace, find the DLC (and the correct one, if there's more than one track pack), buy it, message the guy who invited you to ask for another invitation to the game, and then join up. Lots of moving parts, inviting players to give up at any one of them.
This, however, has never happened to me, and the absolute worst case scenario put forth in the patent application doesn't sound like a very common hangup. Usually you know the people who invite you to games, and usually there's some communication about DLC if a map is required. But since there's an opportunity to make money off of it, damn straight Microsoft will optimize for that minority. Anyone would.
Still, I'm also wondering what happens if a friend's at T-Bone Junction in Borderlands, invites a pal to shoot up some Lance, and the guy has to wait for 20 minutes while The Secret Armory of General Knoxx loads. The guy with the DLC can continue on his merry way solo, but is it still a background download or is his friend in progress-bar limbo the entire time? So this is probably better for dun dun dunnnnnnn …. DLC that's just an unlock key for code already on the disc. Great! Another justification for its existence.

I really hate DLC. Okay, let me rephrase that. I hate the idea of something sold purely online with no physical media. I fully support DLC that later comes out on disc. See GOTY packages, separate DLC offerings like Dragon Age Awakening, Sam & Max on the Wii, and the GTA Episodes. Or I understand things like songs on Rock Band or most XBLA games, because quite frankly that's probably not going to sell on retail (but I do love XBLA & Rock Band disc collections).
But here is my beef, games that come out; arguably in barebones format and then a week later DLC is released. Worse yet, there are games that require you to have the downloadable content or you can't play online with your friends. Suddenly, the cost of the game is doubled and so is somebody in development's fat wallet. This is where the DLC Upsell patent comes into effect.
But honestly, think about the peer pressure this implies. You and your friend go off and buy a game together that you really want to play together. You scrape together every penny and go buy it while your friend has no life or significant other. He buys the DLC the first day it is available and sends an invite to you to play. You get on, and boom the DLC Upsell goes into effect.
There you sit for at least a few minutes thinking to yourself, I just spent $60 on this game and now I have to pay another $15 to be up to date. And if you decline, you'll immediately get back a message from your friend going dude, what is with the decline, I thought we were friends. Sure, most adults this might not be an issue but think how many kids actually act like that. A lot. Microsoft, the leader in peer pressure patents pending worldwide.

I'm telling you, peer pressure. His friend already thinks of him as a dinosaur for not having the DLC, he calls him Dino for pete's sake.
Releases for the Week of March 17th, 2010
Xbox Live Arcade – Perfect Dark HD (800 MS Points)
This Nintendo 64 game was heralded back in the day for a well done storyline and balanced gameplay. This was before Perfect Dark Zero came in and messed up a good thing. The year is 2023, you are Joanna Dark, an operative for the Carrington Institute. There is a conspiracy a foot by a rival organization called dataDyne. It was one of the best games for the Nintendo 64 and this updated port features better graphics and improved frame rate. There is also local multiplayer (4 people) and Live multiplayer (12 people). Special bonus: there will be weapons and levels from Goldeneye. If you were saving 800 points, this might be your rainy day.
Wii WiiWare & Virtual Console – Rage of the Gladiator (WiiWare – 1000 Wii Points), Triple Shot Sports (WiiWare – 500 Points) & Castlevania Dracula X: Rondo of Blood (TG16/PCE CD Rom – 900 Wii Points)



Have you ever sat at home thinking, "I want to play a gladiator game that borrow elements from Punchout"? Here is your chance. Rage of the Gladiator is a first person fighting game. You have to figure out the patterns of these arena fighters on your way to victory. There are ten bosses in Normal Mode and then those same ten make it harder in Challenge mode. The final boss is at the end of Challenge mode. There are also rpg elements like skill points in a title that proves WiiWare titles might just be getting better.



This game is called triple shot because it involves Archery, Pistol Shooting and Free Rifle. You are engaging in competitive target shooting and have full control over your weapon. But you must keep in mind that there are weather conditions and even your athlete's breathing pattern that you must consider if you want to get the best score possible.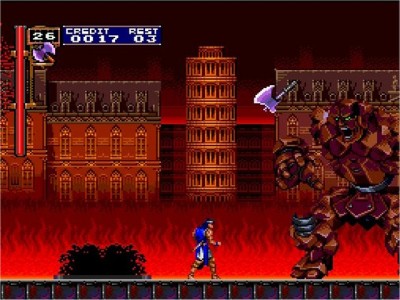 This is one of the best games ever I have played, and certainly the best on the Turbo Graphix / PC Engine system. Probably the best Castlevania game as well, only surpassed by Symphony of the Night, the sequel to this one. The plot is fairly simplistic, its 1792, Dracula has been revived and he sets out to destroy everything in his path. But Dracula runs into a vampire hunter named Richter Belmont. Dracula responds by kidnapping Richter's girlfriend Annette, Maria Renard and two other villagers. Off they go to the castle.
The game supports CD quality music (some of the best I've ever heard). Furthermore, there are multiple ways to attack the levels (branching paths to alternate levels) and you can rescue Maria which enables her as a playable character (highly recommended). Believe me when I say this, if you have 900 points or more on your account, buy this game. You won't be disappointed.
Console Releases
PSP
Dead or Alive Paradise
Playstation 3
God of War III
Dragon Age: Origins Awakening
Resonance of Fate
Xbox 360
Dragon Age: Origins Awakening
Metro 2033
Resonance of Fate
Supreme Commander 2
Prison Break: The Conspiracy
Wii
Fragile Dreams: Farewell Ruins of the Moon
Hall of Fame Ultimate Hoops Challenge
GTI Club Supermini Festa!
Sushi Go Round
Smart Series: Jaja's Adventure
DS
Infinite Space
Let's Draw!
Spectral Force Genesis
Bakugan: Battle Trainer
Sonny with a Chance
T.A.C. Heroes: Big Red One

Believe it or not, PS3 has easily the strongest title this week in God of War 3. This direct sequel will apparently be right after the plot line of the 2nd game and he will be going for revenge against Zeus. Expect a movie-like plotline, kinda like the way Uncharted 2 drew you in and kept you playing for a long, long time. Hey, better yet; Hercules shows up in the game and is voiced by Kevin Sorbo. He simply can't get rid of that role.
There are a couple other ones worth mentioning. Next is the DLC expansion disc release of Origins Awakening. It will also be available on PSN/XBL for $40. (Just buy the disc copy kids) It will open you up to new experiences, a new level cap along with abilities, spells and other assorted goodies. You can import a character from Dragon Age or start a new game hence making it a standalone piece. I'm sure to get this at some point, but first I have to play DA: Origins. Still sealed. *sigh*
The final game is Resonance of Fate for the Xbox 360/PS3. This is an RPG that uses a combination of real time and turn based for its battle system. It's actually set in the future and the story revolves around a device called the Basel which is basically a giant air purifier. One day, it starts to malfunction and the world as we know goes a little bit batty. There is a Japanese demo but I'm not sure if it made it to American soil. Might be worth checking out.
Final Thoughts & Mutterings
As mentioned, I will be playing Deadly Phenomenon sooner probably sooner than I think. But, I do have a couple of things on tap after that. On Tuesday morning, I went ahead and purchased Dracula X: Rondo of Blood. I knew I wasn't going to hold out, why should I even try? In celebration, I also downloaded Bonk 3 for TG-16 off VC (to leave me 500 points for a NES or SMS game). In the heyday of the Turbo Graphix system, I played and beat the first two; so this was a no-brainer.
After Deadly Phenomenon is a distant memory, I do have plans for another Wii game. That game would be Sam n Max 2: Between Time and Space. The retail area around me including Walmart, Target and even Gamestop didn't even show up this game in their inventory. However, Amazon did have this title in stock and I was more than happy to scoop it up at the price of $20. BTW, I would be amiss if I didn't mention that my own wife did her first solo review this week: Possession on DVD. She did an excellent job and I encourage everybody to go read it. Have fun kiddoes!

As Always,
Kedrix of Aldrianian
(*The Forgotten One*)