Call of Duty: The Break Up, Halo: Full of Bull, & Ubisoft wants to improve the DRM experience? – Welcome to the column that is full of bull and we aren't talking about a cow either known as Dare to Play the Game.
Ever been in one of those moods where you can't figure out what to play but yet you have dozens of games lying around unopened? So what do you do? Play something you've played to death and the same pile grows a little larger every time you are foolish enough to buy another game. I've been that way for a while. Honestly, I would love to say that could change, but it is going to take some doing.
Currently, I play a mess of games but mostly it ranges from World of Warcraft to Rockband 2 to Game Room (Centipede & Crystal Castles) to WWE Smackdown vs Raw 2010. I don't mind it so much, but I just look at my library of games that are near begging me to play them. I will always collect (sometimes even games I have little intention to play), but at some point I need to start playing some of these games that I get so hyped up to play and at least weed out the bad ones and sell those off on Ebay or trade to others. We'll go over some of the games I own and interested in playing soon later.
Ode To Gamer Girls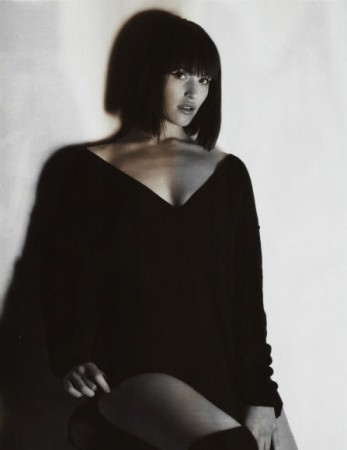 This is Gemma Arterton, you might remember her as Bond girl: Strawberry Fields from Quantum of Solace. This spunky 24 year old is also set to play Princess Tamina in the new movie: Prince of Persia: The Sands of Time. Together with Jake Gyllenhaal, they must rescue the Sands of Time. Jake Gyllenhaal? Mr. Jack Twist? My dear, you so need a better leading man. At least Ben Kingsley is the principle villain.
News of All Types
Activision


Intrigue, backstabbing, secret messages and double agents: Reading the world's largest game publisher's counter-suit against the top people in charge of creating one of the biggest video game franchise in history is like dropping into one of their Modern Warfare video games.
Told from the perspective of Activision, the publisher didn't take lightly the firing of Jason West and Vince Zampella. It was, they write in the 23-page lawsuit made public today, a decision that did not arrive at lightly or without good reason.
Reached for comment this afternoon, Robert M. Schwartz, the attorney representing Jason West and Vince Zampella, called Activision's take on the increasingly volatile break-up of the game makers and game publishers "false and outrageous."
"Activision's inaccurate and misguided allegations lose sight of the reality here: None of the false claims of insubordination or breach of duties had any negative affect on Activision — none," Schwartz told Kotaku. "Modern Warfare 2 has been the world's most successful video game. And none of this changes the fact that Jason and Vince would still be at Infinity Ward developing new games except that Activision kicked
them out. This is just an Activision tactic to avoid paying Jason and Vince and everyone else at Infinity Ward the millions of dollars they all earned and that Activision owes them. Since being fired by Activision, Jason and Vince have taken steps to regain control over their creative future and plan to have an announcement very soon."
But, according to Activision's counter suit, the birth of Call of Duty was the happy child of a happy relationship. New studio Infinity Ward was in dire financial straights when they came to Activision looking for help. The publisher says initially they purchased 30 percent of the developer's stock and then in 2003 bought up the rest of the company. With it came West and Zampella, both of which were eventually signed on with contracts through 2011 that prevented them from hiring away employees if and when they left for three years.
Over the course of their employment, Activision claims, the two became increasingly hard to deal with. Both are said to have refused to cooperate with Activision's business plan calling for a "unified approach to the Call of Duty franchise" and most recently threatened to halt Modern Warfare 2 production several times.
Activision also writes in the suit that the two began to become increasingly insubordinate, telling other employees that Activision executives were incompetent and even "openly discussed divorcing Activision" to create their own studio.
"When Activision prevails in this matter, it intends to reallocate any share of the Modern Warfare 2 bonus pool that might otherwise have been payable to West and Zampella to those employees responsible for the success of the game who remain employees of the company subsequent to the resolution of the matter."
At some point, the two sought the help of a talent agent to "secretly contact the CEO and other senior executives of Activision's largest competitor."
The two did their best to hide the communications, according to Activision, but the publisher found out and even included sample emails in the suit.
Activision's suit seeks an unspecified amount of damages and asks the court to prevent West and Zampella from trying to hire away Activision employees, using any information from Activision for making games and wants the two to return their bonuses.
"The allegations Activision made today are false and outrageous," Schwartz said. "Just one example is Activision's allegation that Jason and Vince conspired to spin off Infinity Ward. Activision itself proposed spinning off Infinity Ward when, last year, it sought to renegotiate Jason and Vince's contract and induce them to forego developing a new game in favor of doing another Modern Warfare sequel.
West and Zampella for their part, claimed in a lawsuit filed against the publisher after their termination that Activision carried out an "Orwellian," "pre-ordained" investigation designed to "manufacture a basis to fire" them in order to avoid paying them bonuses. The ex-Infinity Ward leads also claim that Activision "conducted the investigation in a manner designed to maximize the inconvenience and anxiety it would cause West and Zampella," harassed them and other Infinity Ward employees and refused to honor contractual agreements.
The two Infinity Ward founders are seeking "in excess of $36 million" in damages from Activision as well as rights to the Modern Warfare brand of games. Specifically, that meant "any Call of Duty game set in the post-Vietnam era, the near future or the distant future."

I did truncate the article a bit, the full article can of course be found at the link.
Call of Duty: Modern Warfare 2 whether you like the game or not did huge business. Possibly bigger business than anybody at Activision even expected. The two people arguably the most responsible for that business were Jason West and Vince Zampella. Those two gentlemen received very large bonuses for their work. However, Activision sought to fire these two men based on the claim that they were acting like primadonnas and trying to usurp their best workers from underneath Activision's feet?
The question, who is really the bad guy here? Is it Activision who didn't feel like paying what these people were worth and figured the best way to get rid of them was act like the employees were doing something wrong and fire them? Or was it the two employees who acted snobby and thought they could do better without Activision as long as they could hire away some of their staff?
I'm not sure anybody knows or is willing to tell the truth without a gun to their head. I'm sure West and Zampella think they deserve their hard earned compensation and I'm willing to agree with them. I'm also willing to agree with Activision if their firing of these two individuals was on the level. Regardless of how high and mighty these two were, there is no reason (if they did it of course) to steal away prized employees because you don't want to answer to the big dogs anymore.
Let's not forget that a few years ago, Infinity Ward was headed for the tanker and Activision basically saved them because they saw the potential. In some ways, those of Infinity Ward owe Activision their livelihoods. But if Activision exploited that fact, then they are to blame.
Rest assured, some settlement will come out of this and West/Zampella will probably get their own gaming studio or sign with somebody like Electronic Arts. Updated news, some of the Infinity Ward's employees have already resigned which only adds fuel to the fire. Suffice to say, the next Call of Duty either won't be quite as good or under a different company. How we love to kill the golden goose.
Halo


You might like Halo. You might not. Crysis 2 lead writer and sci-fi novelist Richard Morgan says he doesn't like Halo at all.
"I don't like the Halo series at all," says Morgan, best known for his dystopian novel Altered Carbon. "Okay Halo is not actually bad, it's just, you know, average." Average? Do explain!
"The reason that its fiction doesn't work has nothing to do with the fact that you don't get to see Master Chief's face, it's because of lines like 'Okay… I'm gonna get up there and kill those guys'," says Morgan. "Halo is full of these bullshit archetypal characters and there's no real emotional effect."
When Neill Bloomkamp, the director of District 9, was attached to the Halo film, he mentioned that the plan was to have the film focus on those around Master Chief. That certainly does give a degree of gravitas to what Morgan is saying.
Of course, Crysis 2, a first-person shooter, is expected to be out later this year. So is first-person shooter Halo: Reach.

Halo needs a plot? It needs strong characters and archetypes? Huh? Let's face facts, nobody plays Halo for the single player mode except noobs like me. See, I thought there was an interesting story mode once upon a time and then I realized that about 2/3rds through the game, there was no story. Master Chief is given an impossible mission and then he completes that mission while blowing up a ton of things in the process.
This is part of the reason the Halo movie concept has been around for five years and they still haven't pulled the trigger. Master Chief in all reality has no back story, there is nothing for movie audiences to hold onto and connect to. So, as they suggest in the article, they would have to focus the movie on those around Master Chief, not him directly.
But then again, Halo: Reach will make a bucketload more than Crysis 2 too, regardless of whether Crysis 2 has the most amazing story ever written or whether it requires the most complex graphics card ever built. But, Crysis 2 is set to come to the PS3 and Xbox 360 platforms, something that the previous game did not. So could Crysis be a true contender to the Halo franchise? We'll have to wait until the Fall of 2010 to find out.
Ubisoft


Good news, everyone! Ubisoft says it's "constantly working to evolve and improve" its new "online services platform" for gamers. Awesome! What's this "online services platform"? Why, it's Orwellian b.s. for "DRM."
In other words, despite the utter fiasco its PC copy-protection scheme has been so far, that sucker is here to stay, so get used to playing their games with an always-on Internet connection. Which, even if you have it, still depends on their DRM servers – oops, online services platform – being up and running, as it actually was not during the rollout of Assassin's Creed II.
"Most forthcoming Ubisoft PC titles will use our online services platform," a spokesperson told Eurogamer. "As with any online technology, we are constantly working to evolve and improve it."
Awright! Bitchin'! PC gamers, you can probably look forward to some free DLC for Splinter Cell Conviction, Prince of Persia: Forgotten Sands and Ghost Recon Future Soldier when pirates inevitably attack the DRM servers during those releases, too.

Ubisoft, listen up. If I have to mention your DRM policies one more time…I swear, I'm going to write a letter or something (that ought to get a laugh from at least one other person). But seriously, I am getting sick and tired of giving Ubisoft any space on this column at all, even if I keep it to an absolute minimum. So say this with me now Ubisoft: Drop the DRM, it is silly, juvenile and worst of all it is just plain stupid.
Online services platform, what a joke. Here…we are going to sell you this game, but in order to play it, you must be connected to the internet. So, if you must be online, then is it an MMO or something that has plenty of social interaction? No, it is just a single player game primarily, you can't even play it with somebody locally. Alright, well am I online all the time because you keep the game up to date with frequent patches? No, we hardly release any patches. Then WTF is the point?
The truth is that Ubisoft is losing most of their PC customers over this. The 360/PS3/Wii crowd is mostly oblivious to it, but the PC crowd is livid. Even though it is wrong, hackers will also attack their servers until they realize that they need to quit these shenanigans. To be honest, I refuse to buy another Ubisoft game (certainly PC, and most likely 360 as well) until they either heavily modify the policy or stop it all together. No matter how much you tempt me with Splinter Cell.

Of course I'd be amiss if I didn't bring up every so often the incident where Ubisoft got caught with their pants down. They released a patched Exe after their Direct2Drive release of Rainbow Six Vegas 2 kept messing up. Turns out that they used code from a working crack as evidenced by this hex editor. Maybe this is why they have been so unbearable about copy protection ever since.
Releases for the Week of April 14th, 2010
Xbox Live Arcade – Double Impact: Final Fight & Magic Sword (800 Microsoft Points)

This week we get an odd double treat from the minds over at Capcom. It is a pair of arcade games that I guess they thought would best be served together. The first is the arcade port of Final Fight which features Haggar, Cody & Guy against the evil Mad Gear Gang. It's a side scrolling beat em up with some unique features in that the three fighters had different styles and the health of each enemy was always at the top of the screen so you knew how much more beating you had to go.
The second game is Magic Sword, a personal favorite of mine. In this game, there is a dark lord Drokmar who has control over an evil crystal known as the Black Orb which could give him control over the free world. You are the hero known as the Brave One and you must survive through 50 floors and defeat Drokmar in his Dragon Keep. You have a lot of allies to help you and you must master their abilities effectively. Expect achievements, hd graphics and a host of goodies in this interesting 2 pack from Capcom.
Wii WiiWare & Virtual Console – Military Madness: Nectaris (WiiWare – 1000 Wii Points), & Zaxxon (Arcade – 800 Wii Points)



Some of you might remember my preview of this game when it was released back in September for the Xbox Live Arcade service. This is essentially the same game as the old Turbo Graphix 16 version that can be found on VC for 600 points except this has 3d graphics and a bevy of multiplayer modes. It's one of the best early military strategy games in existence and being a veteran of the TG-16, I can say it is a solid romp.



This one makes me laugh just a little bit. Most of us know about Zaxxon, it is a classic arcade shooter that gives you the experience of flying your craft through a fortress shooting enemies but having to worry about running out of fuel or being shot down. But they want 800 points for something that is included as a bonus game on the Sega Genesis collection (PS2) & Sonic's Ultimate Genesis Collection (Xbox 360/PS3).
Not to mention, you have to think that this will land on Microsoft's Game Room service for $3 (a $5 difference). Virtual Console unless they are going to release X-Men, Simpsons, or some other high profile arcade game from our past would best served to release classic console games. The arcade ones just aren't working.
Console Releases
PS3
Grand Theft Auto: Episodes from Liberty City
PSP
Blood Bowl
Xbox 360
Tom Clancy's Splinter Cell Conviction
Wii
Family Gameshow
Horrible Histories: Ruthless Romans
DS
Sea Park Tycoon

Sam Fisher is back! After a four year layoff, it appears that he is back with a vengeance and trying to find those responsible for his daughter's death. There will be interrogation techniques that will include the ability to use items that are already present in the environment. There will also be a Mark and Execute feature which will allow Sam to mark specific targets and then shoot them when appropriate.
Another feature, Last Known Position will create a silhouette of where the enemies think you are allowing you to go the other way and possibly out maneuver them. There will also be some multiplayer modes and also include Sam with long hair and a full beard. Even if it is from the minds at Ubisoft, this looks like a pretty solid effort.
Outside of that, there isn't much this week. One note is that PS3 owners do finally get the GTA episodes after I was firmly convinced of that whole exclusive agreement that Microsoft had was ironclad. Perhaps for the upcoming GOTY copy of Batman: Arkham Aslyum on the 360, we will finally get Joker levels? One can only hope.
Final Thoughts & Mutterings
As I was explaining in the beginning, I have a ton of games that are screaming to be played in my collection. I could probably pick any system I own and find a game that I haven't played on it but I own a copy of. But let us focus on my two current systems: My Xbox 360 and Wii. Furthermore, let me focus on games that I've bought in the last 6 to 8 months that are either very little played or none at all.
On the Xbox 360, I just received copies of Battlefield: Bad Company (the first one) along with Burnout Paradise. Reaching back a little bit, I also have a brand new copy of Dragon Age. Then on the bargain pickups there is also Bionic Commando, Eat Lead: Matt Hazard, Clive Barker: Jericho and a barely played copy of a game I'm sure I've mentioned a few times on here before: Deadly Premonition. *sigh*
On the Wii side, I recently traded away Super Mario Galaxy (which I had played but wasn't in love with) for New Super Mario Bros and I have both parts of the Sam & Max games after the second one came out fairly recently. It honestly gets to the point where I'm staring at my collection and I don't know which way to turn. If there are any suggestions, I would love to hear them now that you have a list to work with. We'll see what happens, have fun kiddoes.

As Always,
Kedrix of Aldrianian
(*The Forgotten One*)