Fallout 3: New Vegas, Super Mario Crossover & When Will I Quit Gaming? – Welcome to the column that dares anybody to rip the controller from his cold dead hands known as Dare to Play the Game.
So, I looked at Tecmo Bowl Throwback all of last week and I simply could not bring myself to buy the darn thing. There is honestly only one reason why. The size of the players on the field. They are ridiculously small (in HD or Classic mode), to the point of picking one out for a particular play can be rather difficult. After a while I did get better with the demo, but never to the point where I felt comfortable. It's a real shame and something of a disappointment.
However, I did take the time to purchase the Final Fight and Magic Sword Double Impact package. The eight hundred points has been well spent to this point. However, I did run into one issue that I didn't know the fix to until Tuesday. It seems that unless you disable online mode, you can't pause. Well you can, but the game goes on without you. To be honest, I had no idea I was even in online mode.
The thing that is worse about this is my batteries went out in the middle of a session. Did the game stop? Haha, I laugh in your general direction. Nope, it just told me to replace my batteries and kept on going. You have to appreciate the arcade experience. However, the games are fun and if I can fit it in week and a half, I'll throw a review out there. Of course, since I am leaving for vacation in that time, I might not be able to.
Ode To Gamer Girls



This would be Scarlett Johansson playing the role of the Black Widow from the upcoming movie: Iron Man 2. Since the Iron Man 2 game hits streets this week, I figured it would only be fitting. *She's not a voice in the game, only her likeness*…really?! So the videogame really is a joke? *Yeah, mostly* Oh well, enjoy Scarlett anyhow.
News of All Types
Fallout: New Vegas


If you've already spent hundreds of hours combing the wastelands of Washington D.C., Pittsburgh and Anchorage, Alaska in Fallout 3, what might convince you to revisit the post-nuclear version of Sin City in Fallout: New Vegas?
Developer Obsidian Entertainment is taking over for Bethesda Softworks for the follow-up to Fallout 3, set three years after the events of that game and thousands of miles westward, featuring an all-new cast of characters. What does Fallout: New Vegas have to offer the Vault dwelling veteran?
Specifically, for the serious Fallout fan, New Vegas introduces a Hardcore option from the get-go, allowing them to bypass early tutorials and live a more difficult post-nuclear life. Players opting to go hardcore will have to stave off hunger and dehydration, and will be required to visit doctors for more serious injuries. Hardcore also more harshly limits the amount of ammo one can carry, applying weight to bullets. Stimpacks won't heal instantly, but will heal over time.
Players can choose whether they want to go Hardcore during the game's opening, which doesn't begin in a Vault, but at the offices of New Vegas' medicine man Doc Mitchell. He'll patch you right up after your whole "I've got a bullet in my head" ordeal that starts off the next Fallout. Yes, finding out who was trying to blow your brains clean out
and why they left you for dead will play some part in the story of Fallout: New Vegas.
Doc Mitchell will fix your face up the way you like and, through a series of tests, help you determine your S.P.E.C.I.A.L. abilities (Strength, Perception, Endurance, Charisma, Intelligence, Agility, Luck). He'll set you up with a Pip Boy 3000 and get you on your way.
Obsidian's new take on Fallout introduces a few other changes, starting with the Companion Wheel. The pop-up radial menu lets players control their allies in battle, issuing simple command behaviors to AI-controlled compatriots.
The VATS combat system has also been tweaked, allowing for melee attack commands. Just don't expect a massive difference in the way the successful targeting system worked in Fallout 3. But do expect a greater variety of weapons, thanks to new weapon mods that let players customize their firearms with larger clips, scopes and specialized ammo. More outlandish weapons like the grenade machine gun and golf club will also add a little variety to your post-nuclear excursions.
During your journey across the desert lands of Fallout: New Vegas, you'll have to deal with the various factions who claim ownership of certain territories, like the New California Republic, the Brotherhood of Steel and Caesar's Legion. The notoriety system complements the karma system of Fallout 3. Depending on the actions you take—who you kill and who you befriend—various groups will either want you dead, want to be
your best bud or attempt to pay tribute to your character.

As many of you know, I reviewed Fallout 3 for the 360 upon weeks of it coming out. I gave it above average reviews and thought it was a really neat game. The sad part was that I actually traded the game away to get Dragon Age: Origins at a cheaper price. Of course when DA: Origins sits on my bookshelf and not played, I really question whether I did the right thing. In fact, ever since then I have been looking for a cheap copy of the GOTY edition of Fallout 3. At least I know I will play that.
It had a unique look and actually played pretty well (even if it did have its issues). Now with the new one nearing a release date (November 16th, 2010), I am intrigued to see that they kept the core gameplay the same but instead just added more options and enhanced your experience. The Hardcore mode is interesting but I don't believe I have a death wish as the original was hard enough.
But in the same breath, the new Companion Wheel ought to make it a lot easier to control your allies who had a habit of running wherever they felt like in the middle of a fight. I'm also glad VATS stuck around, sure it wasn't perfect but it was arguably my most enjoyable part of the Fallout experience. We'll see when November gets here and my pile of shame isn't so shameful (maybe).
Super Mario Cross Over


Jay Pavlina recently released a sensation of a video game, a remix called Super Mario Bros. Crossover that allows gamers to play Super Mario Bros. as the heroes of Mega Man, Metroid and Castlevania. Other legends almost made it in.
From a GameXplain interview with Pavlina about the making of the game
GameXplain: Mario, Mega Man, Simon, Samus, Bill, and Link—that's a fantastic selection of characters, but were there any others you were considering adding? Were any cut for time or developmental reasons?
Pavlina: Yes, originally there were nine characters, and I'd really like to get these characters in at some point if possible. The other three characters were going to be Ryu Hayabusa from Ninja Gaiden, Luigi, and the SOPHIA battle tank from Blaster Master. I also considered the guy from Bionic Commando. Most of the characters got cut due to time, but Luigi got cut due to a different decision. Originally, the game was going to have a story where Mario got captured, so Luigi recruited his friends from other videogame worlds to help get Mario back. But I decided not to worry about the story and just focus on making the gameplay awesome.
Play the game as is, at Newgrounds. Dream of what it could have been.

I actually saw this on Attack of the Show on Monday night. To say it was one of the neatest things I've seen done in an 8 bit game is a bit of an understatement. Flash gaming is coming along very nicely, especially if they can turn out things like this. All of this publicity this game has been getting is wonderful even if it spells out certain doom for this fun bit of miss-matched characters in a foreign world.
After all, who hasn't wanted to see how Simon Belmont would fair in the Super Mario World? Personally, I'd be curious in other ideas too using the same theme. The idea can be re-used in so many places, it's not funny. But it's also infringing on a ton of rights. My guess is Nintendo is looking at this one right now. The only reason it probably hasn't been pulled is because Nintendo is looking to see if they can make money off of it.
WiiWare would be perfect for this. The problem is it would have to involve more than Nintendo. If I'm reading the characters right, Konami and Capcom would also have to be involved. So, for those who want to experience this little marvel of flash gaming, I would suggest to check it out soon.


A picture from me actually playing. I think the best thing about this game might actually be the music though. They use the music from the character's game, not Mario. This game actually gives me goosebumps. I wish I liked pc games more that weren't named World of Warcraft.
When Will You Reach the End of Gaming


A week ago, we pondered the chance of living to 100 and still playing games at that age. But even as the gamer demographic trends older, many feel like the time will naturally come when they'll put down the controller.
Sean Sands, writing at Gamers With Jobs, is one of them. He's always been a gamer, but "It has only just begun to occur to me, however, that it may not be who I will always be." I'm not sure that I've always considered myself one, so facing the end of this as an interest or a lifestyle isn't as thought provoking for me. But then again, I have to wonder if I ever will. Because there are men and women with kids and jobs and the full spectrum of adult responsibilities and interests who still squeeze in time for video games. I've got a much more limited set of obligations, plus a professional interest for the time being. But how long will this hold my attention? Until I'm 50? Until I'm 60? And how big will my pile of shame be then? Will I have finally finished the first Mass Effect?
As Sands ponders the end, let us and your fellow gamers know, in the comments, whether you imagine an age or a time when you'll stop gaming.

The complete article can be found at the link above. I truncated it for the simple fact that the summary was the best way of linking it here. With that said, there are only two ways I will ever stop gaming. The first one involves me simply not being able to play a game. When the pain from either arthritis or some other condition doesn't let me enjoy the game anymore, I will begrudgingly put down the controller. However, it is also within my right to find the nearest young gamer and become a father to them. It's the right thing to do. Hey, my father did the same thing with me and baseball.
The second thing that would kill it for me as I've said before is that if the gaming world gets to the point where everything is digital download only, I'm done. I have no desire to see a world where you don't have something physical to indicate that you own something. I want to be able to play offline, I don't want to have to be dependant on a the gaming company to keep up servers, and I am a collector.
Now, if you would like you can go into the whole carbon footprint argument or if I'm a fossil to you then so be it. I simply don't care and will appreciate gaming the way I want to and not like somebody in a tiny little marketing office a couple of thousand miles away tell me I should be doing. Of course, in the same breath I have to accept the fact that one day writing about games will not be an option (regardless of any physical handicap) because I won't be seen as relevant.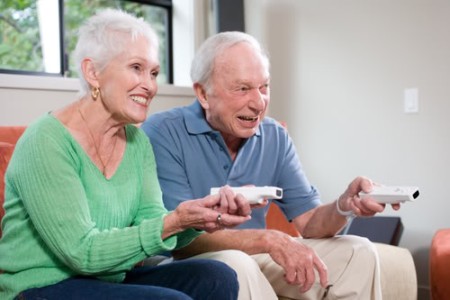 That's me on the right and Sarah on the left in 40 years. The only difference is I won't be holding a Wiimote, that's for darn sure.
Releases for the Week of May 5th, 2010
Xbox Live Arcade – Raystorm HD(1200 Microsoft Points) & Zeno Clash: Ultimate Edition (1200 Microsoft Points)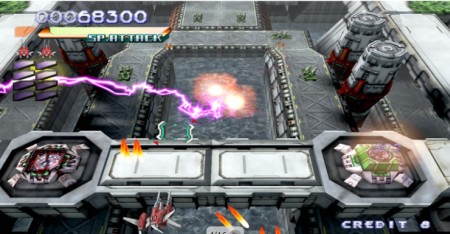 An expensive week for Xbox Live Arcade. The first game was originally a Taito title, now Square Enix features a top-down scrolling shooter that consists of eight stages during the year 2219. The game takes place on two planets from Earth to a place called Secilia in an attempt to defend Earth from the Federation. It's a basic shooter where you get a laser weapon for your primary gun and then you have missiles and special attacks for when you want a little more firepower.
The second game is Zeno Clash. This has been on the PC for about a year. It can be described as a first person shooter with fighting and brawling elements. You are Ghat and you are working through the world of Zenozoik. Ghat is highly skilled in martial arts and can block or counter various attacks. Certain events will also trigger a 3rd person perspective. The game has a rather unique style and has received fairly high marks from those critics we all love so much.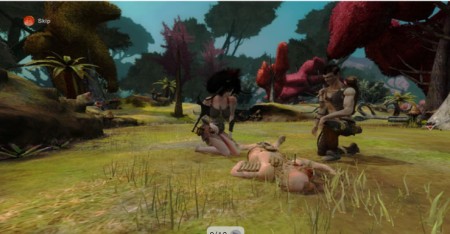 Wii WiiWare – Zombie Panic in Wonderland (WiiWare – 1,000 Wii Points) and Kung Fu Funk: Everybody is Kung Fu Fighting! (WiiWare – 500 Wii Points)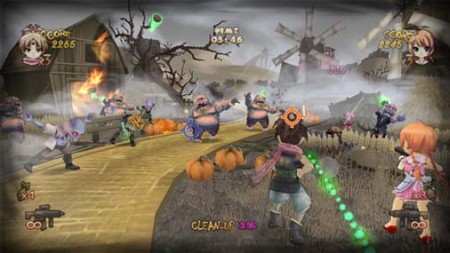 Wonderland is being overrun by zombies and your friends are in danger. But in order to save them, you must solve the mystery of the scented dwarves and put an end to the evil that lurks in a castle at the northern city. Scented dwarves? Anyway, there seven playable characters, hidden levels and all sorts of zombie mayhem. I have to admit this looks like an interesting game even if it has a terrible premise.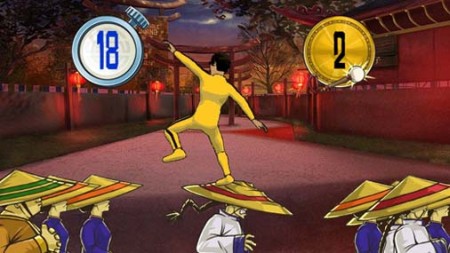 Want to be fast as lightning? Well here is a kung phooey party game that should help you out with that. It's basically a bunch of mini-games set to the theme of those zany 1970's films we all either love or hate. It looks pretty awful but I guess there might be a few people out there who are gluttons for punishment.
Console Releases
PSP
Fat Princess: Fistful of Cake
What Did I Do to Deserve This, My Lord 2
Iron Man 2
PS3
Iron Man 2
Xbox 360
Iron Man 2
Autobahn Polizei
Wii
Reader Rabbit Kindergarten
Reader Rabbit 1st Grade
Family Game Show
Reader Rabbit Preschool
Reader Rabbit 2nd Grade
DS
Picross 3d
Dementium II
Iron Man 2
Jane's Hotel
Game Hits!

Sadly, a DS puzzle game might be the biggest title to come along this week. There is a rectangular prism that has to be broken off in a certain way to reveal an image in 3d. The rules seem to remind me of Minesweeper where you look for clues via numbers to mark off which pieces stayed and which would certainly go. Have I ever mentioned I really suck at those type of games?
Then there is also Iron Man 2 which comes a few days ahead of the movie which opens this weekend. This game like the movie has the two heroes, Iron Man and War Machine. But also included will be Nick Fury, Natasha Romanoff and JARVIS. There will probably be lots of spoilers so I would suggest you buy the game after you see the movie unless you like games to do that sort of thing. There was promise in the first game and hopefully they build on it here.
Final Thoughts & Mutterings
Besides playing some XBLA games to waste away the hours, I also bought a new wired (heard wireless mics were quite terrible on lag) microphone for Rock Band. My old one felt used and abused and I wanted one that doubled as a controller so I amazingly found one on clearance for $20 at Target. It was too tempting at that point not to pick up. Hopefully, I will be able to test it soon. I have been in the mood to play the game, just haven't.
So, that of course meant my usual crutch of World of Warcraft. However, I actually made progress with my level 70+ characters. My troll rogue got to 75 and is slowly getting better in dungeons. However, I still feel underpowered for the majority of most instances. But my dwarf priest is now at 77 and I still feel confident that I will have two 80's by the end of the year as originally planned.
My dwarf priest is having a lot better time being in the top tier of dps going shadow. I'll say it again, but the only thing that saved this character for me was when I dual speced in my 40's. Jewelcrafting has picked up a lot (I'm now over 400 and maxed out at mining) but that wouldn't have saved my character if it wasn't for shadow. Heh, who would have thought that my first 80 would be a priest. Not me, not me at all. Have a great one kiddoes.

As Always,
Kedrix of Aldrianian
(*The Forgotten One*)