Lawsuits against Final Fantasy, Dungeon Siege 3 Info & Booth Babe restrictions? – Welcome to the column that is considering the idea of launching an expo called Gaming Pron 2011 featuring nothing but booth babes known as Dare to Play the Game.
All is better in World of Warcraft. After a second GM ticket and a lot more waiting, Sarah's account is back for the most part. They restored Sarah's 2 80's, her 78 and my 75 rogue all in one piece from what I can tell. Now while they did restore her and my lower level characters, they kinda piece-mealed it (all of the equipment but many of the items had no stats) which means if we do want to play any of the lower levels again, we will have to build them back up with dungeon runs most likely.
On our other account, Talloween is now at 79 and about as close to 80 as you can get. I think it is like 2 and a half bars from being maxed out. Since he is rested to 80 (he has been since about 78 or so), it should only take one more instance to complete the feat. At least now I can do it with Sarah beside me like I wanted from the start. After all, she is the reason I probably have enjoyed the experience and have kept playing this crazy game.
Ode To Gamer Girls



Most of us know who Kim Kardashian is. The rumor police are reporting that Kim might be up for the role of Lara Croft in the Tomb Raider reboot. They want somebody who is easy on the eyes and is something akin to a comic strip version. Reports always mention that Kim has actually taken acting lessons (beyond those shown in her very famous video). They want to do it in 3d. This is one instance where I don't even need to make a joke, I just hope that this comes to fruition. It would be one marvelous trainwreck.
News of All Types
Final Fantasy XIII


Daniel Wolf has filed a class-action lawsuit against both Sony and Square Enix, claiming that Final Fantasy XIII has caused "severe and widespread damage" to PlayStation 3 consoles.
Wolf reckons that freezes some players have run into while playing the game have "caused their PS3 consoles to freeze and become totally and permanently inoperable."
"Both Defendants are eminently aware of the damage being cause by their defective products, and have chosen to do nothing about it," he adds.
Being a class action suit, which normally involve a ton of claimants, over $5 million in damages and relief is being sought.
There is a big difference between a truly widespread, catastrophic issue – like the Xbox 360's "Red Ring of Death" – and something that only seems widespread because everybody posting on a support forum is having the same problem as you.
While we've no doubt many users have suffered through freezes while playing the game, it was mostly reported as a glitch in the game itself, particularly since it affected the Xbox 360 version of the game as well as the PS3 edition.
There are cases of broken PS3 consoles after playing, but then, consoles break after playing many games, and the problem is only accentuated when it's a bigger release, like Final Fantasy XIII. The more people playing, the more consoles are breaking.
I'm not sure this is worth a $5 million class action suit, but hey, best of luck with it.

I thought Final Fantasy XIII was this like unbelievably awesome game that will rule the world and create tasty Smores in less than ten minutes. Okay, perhaps not. But for every large release comes a lawyer that is willing to cash in because there were 5 or 6 people in the greater Midwest who got a brick system at the expense of what they think is the game in question. Does it suck? Sure. But the game is most likely not at fault.
Stop chuckling and listen very carefully. Do you hear that? That's the sound of an Xbox 360 or PS3 breaking playing XYZ game. It happens more than most of us would like to think about. And if it has happened to us (my 360 has redringed twice), we sure would like to blame somebody, something. Furthermore, when it falls on deaf ears of the principle company whether Microsoft or Sony (or Nintendo in some cases), we would like to be able to move the blame to other companies.
So in this case Final Fantasy XIII is the culprit. Next week, it might be Halo:Reach or Tiger Woods. The games really aren't to blame. The manufacturers are partially to blame but the old adage holds true, things just aren't made like they are used to. It's weird, out of all of the systems I've owned only the original NES has made such a fuss as my 360 in durability. Unlike my original NES however, I can't just blow on my 360 and expect it to work better either.
Dungeon Siege


Obsidian Entertainment takes on yet another action role-playing game sequel in Dungeon Siege 3, with series creator Chris Taylor on board as an advisor, helping oversee the franchise's console debut.
Obsidian Entertainment is the go-to development studio for big-name role-playing game sequels. While the company's attempts at creating a first-party title hasn't gone so well, Star Wars: Knights of the Old Republic 2 was a solid follow-up to the original, and Neverwinter Nights 2 was far superior to the original game, once all of the glitches were ironed out. So it seems like good news that Obsidian is taking on development duties for Dungeon Siege 3. Gas Powered Games and series creator Chris Taylor pass on the torch to Obsidian for the third entry in the series, perhaps too scarred from the horrible live-action film to carry on themselves.
Dungeon Siege 3 sees the balance of power in the kingdom of Ehb toppled, and you must help keep the land from plunging into darkness again.
Aside from the series' first appearance on the Xbox 360 and PlayStation 3, everything else about Dungeon Siege 3 is as you'd expect. There's co-operative multiplayer, a deep story, customizable character classes, new companions with unique personalities, and weighty decisions that impact the progression of the story.
And how does Chris Taylor feel about passing the torch?
"It has been a great pleasure to collaborate with Obsidian. They are a very talented developer who really knows what it takes to build a deep and engaging RPG experience, and I can't think of a better group to continue the Dungeon Siege series."
The partnership with Obsidian is yet another step in Square Enix's ongoing Western development strategy, the previous fruits of which include Gas Powered Games' Supreme Commander 2.
Hopefully we'll see more of Dungeon Siege 3 at E3 next week. In the meantime, check out the first four screens here.

I have been interested in this series on the PC for a while. The only reason I probably haven't bought it on the PC was well it was on the PC (there was a PSP title, but we can ignore that one). However, Dungeon Siege 3 is finally coming to console. Square Enix is handling publishing and good ole Obsidian is handing the development. It could be a wonderful relationship as long as they keep some of the core things that made Dungeon Siege great.
The Dungeon Siege series basically combined tactical gaming with some point and clicking. As a comparison, think of some of the newer Ultima Games or similar to some of the mechanics in the Diablo series. The game is typically linear (which is fine, not everything has to be sandbox) and has a lot of hack n slash gameplay. Hopefully, there will be a lot of character specialties/races and an original story to mess with cause I am liking what I'm hearing so far.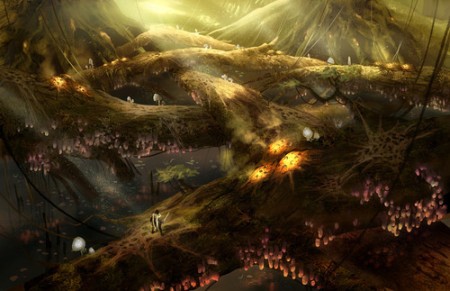 A concept picture from Dungeon Siege 3. Looking pretty good so far. EXCITED, I tell ya.
Penny Arcade Expo


I don't know this means the ban on scantily-clad booth babes at the Penny Arcade Expos necessarily gets any stricter, but the policy – put to a poll of Penny Arcade's community last week – is definitely getting more descriptive.
The biggest inclusion the PAX community wanted to see in the policy is that a booth rep "needs to be trained/educated about the product." So if that's applied to everyone in the booth, cosplaying or not, it'll probably cut down on eye candy since, as we see in ads for E3 booth babe gigs, it's not a job marketers want to pay any money or spend much time training someone to do.
Eighty-one percent of respondents to their poll wanted booth reps who knew something about the product. So if that condition has primacy, then the semiconflicted language about what kind of dress is and isn't allowed may be a moot point. "Anything that is considered "partial nudity" is banned." OK, pretty definitive. Also, "No messaging that
specifically calls out body parts," will be a part of the policy. That said, "cosplayed characters are allowed to wear revealing outfits, assuming it is true to the source game."
It's cool of Penny Arcade to include its community's wishes on this, and certainly its policy is its own business. Nitpicking what conditions have primacy is kind of a pointless argument, though. Like I said, I don't know that the no-booth babe ban got any more or less strict, but the language and the reasoning behind it is at least more articulate.

*raise hand*, when did gamers become so *beeping* nerdy? Now, I know I'm in the minority (apparently about 20% according to the above), but I could care less what the booth girls are dressed in. It could be a wet t-shirt and a thong or if they are in something so unrevealing even the Queen of England is asking "Could you take the bloody thing off and stay a while?".
Furthermore, if you are one of those people that actually ask booth girls (especially the ones that are clearly cosplaying) about the product, then you should be slapped. That's what the marketers are there for who sit behind the counter handing out flyers, inviting you to play the game and all of that other nonsense. Gawk, take pictures with them and treat them like the sexual objects they are intended to be and move on. That's all there really is to it.
I find it funny that the Penny Arcade comic is full of sexual banter but yet suddenly gets all prudish. But again, I'm not blaming Penny Arcade so much, it's more that they actually put out a survey and people cared? People could (if they don't like the way company X is promoting product Y) make a statement and not buy the game? That would be too easy. It's the United States mentality as well, censor whatever you don't agree with instead of ignoring it.
*sigh* Companies should be allowed (within reason) to promote a game any way they darn well please. As long as that doesn't bring harm to the consumer, I don't see a problem with it (scantily clad women only harm jealous women and boys in puberty who haven't learned the meaning of the word: control). Maybe that's the problem. Maybe only jealous women and boys with voices that haven't cracked yet are filling out the survey. That would certainly make a lot more sense than these silly and pointless restrictions.

Here is the graph from the survey. In addition 78% of the respondents were male. Okay, you know what, there are a bunch of you who need to go ahead and turn in your man card. How you even got through the application process is beyond me.
Releases for the Week of June 9th, 2010
Xbox Live Arcade – Earthworm Jim HD (800 Microsoft Points)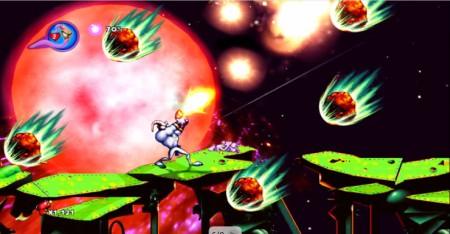 Originally Earthworm Jim was going to be a Sega's Vintage Classics release until Gameloft got the license. It's probably for the best as Earthworm Jim has been redone and looks to be blazing in high definition. For those of you who don't know Jim due to a crazy mutation is the smartest Earthworm superhero in the galaxy today. However, he is on a mission to rescue Princess What's Her Name.
To do this he'll have to fight many strange enemies and use all sorts of weapons and gear that are at his disposal. In the first level alone, you will encounter cows that can be launched, bowls of goldfish and a hidden toilet. The boss of the level is the owner of the junkyard, but that's only just the beginning. This will certainly be the best 800 points you can spend this week.
Wii WiiWare & Virtual Console – Reel Fishing Challenge II (WiiWare – 500 Wii Points), Lead the Meerkats (WiiWare – 1000 Wii Points) , and Zoo Disc Golf (WiiWare – 1000 Wii Points)



More fishing. I forgot about the first Reel Fishing Challenge. Guess I wasn't up to the task eh? Fishing will take place in a new freshwater environment where you will have a lot of lures to go after some very realistic looking fish. Hey, that's what the press release tells me, so I'm just relaying the information. Anyhow, there thirty missions which will test your angling abilities in what should be a very realistic fishing game for your Nintendo Wii. Again, this is Natsume's words, not my own.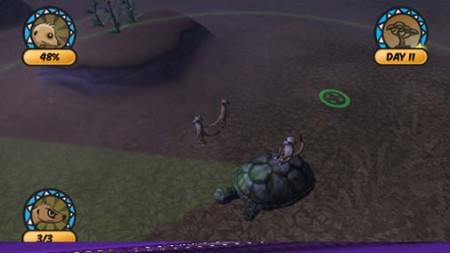 Timon would be proud (well if there was a warthog involved perhaps). You are a young meerkat who has been separated from the pack. You must make your own pack and then increase your territory. One must also look for food and increase the size of your pack by adding new meerkats. Fighting is also included as rival packs will surely test the claim of territory. It's a pretty simple game but perhaps some of you will find value in it for the kiddoes.



Disc Golf is still a relatively new thing, I haven't actually seen it player but I've heard about it. I would hope honestly that it would appear in something like the Wii Sports series (they do have a Frisbee game but it's relatively tame). Anyway, you can play with a bunch of animals including the meerkat (what is with Meerkats this week?) as you are trying to get your disc in the goal with the fewest throws. There are eighteen holes with a maximum of ten strokes. See how well you can do.
Console Releases
PSP
Metal Gear Solid Peace Walker
Disgaea Infinte
PS3
Tiger Woods PGA Tour 11
Greenday: Rock Band
Xbox 360
Green Day: Rock Band
Tiger Woods PGA Tour 11
Wii
Green Day: Rock Band
Tiger Woods PGA Tour 11
The Bachelor: The Videogame
Let's Play Garden
Let's Play Ballerina
Satisfashion
DS
Mega Man Zero Collection
Let's Play Flight Attendant
Satisfashion
The Bachelor: The Videogame
Let's Play Ballerina
Legend of Kay
Let's Play Garden
Monkey Madness Island Escape

Oddly, the strongest game this week is probably a PSP title. Of course it is the Metal Gear property but the PSP will take victories where they can. The story of this one fits somewhere in between MGS: Portable Ops and the original Metal Gear on NES. Expect lots of classic sneaking action and a bevy of characters to interact with. Heck, even Mountain Dew was promoting this a couple of months back.
Besides Metal Gear, we get a new Tiger Woods game along with Greenday: RockBand. Let the moaning begin. For those who preorder the Greenday game from Gamestop or got the Plus version, you got a free export code to put these songs into Rock Band. The rest of you will need to pony up ten bucks. And they wonder why I haven't purchased Lego Rock Band yet, even when it's down to $20. Anyway, if you are a fan of Greenday you are probably already buying this one. However, I honestly can't see myself going for this one, not a fan of Greenday, at least not after Dookie.
Final Thoughts & Mutterings
So, tiny interesting story. I came home on Monday after a long day at work and found my wife actually playing something besides World of Warcraft. She was playing the New Super Mario Brothers game and having fun. I had traded away Super Mario Galaxy for it some weeks back but it had sat closed for that time. Well, that changed and it certainly made me smile.
Needless to say, I sat down and played a few levels with her and we honestly had a good deal of fun. We had been talking about trying out a new game together for a while and I have no issue with it being NSMB. Hopefully, it continues. Outside of that, I also went through Magic Sword again in the Final Fight Double Impact XBLA again and finally got the achievements for going through all levels and beating it in less than 18 continues.
I figured out what I did wrong and hopefully this helps some of you out there who don't have these achievements yet. I think it's on the tenth level where you can quickly go to the next level (this is also where you can get the achievement for not getting hit), don't take the first exit. Instead, keep going until you reach the end. Then the level will start repeating itself. You should be able to take any door at this point and then finish the rest of the game.
As far as the 18 continues thing goes, the best way to do this is just run through the levels. Magic Sword has a knack for piling up enemies on you if you sit in any place too long. Instead, running through the level gives you the minimum amount of enemies and should net you the achievement. Anyway, that's enough of gaming theater for this week, hope you join me next week kiddoes. Have a good one!

As Always,
Kedrix of Aldrianian
(*The Forgotten One*)