Eating Farmville, Manute Bol in NBA Jam, and a Call of Duty MMO? – Welcome to the column that caters to hobbits and gnomes who are addicted to Pixy Stix known as Dare to Play the Game.
Well, with a little bit of work I now have a gearscore that exceeds 2000 on my dwarf priest on World of Warcraft. In addition, he reached 5000 gold and purchased his epic flying. Luckily at this point, I still have two hundred gold to my name. Heck, he even raised his jewelcrafting to over 420 which is the requirement for a lot of high end jc recipes.
So, I can safely say that as it stands right now I feel pretty good about my shadow priest. It is true that I probably do need to learn a better rotation to increase my dps but as far as gear, I am pretty happy considering I'm basically just a weekend player. There is one thing I would like to add though, it just so happens that I started a new game this weekend. It's even on the Xbox 360. But I'll leave that as a cliffhanger for later.
Ode To Gamer Girls



This would be Corinne Kempa. She is the voice talent for the character of Leliana of Dragon Age: Origins. As it turns out, this week a new DLC pack dropped called "Leliana's Song" which will give you a more in-depth look at her past and how she came to be connected to a female named Marjolaine. Interestingly enough, in the regular game Leliana is a romance option for both female and male characters. I like her already.
News of All Types
NBA Jam


Manute Bol may have had an NBA career remembered more out of curiosity or as a trivia answer, but the man lived an honorable life that, sadly, is now getting recognition mostly because he died on June 19.
Bol's inclusion in NBA Jam for the Wii probably isn't intentional to his untimely passing. The folks at EA Canada have gone far and wide collecting great names from the past for inclusion in the upcoming title, and if they're bringing back Spud Webb, who was on
the original arcade roster and one of the game's shortest players (at 5-7, he won the 1986 NBA Dunk Contest), then why not one of the tallest?
Bol's likely to be an unstoppable shot-blocking force – at 7-foot-7 (and just 225 pounds), he is the only player with more blocked shots than points – though Bol did have an uncommon reputation for shooting threes.
Bol's name will live on through his activism on behalf of his native Sudan; it is good, also, that a man who brought so many smiles to NBA fans will continue to do so in this game.

I became a Manute Bol fan quite quickly when he played for the Philadelphia 76ers from 1990-1993. He was fascinating to watch and he honestly had a heart of gold. It was extremely sad and unfortunate that he passed away a few weeks ago. However, one could argue that without that untimely death, we might not be talking about Manute Bol and his inclusion in NBA Jam.
NBA Jam is doing the right thing by including a plethora of legends to enjoy this game with. Actually, the last NBA Jam game for the Playstation 2 and included a plethora of players from the 50s all the way up until the 90s. People like Manute Bol and Spud Webb defied their size (or lack there of) and deserve to be recognized on the video game front. Sure, Manute wasn't exactly an amazing player, but he was an amazing man and I look forward to playing this one when it hits the Wii later this year.

Spud getting way up high for a jam. I've loved the series, but just once I wanted one of the players to hit something when they go up that high. It would be kinda cool to see it crashing down in addition to the fire and the flames.
Farmville


Uber popular real-time farming sim FarmVille has players grow their own fruits and vegetables. That's a game. In real life, people buy crap from convenience stores.
As previously mentioned, FarmVille has a cross-promotion at convenience store chain 7-Eleven with FarmVille branded snacks. The cross-promotion also features in-game FarmVille items that include a sandwich cart, a water tower and a swimming pool that apparently come with purchases of 7-Eleven FarmVille food.
This is what said food looks like. Nothing quite says "fresh produce" like 7-Elevens.
Hey, I like 7-Eleven! I really do!

As most of you probably know, kids have been swayed by advertising gimmicks for ages. One of the more recent ones has Shrek as the poster boy for Vidalia Onions. So as logic would have it, it should work on housewives and husbands who spend more time on a virtual farm than they would ever do so on a real one. But produce at your local 7-Eleven? Are they on crack?
Well, perhaps. Convenience stores are famous for two things, nasty bathrooms and junk food. Stores such as Texas-owned Buc-ees have prided themselves on clean bathrooms. So, it is only natural that some chain would want to cleanse themselves of the junk food label. Or perhaps the incentive is just to sell some fruits and vegetables because of the silly promise of virtual game items. Yeah, probably the latter. I mean, a convenience store is probably the only place I can actually find any flavor of Mountain Dew that I want.

I see a lot of sandwiches. I absolutely adore them, but I'm failing to see the whole farm concept here. Maybe I'm missing something.
Call of Duty


The Call of Duty games have a massive multiplayer following on Xbox 360. But is the series going to make the leap to a massively multiplayer online game? Nothing is confirmed yet.
"We've heard that 60 per cent of [Microsoft's] subscribers are principally on Live because of Call of Duty," Activision Blizzard honcho Robert Kotick says in a recent Financial Times interview. "We don't really participate financially in that income stream. We would really like to be able to provide much more value to those millions of players
playing on Live, but it's not our network."
With World of Warcraft in its stable, Activision Blizzard knows a thing or two about just how successful MMOs can be.
Kotick is platform agnostic — and claims to always have been. Consoles are great for the players in the sense that they provide a uniform base. There is no worrying about specs, no concern about upgrading one's machine so it can play a certain game. They provide a
standard.
Consoles and platform holders, however, do take a cut of money as evident by Kotick's comments regarding Call of Duty and Xbox Live. And PCs, which are and always have been a viable option, have a serious piracy problem. Steam, though, certainly does provide a robust option for PC games, but it does not apply to large MMOs like World of
Warcraft.
"[Consoles] do a very good job of supporting the gamer," Kotick said. "If we are going to broaden our audiences, we are going to need to have other devices."
Some of those other devices include efforts by Dell and HP to connect PCs to televisions, something Kotick says Activision Blizzard will support "very aggressively". In 2008, Kotick poped this question to a group of investors: "What would be the natural evolution of a property like Call of Duty into a massively-multiplayer environment and how do you monetize that?"
Guess we'll find out.

There are moments like these when I consider crying myself to sleep to make the pain go away. Seriously, a Call of Duty MMO? I know, I've bought hook line and sinker into World of Warcraft grand monopolizing money MMO but this is a far greater beast. The main reason is that at its core, Call of Duty is nothing more than a first person shooter. I'm sure there are plenty of people who will disagree with me, but the game doesn't lend itself to the typical MMO landscape.
A successful MMO needs variety. Call of Duty could give us different types of guns and possibly situations. Realistically all situations in Call of Duty come down to one thing though: eradicating the enemy. I don't really see Call of Duty players wanting to engage in social activities (unless the task is to teabag someone) or gathering tasks (unless it involves ammo and weapons). All the medals and stats in the world aren't going to be a replacement for something people pay $15 a month to play.
Of course, many avid players were willing to buy 2 map packs with hardly any content for the same price as a usual MMO monthly fee. So, there are a lot of willing die-hards who there might be interesting in a Call of Duty MMO. However, it just doesn't seem right. It is even harder to stomach that 60% of the people on Xbox Live are there for Call of Duty. No wonder I can't find anybody to play with.
Releases for the Week of July 7th, 2010
Xbox Live Arcade – Monkey Island 2 Special Edition (800 Microsoft Points) and Blacklight: Tango Down (1200 Microsoft Points)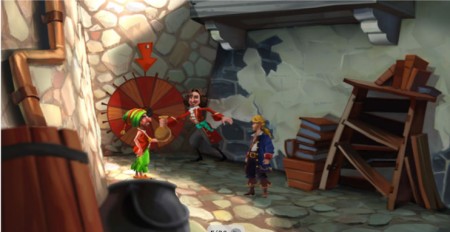 Well, the first one did so well they decided to do another one. This time they redid the sequel from 1991 and gave it a nice spit and polish. New graphics, new musical score, new voice over and even in-game hints are included. Again, as with the previous game, you can switch in and out between the new and old version. You can even bring up a commentary during the game. Hopefully they make it a trilogy at some point with the Curse of Monkey Island and then package up these three games on a disc release.

First person shooters on Xbox Live do mixed business. Blacklight is trying to change that. This game takes place in Eastern Europe in the near future. It's a former soviet state that went to crap and you are brought in to help. There are the usual fps modes like Deathmatch, Team Deathmatch and Control Point. Everything you do will be rewarded on an experience system that goes 70 levels. There looks to be a comics and possible movie tie-in as well.
Wii WiiWare – Pearl Harbor Trilogy – 1941: Red Sun Rising (WiiWare – 700 Wii Points), and Cruise Party (WiiWare – 800 Wii Points)



Apparently, this is the first game in the series of air combat action games for WiiWare. You will be able to play as the United States Naval Air Force or the Imperial Japanese Navy Air Force as you take on the enemy during the early years of the Pacific theatre. There will be covert strikes and search and destroy missions as well as a Survival dogfight mode. Wake me up when you get to fight Hitler and the Nazi zombies. Wrong game perhaps?



What do people do when they go on a cruise? Mass orgies and chronic boozing? No, no silly bear they gamble. Here you'll be able to choose from four games: Slot Machines, Roulette, Black Jack and Video Poker. It's a fairly simple gambling simulator and you'll be able to choose from Competition Mode or Quick Play. Just be sure to not go bankrupt, then you'll be forced to be somebody's cabana boy in exchange for poker chips.
Console Releases
PS2
Despicable Me: The Game
PSP
Shin Megami Tensei: Persona 3 Portable
Despicable Me: The Game
Xbox 360
Crackdown 2
Wii
Big Beach Sports 2
The Cages: Pro Style Batting Practice
Despicable Me: The Game
Tournament of Legends
Titantic Mysteries
DS
Dragon Quest IX: Sentinels of the Starry Skies
Titanic Mysteries
Despicable Me: The Game – Minion Mayhem

There are a few games this week worth looking into. Crackdown 2 is probably the most noticeable as it was one of those rare games that increased in popularity after it was released. The new game will have your Agent roaming over Pacific City which has fallen into chaos. There are mutants and other assorted baddies that you will need to gun down. Expect more boost jumping and orb collecting from the original along with the usual play sandbox mechanics.
We also get another installment of Dragon Warrior, except it has migrated to the portable platform. It has already set all kinds of sales records for the Nintendo DS over in Japan and hopefully more than the usual few here in the US come out to play it to. Outside of that, we get the expected Despicable Me movie tie-in which means that the Playstation 2 gets yet one more release. If none of those appeal to you, just save those bucks for next week.
Final Thoughts & Mutterings
As mentioned, I did actually start a new Xbox 360 game this week but it wasn't anything I actually have mentioned lately. I started playing (or rather singing) Lips. Buy.com had a sale recently where you could get the Lips #1 Hits and a wireless microphone for $20 with shipping included. Needless to say, it was a pretty easy buy-in once I saw the wealth of downloadable songs available.
Lips #1 Hits is actually the second game in the series. However, basically you are buying an engine with 40 songs included and then you can either buy other discs or download content that works with all games. Lips for the un-initiated is basically karaoke with real videos. On one hand, it's great to sing many of today's hits along with popular songs from the past. On another hand, the videos are beyond awesome and certainly take me back.
The achievements are also pretty easy. Currently, if you own all four titles (Lips: I Love the 80's is set to drop soon and is the 4th in the series), you have a pool of 1750 achievement points. Since, I only own Lips #1 Hits, that pool shrinks to 250. Or does it? As it turns out, I can also earn achievements from the original Lips which is why in a mere week I have nearly 500 achievement points accumulated. It also helps that my wife has taken to the game and can sing many of the female songs available.
We actually liked the game so much that we purchased a points card within a day and spent it on 10 videos including the likes of Ace of Base, Fall Out Boy and Vanilla Ice. Yes, I do Vanilla Ice and yes I do it quite well. Truth be told, I can easily see myself getting future volumes and DLC for this game. It's fun, we'll just see if it holds up as long as Rock Band 3 has. Have fun kiddoes.

As Always,
Kedrix of Aldrianian
(*The Forgotten One*)