Once again Upcomingdiscs found themselves the guests of Busch Gardens and their annual Halloween event, Howl-O-Scream. Each year the friendly amusement park employees turn in their mandatory smiles and courtesy for chainsaws and scarred flesh. The park's normally pristine nature areas are converted into terrifying scare zones where you'll encounter creatures unfit for the normal Florida sunshine. So once again I put on my Frankenstein shirt, a gift from Sara Karloff (with whom we'll be talking soon for a podcast), and braved the horrible hallways and petrifying pathways of Busch Gardens.
This year the theme is about a rock band that is contaminating the minds of a killer generation. The band is called My X. Tampa has long been recognized as the death-metal capital of the world. This band certainly lives up to the name, if not the music. They have a signature song. Don't worry. You'll get to hear it over and over again if you visit the My X – Revenge Rocks haunted house. This is really the only brand new haunted house experience for the attraction this year. It's set up like a roadside dive where My X is about to put on a concert for the damaged youth. Parents dressed in 1950's straight-laced Bible Belt outfits protest outside of the attraction. They are warning you to stay away with signs that connect the band to deaths. Inside you'll find the typical "jumping out at you" scares. For the featured house, I'll admit that I found it rather disappointing.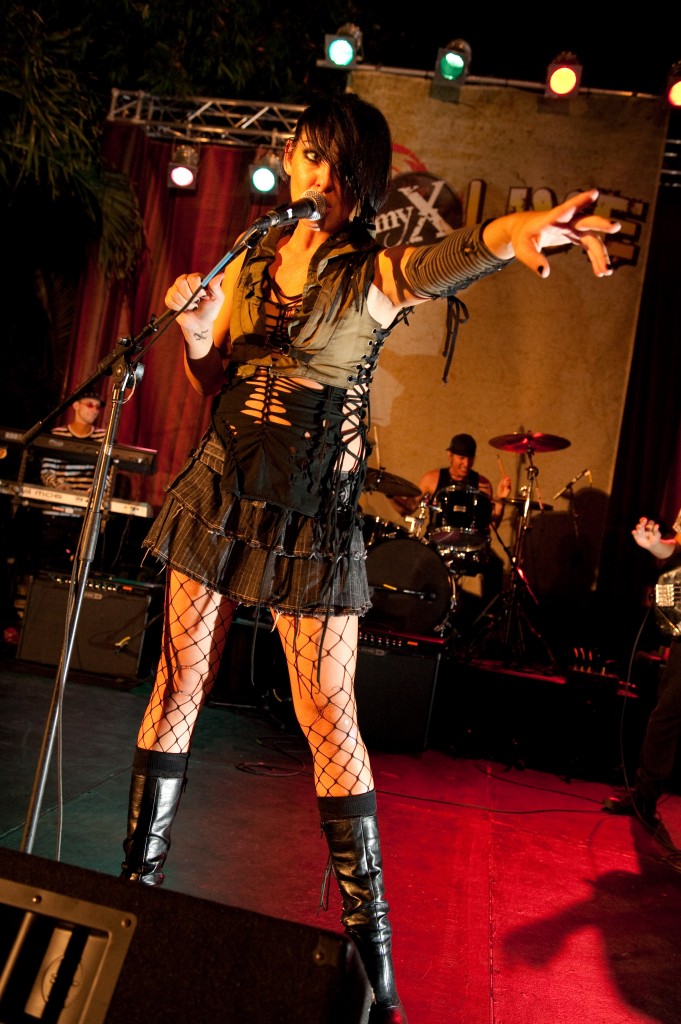 The next house we found turned out to be both of our favorites for the second straight year. It's the only house we decided to visit a second time. That was the Delta Epsilon Delta DEDer. If that's Greek to you, it should be. Think DED. Get it now? As you enter you're approached by the DED recruiters who remind you that DED girls do it better. In this case they really do. It's the most interactive of all of the houses and a lot of fun besides. Gives a new meaning to the term Hell Week.
Other haunted houses include:
Nightshade Toy Factory – Son Of Nightshade: Watch out for Tina Tinkle. Here the demonic toys are looking for a new playmate. You'll do just fine as long as you don't mind being the plaything. Gives a new meaning to We B Toys.
Taste Of Blood – A Different Vein: Vampires are all the rage these days, but I found this to be the most disappointing house of the collection. The park has used these subway effects too often by now, and you'll see about as many vampires as at a Vatican High Mass.
Trapped In The Walls – Ghostchasers: Full of the more typical scares, this one offers plenty of darkness and light effects to disorient you into the scares. This is pretty much the same house but with a slight upgrade that takes advantage of all of those ghost-hunting shows out there.
Death Row Vengeance – No Escape: This is a pretty elaborate house. You'll enter the prison grounds where all sorts of forms of executions are under way. From electrocutions to firing squads, this one packs a lot into one house. It's quite interactive and has more screams per foot than any of the others.
Reconstruction – The Doctor Is Out Of Control: The Doc has a bit of a jigsaw problem as body parts mix with mechanical contraptions. It's a Borg meets Frankenstein kind of layout. Plenty of blood-splattering mayhem to go around in this loud house.
After the houses you'll want to grab something to eat, and all of the Busch Gardens favorites are available here, with the notable exception of the Crown Colony. This is where Mrs. Gino and I usually grab a pizza-and-fries combo. Unfortunately, the place is closed during the night. Busch Gardens is building a new coaster, and there's a huge section of the park that is walled away because of construction. We're told that the construction is the reason the Crown Colony was closed this year. I sure hope it reopens next year.
As you make your way around the park, you have to be on your toes and stay aware of your surroundings. Killer clowns and other creatures are prepared to appear out of nowhere and give you a bit of a start, or an end if your ticker isn't in good shape. There are creatures that blend in with the flowers, so you're not safe anywhere. From snakes to spiders, you never know what awaits you in the fog.
There are some shows for your entertainment as well. The Club X club is an over-21 place to sit and have a few drinks while enjoying the music of My X. Or you can seek out an annual favorite at the event. "Fiends" is a veritable Monster Mash of Hollywood's most famous classic monsters. Let Dr. Frankenstein and Igor serenade you with their monstrous party. And don't forget the nurses. IF hospitals had nurses like Dr. Frankenstein has here, there would be a lot more folks waiting in line to get sick. There's also the musical Blood Relations. Lady Betty Blood is throwing a party for her surviving relatives at the Desert Grill.
Alone is an extra attraction that was not included in our invitation, so I really can't tell you anything about it.
Here's the official Busch Gardens release on the attraction:
The deranged Master Alexander Daedalus opened Minotaur Storage to house his vast collection of "cultural" remains. But now his sinister obsession with hoarding has expanded to stockpiling people. Escape this lunatic's labyrinth or you will become part of his collection. Can you make it out ALONE?
Note: Alone is a unique, all-alone experience through the haunted house. Admission is $24.95 if purchased in advance online or $34.95 if purchased at the park. Howl-O-Scream admission is required, but not included.
The event is certainly a fun-filled evening that allows you to get your scream on. As you walk through the houses and scare zones, you will find the other visitors to be just as scary as the event staff. No, you can't wear any costumes or masks to the event. But you can scream your bloody head off. It's almost like there's a competition to see who can lose their voice first. It's all for fun. I, of course, am too much of a sophisticated veteran to actually do any screaming. I'm sure that you'll do enough for both of us.
Finally, the famous Busch Gardens roller coasters are available for you to ride in the dark. Montu and Sheikra are particular favorites. The gift shops have the usual fare, but have added some Halloween-related trinkets and shirts for you to commemorate your evening. It's a great night out that you won't likely soon forget.
The night is worth the price, and I'm sure you'll find plenty to keep you entertained. I do have two complaints that I hope the powers that be take into consideration for future fright-fests. The houses are still a little hard to find. The signs are of little help. Even the map doesn't really pinpoint the locations as precisely as I would like. I've become an old pro, so we were able to find most with little trouble. But even I had to ask for directions from time to time. The second complaint is the reuse of old houses. Yes, there are changes made, but not enough if you are an annual visitor to the event. The subway stuff is getting particularly old. I'd love to see more monsters in the houses and a few new themes. The buzz says these houses are back "by popular demand". If you're one of the 3 people who demanded a house return, I want to hear from you.
To get the best deal in tickets, check out My X Rocks and tell them Upcomingdiscs sent you over.
The event runs every Thursday, Friday and Saturday night beginning Sept. 30. Dates include: Sept. 30–Oct. 2, Oct. 7-9, 14-16, 21-23, 28-30 and Oct. 31. Freaky Preview puts guests in the front row a week early on Sept. 24-25 for discounted rates as low as $29.95 for general admission and $24.95 for Passport members. Operating hours are 7:30 p.m. to 1 a.m. during Freaky Preview and on Thursday nights and Halloween night. Friday and Saturday hours are 7:30 p.m. to 2 a.m.