This last Friday night Upcomingdiscs was invited to attend the 10th annual scare fest at Busch Gardens in Tampa. They call it Howl-O-Scream, and what a scream it is, literally. I believe that most of the people who attend these events do it so that they can scream themselves hoarse. I bumped into a young girl reaching for napkins at a concession stand and she practically had a heart attack. She screamed and began thumping her chest. I apologized for the unintended startle, but I'm not sure she ever heard a word I said. If you're reading this, sorry once again. But that's the climate you can expect to encounter should you be fortunate enough to get to the spooktacular before it closes up for the season.
I dressed in a Frankenstein's Monster shirt that was given to me by Sara Karloff, daughter to the late great Boris, herself. Anything to get into the mood. So with proper attire and tickets in hand, Ellen, my wife, and I drove the 15 minutes to the park and quickly boarded the tram of the damned. The sky was looking as threatening as a Carpathian Mountain scene, so we were fortunate that there were no lines to speak of to enter the park or most of the attractions. Fortunately, the rain stayed away, which also meant the crowds would not. Within 3 hours the park was teeming with potential frightenees, but we were well on our way to having seen all of the prominent sights.
From the moment you enter the park you are immersed into this year's fright theme. The House Of Vayne is a fashion outfit that apparently is run by vampires. The fashion house has put their eternally beautiful models on display at a runway directly in the front of the park. Nearby the company has opened their exclusive over 21 club where you can indulge in passions for dancing and alcohol. Of course, considering the owners it might be more like a 210 club. Not much of a dancer or drinker, I passed on the Club Envy experience. From what I can hear it is evident that another advantage to being a vampire is an immunity to hearing loss. We mere mortals hope to rely on that particular sense a bit longer. Another reason I passed on the club. Fortunately there's a lot more to see and do.
Let's be straight from the start. The real reason I go to these annual events is the haunted houses. I must tell you that the provided map and park signage is not really as helpful as it could have been. We even found an employee in one of those bright colored staff shirts who remarked that the "maps and signs are pretty much useless". We managed to walk by at least two before we finally found our first house. What the park doesn't provide for in directions, they do a good job of making up for once you're inside.
The first house we found turned out to be both of our favorites for the night. If it hadn't been for the later line times we were thinking about giving it a second go. That was the Delta Epsilon Delta Pledge Week. If that's Greek to you, it should be. Think DED. Get it now? As you enter you're approached by the DED recruiters who remind you that DED girls do it better. In this case they really do. It's the most interactive of all of the houses and a lot of fun besides. Gives a new meaning to the term Hell Week.
Other haunted houses include:
Nightshade Toy Factory: Watch out for Tina Tinkle. Here the demonic toys are looking for a new playmate. You'll do just fine as long as you don't mind being the plaything. Gives a new meaning to We B Toys.
13: This one is very hard to locate. The best advice I can offer you is if you've gone to the birds, you've gone too far. This is the obligatory cannibal attraction. The Messenger family has 12 ingredients for their latest culinary delight. They're looking for that elusive 13th. When these guys ask you to dinner, it's best to decline.
Taste Of Blood: Vampires are all the rage these days, but I found this to be the most disappointing house of the collection. The park has used these subway effects too often by now, and you'll see about as many vampires as at a Vatican High Mass.
Trapped In The Walls: Full of the more typical scares, this one offers plenty of darkness and light effects to disorient you into the scares.
Death Row Vengeance: This is a pretty elaborate house. You'll enter the prison grounds where all sorts of forms of executions are under way. From electrocutions to firing squads, this one packs a lot into a one house. It's quite interactive and has more screams per foot than any of the others.
Reconstruction – The Doctor Is In: The Doc has a bit of a jigsaw problem as body parts mix with mechanical contraptions. It's a Borg meets Frankenstein kind of layout. Plenty of blood splattering mayhem to go around in this loud house.
After the houses you'll want to grab something to eat, and all of the Busch Gardens favorites are available here. You can munch on a turkey leg, or do as we do every year and grab a pizza and fries combo at the Crown Colony Restaurant. The price is actually quite reasonable, and the slices are huge.
As you make your way around the park, you have to be on your toes and stay aware of your surroundings. Werewolves and other creatures are prepared to appear out of nowhere and give you a bit of a start, or an end if your ticker isn't in good shape. There are creatures that blend in with the flowers, so you're not safe anywhere. From banshees to Egyptian creatures, you never know what awaits you in the fog.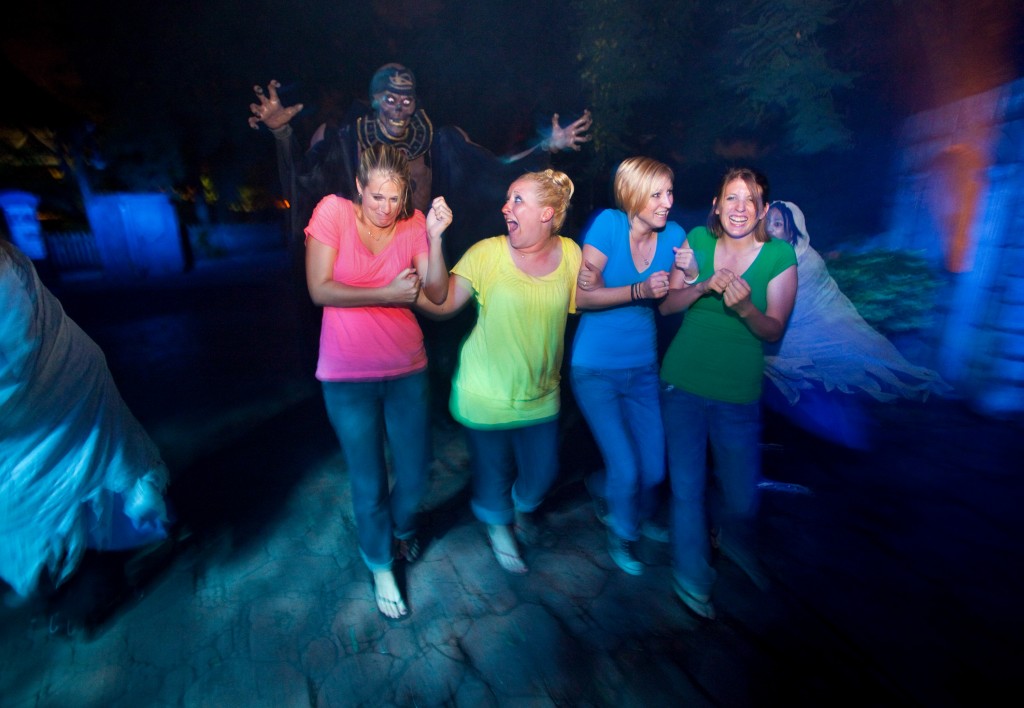 There are some shows for your entertainment as well. You can enter the Full Moon Cabaret for the magic of Jason Byrne. Or you can seek out an annual favorite at the event. "Fiends" is a veritable Monster Mash of Hollywood's most famous classic monsters. Let Dr. Frankenstein and Igor serenade you with their monstrous party. And don't forget the nurses. IF hospitals had nurses like Dr. Frankenstein has here, there would be a lot more folks waiting in line to get sick.
Finally, the famous Busch Gardens roller coasters are available for you to ride in the dark. Montu and Sheikra are particular favorites. The gift shops have the usual fare, but have added some Halloween related trinkets and shirts for you to commemorate your evening. It's a great night out that you won't likely soon forget.
To get the best deal in tickets, check out House Of Vayne and tell them Upcomingdiscs sent you over.