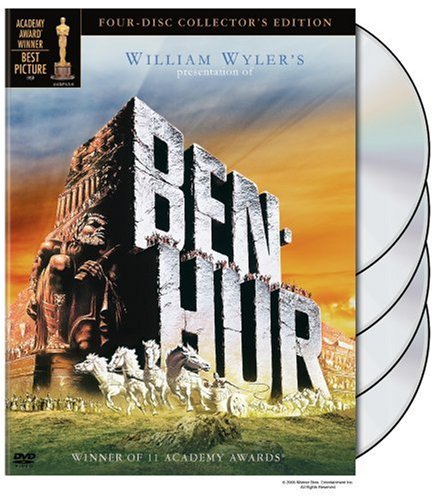 We are back once again, trying to conclude our 12 Days Of Contests promotion. Today, for our Day 11 Edition, we go way back to 1959! That's right, we are giving away a copy of Ben Hur – 4-disc collector's edition (winner of 11 academy awards).
So – enter away below by commenting! We have extended the draw dates for all 12 of our "12 Days of Contests" contests to Tuesday, February 5th… so check back at that time so see who won!
Day 1: ALIEN SEIGE
Day 2: PEARL HARBOR
Day 3: ONE TREE HILL
Day 4: BOB HOPE
Day 5: DANTE'S COVE
Day 6: TONY BENNETT
Day 7: GILMORE GIRLS
Day 8: FULL HOUSE
Day 9: DEER HUNTER
Day 10: PLANET EARTH
Day 11: BEN-HUR – Enter Below
For those interested in gaming, please check out our weekly gaming column Dare to Play the Game. This blog covers weekly releases, reviews and even an ode to Morgan Webb.
The contest is now close – congrats to "cpeters" who won this prize.