Hardcore Gamer Demographics, Standoff in Ohio Gamestop and the World of Goo in bankruptcy? – Welcome to the column that held a survey and determined that Morgan Webb should stop trying to be a Barbie doll and go back to her roots known as Dare to Play the Game.
On Thursday of this week, I received my coffin. On Friday, after packing the console securely, the Xbox 360 was sent back to Microsoft (their Mesquite, Tx location). Now come 2-3 of the hardest gaming weeks of my life. I've found things to occupy my time ranging from general household chores to pc games (like World of Warcraft) to PS2 games to just spending more time with the love of my life, Sarah. On Warcraft, I decided to finally take my rogue to the Outlands and leveled him to 61. I leveled my mage to 20, for some reason that was more entertaining. Maybe cause I got a whole new set of spells for my mage at 20 and simply got more of the same for my rogue at 61.
On the Playstation 2, I played everything from Taito Legends 2 to Smackdown: Bring the Pain. The thing I rediscovered was the fun of downloading various saved games from the net. Truth is I've played Bring the Pain to completion but could not find my saved game file. But I do have Action Replay Max as well as Codebreaker. Simply find the file, and get everything I've unlocked right back. I love my 360, but I get frustrated when I can't take saved games over to somebody's house to show them what I did or where I'm having trouble. I know you can do that whole recover gamertag thing, but last time I checked, that was a pain in the behind. I understand the need to own DLC or the actual game itself. I will never understand the need to own a saved game. It should be public domain and not tied to a specific gamertag.
Ode To Gamer Girls
I wanted this week to bring particular attention to Morgan Webb. Part of the reason I stopped posting her every week was that she had changed. No, she didn't turn into an alien. However, she did change her appearance or rather her style. For years, Morgan Webb has been a geeky yet hot girl. She would have long black hair (except for that short blond period) and look totally approachable. Now as indicated in the photograph above, she has gone to some weird blond-brown combination and a crap load of makeup. As mentioned in the title section of this column, she looks like a blooming Barbie doll. For me, she no longer looks approachable and has the look of I'm too busy to actually play a game but I'll pretend like I will for the paycheck. She's still pretty, but it has just become really odd and almost sad to watch. I miss the old Morgan almost as much as I miss my Xbox.
News of All Types
Gamestop


Two guys went into a Cleveland-area Gamestop about an hour before closing time yesterday, carrying weapons. They weren't there to reserve Killzone 2.
The incident at the Solon, Ohio Gamestop ended without any shots fired or anyone hurt, and both suspects (still unnamed) were taken into custody. Reports say the manager of this GameStop was on the phone with the manager of a GameStop in nearby Macedonia around 8 p.m. when two men, dressed in ski masks and hoodies, came into the store and tried to rob it.
Cops immediately arrived on the scene, with SWAT in tow, beginning the standoff. They were told one suspect was still in the store while another was trying to escape by climbing through the drop ceiling into a nearby ice cream store.
Around 8:30, police got a call from one of the suspects, saying he wanted to give himself up. Ten minutes later, both criminal masterminds were on their way to the slammer. Earlier reports said cops recovered a BB gun and a pistol from the scene.
For some reason this GameStop is attractive to would-be robbers. Other reports said this was the third robbery attempt on the store in the past 12 months; other businesses in the shopping district have been targeted too.

This isn't the first Gamestop to put into this predicament. This is probably not even the first one for the year. Truth is that Gamestop, EB Games, Game Crazies and any gaming store out there are subject to robbers more so than your average store. We had a game store right by my work get robbed at least three times in a 12 month period before it finally decided to close up shop. There are many reasons behind this. Gaming stores look like easy prey. A tiny boxed in store with the appearance of inferior security systems are practically begging to being broke into. Furthermore, your average robber is male and in the 18-34 demographic that most game developers try to steer sales to. Robbers steal what they know. Lastly, games are easy to dump. It's not an Italian sports car or a rare painting by Picasso. You can get rid of games just about anywhere. You can also get rid of them for a price comparable to retail value. One takes those factors alone and it is easy to figure out why gaming stores get hit as often as they do.
World of Goo


GameDaily BIZ cites an unnamed industry source that Brighter Minds Media, publisher of the acclaimed World of Goo, has filed for Chapter 11 bankruptcy protection.
The move would allow the company to retain control over its operations while it reorganizes to pay its creditors.
We searched the filings for U.S. District Court in the Southern District of Ohio but could find nothing under Brighter Minds Media or the attorney said to represent them. But if it was filed late Friday it may not show up in the system until Monday or later.
World of Goo was the big hit out of Brighter Minds' family friendly catalog of titles last year. It took top indie game honors at the 2008 Video Game Awards, and also won the prize for design innovation and technical excellence at the 2008 Independent Games Festival. It was our runner up for best indie game.
It was also popular among pirates; released DRM-free, developer 2D Boy estimated that it suffered from a nearly 90 percent piracy rate.

It is really hard for Indie developers in this brutal time of the world economy. They are falling left and right. Even ones who do well and receive lots of praise don't always stick around. World of Goo was a nice game, not my bag but it was a well done game. It deserved to make lots of money and provide good things for the Brighter Minds group. But it didn't go that way. The reported 90% piracy rate didn't help either. There is no reason for a game to have that much piracy. I've heard 50% plenty of times, but 90% is downright insanity. It also used to be that pirates didn't copy from the little guys. They took from the big corporations who could afford to lose a copy or two and not care.
So my message this week is to the pirates out there, especially those who copy good little games like these to distribute to the masses. Stop screwing up the PC market for the rest of us. You might not be the reason for high retail prices, you might not be the reason for DRM protection. However, you are the reason that small independent publishers like Brighter Minds Media to go out of business. I don't care if you copy Grand Theft Auto IV for the PC, I really don't. But use some darn discretion and support your small indie provider. They bring out interesting ideas and the gaming community benefits. Take them away, and you are left with the vacant PC wasteland full of pointless sequels and recycled ideas. You really don't want that.
Gamer Demographics

For those who did not take part, last week Penny Arcade ran a survey on their site. Asking for details on the site's readers. Since 38,000 people responded, we find the answers very interesting.
I mean, 38,000 people? That's a hell of a lot of people/internet gaming nerds. It's a veritbale gaming census. So let's take a look at the highlights of their findings, see what makes 'em/you tick!
Average Age: 26
Boy/Girl Split: 94% Boys, 6% Girls
Internet Usage:
– Cable/DSL: 84.7%
– LAN: 8.0%
– Fios: 3.0%
– WiMax: 0.7%
– 56k Modem: 0.5%
– Other: 3.1%
Average Number of Hours of TV Per Week: 6.1 Hours
Console Ownership:
– PC: 86.3%
– Xbox 360: 54.1%
– Wii: 53.5%
– PS2: 52.7%
– Nintendo DS: 51.5%
– iPhone/iPod: 29.9%
– XBOX: 26.2%
– PS3: 24.5%
– Sony PSP: 20.5%
Average Game Library Collection: 73
Average Gaming Hours/Week: 18
Average Household Income: $66,000
Average Games Purchased/Month: 2
Game Genres Played:
– RPGs: 89.7%
– FPS': 79.0%
– Platformers: 63.3%
– RTS': 59.9%
– Turn Based Strat: 56.0%
– Tabletop/CCG: 40.0%
– Simulations: 37.7%
– Web Based: 37.5%
– Driving/Racing: 31.4%
– 2D Fighters: 29.9%
– Shooters: 29.0%
– 3D Fighters: 28.0%
– Sports Games: 14.7%
– Flight Sims: 10.5%
Fascinating stuff, no? You can see the full breakdown of their findings at the link below, including what phones you use and which gaming websites were the most widely-read.

This survey while fun to look at is basically a representation of the hardcore gamer crowd. The average person who reads Penny Arcade isn't your trendy person who bought a Wii to be part of a fad or the family who wants to get fit and play together. It's a gamer, hard fast and set on playing games every week, every year until they either grow out of it or somebody rips the controller from their dead, cold hands. Most likely the latter. With that being said, let us analyze the numbers a little closer and examine the demographic.
1. The average age according to this is 26. What is the popular gaming demographic? Ages 18-34. What is the middle? 26. I love it when a plan comes together.
2. Nobody uses a 56k modem anymore. 0.5%, sweet jesus.
3. Gamers really don't watch much tv. That's less than an hour a day. Why? Cause we are gaming. Hardcore baby, hardcore.
4. Everybody owns a computer, the 13.7 who said they don't own a PC were probably confusing the question with whether or not they actually play games on a computer.
5. Most people own 2 of the major consoles out there today. Major meaning 360, Wii, PS2, DS, PS3 and I'll even let PSP in there. Like an Xbox 360 & PS2 (myself included) or a Wii & a DS.
6. The hardcore crowd does seem to have accepted Wiis (and for good reason), but they still haven't accepted the PS3 or the PSP. Heck, there is still a 2:1 ratio of people who have a PS2 versus a PS3. Heck, you can add PSP to the mix and still not come close to PS2 ownership.
7. Average Game Library collection, only 73? Heck, I think I own more than 73 games for Xbox/Xbox 360. When you factor in PS2, PS1, Saturn, 3do, Turbo Duo, SMS, Nintendo, Genesis & SNES (did I miss one?), I am pretty sure I am closer to 700. Then again for every one of me, there are 10 others with a dozen games and nothing else.
8. 18 gaming hours a week, sounds right for an average gamer. 3 hours a day, I'd say I come in under that. I'd say I come in around 10-12, maybe 15.
9. $66,000 a year, wow that's pretty good. We gamers are some wealthy bastards, then again maybe you have to be to have our hobby.
10. The last one, the types of games we play seems to be mainly RPG's and FPS's. Truth is the hardcore love role playing games and first person shooters. Sure we have platformers in our collection but we tend to spend our time on the first couple of genres. As you get further down the list, you will notice that it becomes increasingly casual. Fighters, Shooters, Sports? Typically for casual. Furthermore, nobody likes Flight Sims. Except for pilots and people who want to be pilots.
Releases for the Week of February 4th, 2009
Xbox Live Arcade – R-Type Dimensions (1200 Microsoft Points)

Spit & Polish. That is what I am going to start calling games that are simply remakes upped to HD status and sold for 50% to 100% more than they are worth. R-Type Dimensions takes R-Type 1 and 2, gives it that spit & polish and then tries to get 1200 points out of you. Sure the graphics are spiffy, sure they will throw in some cooperative player action, but in the end it is a little too pricey. I know people will say there are plenty of $15 XBLA games now, but this is still a remake. Remakes typically go for $5 on XBLA. There are 2 games here, $5 x 2 = $10 or 800 points. Line in the sand drawn? Good, great, super, let's move on.
Wii WiiWare & Virtual Console – Snowboard Riot (WiiWare – 1,000 Wii Points), LONPOS (WiiWare – 800 Wii Points) & Sonic Chaos (SMS – 500 Points)




Snowboard Riot is a WiiWare game that supports the Wii Balance Board accessory. Needless to say, it is a snowboarding title but this isn't just some sliding down the slope in a pair of skivvies title. You race against others among four courses. Along the way, you are picking up mines, homing missiles, turbo boosts and invisibility among other abilities. The board itself is also a weapon. Many modes are available and if the control is up to snuff, then this might be worthy of a few points.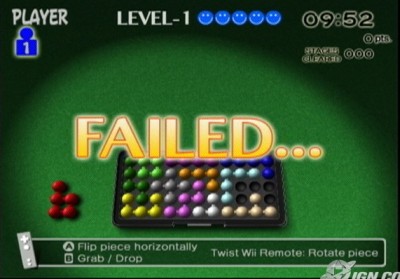 This would be the part where I would have something witty to say about LONPOS and give you a brief description. Here a picture says it all. Let's move on, shall we?



*checks around in the bottom of the barrel*, oh I think there is one more Sonic game left for the Wii VC service to release. Here it is. Sonic Chaos for the Sega Master System. The only distinction it has is that Tails was a playable character. It was a very good Sonic title on a system that was already way past its prime. If you haven't played and like Sonic, give it a try. If not, then try the barrel again and see if you can find my glasses.
Console Releases
PS3
World in Conflict: Soviet Assault
Xbox 360
Tomb Raider Underworld Expansion Token Pack
World in Conflict: Soviet Assault
Wii
Tenchu Shadow Assassin
Imagine Fashion Party
DS
My World, My Way
Korg DS-10
Petz Horseshoe Ranch
Imagine: Cheerleader
Jojo's Fashion Show

I know next week will be better, say it with me now. NEXT WEEK WILL BE BETTER. Okay, now with that out of the way. There isn't much this week. Tenchu Shadow Assassin is probably the best choice this week. It's the 4th recognized game in the series (according to Japan) and continues the saga of Rikimaru and Ayame who must use their leet skills to keep the peace in feudal Japan. The game has received has high marks and should make at least a few Wii owners happy. World in Conflict is actually one of those properties that has been traded around until it finally got a console release. It was sold from Activision Blizzard to Ubisoft who seemed glad to pick it up. It's a real time tactical video game which will be difficult to find an audience for. But it might be worth a try. The only other game of worthy mention is the DS game, My World, My Way. It's made by the RPG juggernauts: Atlus. Its main selling feature is that you play a Princess that pouts. That's right, the game has pouting points where Princess Elise can perform this action and actually change the landscape, force enemies to give more experience or more money and automatically complete quests among other activities. I'm intrigued. Probably not enough to run out and buy it, but at least tell you some of you more open folks to do so.
Final Thoughts & Mutterings
As mentioned in the first paragraph, I have been spending my time playing other games besides ones on my 360 since it is broken and in Mesquite being repaired. One of those games is called Barren Realms Elite, BRE…go google it, I've got time. BRE is a BBS game. For those who are too young to know what a BBS is, it was a place where you could dial in with a modem to chat and play games with other folks. It was before the Internet got really big because not everybody could afford Internet service and typically BBS's were free. Though some actually charged. Yeah, those never did that well. Anyway, BRE is a text-driven strategy war game where you buy up regions, gather an army and try to overtake everybody else. You get a set amount of turns (usually 10-15) per day and try to build up your empire. Of course, you have to guard against other empires as well as pirates. It's mindless fun and for those with an open mind, I invite them to find a bbs (almost all are telnetable over the Internet now). I found one at gargoyleslanding.com, a small outfit out of Oklahoma. Even when I get my 360 back, I will continue to plod away my turns on a daily basis. So this week, revel in the simplicity & greatness of a text-based game whether it is BRE, LORD, or a mud. Heck, go play Zork and for those who know what Zork is, major brownie points. Take care kiddoes.

As Always,
Kedrix of Aldrianian
(*The Forgotten One*)