Halo 3 ODST, Project Natal & Facebook on Xbox Live? – Welcome to the column that would have gone to E3 if the show organizers didn't do background checks for booth girl stalking known as Dare to Play the Game.
Many video game columnists are currently at E3 getting all giddy over the latest announcements and acting important like somebody is supposed to be impressed with their credentials by being at this event. The rest of us get to sit back and feed off their info and wonder what it really takes to get into one of these things besides a plane ticket and some secret "handshake". Okay, there is no handshake but it sure does feel mysterious. I would like to think in my lifetime I would attend one of these, but I'm not holding my breath. Maybe next year.
Gaming wise, I'm still playing NHL 2k9, I am 15-4 and achievements are still slow. The most exciting game as I remember it was one against the Predators where I was down 1-0 all the way until 44 seconds left in the third period where I got a goal. So 1-1 going into overtime and it took two overtimes for me to get the final goal and secure the win. The Predators should have been a walkover for me. But by the same token, (I forget the exact score) I beat the Chicago Blackhawks (a much superior team) by 5 goals. So I still don't have much explanation for how I beat one team by a certain score or how I beat another team but I still enjoy the game.
Ode To Gamer Girls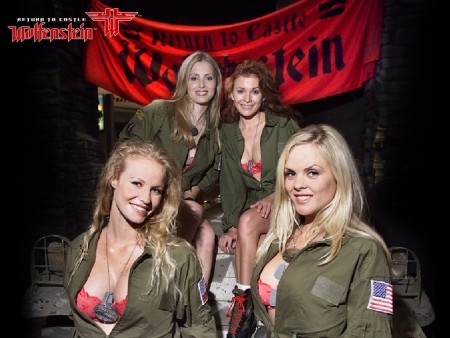 In celebration of Wolfenstein 3d being release on Xbox Live Arcade this week, I thought I would dig up a chicky picture that had something to do with it. Return to Castle Wolfenstein was of course the Xbox/PS2/PC game that was actually a pretty good game and I do play on and off from time to time. May the new game that comes out in August be as good as the original and Return. *fingers crossed*.
News of All Types
Xbox Live


The Xbox 360 will be added Twitter and Facebook to its list of web services, Microsoft announced today, with some of those social networking services interact with the console's game library.
Microsoft's Facebook implementation on the Xbox 360 looks to offer much of what's available via a regular web browser: status updates, photo sharing, email and more. The interface follows the established New Xbox Experience format, with Avatars integrated into profile and news feed menus. Looks like more of the things one can do with the core Facebook service, installable apps notwithstanding, will be present in the Xbox 360 version.
What's new is the option to save screen shots from Xbox 360 games, then let players upload those game moments via Facebook Connect to show off online. The first game to support that option will be EA Sport's Tiger Woods PGA Tour 10. Xbox general manager Marc Whitten said this feature will be added to the Xbox 360 SDK, but wasn't clear on whether this option could be added to older titles via software update.
Xbox 360's version of Twitter looks very much like the Web interface, letting Xbox 360 owners update their personal status from the dashboard and favorite tweets. Microsoft also announced the addition of Last.FM to the Xbox 360 at its press conference today.

Facebook and Twitter on Xbox Live? Let's hope this isn't a required feature like the avatars and everything else they have forced us to use in some shape or form on Xbox Live. I'm guessing it would be more akin to Netflix where it is an optional service that you can participate in. I'll approach Twitter first. Twitter for the uninitiated is basically a status message, that's all it really is. Translation: utterly useless. If I'm on Xbox Live, let's assume I'm either a) playing a game (big surprise), b) watching a video or c) listening to music. Isn't that already a part of Live? Let's move on.
Facebook is the more interesting app by far. There is status updates (big shock), photo sharing, email and a little more. However, if you have any Facebook apps, it doesn't look like you will be able to access them (sorry Mobsters and Superpoke). Also interestingly enough, it looks like we will be able to do screenshots on certain games and upload them to Facebook. Awesome for reviewers (since a lot of us use stock footage) or people who want to show off a certain achievement. Essentially, this gets people off their computers a little more and gets them to stay on Xbox Live a little longer. I like it, I just hope it is not as clunky as the NXE experience.


I have a Super Poke Pet. Man, I am so easily manipulated by the opposite sex. Or at least Sarah. /sigh.
Halo 3 ODST


Halo 3 ODST may be a spin-off, but Microsoft wagers that enough content will be packed into the
game's box to warrant a $59.99 price tag.
Bungie Studios has suggested that Halo 3 ODST won't be as long as Halo 3. So why will it run the cost of a full game?
Here's a list of the included content according to information released by Microsoft to the press today:
-Halo 3 ODST Campaign, which puts the player in control of different characters in New Mombasa during the events leading up to Halo 3.
-Halo 3
ODST "Firefight" mode, "a new cooperative multiplayer* mode where up to four players can assume the role of an ODST squad and fight together to take on increasingly challenging waves of enemies." Also: "As an ODST squad, you will face increasingly challenging waves of enemies together, striving to earn the highest scores possible, while various "Halo 3" "Skulls" are progressively activated." (It sounds to us like Gears of War 2's Horde mode.)
-Three new Halo 3 multiplayer maps on a standalone disc
-The more than 20 downloadable maps previously released for Halo 3 in the Legendary, Heroic and Mythic map packs.
-A key to the forthcoming multiplayer beta for the fall 2010 Bungie game Halo: Reach (The new game is said to support all of Halo 3's main features, including four-player co-op, campaign scoring, screenshots and Forge multiplayer map editing)
In addition, Microsoft will sell a $99 Collectors Edition of Halo 3 ODST that ships with the above elements and an exclusive ODST Xbox 360 controller.

Insert statement about sheep or lemmings here. Halo 3: The Prequel has been dubbed ODST. This game has enough content for an expansion pack and that's it. The adventure for Halo 3 was about 9-10 hours worth (or 12-15 for people who suck like me) and this is supposed to be less than that. The selling point then would have to be multiplayer. There are some previously released map packs from Halo 3 and a few new ones as well as a couple of new modes. It still sounds like an expansion pack. This thing should not cost more than $40. If you want a collector's edition, then alright it should be $79.
Here is the problem. This thing will still sell like hotcakes. Halo Wars to my knowledge sold pretty well. But I bet you a lot of people bought it blindly and were disappointed. Not because Halo Wars is a bad game, but because most people don't play RTS games and were probably expecting something else. Now you have a glorified expansion pack at the same price. Fool me once, fool me twice and what happens? This new game coming out in 2010 called Reach is going to find some negative publicity. People will feel duped and even though Reach might be awesome, a good number of people might turn away.
I liked (not loved) Halo 3. I would consider buying ODST if it was in the range I suggested. But at $60? I just laugh and move on. Even when it comes down in price, I'll probably ignore it because I'll assume the Live multiplayer traffic (which is the only thing Halo has going for it) won't be sufficient to warrant a purchase. I'm not the only one who will think like that. They need to be careful and no fancy controller is going to help that.


Ninety nine bucks. No, not even if somebody gave me $100 and said go buy Halo ODST. The controller is nice though. So now I've got two controllers I wouldn't mine having (Halo 3 ODST & the Dragon design one from Wal-Mart). Marketing companies love me so.
Xbox 360

Microsoft's new motion controller is a camera, that uses object, movement, and voice recognition to deliver a new kind of immersive gaming experience.
It may look a bit like a Wii sensor bar, but it's something altogether different. Project Natal, as Microsoft is calling it at their 2009 E3 press conference, is a camera and sensor assembly that recognizes faces, body movements, objects, and even voices in order to integrate the player into the gaming environment. Examples shown at the conference include a boy holding up a skateboard, which then appeared on the screen, with the boy then riding said board by just swaying back and forth on his own two feet; two women trying on virtual clothes using a camera image of themselves; facial recognition; voice control; buzzing in to 1 VS 100 by raising a hand; and even browsing the NXE using hand controls as in the movie Minority Report.
Project Natal creative director Kudo Tsunoda took the stage, showing his Xbox Live avatar moving with his movements and playing various tech demos, including a handball game and one that allowed you to paint with stencils. Development kits are arriving at Microsoft partners today, so while there's no word on when this amazing technology will actually make it into player's hands, with developers like Fable's Peter Molyneux behind it, we can expect great things. Things like this: Molyneux came on stage to present a demonstration of Milo, in which a real woman and a small boy on the screen interact. The boy recognizes her emotions, throwing her a pair of goggles, which she reaches out and grabs. Everyone at the press conference was floored. This could very well be the sort of show-stopper that Microsoft needs to take home the fictional press conference of the show award.

Boys and girls, this is something we like to call a gimmick. But hey, the Wii sold millions of consoles with a gimmick (Wii owners will hate me for that dig). Seriously though, think about the scenario that Peter Molyneux gave to us. A woman I guess through emotions or what not gets the virtual boy to throw her some goggles. "Everyone was floored". I'm sure it was cool and all, but floored? Come on. At some point with all of this motion sensory and eye-toy kinda stuff, I want to just go, why don't you go outside and do that (heck you can do the goggles part indoors).
I know what you are saying. Ked, you have hundreds of games; why don't you go play "insert game title here?" outdoors? Most of my games involve me in some sort of fantasy role slaying a dragon, controlling a whole hockey team, etc. There is a difference between that and what I do. Ever notice when they mention these sensory things, they always mention everyday activities? Skateboarding, Playing Catch, Trying on Clothes?! If I want to try on some clothes, I go to the freaking mall. I know I'm probably sounding like an old fart, but man are we producing some lazy ass kids.
Releases for the Week of June 3rd, 2009
Xbox Live Arcade – Wolfenstein 3d (400 MS Points) & CellFactor: Psychokinetic Wars (800 MS Points)

In 1992, I was about 17 years old. I was shortly going to college and I received my first computer that wasn't in a library or classroom. A 486 PC and it came with one game. A shareware copy of Wolfenstein 3d. I played that thing until my fingers bled, hours on end. Eventually I would obtain a full copy of all six episodes and did the same thing to each episode including the final end boss, Mecha Hitler (I still couldn't stand the second episode though with all of the zombies and such). Now, Xbox Live has granted me that experience once again. All six episodes at 400 measly points. In addition, it will be like Fable II and Pub Games by providing gold and completed tasks in the upcoming Wolfenstein game. It's a sure fire buy for me, I just need to go find a points card.


Late Wednesday morning entry, but here is a FPS shooter from UBISoft in what has been described as UT3 lite. Okay, I'm interested after watching Sarah play Unreal on 360. Your character will be able to manipulate your environment and destroy enemies with gunfire or telekinetic powers. The telekinetics allow you to take objects from the environment and throw them in any direction you desire. They can also be used as a shield. There is flying involved and many single player and multiplayer modes. At 800 points and very decent looking graphics, I might just have to pick up both games this week.
Wii WiiWare & Virtual Console – Final Fantasy IV: The After Years (WiiWare – 800 Wii Points), Texas Hold'Em Tournament (WiiWare – 500 Wii Points) & Boulder Dash (Commodore 64 – 500 Points)



A new Final Fantasy game? Well sort of. This is a sequel to Final Fantasy IV. This story takes place many years after the original and the story is centered on Ceodore. He is the son of paladin Cecil and the white mage Rosa. Monsters are now reappearing and the second moon is back. Ceodore must assume the role his parents did so many years ago and find old friends and new ones to vanquish the foe. This sounds quite tasty and if it is done in the same vain as FFIV, RPGers are in for a treat. (I swear, the only reason week after week I want a Wii is WiiWare & Virtual Console)



Well, we needed a poker game on the WiiWare system, so Digital Leisure thought hey, let's give them one. All of the options you would expect to be in this game are there and there is even a single player mode that starts you off in small Nevada gaming halls and by the end of it, Las Vegas Championship. Multiplayer and Mii support are a given, so if you like poker; go ahead and spend the five bucks.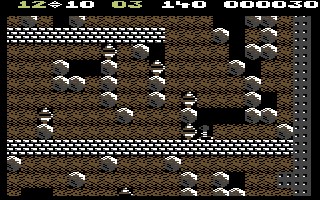 This game was released in 1984 and it was actually a computer game first before it ever came to the arcade which is kinda a rarity. You are a brave prospector named Rockford. You must dig through caves to collect diamonds and avoid dangerous creatures as well as falling rocks. Strategy is key here and if you can lose yourself in the task of exploring the cave (and not looking at the graphics), you can find a true classic.
Console Releases
PS3
Red Faction Guerrilla
Fuel
Xbox 360
Red Faction Guerrilla
Fuel
Wii
Go Play Circus Star
Go Play Lumberjacks
DS
Knights in the Nightmare
Naruto Shippuden: Ninja Council 4
Crazy Chicken – Atlantis Quest
Crazy Chicken – Pharaoh's Treasure
Crazy Chicken – Star Karts
Imagine: Boutique Owner

Not much this week. The major releases are Red Faction Guerrilla & Fuel. Red Faction was a lot of fun for me back in the early days of the Playstation 2 and this sequel could be the best yet. Destructible environments are key. Fuel is an open world racing game that is set in a post apocalyptic world where you have to deal with tornadoes, sandstorms and you are racing 24-7 through night and day. (Do you ever stop to eat?) Seventy different vehicles are included, ranging from ATV's to Muscle Cars to Hovercrafts. Outside of that, unless you like Crazy Chickens, you're going to have to wait another week.
Final Thoughts & Mutterings
Normally, I don't talk much about World of Warcraft anymore. I play it on the weekends, alternating between my four characters, a 64 Troll Rogue(Combat), a 60 Tauren Death Knight(Unholy), a 34 Blood Elf Hunter(Marksman) and a 23 Blood Elf Mage(Frost). They really compliment each other and if I could control them as a team, I would. Anyway, I've been disturbed lately by how difficult it is to find a group for any level 55-60 instance in the old world. I'm really not doing it for gear or experience, but I just want to say that I was able to complete a particular instance. Everybody around my level seems intent on Hellfire Ramps or Furnace. Those two are good instances, I don't mind them. I just like exploring the content of the game, and I feel like some of that content is lost because people only want to do the popular ones. I guess I'll need to wait until I'm level 80 (with my rogue or dk) to solo the thing, but as long as its taken me to get to the 60's, I don't know if I'll ever get there. But I'll keep trying. Take care kiddoes.

As Always,
Kedrix of Aldrianian
(*The Forgotten One*)