EA MMA News, Heavy Rain delayed Trophies, & EGM to be Re -launched? – Welcome to the column that made a comeback several years but nobody knew they were gone known as Dare to Play the Game.
Still in Wii Land, population 2. See this is the problem when you get a new system that's been around a little while; you spend a lot of time catching up. This week was indeed no different than last. I purchased what I hoped were my final two accessories for now, a classic controller and a second Wii Motion Plus. I really like the Classic Controller, it works really well, I only wish more regular Wii games actually supported the darn thing. But for VC games, it is a champ.
Speaking of VC games, I finally got around to creating a Club Nintendo account and then purchasing my first two titles. River City Ransom and Punch-Out. For those who know me, was there any doubt? River City Ransom is still the most awesome beat-em up of all time and Punch Out stays solid after all of these years. At some point, I would like to purchase some of the Turbo Graphix titles since that was my bread and butter 15 some years ago, but this will keep me interested for now.
On the regular games front, I made the mistake of walking into a Gamestop for our World of Warcraft cards and nearly forgetting to purchase them because we got swayed by the used Wii display. We ended up walking out with a copy of Bleach: Shattered Blade (Sarah is a big Bleach fan) & Puzzle Kingdom (a harder Puzzle Quest?, I'm in!). Oh and a second nun chuck, it's pink. But it was also $7 cheaper than the normal white Wii one. I'm done with accessories, I tell you!
Ode To Gamer Girls



Heavy Rain is coming out in February of 2010 for the Playstation 3. There was a tech demo all the way back in 2006 for this game that featured a virtual actor that was based on Aurelie Banchilhon, a French American actress. Motion capture was also used on her. Even though the tech demo really had nothing to do with the story to Heavy Rain, it was still the core engine. Fast forward to September 2009 where there was a gameplay clip that showed a topless scene with the game's lead Madison. Put 2 and 2 together (it is a stretch I admit) and you might just have Aurelie in the buff, virtually that is.
News of All Types
Electronic Arts


Yesterday, word spread that a UK fight magazine had fixed EA Sports MMA's release to September. I emailed the magazine to make sure that claim wasn't misattributed. Fighting Spirit Magazine sticks by it, and offers more details.
We don't have permission to reprint the article in its entirety, but having seen it, I can confirm that what was posted in the EA Sports Forums is on the level. FSM also sources the September release claim back to within Electronic Arts (the article references "our moles at EA" on another detail) but can't get any more specific than that.
That's the inside-baseball portion. To recap, here's what you can expect from EA Sports MMA when it releases:
• Deals with other MMA promotions, in addition to the announced Strikeforce deal, are "highly likely, including at least one of the big Japanese groups." FSM says one unannounced top fighter "regularly competes in Sengoku [Raiden Championship, aka World Victory Road]."
• Venues including both rings and cages. FSM says EA's on the fence about whether restarts will be included for ring fights. (It "might make for jarring gameplay," the article says.)
• Pride-style rules in addition to standard Unified Rules.
• The ability to fight left- or right-handed, execute foot stomps and fight on the cage, with deeper clinchwork and countering. These mechanics go deeper than the limitations of UFC Undisputed 2009.
• As for gameplay, the right analog will be your striking control, with the left trigger as the kick modifier.
One other unrelated development: The following fighters were confirmed for the title today: Cung Le, Josh Thomson, Robbie Lawler, Scott Smith, Matt Lindland, Gilbert Melendez, and Ronaldo Souza.
EA Sports, yesterday, no commented when we asked if that September 2010 claim is any good. That does not mean it is, of course. But it sounds like they're trying to pack a lot into this title, so keep that in mind.

I think we can now prove that Electronic Arts reads my column. I've detailed in a couple of stories now what EA should do with their MMA game to give it a fighting chance so to speak against the likes of the UFC. EA pretty much followed what I said to an absolute tee. To top it off, they look to release it next year right in that lovely Christmas time frame that we always talk so much about.
This game really is shaping up to the more popular game for the hardcore audience. Strikeforce, whether you like them or not will be heavily involved but not the end all beat all for promotions. The fact they are including Pride-Style rules & rings open us the way for promotions from beyond our borders to also become a part of the proceedings. I would also assume that create-a-fighter would be possible.
In addition to that, the hardcore audience also gets the chance to fight left or right handed and execute a bevy of moves that are common to fight fans but a little out of UFC's casual gaming philosophy. This is often one of the things that people criticize about the current crop of wrestling titles. They play too arcadey. It would seem that EA is trying to make this one the FirePro of MMA games. If it holds true, fans are in for a heck of a treat.
EGM


Magazine racks will be falling over with joy next March when video game print publication Electronic Gaming Monthly officially returns to bookstores and beyond. The all-new but still familiar EGM has inked a deal with Time/Warner to handle marketing and sales.
Announced last year, the new Electronic Gaming Monthly will be lead by publisher Steve Harris, one of the original mag's founders. Joining Harris will be former EGM and 1UP regulars, Dan "Shoe" Hsu, Demian Linn, Seanbaby, Ryan O'Donnell and Matt Chandronait.
The April issue yes, still due in March will feature a special code for a copy of the electronic version of Electronic Gaming Monthly, known as EGM[i]: The Digital Magazine.

This makes Kedrix a very happy boy. I grew up with this magazine and I'm pretty delighted to see it back. Unfortunately, the current magazine world isn't the world we grew up in so to say I am a bit skeptical is an understatement. However, in the spirit of everything I believe in gaming, I can certainly say that I will be subscribing when it launches. And not one of those free subs either. In fact, if anybody at EGM happens to read this; if you need a writer, look me up. I'll even do the first couple of stories for free just for the honor of being in the magazine.

If you look at these six covers and don't have a tear of nostalgia in you afterwards, then you need to turn in your true gamer card right now.
Heavy Rain


In the interest of establishing a mood and not having it ruined by a Trophy alert, the developers of 2010 PlayStation 3 game Heavy Rain have been authorized by Sony to do something new.
Heavy Rain will have Trophies. But you won't be told that you earned them until the breaks between the game's chapters.
Quantic Dream co-CEO Guilaume de Fondaumiere told Kotaku in New York that the game's Trophy alerts will operate on a delay. That gets the team around the problem of having the little Trophy alert message and accompanying chime interrupt scenes of tense crime-scene investigation or a father's quiet struggle to get his son to talk to him after a bad day at school. The game will maintain its mood during the important parts by rewarding the gamer with alerts during transitional scenes.
Since their inception, Achievements on the Xbox 360 and the similar service of Trophies on the PlayStation 3 have been widely popular among gamers. But the alerts that signify the winning of an Achievement or Trophy can and do get in the way of subtitle text or otherwise distract players. And while an option to turn the alerts is one solution to this issue that some gamers use, having the Trophies rewarded after the fact is another method that permits a notice of accomplishment without killing a carefully constructed mood.
Heavy Rain ships in early 2010 on the PlayStation 3.

There are some Xbox 360 games that already do this, some of the EA sports games come to mind. I'm split on the idea, in some games I want that little alert right away to know I did something just right. Puzzle and most sports games are a great example. If I hit a certain chain of combos or throw a 60 yard bomb, I want it to pop now. However, this attitude can change when it comes to adventure and rpg type games.
In gaming, often players will hit their zone. This zone is where they become one with the game that they play and they lose all track of time and become more focused. This typically happens in single player games but can happen in multiplayer. The last thing we want is some silly alert to come up and go Platinum trophy received or 25 Gamerscore. It ruins the mood.
Heavy Rain is shaping up to be quite the psychological crime thriller. Like Uncharted, it supposedly will feel like you are in a movie. There are intuitive and contextual controls with a well planned out interface. The other thing you should know? The creative team also created Indigo Prophecy for Xbox/PS2. Fantastic and very gritty game which only means that this Playstation exclusive should be a major seller for them.

A couple of rendered pictures that show off the Heavy Rain core engine. A very beautiful kitchen and appliances. Cooking Mama, here is your next leap.
Releases for the Week of December 23rd, 2009
Xbox Live Arcade – 0 Day Attack on Earth(1200 MS Points each)
Square-Enix this week brings us an interesting flying shooter game. Apparently there are massive invaders from another world and they are attacking our major cities. 0 day Attack represents the initial assault on cities such as Tokyo, New York and Paris. Payback is in order. You will need to dodge all types of firepower to destroy the enemy. There is 4 player co-op mode and 8 players in VS mode. It sure looks pretty, but it is hard to tell if this one is worth the $15 pricetag.
Wii WiiWare & Virtual Console – Eco Shooter: Plant 530 (WiiWare – 1000 Wii Points), TV Show King 2 (WiiWare – 800 Points), Pallurikio (WiiWare – 1000 Wii Points), Happy Holidays Christmas (WiiWare – 500 Wii Points), Super Smash Bros (Nintendo 64 – 1000 Points) & Ninja Gaiden (Arcade – 600 Wii Points)



Al Gore would be proud. Earth's empty soda pop cans are being brought back to life by the Cannoids, an alien race that wants to do bad things to us. You are Mack, the only person who can save the planet. What do you have to stop the aliens, oh a recycle cannon and a vacuum. There is that migraine coming back again. You can save the earth, blah blah blah in this first person shooter that is in no way possible worth $10 bucks. Really? And you wonder why I have went nowhere near the WiiWare section of my console yet.



Another round of TV Show King. Eight thousand more questions have been categorized into twelve different classes such as sports, movies and music. You can also create your own questions which would be awesome if you don't mind playing host. Needless to say but this game supports multiplayer on a local and online basis. It looks pretty cool and reasonably priced.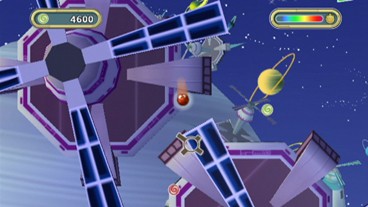 This is a fast-paced action platformer that goes along the classic moniker of easy to learn and hard to master. Rusty is trapped in a dimensional vortex due to playing a mysterious board game. He must make the bouncing Pallurikio jump and roll and help him through fifty levels. In the way are all kinds of traps and puzzles in some very odd places. It features physics simulation, Time Attack mode and collectible cards. Remember kids, don't play mysterious board games unless you want to be trapped in a dimensional vortex.



In the useless apps we shouldn't have to pay $5 for department, we have a Christmas card creator. This app will let you send Christmas cards to any friends in your Wii Address book. You can add a tree, decorations and choose frames, stickers and even music. Then put a little message at the bottom. Here is a clue. 1)Buy a real Christmas card and send it to your friend or 2)Use the million free services online. Don't waste your time with this junk.



Well it's taken almost a year from when this was released in Japan on VC until us greedy Americans can get our hand on it but it is so worth it. And yes Virginia, Kedrix is actually happy about a Nintendo 64 release, write it down. Of course, the best thing about this legendary fighting title is that you can play as many popular Nintendo characters. In this first one, it includes Mario, Donkey Kong, Link, Samus, Yoshi, Kirby, Fox and Pikachu. Four characters could also be unlocked including Luigi, Captain Falcon, Ness and Jigglypuff. Multiplayer is amazing and it's the Smash Bros we have come to love and at only $10.



I actually remember playing the arcade version of Ninja Gaiden a long time ago and trying to pair it up with the original Nintendo game and wondering why this never came out for the console (Atari Lynx does not count) except as an extra in the Xbox game. The arcade version despite being difficult plays very fluid and plays more like Double Dragon than anything else. Six hundred points isn't much to ask and might be worthy a pickup on a lonely weekend. Ryu Hayabusa would be most pleased or else the circular saw might just get him.
Console Releases
Playstation 2
Guitar Hero: Van Halen
Playstation 3
Guitar Hero: Van Halen
Xbox 360
Guitar Hero: Van Halen
Wii
Guitar Hero: Van Halen
Final Fantasy Crystal Chronicles: The Crystal Bearers
World Party Games
Dream Salon
Playmobil: Circus
DS
Learn Geography
Learn Chess
Playmobil: Pirates

It's Christmas week, what would you like me to do? However, we do have two games worthy of mention this week. The first is Guitar Hero: Van Halen for those who elected to not buy Guitar Hero V and get in on the free offer. I would enjoy this game, but alas I kinda treat it like ACDC Rockband. In other words, wait until I can get for about $20. I still have issues with no Hagar, no Anthony, and no David Lee Roth solo stuff. But that aside, it is still probably worth a Jackson.
The next game is Final Fantasy Crystal Chronicles: The Crystal Bearers. The original title was on GameCube and had mild success. The story this time around involves a Crystal Bearer named Layle who has been hired to escort the new passenger airship Alexis. Alexis is taken over by some monsters and the crystal shards are stolen by a Yuke named Amidatelion. Once the ship lands, Layle goes after Amidatelion in a quest that could threaten the future of the world. It will have real time combat which will include the use of telekinetic abilities. Should be fun.
Final Thoughts & Mutterings
At some point, I know I will get back to my Xbox 360. In my eyes, it is still the superior machine, it's just the Wii is the new toy and we all know how that goes. I unfortunately have not got around to Dragon Age: Origins but will figure out a way to do so. It's simply too awesome to fall into the same trap as many RPGs I have let sit on my shelf. Don't ask me to get into the list, it wouldn't be pretty and people might beat me for certain titles.
I do want to take back some of my criticism of the Wii in form that it is a terrible machine. It's not a terrible machine. It certainly has its flaws such as third party software (which isn't as bad as I thought, but still a little scary) and way too many essential accessories that you have to shell out for. I understand the gimmicky nature of the console better first hand now, but let us face facts it is a great gimmick.
But there are some great games in there too that would still succeed even if the gimmick didn't exist. I really hope to find those games, even if I have to dig a little more than I normally would. So as you open your presents this year and give thanks to those special in your life, dig a little bit deeper into yourself and make sure you find every hidden and enjoyable moment of this holiday season. There are plenty out there and most don't cost a dime. Happy Holidays folks and take care kiddoes.

As Always,
Kedrix of Aldrianian
(*The Forgotten One*)