Xbox DLC Going Away, Re-releasing PS games, & Natal is the next mouse? – Welcome to the column that continues to be stubborn about backwards compatibility until the Dreamcast starts playing Sega Genesis games known as Dare to Play the Game.
Another week in the world of gaming. I am now officially one achievement away from a full boat on WWE Smackdown vs Raw 2010. 950 points. As it turns out, all the unlockables achievement only required me to go back through the Randy Orton scenario to unlock "Cowboy" Bob Orton & "Million Dollar Man" Ted Dibiase. Thank goodness I used several saves for his scenario in my first run through so I only had to hit it at key points.
So the missing monster now? The training checklist. I have a good portion of it done, but some of it is ridiculously tedious which require you to back up and select a different wrestler every time you want to do a specific move. Worse yet? You have to change some of the wrestler's movesets because the designers didn't include a wrestler in the game that had some of the moves they are looking for.
The only other game I really played was WoW. My crappy undead warlock is now at level 30, the usual point where I either stop playing the character (see belf hunter or mage) or make the grind to at least 70 with them (troll rogue, dwarf priest). I can see him start coming into his own though I still have painful memories of many many deaths.
He's on his current warlock quest to gain his Felhunter minion. The first part of the quest required you to grab an item from near Southshore and then go all the way to Thousand Needles to get another. This part is alright, it just takes a while. Then, you are required to go to the Wetlands to grab some rods.
This wouldn't be too bad except there is no good way to get over there (flightpaths) except on your mount…through Alliance territory…through a level much higher than your own. I'm not sure if the Alliance lock quests are produced in the same fashion but it makes the event quite the ordeal. I just hope the Felhunter doesn't suck as much as the succubus did. (I still use my voidwalker most of the time).
Ode To Gamer Girls



Another wonderful lady doing the Bayonetta cosplay thing. It is interesting to note that Bayonetta actually cracked the one million mark, selling copies throughout the world. It looks like a great game and hopefully we will get a franchise out of it. Of course, this is all just an excuse anyway for me to put up more pictures. I think I have a thing for the whole school teacher in latex look.
News of All Types
Peter Molyneux


Peter Molyneux, the guy who designs those Fable games and runs Microsoft's European studios, sees Project Natal as more than just another motion peripheral.
For him, it's the peripheral is akin to some like the computer mouse.
"If you're thinking that Natal is going to give you another version of an FPS, you're just not thinking broadly enough," Molyneux told Gamereactor. "After all, it was the invention of the mouse that gave us computing as it is today; not the invention of the microprocessor."
That, the game designer points out, is how we have come to control our computers.
"The mouse was the real revolution of the PC; not the Intel processor. And who's to say Natal couldn't end up creating something you and I can't even imagine now. It forces us to approach technology in a completely different way. Before the mouse, we only had the keyboard."
But we already have a controller…to control our video games… Okay, fine, I see what he is saying!

Do you ever get the feeling the Molyneux isn't playing with a full deck? I've watched him ramble about Fable 1, then Fable 2 and now about Natal & Fable 3. The thing is he promises the world, and most of the time we get about half of it. So you have to take what he says with a grain of salt. Usually there is some small truth in what is the bigger picture.
I've already let my readers know that I'm not too thrilled to see Project Natal and I have no wish or desire to buy it when it becomes available. Then again, the comparison to the mouse is interesting. Interesting because there was a time in college (roughly 15 years ago) when my mouse was so craptastic, I went the better part of 6 months without one. Hence why my keyboard skills are second only to those 100wpm whizzes you see as executive secretaries.
But eventually thru the years, the mouse has become a crucial part of the pc process. You can't do much without one. I wonder if Natal is going to follow a similar path. It is possible. Thought I'm still not too happy with motion control at all. My only hope with Molyneux or Natal is that Fable 3 is just as good or even better than the first two games. Anything less would be abominable.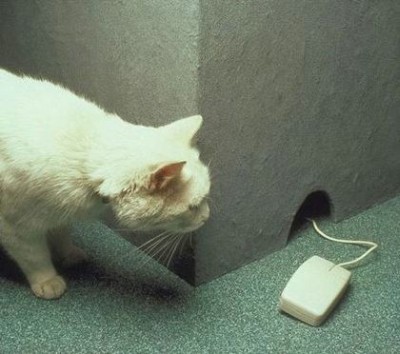 Excuse me, there appears to be a mouse in the wall. Don't worry, just set up a mouse trap with a copy of Bejeweled and you'll be fine.
Xbox DLC


Downloadable content for the original Xbox has been taken offline as Microsoft prepares to terminate the console's online support. One problem: Matchmaking restrictions require all Halo 2 DLC to play it online. That could make for a small going-away party.
Here's the situation: Matchmaking requirements mean those playing Halo 2 on the Xbox 360 need all of the maps to participate online. So for those who never got all of the Halo 2 maps, or lost them for whatever reason, there really is no way for them to get into the April 14 farewell Bungie has planned. (or play Halo 2 at all before then.)
This afternoon, a Bungie community manager stepped in to say they were "On it. Not sure what, if any, solution we can work out, but we definitely can't adjust the playlists over the weekend. Sit tight."
So it seems that Bungie is aware their farewell attendance could be decimated by current conditions and plans to do something about it.
If not, one consequence could be a huge spike in the gray market value of the game's Multiplayer Map Pack. Forum posters already are talking about trying to find one at game retailers. Although three maps were released after that disc, so it's unclear if getting that disc would solve the Halo 2 problem.

It was bound to happen I suppose. Somewhere along the time line, Xbox online support had to be dropped. To be honest, I have played plenty of Xbox titles thanks to backwards compatibility but none of them I played online, not even Halo 2 (which if somebody actually wants, I'd be willing to trade). It is sad to see the DLC go away, especially when Bungie is actually planning a farewell party for Halo 2 which has been the #1 Xbox online title since it was released so many years ago.
But Microsoft is moving in an upwards direction and I will admit that this is probably holding them back, the online aspect anyway. However, I only hope that they don't something as rash as remove backwards compatibility. I already feel pushed to go buy an original xbox (explained more in Final Thoughts), I don't want to be thrown at it or risk losing access to games I already own.
This brings up the question of the current generation. At some point, the DLC we own will go away due to the respective company refusing to support it any longer coupled with hard drives only last so long. At some point, your hard drive will cease to function and you won't be able to get back your DLC because Microsoft pulled the plug. You ever wonder why I like my disc copies? As long as I take care of them, they will last a lifetime or at the very least, last until I develop persistent arthritis.
Playstation


The long-rumored,recently leaked existence of PlayStation 2 games joining the PS One Classics line comes a bit closer to reality, at least in the mind of PlayStation senior VP Peter Dille who calls the digital re-issues a "terrific opportunity."
In an interview with IGN, Dille says that the PlayStation folks are "working really hard on" bringing more PlayStation and PlayStation 2 games to the PlayStation Store, not quite an official announcement, but another glimmer of hope.
"From our side, we're going through our own studio organization and trying to make sure all these old games are out there so that we can lead by example, but we're also communicating with all the third-parties about the success of the Final Fantasy games, and other PS1 and PS2 classics," Dille tells IGN. "By all means, I think people can look for more of that because once the third-parties see how this works, it's just found money. There's not a whole lot of work that has to go into it and once we can get it up on the network, it finds an audience pretty quickly."
With PS2 backward compatibility all but dead on the PlayStation 3 going forward, it would seem like some of that "found money" would be an attractive option for Sony. About as attractive as the rumored addition of Dreamcast games to the PS3 would be for me.

In one breath, I understand the stance of Microsoft and the original Xbox. (Unless they somehow figure out how to drop BC). In the next, I'm cursing out Playstation 3 for articles such as these. Once upon a time, the Playstation 3 did wonderful things like play PS2 games. Then with each new release of the machine, they started messing with it and eventually they got rid of it all together.
Then, somebody got the bright idea of milking the cow for all that it was worth. So they stripped the compatibility and now want to sell PS1 & PS2 "classics" and reap new money for old ideas. Found money sounds an awful like dirty money. The system has proven that it can be backwards compatible but yet they do all they can to squash it and gently persuade (ball peen hammer) to re-buy them on PSN.
It's recycled software. I don't mind them offering it (especially for the people who have never played some of these titles), but offering it to those who already own the older discs is a slap in the face. Let's face facts, while discs can probably last a lifetime if taken care of properly, systems don't. Therefore, newer systems should have some level of backwards compatibility to the previous generation. There is simply no excuse to try to resell only last generation's games on the current console. Excuse me while I tighten my grip on my PS2. At least they understood how to support previous PS1 games.

Yes, I'm calling about the found money. Well it's green, and it has pictures I'm hoping of Franklin and Grant. Has the signature of the secretary of the treasury and all that, yes. All crinkly, like somebody stepped on it, sure. Serial number? U…R…N…I…D…10..T.. *click* Wait, what did I say? (If you don't get that joke, you have never done tech support calls)
Releases for the Week of February 9th, 2010
Xbox Live Arcade – Darwinia+ (1200 MS Points)

Darwinia+ is hard to explain. Well it's actually two games, Darwinia and Multiwinia. It mixes elements from many types of games including strategy, action, hacking and those Sim games where you play God. You are in charge of Darwinians who are in throws of a deadly virus. It's all computer related where you have to hack computers and track the virus back to the source and destroy it. Multiwinia is the same type of game, just more advanced. Could be cool but the 1200 points make it dicey for a gamble.
Wii WiiWare & Virtual Console – Blaster Master Overdrive (WiiWare – 1000 Wii Points), Tomena Sanner (WiiWare – 500 Points), Bloons (WiiWare – 500 Points), Hubert the Teddy Bear Winter Games (WiiWare – 500 Points) & Princess Tomato in the Salad Kingdom (NES – 500 Wii Points)



The return of Blaster Master. Only a couple of months ago, they decided to bring back BM to the Virtual Console. Now, they decided to create a new game based on the same mechanics with updated graphics. Its part side scroller where you control SOPHIA and then smaller areas you leave SOPHIA and it turns into a top down run and gun game. I would suggest downloading the old NES game if you have never played it because this is very similar, just updated.



Of course, we go from the interesting to the absolutely ridiculous when it comes to WiiWare. This one, you are running literally from one stage to another. Running past dinosaurs, samurais, cowboys, and all sorts of obstacles so you can clear the stage. Then at the end, you get to be in a 2-d dance party. /sigh. As you run past these items, you have to jump and dance over various objects. If you do it right, you perform like Michael Jackson, if you don't you will probably look like Marky Mark and the Funky Bunch.



Ever wanted a game where you popped balloons? Sure you do. Just nod your head or this paragraph will go nowhere. Okay good, cause you are given darts and you have to pop as many as you can. There are special balloons, blocks and upgraded darts that you have to find. There are seventy levels and an editor where you can create your own balloon puzzles.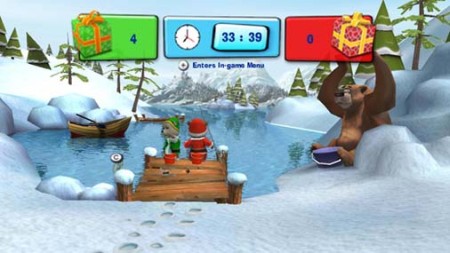 Okay, I give. I'm not even sure I can describe these WiiWare games anymore with a straight face. I was interested in Blaster Master, but these other 3? Come on. Here, Herbert the Teddy Bear is challenging some crafty bunnies. There are eight different winter activities including snow fight, fishing, decorating a Christmas tree and catching bunnies. If you ever wondered why people don't take 95% of the games on the WiiWare service seriously, you need look no further.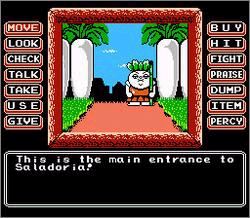 This fits in the "I'm not so interested in the game", but I like the idea of bringing rare games to the Virtual Console service way. This was a rather unique title that was on the original NES system. The wicked Minister Pumpkin, noble person in the Salad Kingdom has usurped King Broccoli off the throne and assumed the crown. He's also kidnapped Princess Tomato. You take on the role of Sir Cucumber who sets out to rescue the Princess and topple Minister Pumpkin. It's a point and click game with simple commands like MOVE, LOOK, TALK and you also participate in a version of Rock Paper Scissors as a fighting mechanism. It's adorable and the original cart fetches a pretty penny. So if you were ever curious, here is a great chance to buy it for $5.
Console Releases
Playstation 3
Bioshock 2
Dante's Inferno
Star Ocean: The Last Hope
Xbox 360
Bioshock 2
Dante's Inferno
World of Outlaws Sprint Cars
Wii
Super Monkey Ball Step & Roll
Data East Arcade Classics
Shiren the Wanderer
The Daring Game for Girls
Rock Blast
City Builder
DS
Percy Jackson & The Olympians: The Lightning Thief
Scene It? Twilight
The Daring Game for Girls
Jigapix Wonderful World
Pet Pals: New Leash on Life
Best Friends Tonight
Jigapix Pets
World Cup of Pool
Legend of Kay
Zorro – Quest for Justice

A couple of awesome games highlight a decent release schedule this week. Those games of course: Bioshock 2 & Dante's Inferno. Bioshock 2 puts you in the driver seat of a Big Daddy who is attempting to locate the Little Sister he is paired with. But that's when you come face to face with Big Sister or rather Sisters. Fun stuff. I need to go back and play the first Bioshock. I know I know. I found it several months ago with the original slipcover and everything for under $20. Bought it shortly after I did my top 10 horror games column.
Dante's Inferno has the potential to be either a great game or a great bust. It will feature all nine circles of hell and some great hack n slash action. Parts of it have the whole God of War feel which could be a good thing done properly. I'm not sure if I want to run out and get it or wait until it drops in price or just ignore it totally. Bioshock 2, I'm pretty sure I'm getting at some point, Dante's not so sure.
As for the rest of release list, I would be amiss if I didn't mention Data East Arcade Classics for the Wii. The release date is kinda sketchy, Amazon reports it this week; Wikipedia next week. I'm going to go with Wikipedia but include it here since my order has yet to ship from Amazon. At only $20, it includes some great titles such as Bad Dudes, BurgerTime, Side Pocket & Heavy Barrel. A total of 15 titles and support for Classic Controller. Daddy likey.
Final Thoughts & Mutterings
As mentioned in the news, lately I've been on an original Xbox gaming kick. Blame it primarily on Amazon Warehouse deals. I think I've purchased about half a dozen from them and found another couple in swap shops. From the swapshops, I found the Suffering & Hunter: The Reckoning. From Amazon, titles range from Darkwatch to the Punisher to Serious Sam to Justice League Heroes. Why? Well the prices for one, I bought each for less than $15, most of which under $10, all complete with manual and case art. Makes for something hard to pass up.
The problem is, I now own a couple of titles on the Xbox that do not play on the 360. Part mistake, and partly games I wanted to play anyway, I have come to the conclusion that at some point I will need to buy an original Xbox. Currently, I'm trying to find a working console with at least the power adapter for $50 (shipping included). I actually have a component cable I can use with the xbox, so I don't need cables. Of course, it needs to be able to play the games I mention above and more from my collection. If there are any reputable people out there willing let me know. Take care kiddoes.

As Always,
Kedrix of Aldrianian
(*The Forgotten One*)