Major Nelson gets Hacked, Rock Band Greenday gets a couple of full albums, & PS3 Losing Linux? – Welcome to the column that installed Linux but didn't like the increase in efficiency so they removed it known as Dare to Play the Game.
Hold on to your hats my friends, I actually did play Deadly Premonition for the Xbox 360 over this past weekend. I played it for roughly an hour and spent most of the time trying to get down the controls. I quickly figured out two things; the control is horrible and the story is amazing. Graphically the game is last generation (original Xbox/PS2), and the sound is quite haunting. Also, I let one of our friends play the game and she had the same problems as I did.
At this time, I obviously have not played it enough to give an adequate review. I want to do a review honestly, but the time frame I was working from wasn't quite feasible with all of the control issues I'm experiencing. I have one dvd review in my queue, the problem is that it's a mini-series (The Prisoner) so that will probably take me the rest of the week. Also, if I'm to believe the reviews for the Prisoner, I'll need something to snap me out of this funk according to the bad reviews it's getting.
Ode To Gamer Girls



Sometimes, I have to bring you a bevy of Gamer Girls. This is the Girls Generation, a Korean all-girl pop band who will be soon hocking, I mean advertising for the Nintendo DSI in South Korea. Since, I know you are looking at me and asking the obvious, yes they are all over 18, so it is okay to gawk. So what exactly were they trying to sell to me again?
News of All Types
Xbox Live


Larry Hryb, Director of Programming for Microsoft's Xbox LIVE online gaming network, has had his Xbox LIVE profile hacked. Warning: NSFW language ahead.
Known by his gamertag Major Nelson, Hryb was part of the Xbox 360 launch team and was one of the first game execs to have a regular podcast and blog.
In his LIVE account, his bio info (Name, Location) and the speech bubble appear to be hacked. The hacker have been writing various messages on Major Nelson's account:
Website lightzz.com is claiming responsibility for the hack and has put up a YouTube video of his handiwork as well as his Skype name (Roid-Monkey) and is even offering
to hack other players' accounts for US$60. Whether or not that means the accounts of other Xbox LIVE users are vulnerable to a possible exploit in Xbox LIVE accounts remains to be seen. Sixty dollars to hack people's accounts? This appears to be a new
cottage industry.
Update: "I have control of the account," Hryb tells Kotaku. "The enforcement team took care of it." According to the Director of Policy and Enforcement for Xbox LIVE Stephen Toulouse (via Twitter), the hack looks like it was "very specific" and "very targeted" to Hryb's account. Toulouse is investigating the matter further.

Troubling, troubling indeed. Nobody really deserves to get hacked except the hackers themselves. Also, most hacks are pranks; aimed at getting attention and possibly landing some security job because you were able to get past their defenses. However, the attention whores lead to more malicious attempts which are done for the sake of money and more than 60 dollars an account.
Let's face facts, Major Nelson is a target merely by who he is. He could be the nicest guy in the world and he would still get hacks because he has such a presence on a premier online network such as Xbox live. But the question remains, are the rest of us users subject to a full blown hack scare to our own accounts? The question is not really, but I do need to explain it more. There was evidence to suggest that this hack was directed towards Major Nelson.
Unless you have a lot of cyber enemies or are a celebrity with a known account, I don't really think the average xbox user is going to get hacked tomorrow. Now, sure I or maybe somebody in Tupelo, MS could get hacked tomorrow but it's hardly anything to start worrying over. Honestly, people get hacked over in WoW all the time for their gold (or their worth in gold). This was merely an attempt to get some attention and if you believe the reports, this guy is going to do some hard time for this stunt.

Well this picture says $100 an account. Maybe the hacker started at $100 and realized the demand and then tried to make it more affordable. Even they know something about supply & demand.
RockBand


Retailer Play.com is apparently confirming—and re-confirming—27 tracks from the upcoming Green Day: Rock Band, noting that two of the punk band's albums, 1994's Dookie and 2004's American Idiot, will be included in the game "in their entirety."
MTV Games and Harmonix have officially confirmed a handful of songs from the albums Nimrod, American Idiot and Insomniac for the Green Day-based Rock Band title, due in June. If Play.com's listing is right, that's 23 tracks we weren't quite sure of.
Play's description of the Xbox 360, PlayStation 3, and Wii also mentions that if players already own the already released 21st Century Breakdown downloadable tracks, they'll complete that album. That would mean 11 or 12 tracks from 21st Century Breakdown on the disc then?
Eventually, we'd assume that just about everything from the Green Day catalog will make its way to Rock Band, but it's good to know that we'll be getting two of the band's better albums in the package. We're double checking with MTV Games to see if Play.com's listing is accurate.

The forthcoming bad idea known as Green Day Rock Band is almost upon us. I know there have been a few band specific games and I've even bought a few of them. I happily own Aerosmith (which was only terrible because of the lack of vocals), AC/DC (decent but only once it got to <$20 range), and Beatles (I got it last week for the wife). And yes, I have considered Metallica and Van Halen but I'm waiting for price drops. But Green Day? The only thing more disturbing than Green Day would be Rock Band: Nickelback. Crap, I just gave GH or RB a bright idea. But despite this, including full albums is a plus as long as there is the option to play the full album. Dookie is a slam dunk inclusion, but American Idiot? Sure, hardcore fans will be having their own Billie Joe "O" moment but casual fans will skip ahead to "Boulevard of Broken Dreams" & "Wake Me Up When September Ends". Honestly, if they just include all of the Greenday music they can legally rather than some obscure number of tracks, it would be better for the fans. Think about it, if I was actually a Greenday fan, I'd be out there first day. But most people will probably ignore this until it appears in the $20 bin, especially with that $10 export fee. *grumble* Now, can we get started on Rock Band: Tom Cochrane & Red Rider? It's long overdue. Playstation 3


Ever since it launched in 2006, one of the neater features of the PlayStation 3 has been its ability to run operating systems other than its own. Like Linux. Next month, however, the console will ditch that compatibility.
On April 1, Sony will release the next firmware update for the PS3, bringing it to v3.21. It seems the sole purpose of this update is to remove the "install other OS" feature from pre-Slim models of the console. SCEA's Senior Director Corporate Communications & Social Media, Patrick Seybold, says the move is "due to security concerns".
He also says that disabling the feature "will help ensure that PS3 owners will continue to have access to the broad range of gaming and entertainment content from SCE and its content partners on a more secure system."
Of course, Sony is quick to point out the install is "optional", but then, if you refuse to upgrade, you'll no longer be able to sign into the PlayStation Network or play any PS3 games (or Blu-Rays) that require v3.21 (or higher). So no, for many people, it's not really optional.
This of course doesn't affect owners of a "Slim" PS3, as the feature was never present in that model in the first place.
People who already have Linux installed and choose to receive the v3.21 update should move any relevant stuff somewhere else, as they "will not be able to access that data following the update".
The "security" reason is an interesting one, given that, around the time of the initial announcement of the PS3 Slim losing Linux support, Sony promised that "this feature will not be disabled in future firmware releases".
We've asked Sony for clarification on just what the "security concerns" are, and will update if we hear back.

I loved my PS1 and PS2 with a passion, then came PS3. I dogged it for ever initially because of high prices, poor games, and not listening to the consumer. Then, they dropped the price on the console and the game quality increased tenfold. Yes, they had that problem with backwards compatibility but I was willing to forgive that because I still owned a PS2 slim.
I actually was at the point that I wanted to buy a PS3, thanks in large part to the brilliant commercials. But removing one of the reasons I was looking forward to purchasing the console is a punch in the face. I am aware that I probably represent 1% of the PS3 population if I bought one, but the truth is why be so hypocritical and tell people you aren't removing a feature only to change your mind several months down the road?
Here is the reason why, they want to start locking down the system. Linux gave an alternative to the PSN native software and was no longer considered a novelty but a threat. This optional update (which isn't optional at all) is the first step into what I think will be paid subscriptions. They are throwing up the security flag, but in reality they are just padding the system so that it is the only choice a user has.
Once the user is confined to one choice in system software, then they try to rationalize a revenue stream based on that model. They will most likely offer it cheaper than Xbox Live Gold and still sell the users on the value of the upgraded system. People will bite because of the upgraded features and even 20% adoption rate would be considered a success. Look, I don't like it either; there are just too many reasons why Sony would charge for their online service. This is merely the first step.

A screenshot from Linux running on PS3. Looks the same as regular Linux. Interestingly enough, the PS3 might make for a good cheap computer somewhere down the road as long as you have no plans of actually doing anything connected to Playstation 3 with it.
Releases for the Week of March 31st, 2010
Xbox Live Arcade – Mega Man 10 (800 MS Points)& Zeno Clash (1200 MS Points).

A few weeks ago this came out to WiiWare, and now it is out for Xbox Live. I'm guessing they got it last in order to compensate for achievements and high definition. This Mega Man among other things will feature three playable characters, Mega Man, Proto Man, and via DLC, Bass. Bass is a robot made by Dr. Wily who has some pretty awesome features. The gameplay of Mega Man 10 will be the same as previous titles as you try to beat the Robot Masters and gain their powers on your way to beating the game.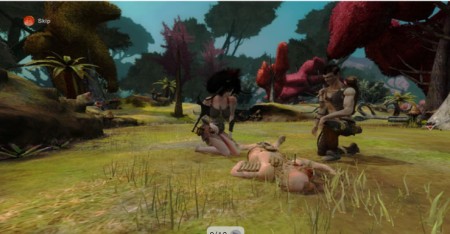 There are some discrepancies of when this title will come out…so it is possible that it doesn't come out today and will be reserved for later in April. Also, there is no clear indication of how many points this game is going to cost, so I'm going to guess 1200 from looking at the pictures.
Here, you assume the role of Ghat as he progresses through the world of Zenozoik. It's a first person game and cutscenes shown in third person. There are plenty of enemies to defeat with your martial arts or if you find weapons lying about these can be used to for dispatching your foes. There is a single-player story mode as well as a challenge mode which simply puts the enemies in front of you to mull them down. The PC version got a lot of respect and might work out to be a very fun Xbox Live Arcade adaptation.
Wii WiiWare & Virtual Console – WarioWare: D.I.Y. Showcase (WiiWare – 800 Points), Diner Dash (WiiWare – 1,000 Wii Points), & Ogre Battle 64: Person of Lordly Caliber (Nintendo 64 – 1,000 Wii Points)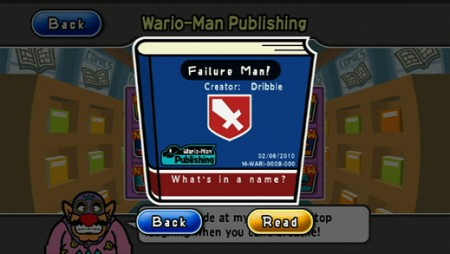 WarioWare is a selection of microgames, music and four-panel comics. This represents the first time this has been released to WiiWare and it is its own stand-alone game. You use your Wiimote controller and the Game Blender mode to combine games and make something totally unique for yourself or to give to your Wii friends across the network. There will also be games available from the NinSoft store. For those who have messed with WarioWare, this might be interesting but might not translate well since it is really made for portable systems.



Most people have heard of this game. It's been on the PC for a while as well as XBLA & PSN. If you aren't familiar with the game, basically you have Flo who is now in charge of a restaurant. You can take direct control of Flo as she tries to seat patrons, take orders, deliver food and get the money as fast as she can. There is a heart meter above each customer which must not be empty or else you will lose that customer. Multiplayer and team modes are also available.



I love when games that have been selling for close to $100 come out for the virtual console service for $10 or less. Ogre Battle 64 was highly regarded but copies were hard to find way back in 2000 when it was released. It's a strategy role playing game with a deep class system which affects the type of attacks a character can use in battle along with the equipment it can carry.
The story is about Magnus Gallant, who is a captain in Alba. He joins the revolution with Frederick Raskin and takes on a horde of armies as he works his way to six different endings. I've heard plenty of good things about this game and could certainly see myself purchasing it at some point. That and I refuse to ever own a Nintendo 64 unless somebody drops it on my front lawn. Even then, I have charcoal & lighter fluid.
Console Releases
Playstation 2
Sakura Wars: So Long, My Love
PSP
Mimana: Iyar Chronicle
Duke Nukem: Critical Mass
Playstation 3
Prison Break: The Conspiracy
Quantum Theory
Xbox 360
Samurai Shodown Sen
Wii
Dance Sensation!
Sakura Wars: So Long, My Love
Secret Files: Tunguska
DS
Monster Rancher
Again
Disney Stitch Jam
Secret Files: Tunguska
Jigapix Wonderful World
T.A.C. Heroes: Big Red One
Let's Play Flight Attendant
Love is in Bloom
World Championship Spelling
My Pet Chimp

There are a decent amount of games this week, but honestly nothing strikes me as I got to buy it now or else. Sakura Wars is arguably the most anticipated title of the week actually appearing as a new release for the forgotten PS2 system. It's based in New York where Demons have appeared. Luckily, Shinjirou, Gemini Sunrise and a bunch of new characters are here to defeat them. It's a story system where character interaction is heavy. The responses you give to characters in the game influence the overall content and even the ending. The Battle System can be described as mech based.
Outside of that, we have a dancing game, a game about prison breaks (based on the tv series) and a new Samurai Shodown game. It is nice to see it in Xbox 360 form and with 20+ fighters to choose from including favorites from the past games. However, I'm not sure if the ship hasn't already sailed on this series. Oh, and if you are wondering what kind of Duke Nukem that is coming out for the PSP, I believe it's 2d platform based like the old school ones rather than the spiffy 3d first person shooters. I'd rather see it on the Xbox anyway.
Final Thoughts & Mutterings
As many did, I did download the Game Room application last week for Xbox Live Arcade. On Friday, I took the time to purchase two of the games: Centipede and Crystal Castles. The games are emulated near perfect and I have put in a good amount of time into each game. There is only one little problem, 240 points simply isn't worth it for 90% of these titles.
Another issue is that supposedly Microsoft won't start releasing more games until the end of April. At that point, they will be releasing in the neighborhood of seven a week every week. Supposedly, we will have to download a pack each time and select which games we want at the 240 point clip. Problem is that if we download a pack that has seven games and we like 1, then that is a terrible management of space.
According also to reports, they plan to have 1,000 games over the next three years. Great, that's a ton of games; but also a ton of packs and much strain on your hard drive when you might want to play say 20-30 of them. Terrific concept but somebody should have planned it better. However, we'll see how that fleshes out in upcoming weeks. Until next time, have fun kiddoes!

As Always,
Kedrix of Aldrianian
(*The Forgotten One*)