Gaming with Criminals, Kinect is like Super Mario Bros & Mario Kart restores Vision? – Welcome to the column that will make you go blind if you don't use both hands known as Dare to Play the Game.
Honestly, I didn't do too much in the land de World of Warcraft. Mostly I gathered some Frost and Triumph emblems for my dwarf via Ahune (Mid-Summer Holiday boss) and a few heroics. My dps is still pretty poor honestly, but I'm getting better. I simply don't play as much as most 80's, so my gear isn't uber. Heck, my gear score hasn't even cracked 2,000 (it is around 1800 last I checked), so it is unreasonable to expect anything wonderful.
I am of course still playing my troll rogue, he hasn't changed in levels though. I am still going to get him to 80, it just might take all of the next couple of months. I am actually looking forward to some downtime from WoW before Cataclysm comes out. Of course when the expansion: Cataclysm hits, me and my wife will be eager to go get our time cards and start playing again.
Ode To Gamer Girls



Above is a photo from the tryout of 1,500 young women who wanted to appear in Yakuza 4 as a hostess. Perhaps some of you will remember that in Yakuza 3, the Western version took out the hostesses and people were none to happy about it. Well, Yakuza 4 will keep that option for the Western Version. Reportedly many of tryout girls were also porn stars, so you can see that the team was going all out. Expect to see the Western version of Yakuza 4 sometime after Spring 2011 due to translation issues.
News of All Types
Mario Kart Saved My Eyesight


A British youth overcame what is called "lazy eye syndrome" thanks to a doctor's prescription of Mario Kart DS, restoring his right eye from "near blindness" to a 250 percent improvement.
At age 5, Ben Michaels was diagnosed with ambylopia in his right eye, which
results in a steady decline in vision in that eyeball. Untreated he would have gone completely blind in it. His doctor, however, told Ben to play Mario Kart DS with an eye patch, which trained the "lazy" one to work harder and thus to improve.
Best part, the therapy called for playing video games two hours a day. Sorry mom, doctor's orders! It doesn't appear that the success was dependent Mario Kart DS or any specific game or console. Perhaps it's mentioned here because it was Ben's favorite.
"A games console is something children can relate to. It allows us to deliver treatment quicker," said Ben's doctor. "What we don't know is whether improvement is solely because of improved compliance, i.e. the child sticks with the patch more, or whether there is a physiological improvement from perceptual visual learning."
Either way, it appears to have worked.

Seriously, I wonder if this doctor is looking for new patients. All my doctor ever asks me to do is turn my head and cough. Actually, he really doesn't care if I turn my head at all. He has no shame. Anyway, you have to admit that this doctor was actually using his noggin and found a way to combine something that a child loves with actually fixing his little problem.
It makes a lot of sense too, since the eye needs time in order to fix the issue it is facing. However, if the kid just sits around and waits for the paint to dry on his walls, he'll probably just sleep or not wear the eye patch at all. Instead he plays a game that he loves and due to the rapid nature of the game, his vision actually improves. At least the doctor didn't make the kid play Big Rigs: Over the Road Racing. The kid might have committed suicide.


Well, little Ben might have cured his lazy eye, but he's going to need glasses in several years if he keeps playing portable games with tiny graphics like these.
Judicial System


Weird story out of Bristol, Va.; a judge there has abandoned his seat after it came to light that he'd been a constant video gaming companion of a man he'd sent to jail at least three times over the years.
The gaming friendship Judge Joseph R. Carico, 40, had with Jeremy Hubbard, 28, came to light after a late-night car crash last year that hospitalized Hubbard. Carico swerved to avoid a deer on Nov. 22 and smashed into a tree. Of course, as Hubbard's past came to light, some of it Carico's court, where he'd been jailed and sentenced to community
service before, the story about their gaming habits came out.
Hubbard told the Bristol Herald Courier that in 2008, the two talked about their enjoyment of games during a happenstance meeting at a restaurant where Hubbard worked. That led to many game sessions that got so serious, the two thought about forming a competitive gaming team along with some of Hubbard's neighbors.
They actually had crossed paths a lot earlier, in 2003, when Carico was in the state attorney general's office and prosecuted Hubbard on a drug charge. In 2005, Carico became a judge, later recusing himself from a case against Hubbard that had been brought before he had come to the office.
There's nothing wrong with being gaming BFFs with a felon, unless you're a judge, where it raises questions of propriety and conflict of interest. Carico hasn't stuck around to answer them. He's bolted his seat, leaving the other judges to pick up his case load, and isn't answering calls for comment. That leaves it to Hubbard to defend the guy who prosecuted him.
Their Halo 3 match late on Nov. 21, 2009, was set up after several telephone calls and text messages that night, Hubbard said. They met at Hubbard's house for a brief round of Playstation 3 games. From there, Hubbard said, the two trekked to Carico's home for more video games. "People are saying there were drugs involved and there was this, and
there was alcohol and none of this [expletive] is true," Hubbard said.
"Everybody wants to make up their own story and their own thing about what [expletive] happened."

I dunno, I kinda feel sorry for the two guys involved on a gaming level. Gaming buddies are hard to come by. Truth be told, my best gaming partner of all time is my wife. I'm better at her in certain games, she's better at me in certain games but we always have a lot of fun when we play together. Before that, I had a lot of fair weather gaming friends. These were people who would play a game with me for about a month before going on to something else or in extreme cases quit the hobby all together.
So in that respect, hey it is going to be a pain to lose a gaming BFF even if it is a criminal. But this is a judge, somebody who needs to be unfair and unbiased. If you game with a person, there is a certain level of friendship there typically. Somebody can correct me if I'm wrong but they could have kept being gaming buddies together if the judge would have simply deferred those cases to another judge based on conflict of interest. It's just the whole moral code thing.
Kinect


Worried that Microsoft's E3 showcase of its Kinect controller for the Xbox 360 was a little too "casual," a little too Wii Sports rewarmed? Kinect's creative director sees it otherwise, that Microsoft's taking a Super Mario Bros. approach instead.
So says Kudo Tsunoda, the oft-sunglassed man behind games like Kinect Adventures, the river rafting and platforming Kinect game that Microsoft spent much of its E3 keynote showing off. Sure there's plenty of Skittles scratching in Kinectimals and awkward dancing in Harmonix's Dance Central, but, according to Kudo, this is Nintendo caliber stuff.
"If you think about a game like Mario Bros., would you say Mario Bros. is a core or casual game? That's exactly what we're doing with the Kinect products," Tsunoda told Videogamer.com.
"There's the core gaming depth and skills, and the casual approachability that lets you get into it and play it right away. That's what we focus on in all of the gameplay. When we say games are approachable, it doesn't mean shallow."
In Kinect's critics' defense, Super Mario Bros. is now about 25 years old. Deep, yes, but perhaps overly familiar too?

*taps head*. Obviously, Microsoft doesn't want to get into the act of producing mini-game collections which most retail stores won't touch with a wiimote that has a ten foot range. They want to have quality games, not games defined by a gimmick and play like the shallow end of a kiddie pool. However I wanted to use their analogy of Mario Bros, and see if it really is the image they are looking for.
Now Mario has been in a lot of games, well over two hundred actually. There have been a lot of gems, but let's face it a lot of laughable ones as well. The most recent game is Super Mario Galaxy 2, a quality game. So far, so good. Then we have to go back to 2009, there are several games with Mario's moniker. Among them are Mario & Sonic at the Olympic Winter Games, New Super Mario Bros, Mario & Luigi: Bowser's Inside Story and a DSI game.
The only one I would actually consider deep is Bowser's Inside Story which was actually a light role playing game. Olympic Winter Games was a sorry excuse for a sports game and we won't even discuss anything released under the DSI platform. Now, New Super Mario Bros is a fun game, I enjoy quite greatly. But to call it deep would undermine the whole point of the game. It's challenging sure, but it's Super Mario 3 with some new costumes and graphics.
Anyway, we go further back and we see a baseball, soccer, and some partying going on in addition to some quality titles. It's basically hit and miss. If the Kinect wants to hit and miss, then it can go on right ahead. Nobody is going to score a hit every time especially when dealing with a gimmick launch. But hopefully (if Microsoft wants the Kinect to not be a doorstop) they take the time to make some titles that everybody can enjoy from all ages and intelligence levels.
Pardon my directness but if I'm supposed to compare these games to Super Mario Bros, I've never seen Mario flail his arms around like that. He doesn't strike me as spastic.
Releases for the Week of June 30th, 2010
Xbox Live Arcade – Puzzle Quest 2 (1200 Microsoft Points) and Ancients of Ooga (800 Microsoft Points)

Puzzle Quest is back with its famous match 3 gem making and role playing action. There are four new character classes this time around, War Mage, Inquisitor, Barbarian and Assassin. The use of these characters will encourage multiple play-throughs. Your character is trying to save the village of Verloren from Gorgon the demon. If you remember, I really enjoyed the first game and even finished all of the achievements (well before they released the expansion anyway). Hope this one is just as good.

In this game, you are controlling a bunch of cavemen known as Ooganis. They have been tricked into slavery by Boolis. So it's up to these cavemen to fix things with their special powers. It's from the people at Ninja Bee, famous for such games as Outpost Kaloki and Band of Bugs. It's a puzzle platformer where you will be solving logic-based puzzles. The best thing, in some instances you will be able to breathe fire.
Wii WiiWare – Jett Rocket (WiiWare – 1000 Wii Points), Pong Toss Pro (WiiWare – 600 Wii Points), Robin Hood: The Return of Richard (WiiWare – 500 Wii Points) and Mario Tennis (Nintendo 64 – 1000 Wii Points)



Seriously, whenever I had the bright idea to give short snapshots of upcoming WiiWare games, somebody should have stopped me. The three this week are some of the worst I've seen yet. If you want to skip to the VC game of the week, you won't miss anything except some snappy jokes. Jett Rocket lets you explore the planet Yoroppa and you must stop the Power Plant Posse. You can ride your Jet Boat, Jet Snowboard, and Jet Turbine in various environments. Does somebody have a Jett Missile I can use so I don't have to see this game anymore?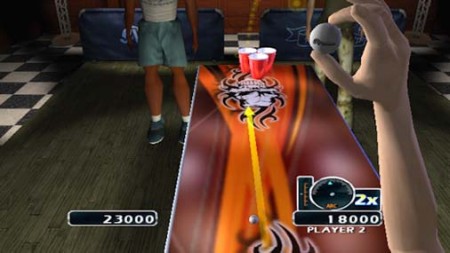 Then we got Pong Toss. Didn't we already have a couple of games about this on WiiWare? There isn't any beer in this one either, which would be useful because it would cause me to forget about this game and the fact I'm playing beer pong. There are tournament modes in this thing as well as speed pong. Seriously, for 600 points or $6, go buy yourself a 6 pack of cheap beer like Old Milwaukee and zonk out in your mom's basement. I promise, it will be time much better spent.

I'm guessing the character Robin Hood is public domain and therefore anybody is free to come out with a game or movie about him. No matter how much they slander the classic in the process. This is a shooting game where you help Robin defeat villains and restore peace to England. Twelve levels are contained here and you will also be able to fight with villains such as the Sheriff of Nottingham. I'm guessing his special ability will be to collect taxes from people who can't pay any. Buy it if you dare.

I have to admit I've been looking for an old school classic tennis game for quite sometime and this might be just the ticket. In this Nintendo 64 game, you control any of 16 different Nintendo characters as you try to win against your opponent in a variety of modes. There are plenty of play styles and you can play with up to three of your friends (as long as you have enough controllers). Imagine Mario Kart combined with tennis. This is also the first game to feature Waluigi, the bad Luigi. Easily worth $10.
Console Releases
PSP
Lego Harry Potter: Years 1-4
Dungeon Siege: Throne of Agony
PS3
Lego Harry Potter: Years 1-4
Singularity
Naughty Bear
Trinity Universe
Xbox 360
Lego Harry Potter: Years 1-4
Sniper: Ghost Warrior
Singularity
Deathsmiles LE
Naughty Bear
N3II: Ninety-Nine Nights
Wii
Lego Harry Potter: Years 1-4
10 Minute Solution
The Last Airbender
Harley Davidson
Secret Files: Tunguska
DS
Lego Harry Potter: Years 1-4
Florist Shop
The Last Airbender
Secret Files: Tunguska
Vampire Legends: Power of Three
TNA: Cross the Line

Actually, this is the strongest list of games we had in a while. It is highlighted by a heavily anticipated Lego release in the form of Harry Potter. This time around there are going to about 170 different playable characters. Don't expect too much originality but expect it to be a lot of fun. I will be getting this game at some point as my whole family should enjoy it greatly.
After that we get an interesting multitude of games including Singularity, Deathsmiles and Naughty Bear. Singularity is made by the people at Raven Software and is a first person shooter based in the Cold War era. Meanwhile Deathsmiles is something of a cult classic to those who appreciate Japanese shoot em ups with occult and gothic influences. Oh, don't think I forget Naughty Bear.
Naughty Bear has the potential to be one of the sleeper hits of the year. In it you control a teddy bear who is on an island of paradise. However, this is no normal cuddly and fluffy teddy bear. He has violence on his mind and other teddy bears that he must execute. It's a sandbox game with a lot of dark humor and could easily be a game I buy down the road closer to the holiday season.
Final Thoughts & Mutterings
I did try out a few new games this week. Well sort of. I tend to download a lot of demos of XBLA games and usually don't purchase any. I did purchase one this week and have tabs to purchase another in the future. The first game is another one of those I didn't think it was worth the full price but I'll surely pick it up in a sale. That was Poker Smash. It's a fun game that really requires a lot of blind luck but can be quite addictive at the same time. My wife has already been playing it more than me which made it a very easy buy, especially at $5.
The second game was the recent release: Duke Nukem: Manhattan Project. I played through the demo's three levels and actually dug it quite a bit. It reminds me a ton of the old Duke Nukem side-scrollers. As reported last week, it plays a lot like Shadow Complex but a little more simplistic. Most of it really is 2d with creative 3d backgrounds and plane-shifting. I'm not sure if it is worth the 800 points but I'll think on it for a while and enjoy some of the other games I got coming to me. Thanks kiddoes for reading my column and we'll be back next week with more of what you love.

As Always,
Kedrix of Aldrianian
(*The Forgotten One*)