The tight-knit cast and crew of Attorney at Low weren't about to let a little rain — ok, it was a lot of rain — dampen their spirits during the movie's June 1 world premiere. So nobody objected when the red carpet was transported from the sidewalk to the inside of the historic Zephyrhills Home Theatre, as everyone involved with making the indie comedy got the star treatment.
"Tonight is really more for everybody else," said Richard Siggins, the film's writer/director/producer. "My work has been done for months."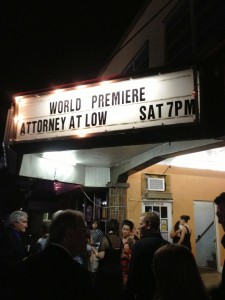 Attorney at Low is the story of Kevin Glockenheimer (Mike Duffau), who is struggling to keep his late father's law practice going after older brother Harry (John O'Keefe) bolts for a bigger law firm. After interviewing a series of wacky applicants, Kevin settles on a team of misfits that includes sexpot Victoria (Tanya Christiansen), hot-head Wesley (Aaron Quick Nelson), blind attorney Brian (Jonathan Ward), wiseguy Anthony (Constantine Kyriakou), potential pyro Peggy (Holly Weber) and lovely Becky (Melissa Szumlic), who becomes Kevin's love interest. Following a rocky start, Kevin's law firm, which features an unfortunate typo on the front door of its offices, faces off against Harry in a case involving a man who suffered a humiliating injury during a lap dance.
Siggins said he first began work on Attorney at Low after reading an article where Sylvester Stallone talked about cranking out a screenplay in less than a week. That was 10 years ago.
"I wanted to write a screenplay in a week, but this ended up being the longest thing I've ever taken to write," said Siggins, whose other credits include writing and directing indie films like Wasband and Christmas Snow Angels, along with numerous shorts. "I got caught up in a lot of the legal parts."
The filmmaker drew from both his background as a stand up comic/writer and his personal life when he got to work on Attorney at Low. "I was married to a lawyer at the time, and I remember going to a party with a bunch of people she worked with, and they were all crazy," he said.
Filming locations included Clearwater — where Siggins is based — Dade City, Lahnd O'Lakes, Largo, Lutz, Sarasota and Tarpon Springs. The 22-day shoot took place over the course of three months, as Siggins worked around his actors' day jobs, and included some overnight work in a courthouse.
"It was always a fun, friendly atmosphere," said Jeannine Fiallo, who plays well-endowed defendant Dabria "Mega Mounds" Cartwright and braved a lot of those late night shoots. "I'm thrilled with how it came out."
Fiallo and the rest of the cast got a royal welcome at the Zephyrhills Home Theatre, which was constructed in 1948 and regularly highlights local independent filmmaking talent.
Siggins said he is currently seeking distribution for the $19,000 Attorney at Low. For more information on the film and other efforts from Siggybunk Productions, click here.