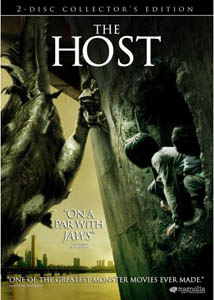 Here's the first ever Review Super-Roundup: a soon-to-be-regular feature where we track down reviews all over the net in an effort to provide you with a well-rounded view about a particularly exciting or unique release.
Reviews aren't in any particular order; the one's with numerical rankings come first, and hell, I put UpcomingDiscs at the top because that's my prerogative. Other than that – these are culled from all over, and the quotes from each attempt to capture the spirit of the review. Click on through and enjoy! BTW – if you have a review you'd like included, comment it.
This week's round-up – THE HOST: A Korean monster horror movie in the tradition of Godzilla, with a healthy dose of humour and emotional context. It did really well in Korea, and has become a DVD cult hit globally since. Most reviewers really liked it; a few were luke warm.
Reviews are lined up after the jump!
Want to snap up a copy? Amazon Amazon (DVD), Amazon (Blu-ray), Amazon Amazon (HD DVD)
Without further pre-amble – here's the reviews!