Posted in: Disc Reviews by Archive Authors on July 1st, 2006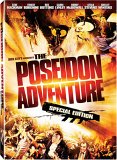 God bless producer Irwin Allen for aiming high in just about everything he did. He would make large scale productions, some focused on disasters (like his next film after this, The Towering Inferno), but he also produced Lost in Space for TV and made other contributions like Voyage to the Bottom of the Sea and an incarnation of The Lost World. He may not have had a DeMille-like grip on his project because the studios had so much control still in the early '70s, but he sure dreamt big, which is always a good thing.
In The Poseidon Adventure, based on the novel from Paul Gallico, the S.S. Poseidon has set sail and its cast and crew will be celebrating New Year's Eve on the water. When captain Leslie Nielsen (Airplane!) receives a notice about a tidal wave from an earthquake, he prepares for the worst. The wave hits the ship and turns it over, and it leaves a handful of passengers left to try and reach the water's surface before the ship sinks. Among those are Reverend Frank Scott (Gene Hackman, fresh off The French Connection), Mike and Linda Rongo (Ernest Borgnine (From Here to Eternity) and Stella Stevens (The Ballad of Cable Hogue), respectively), Belle and Manny Rosen (Shelly Winters, (Lolita) and Jack Albertson (Willy Wonka and the Chocolate Factory), respectively, Acres (Roddy MacDowall, Planet of the Apes) James Martin (Red Buttons, The Longest Day) and Susan Shelby (Pamela Sue Martin, Dynasty).
Now granted, there are a fair share of group struggles for leadership and who does what when and how often, and there are some moments of kitschiness that I'd rather not experience again. I mean God, was Shelly Winters climbing up the Christmas tree really a necessary thing? But at the end of the day, The Poseidon Adventure, much like its younger sibling that I am a litte more familiar with (Inferno had Newman and McQueen, you know?) are fairly effective stories about struggling for survival and trying to overcome huge odds. The fact that the cast puts their heart and believes in what they're doing reflects this.
Video
An anamorphic 2.35:1 widescreen viewing gives The Poseidon Adventure a crispness it's not experienced before. Consistent black levels, not too much edge enhancement and a picture that looks as good as ever, the red in Martin's dress comes through fine without any bleeding.
Audio
it's kind of disappointing that The Poseidon Adventure doesn't get a ritzy remastered Dolby 5.1 soundtrack, but the 2 channel stereo mix is OK, bordering on the hollow side. It doesn't recreate some environmental noises like a ship creaking, but it's OK for its time.
Special Features
Fox continues to revisit their past with a myriad of extras that are fun and informative and (even better) spread out over two discs. When you watch the film, you have the option of selecting an interactive track that periodically displays a capsized ship icon. When you hit enter, you get a blueprinted view of the sip, along with the character locations of the stars and their color coding on where they are in the quest to get to the top, a pretty cool feature.
The first disc also has two commentaries, the first with director Ronald Neame. I don't know when this commentary was recorded but as of this writing, Neame recently celebrated his 95th birthday, and his recollections about the film are pretty vivid, and he talks about the locations and the cast rather fondly. He is more than grateful for the success he's had from the film and his enjoyment is genuine and a pleasure to hear. Discussing how he remembered that Hackman thought he was "slumming it" and witnessing how some of the actors worked with each other is priceless. He also talks about how some of the effects were created too. The second track includes Martin, Stevens and Carol Lynley (Return to Peyton Place), who played Nonnie Parry. The ladies recorded their commentary together and it doesn't seem as lively as Neame's commentary (which is kind of sad considering his age), but they do share their own nostalgia on this track and thoughts on the cast members. They also recall what the other actors are doing know, and get more than a laugh or two from spotting Nielsen in a ship's captain's hat, and while they tail off after awhile, it's not that bad of a commentary.
Disc two picks up with a wide variety of featurettes, the first starting off with the AMC "Backstory" series focusing an episode on the film. There are a lot of new interviews by the participating cast and crew (along with some interviews by deceased cast and crew members) and there is even some on-set production footage to boot. It revealed a lot of interesting information and trivia about the film, such as Fox's resistance to almost even make the film before production started, along with Allen's eagerness to call himself Queeg from The Caine Mutiny. Lots of stunts were done by the actors, along with Winters on-set recollections of the swimming scenes. The reception for the film afterwards is touched upon too, as it's apparently taken on a bit of a Rocky Horror type of vibe. It's a nice look at things.
From there, going into the featurettes section, separate pieces on the stunts, writing and another look at the film by the cast follow. Additional topics on the film are covered (even some time on the boat that was used!) but altogether, the featurettes run about 43 minutes in length. Neane resumes what wasn't covered on the commentary track, as he recalls the success of the film and some of the key scenes, and his recollections are an additional 6 minutes. As part of the teasers and trailers section, the original EPK from the film is here also, along with a boatload (HA! I kill me!) of stills galleries and storyboard comparisons on the more elaborate shots in the film.
Closing Thoughts
I did expect to see some cheesy stuff in The Poseidon Adventure like the effects and how silly the premise was. I mean really, airtight containers of air that would prevent water pressure from crushing the ship like a can? Oh well. But the movie is good fun to watch and is the perfect Saturday afternoon or evening movie that you can sit in front of, eat a thingy of popcorn and just enjoy what you watch regardless of what it is.