Film
If one thing can be said about Michael Bay films, it would be that they are beautifully shot. I cannot think of many directors' that have such a unique cinematographic feel to their films… and Pearl Harbor is no exception. This film contains some of the best fighting sequences ever put onto film. Unfortunately, this fabulous action is tainted by a sub-par love story that is interwoven into the story. With the elimination of this love story, Pearl Harbor would have been an amazing action film…with a reasonable length of 120 minute (rather then its 180+ minute running time). This Director's cut of Pearl Harbor showcases an extra 1.5 minutes of footage… mostly extra gore and graphic war sequences. If you are looking for a noticeable amount of extra footage, you may be disappointed. Enough for my ramblings… here is a bit about the story:
"Two childhood friends, Rafe McCawley (Affleck) and Danny Walker (Hartnett), had always shared a passion for flying, which leads them to join the United States armed forces in the early 1940's as the rest of the world was becoming embroiled in World War II. Eager to participate in combat, Rafe feels compelled to join the British, leaving his girlfriend, army nurse Evelyn Stewart (Beckinsale) behind. She and Danny are later transferred to the tropical base at Pearl Harbor, Hawaii, where they eventually find out that Rafe was shot down in combat in Europe. Eventually Danny and Evelyn move on and become romantically involved, but their happiness is cut short by Rafe's unexpected return and the surprise attack on Pearl Harbor that changed the course of history forever." – Buena Vista
Audio
This is one of the best sounding DVD's I have ever heard. Sure, it is not detailed in the subtle nuances of film, but does this soundtrack ever rock! The sound is deep and load… involving the listener in every possible way. The soundstage is filled from every possible angle, and the sound dispersion and focus are right on. Dialog is clear and focused, and the bass is as deep and clean as it comes. Both the DTS and Dolby Digital 5.1 audio tracks are outstanding. If you are a fan of BIG sounding films, you will really enjoy this DVD.
Video
As is the case with the audio on this disc, the video is equally outstanding. The colors are bang on, and the darks are deep and clean. The transfer is free of all print damage, pixilation, edge enhancements, and grain. You can tell that a lot of care has gone into the DVD transfer of this film. The 2.35:1 Anamorphic Widescreen transfer is beautiful, and is a nice reference piece for the joys of widescreen (an Easter egg on disc one outlines the negative effects of "cropping" the film to fit a standard 4:3 TV screen).
Special Features
If you have even wondered how a big-budget film was made… look no further. This DVD set contains so many special features that they span two complete discs. As you can imagine, critiquing every feature on a four-disc set is quite a feat. Since this feat is near impossible, we offer a summary of features instead…
Three Commentary Tracks: Found on the first two discs of this set are three separate audio commentaries; the first with director Michael Bay and film historian Jeanine Basinger; the second with producer Jerry Bruckheimer and cast members Ben Affleck, Josh Hartnett and Alec Baldwin; and the third commentary with cinematographer John Schwartzman, production designer Nigel Phelps, costume designer Michael Kaplan, supervising art director Martin Laing, and composer Hans Zimmer. My favorite… you guessed it, Producer and Cast.
Journey to The Screen: The Making Of Pearl Harbor: This documentary is 46 minutes long, and contains an amplitude of behind-the-scenes and on-set footage
Unsung Heroes Of Pearl Harbor: This 50 minute documentary was originally aired on the Discovery Channel, and includes a nice collection of interviews and history
One Hour Over Tokyo: Another History Channel documentary, this 50 minute feature also gives a nice historic background to the story behind Pearl Harbor
Boot Camp: My favorite feature… showing the actors in boot camp, trying to get into shape for the film. This is a very entertaining feature… enjoy.
Production Diary: Actual behind-the-scenes footage shot during a number of sequences… a good feature for the filmmakers of the future
Super 8 Montage: 4 minutes of super 8 video shot for the film that ended up in the scrap heap.
Interactive Attack Sequence: This very cool 21 minute montage features the entire attack sequence. This feature is interactive in the sense that you can select between 4 separate angles to view the scene
Deconstructing Destruction: This 20+ minute feature shows a number of discussions between Michael Bay (director) and Eric Brevig (Visual Effects Supervisor). These discussions are inter-cut with sequences being discussed.
Interactive Timeline: This feature walks you through the history of the Pearl Harbor conflict – from 1846 to 1941
Trailers and Stills: This set also features the basic DVD features… such as theatrical teaser, trailer, and a stills gallery
Not only does this disc contain more special features then the average person could ever sort through, it also contains the smoothest menus I have ever seen (in terms of navigation and flow), and some of the most unique packaging ever to hit the world of DVD.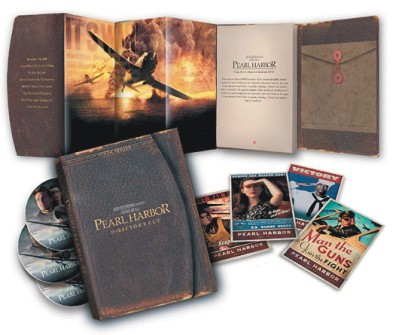 Final Thoughts
Yes, this film did not live up to all of the hype surrounding it, but this DVD sure has. The entire DVD presentation is near perfection. Not only are the audio and video amazing, the special features are absolutely complete, the menus are a smooth as they come, and the packaging is extremely unique. What more can I say… Everyone should own this DVD!
Special Features List
Three Audio Commentaries
Three Documentaries
Boot Camp
Production Diary
Super 8 Montage
Interactive Attack Sequence
Deconstructing Destruction
Interactive Timeline
Trailers
Stills Gallary
MORE…